The Mileymoon: Introduction
Singapore Airlines B787-10 Business Class SIN-DPS
St Regis Bali
Banyan Tree Ungasan Bali
JetQuay CIP Terminal Changi
Cathay Dragon A321 Business Class HAN-HKG
Cathay Pacific The Pier First Class Lounge HKG
Cathay Pacific B77W First Class HKG-SFO
Post Ranch Inn: History & Arrivals Experience
Post Ranch Inn: Tree House Room
Post Ranch Inn: Dining and Ranch Tour
Cathay Pacific Lounge SFO
Cathay Pacific B77W First Class SFO-HKG
Cathay Pacific The Wing First Class Lounge HKG
Cathay Dragon A330 Business Class HKG-HAN
Singapore Airlines A330 Business Class HAN-SIN
Planning a Maldives trip
W Maldives Transfer Experience
W Maldives Villa
W Maldives Dining
W Maldives Activities
---
After finishing up our Cathay First Class mistake fare in Hanoi, we needed to fly back to Singapore where we'd connect with another flight onwards to Male and the W Maldives.
I'd budgeted two and a half hours for the connection, which turned out to be more than adequate given the small size of Hanoi Airport. We didn't have our boarding passes for HAN-SIN, but there's a transit counter just before immigration. We waited about 15 minutes for an SQ representative to show up with the passes and lounge invitations.
Singapore Airlines and Silk Air collectively operate two daily flights between Hanoi and Singapore, but unfortunately the Business Class experience isn't much to write home about. The best Business Class seat available on this route is the angled-flat 2009 Regional Business Class, a far cry from the full-flat, ultramodern Regional Business Class seat available on shorter flights like Jakarta to Singapore and Bali to Singapore,
So why review this flight?
Put it this way: Singapore Airlines' fleet development plan calls for most of the B777-200s more than half of the A330-300s to be retired by March next year. But this still leaves a total of 14 aircraft with the 2009 Regional Business Class product.
This seat will eventually disappear as SQ aquires more A350-900s and B787-10s with the 2018 Regional Business Class, but until then, it's still very much a fixture of the SIA regional fleet. In light of that, it may be worth getting an updated take on how the seat is holding up, given my last review of the product was in 2016.
Singapore Airlines' A330-300s are configured with 30 angled-flat Business Class seats, arranged in a single-cabin, 2-2-2 layout. Each seat is 60 inches long and 24.5 inches wide.
If you're a solo traveller, you'll definitely want to pick a D or F seat because these guarantee aisle access. However, you'll want to avoid the bulkhead 11 D/F, because these seats are at the front and some inconsiderate passengers may cross the cabin in front of you instead of crossing via the rear or front galleys.
Couples will prefer the A/C or H/K seats, provided you're used to tangling limbs when one party needs to use the loo. Solo travellers who can't secure the D/F seats will want to try and get 11A/C or 11H/K, given that these bulkhead seats have relatively more legroom to reach the aisle. Note that this comes with a tradeoff, as you'll have even less storage space thanks to the loss of the seat-front compartments.
My gold standard for privacy is the so-called "stand test" (yes, I coined that term myself). When you stand up in the cabin, how much can you see? Thanks to their high walls and strategically-placed privacy cutouts, most of Singapore Airlines' current Business Class seats pass this test with flying colors.
The 2009 Regional Business Class, however, does not. The cabin is extremely open, and it's easy to see fellow travelers wherever they may be.
There is a modicum of privacy from the aisle, thanks to these ears that wrap around the seat…
…and a pull-out privacy divider will shield you somewhat from your seatmate.
The seat has a fairly sturdy tray table that slides out from the armrest. It doesn't telescope forwards, however, so it's tricky to get out of the seat when the meal is being served.
IFE is provided by a 15.4″ screen (non-HD), which unfortunately tends to get washed out in bright sunlight.
The screen is not touch-sensitive, but you can control it using the IFE remote embedded in your seat.
You'll receive the same noise cancelling headset as you would in Business Class on any other SIA plane.
Seat controls are electric, and there are four pre-set positions.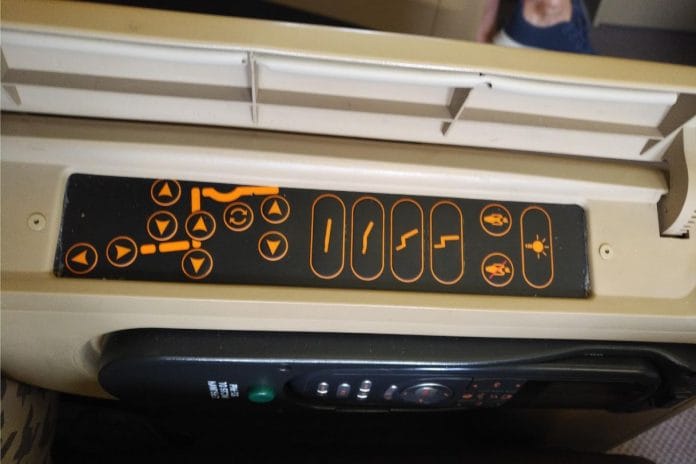 Storage is not one of this seat's strong points, and there's precious few places to store a laptop, a bag or any reading material. The literature pockets are already crammed to the brim with the SilverKris magazine, safety card, air sickness bag, duty-free catalogue and headphones.
Plus, the footwell area cannot be used for stowage during taxi takeoff and landing. At most you'll be able to fit a phone in the cubby in between the seats, and perhaps a very slim laptop in the side pocket next to you (make sure it doesn't get crushed by the reclining mechanism however).
These seats are almost 10 years old, and it's there's some expected wear, tear and stains on them. The battle damage isn't catastrophic, but it's a reminder that these seats are due to be put to pasture.
Despite their age, there are thankfully some nods to modernity like in-seat power and two USB charging ports.
A few more thoughts on the seat: some people actually prefer this over the 2006/2013 Business Class product, at least on day-time flights. That sounds incongruous to me, but the argument given is that they're better for getting work done. I suppose that's true- the 2006/2013 seats are pretty much an all flat or all upright proposition, but I'd never settle for this if there were a flat seat available. Besides, none of the A330s have inflight Wi-Fi, which hardly boosts their work credentials.
It may sound like I'm being hard on the seat, and perhaps I am. After all, we have to see the A330s for what they are- a stopgap solution. SIA took them on five-year leases back in 2009 to boost regional capacity, and it was never their intention to own them outright. They were just buying time until more fuel-efficient, modern jets like the B787-10 came into the picture.
It's no surprise, therefore, that SIA didn't invest a whole lot of R&D into this seat. In a departure from their usual obsessive approach to seat innovation, they purchased the Weber 7811 pretty much off-the-rack. That's not a recipe for customer satisfaction, and I think it's safe to say that the airline would prefer this seat disappear into the annals of history sooner rather than later.
The very friendly crew came round to introduce themselves, and we chatted about San Francisco and told them we were on the way to the Maldives for part two of our honeymoon. They brought us a pair of SQ bears to mark the occasion- I already had this particular design, but it was a thoughtful touch nonetheless.
Welcome drinks were served, and I was pleased to note that SQ serves champagne on the ground in Hanoi (bottles opened on the ground attract local duties and taxes, so some airlines may only open the good stuff once in the air).
Lunch would be served on this flight, and the crew distributed the menus before takeoff. Or should I say, they distributed the sheets.
It's a shame that Singapore Airlines has decided to replace the Business Class menus on short haul flights with flimsy sheets of paper. Say what you will about saving Gaia and treehugging, but you'd save a lot more jet fuel by simply not bringing a fully-loaded duty free cart on every flight 😉
The captain announced the flight time of just under 3.5 hours to Singapore, with clear skies along the way. There wasn't much congestion at Hanoi airport this time of day, and we were soon on our way.
After we hit our cruising altitude, the crew began lunch. These regional flights are a kind of in-between service- you won't get the full table cloth and pre-meal satay, nor will you get the whole meal on one tray. Instead, you're served a tray with the starter, and this gets swapped out for the main course and dessert.
The starter of smoked salmon with capers and waldof salad was pretty good, all things considered.
For the main, I had the char siew pork ribs with fried rice, which was absolutely delicious. Who needs Book the Cook, amirite?
Dessert was relatively unmemorable, a mango cream cake. No ice cream was served.
There was time to take in a movie or two after lunch, and even though the IFE system on the A330s may not be the latest, it still packs a wide variety of movies.
There was time for a quick nap after the movie, but unfortunately the A330's angled-flat seat is not great for this.  Given the sloping design, it's actually better not to go full flat lest you slide off the seat. I found a reclined cradle position to be the most conducive- this definitely isn't a seat you want on a red eye flight.
Before landing, I visited the bathrooms, which was nothing special. The A330s lack modern features like no-touch flushes, no-touch bins and no-touch taps.
On the plus side, they have the much-improved Penhaligon's amenities, which replaced Miller Harris more than a year ago.
The landing went smoothly, and we had another two hours to catch our breath before our fourth flight in 24 hours to Male. The crew (who had been fantastic throughout the flight) lined up to bid us farewell, and although the hard product on this aircraft was dated and uncompetitive, the service was as always spot on.
Conclusion
It's hard to believe that until recently, Singapore Airlines was operating this product on overnight flights to destinations as far afield as Seoul and Brisbane. Although the seat may be acceptable for a 2-3 hour hop around the region during the day, I pity anyone who urgently needs to catch up on sleep.
It's no secret that I don't have much love for this ageing Business Class seat, and the happiest thing about writing each month's Seat and Fleet guide updates is seeing more of the A330s and older B777s leave the fleet. There will come a day, in the not too distant future, where Singapore Airlines has flat beds in Business Class on every single aircraft. Then we will look back at such reports and wonder how we ever survived so long as a species without it 🙂
In the meantime, however, this is a seat that's alright for a short flight, but definitely one to avoid for overnight ones. There are much better options to spend your miles on.