If you haven't paid your income tax bill yet, here's some good news: CardUp has extended its 1.75% income tax payment promotion for Milelion readers, and removed the restriction on Citi and Standard Chartered credit cards.
Use CardUp to pay income tax with a 1.75% admin fee
From now till 25 August 2020, readers can use the promo code ML175TAX20 to pay income tax with just a 1.75% admin fee. 
This promo code is applicable to both new and existing CardUp customers. All Singapore-issued Mastercard and Visa cards can use this code. 
Payment must be scheduled by 25 August 2020, with due date latest by 28 August 2020. The full T&C for this code can be found here.
💳 If you're using an American Express card, you can instead use the code AMEXTAX24 to enjoy a discounted rate of 2.4% (versus the usual 2.6%). Payments must be scheduled by 23 July 2020, with the latest due date by 28 July 2020. The full T&C can be found here. 
What's the cost per mile?
With the discounted admin fee, here's how much buying miles will cost with the following credit cards, in terms of cents per mile (CPM).
A running list of all the cards which earn points with CardUp can be found here. Broadly speaking, any general spending card will earn points with CardUp. There are no 10X opportunities, however, so don't use cards like the Citi Rewards or DBS Woman's World Card.
Most options here yield a cost of 1.5 cents per mile or less, which is a very good price to purchase miles.
Do note the following:
How do I use the code?
After you've logged in to your CardUp account, click the "Schedule Payment" button and select "Taxes & Stamp Duty"). Select "Income Tax", acknowledge the terms and conditions and click "Next".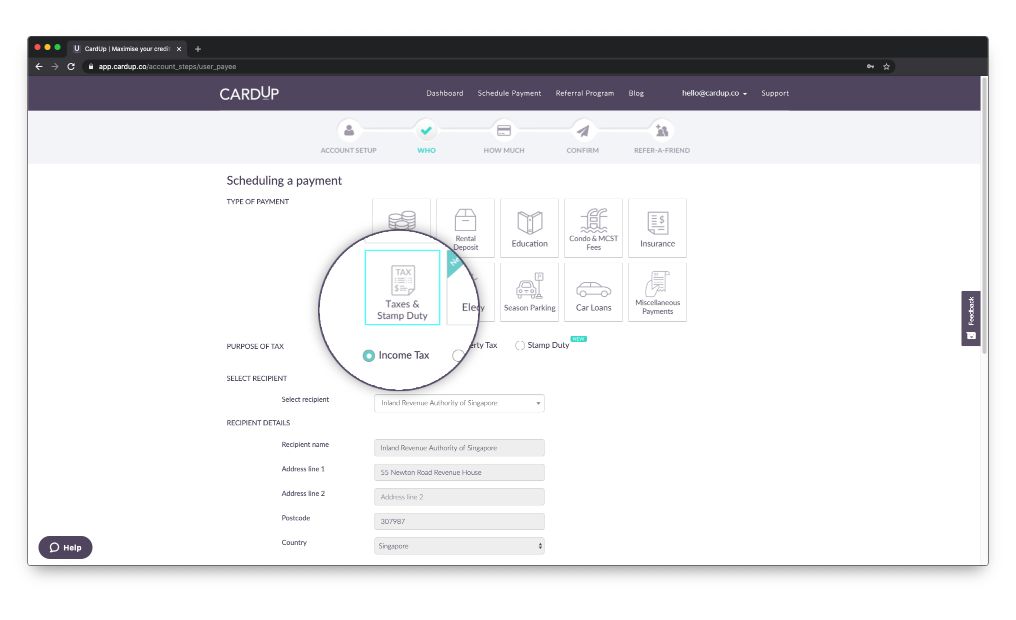 Enter the amount you wish to pay (this should match the amount reflected on your NOA)…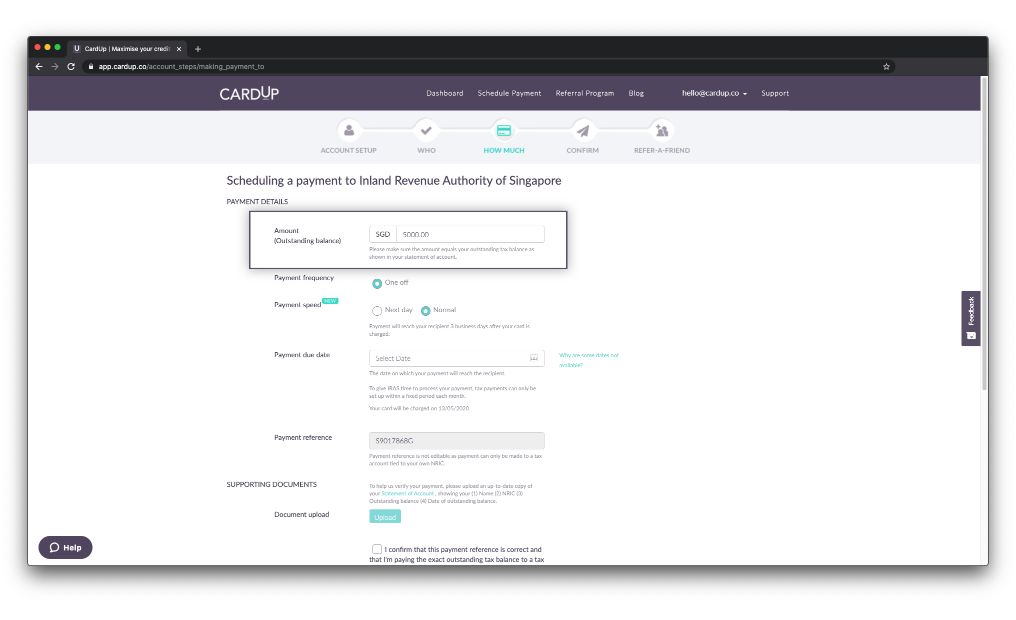 …and the date on which you wish to make payment. 
Here's also where you upload your NOA and enter the relevant promo code.
Ensure the 1.75% fee reflects on the final screen, then submit your payment for approval.
Other things to note
This promo code can be used a maximum of once per user. In any case, you can only use CardUp to pay off your entire tax due amount, as IRAS doesn't allow for installment payments via CardUp.
Also note that unlike the tax payment facilities offered by banks where funds are transferred to your account and you make the payment, CardUp makes payment directly to IRAS on your behalf.
CardUp transactions generally count towards sign-up bonus spending for most credit cards, but you'll want to double check your T&Cs for specific exclusions. For example, the SCB X Card's 100,000 miles sign-up bonus (since expired) excluded CardUp transactions.
❓ If you have doubts about whether CardUp spending will count towards any specific promotion, drop the team a line at [email protected], and they'll reach out to check with the bank directly
Conclusion
A 1.75% fee allows you to buy miles for some of the lowest prices in the market, so it's great to see the promotion extended, and the restriction on Citi and Standard Chartered cards removed. Be sure to schedule your CardUp payments before 25 August 2020.
For more information on earning miles on income tax, be sure to have a read of The Milelion's full guide here.