The Raffles Hotel Singapore is one of those places that needs no introduction. Even if you've never so much as stepped foot inside, you're bound to have seen it as you pass the Beach Road area, a monument frozen in time amidst the glass and steel high-rises around it. 
Rooms at the Raffles are normally prohibitively expensive, but the current situation has compelled the hotel to offer a very attractive staycation package, presenting what could be a once-in-a-lifetime opportunity to stay here. 
I'd never stayed at the Raffles Hotel before, so you can imagine my excitement for this particular review. While the stay wasn't flawless, I will say that it delivered on most fronts, and would rank it among the best stays I've ever had. 
Booking the Raffles Hotel Singapore
Prior to COVID-19, a one-night stay at the Raffles Hotel Singapore would have set you back in excess of S$1,000 a night, making this easily the priciest hotel in all of Singapore. 
But with foreign visitors all but gone, the hotel's had to innovate to attract local guests. And innovate they have, with the launch of the two-night Suite Life package. This costs S$795++ (S$936 nett), and includes: 
🏨 Suite Life Package


2 nights in State Room Suite

Complimentary upgrade upon availability

S$100 hotel credit (extra S$50 credit for stays from Sun-Wed)

15% off F&B, spa, boutiques

Complimentary parking

Book By

30 Sep 2020

Stay By

30 Sep 2020

Note: When this package initially launched, it included guaranteed 11 a.m check-in and 4 p.m check-out, plus a guaranteed room upgrade. This has since been removed, on account of the service issues it created (read more on that below)
Let's face it- S$936 is still a hefty chunk of change, and not something to be spent lightly. That said, 2 nights for S$936 is possibly the cheapest opportunity you'll ever have to stay at the Raffles, and that cinched it for me.
Moreover, I wasn't actually intending to pay out of pocket. I initially planned to use the (now-ended) AMEX Platinum Charge "double value" promotion, where cardholders received a special rate of 1,000 Membership Rewards (MR) points= S$9.60 (instead of the usual (S$4.80).
A S$936 charge would cost 97,500 MR points, but as I argued in this article, that's equivalent to 97,500 Marriott points. If you told me there was a chance to book 2 nights at the Raffles Hotel for 97,500 Marriott points, plus breakfast and other freebies thrown in, I'd have bitten your hand off. 
Shortly after booking, I remembered that I was still holding on to 107,000 Accor Live Limitless (ALL) points, courtesy of the Standard Chartered X Card's transfer bonus back in March. Why not burn those instead? 
Fortunately, a quick email to the Raffles reservations team got the charge on my card reversed (I'll use that statement credit to fund other staycation reviews), and I was able to spend my ALL points at a rate of 2,000 points= €40 (~S$65). As an added bonus, I could also charge all my F&B spending to the room and use ALL points to offset that too.
Pre-arrival
Four days before my stay, I received a pre-arrival email from the hotel.
It's absolutely essential to keep an eye out for this, because completing it allows you to pre-book facilities like the pool (essential) and gym (not so essential). 
The process takes less than five minutes, during which you'll be asked for basic information and identity documents. 
Upon completion, you'll receive a QR code and a link to book the swimming pool and gym. Popular slots fill up quickly especially on weekends, so don't hesitate. Each guest is limited to one 90 minute slot at the pool and gym per day (including check-out day). 
The full list of pool and gym timings can be found in the "facilities" section of this review. 
If you're really kiasu (like me), there's nothing stopping you from emailing the concierge in advance and securing slots, even before you get the pre-arrival email. 
Separately, please also remember to book the history tour. There is no link in the pre-arrival email; you'll need to email the concierge to book this. I'll talk about the tour later on in this post, but it's one of the highlights of the hotel and you don't want to miss it. 
Raffles Hotel Singapore: Arrival and Check-in
There's no feeling quite like pulling up to the gravel driveway of the Raffles Hotel and realising that this place is your home for the next two nights. 
The doormen helped me unload my luggage, and a staff member greeted and escorted me to the SafeEntry QR codes. 
Once done, we headed through the entrance for a quick temperature check…
…and then there I was, in the magnificent Raffles Hotel lobby under the largest chandelier I'd ever seen. This Champalimaud Design piece draws your eyes upwards to the lofty heights of the lobby, and is estimated to weigh almost 800 kg.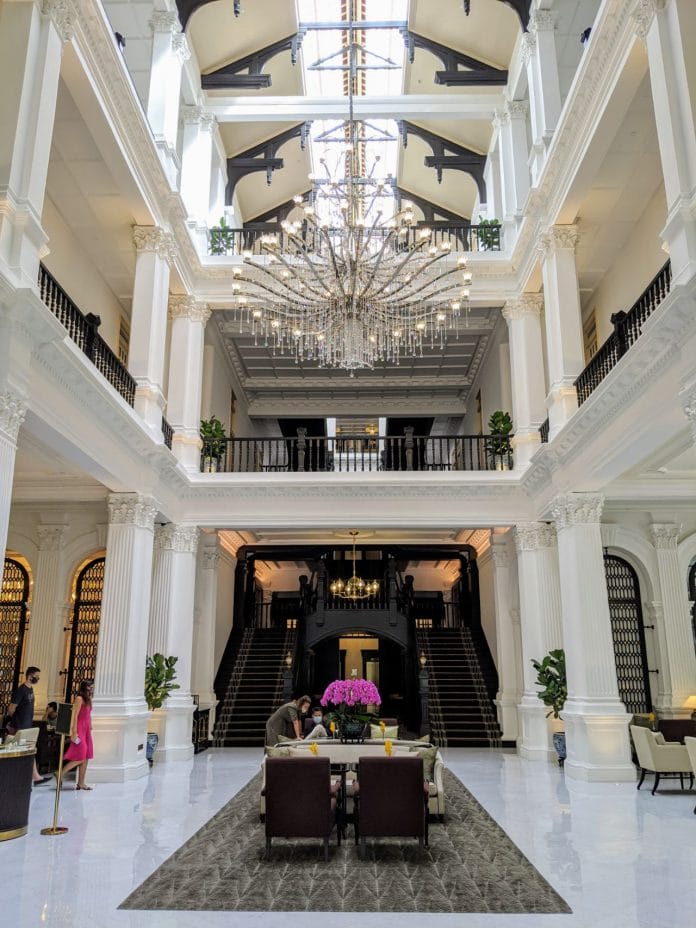 The lobby was quiet when I arrived around 10.30 a.m. Another associate approached me to introduce herself, and whisked me off to the second floor to handle check-in. I suppose this is their way of keeping the lobby as empty as possible, as per the STB's guidelines on Phase 2 density requirements. 
⚠️ Issues with early check-in
Raffles Hotel is currently adopting a "24 hour empty" policy, where rooms are left vacant for 24 hours in between guests. Unfortunately, this has resulted in some guests encountering significant check-in delays. 
Despite having a guaranteed 11 a.m check-in slot, some were kept waiting in the hotel until 7 p.m or later due to room unavailability. Other guests received calls the day before asking them to delay their arrival until the evening. 
In these cases, service recovery has ranged from offering extended check-out hours equal to the time lost, or 20% off the cost of the stay. 
It's probably the reason why guaranteed early check-in was removed from the Suite Life package's T&Cs (but if you booked it before the removal, it'll of course be honored). For what it's worth, I didn't encounter any such issue, although that could just be because of my Thursday arrival. 
The associate requested a copy of my identity card and credit card, and whisked them off for processing. I was a bit confused as to why this was needed, however. I thought the whole point of the pre-arrival email was to provide these details ahead of time. 
In any case, she soon returned to escort me to my room. There's no cheap plastic keycards here- Raffles instead gives you a handsome leather-bound card to access your room and facilities. 
Raffles Hotel Singapore: Courtyard Suite
There are a total of 115 rooms at The Raffles Hotel Singapore, split as follows: 
 

Number of Rooms

Size

Studio Suites*

6

46 sqm

State Room Suite

18

67 sqm

Courtyard Suite

31

58 sqm

Palm Court Suite

35

70 sqm

Personality Suite

12

Varies

Residence Suite

5

150 sqm

Promenade Suite

2

85 sqm

Grand Hotel Suite

4

150 sqm

Presidential Suite

2

260 sqm

*Not available for sale. These are meant to accommodate staff of VIP guests.
The Suite Life package books you into a State Room Suite, with a space-available upgrade to the next highest category: a Courtyard Suite. I received an upgrade, but having had the chance to see the State Room Suite, I think it might be better to decline the upgrade. I'll explain more in the next section. 
Courtyard Suites are located in a quiet part of the hotel, just outside the main building. Each room has its own set of chairs and table on the open-air veranda. 
My room was 230, towards the end of the row. Tapping your card on the Raffles logo grants you admission. 
On entering the room, you'll be in the parlor. This has a living room area with sofa, single chair and coffee table, and a dining area with two chairs and a round table.
There's a flat screen TV, a steamer trunk bar, as well as a little library. 
Some of the books in the collection were from famous writers/playwrights who stayed at the Raffles before, like Noel Coward. Others focus on telling Singapore stories. I've always been meaning to read "It Never Rains on National Day", but my attention span these days is so brief that even short stories seem too long. I blame society. 
The steamer trunk bar in the parlor opens up to reveal a Nespresso coffee capsule machine, wine glasses, additional bottled water, and a (non-complimentary) mini-fridge full of alcoholic and non-alcoholic drinks. It's a thing of beauty, with its burnt orange leather interior. 
The dining table isn't the largest, but it was big enough to get some work done. 
Speaking of work, a word about the Wi-Fi. Wi-Fi speeds at the Raffles aren't great. While I was able to watch Netflix and browse the web without any difficulty, it took considerably longer to download large files or buffer HD video.
Sorry to say this, but internet speeds are on par with the Hotel 81. 
 
🔽

Download

🔼

Upload

YOTELAir Changi

29 Mbps

49 Mbps

W Sentosa Cove

34 Mbps

34 Mbps

The Barracks Hotel

7.3 Mbps

7.7 Mbps

Hotel 81 Tristar

7.0 Mbps

6.8 Mbps

Raffles Hotel

6.9 Mbps

6.8 Mbps

Hotel Soloha

4.7 Mbps

5.

1 Mbps

Internet speeds based on Speedtest.net scores as recorded during my own visits. Ranking based on sum of download and upload speeds. 
Across the parlor is the seating area, where a basket of fruit and a welcome letter were waiting. 
You'll find an iPad on the side table. When the Raffles underwent its last renovation, one of the major changes was to wire up the entire room for smart access. Each room now comes with two tablets, through which you can control almost every device. You can also use it to summon the butler to the room or request a callback. 
Lights, temperature and curtains are all controllable through the iPad, with presets for reading, watching movies and sleeping. 
You can control the television…
…or watch your own Netflix on the TV (you'll need to provide your own account, however). 
Although the iPad had basic information on hotel restaurants (like opening hours), I thought they missed a trick by not including the menus. 
Thanks to the Press Reader app on the iPad, you can also browse thousands of newspapers and periodicals. This starts fairly respectably…
…but veers off track rather quickly. I was pretty surprised they didn't have an "adult filter" on content, given that kids could freely access the device (won't somebody please think of the children?!).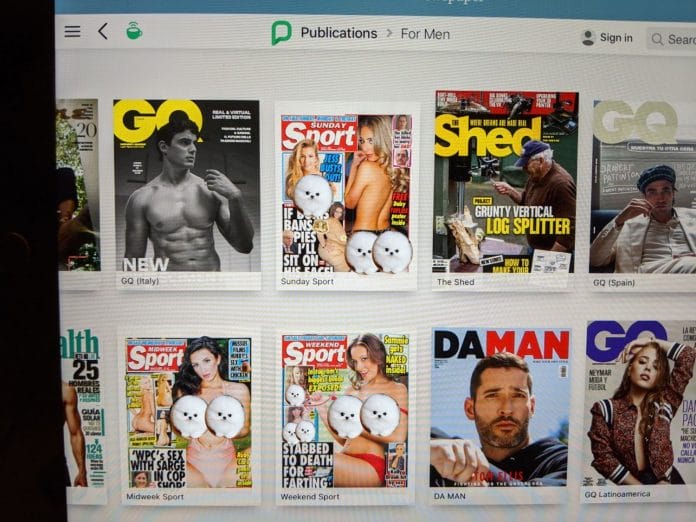 On to the bedroom, and I was really disappointed not to get one of those four post beds I saw on the website. Perhaps this room has height restrictions, but there's just something majestic about four posters. 
Bedframe disappointment aside, the bed itself was amazing, and easily the best hotel bed I've ever had. I'm told it's a Sealy Posturepedic mattress, although which specific model is unclear (I'm trying to find out, because I want this as my next bed). 
Another fun feature is that every night at turn-down, housekeeping leaves a short excerpt of a story by a famous Raffles alumni on your bed. On the first night I got a passage from "My East Was Gorgeous" (Ira J Morris, 1958), on the second, "The End Of The Tether" (Joseph Conrad, 1902)
There are two large wardrobes with plenty of storage space, and the same attractive burnt orange interior as the steamer trunk bar. 
Each bedside table has two USB ports and two universal power outlets built into the drawer, with a small cutout for the cable to extrude. 
If you're a light sleeper like me, do yourself a favor and take the battery out of this bedside clock. It's extremely loud in a quiet room. 
A small dressing table runs parallel to the bathroom, with a light up mirror that flips up to reveal a hairdryer. 
The bathroom has luxurious marble finishes, and striking black and white Peranakan-style floor tiles. A freestanding acrylic bathtub forms the centerpiece of the bathroom, and extra points to Raffles for providing a bath pillow (although it'd be even better if they provided two). The butler can draw a bubble bath for you any time, and the tub retains heat well. 
His and hers sinks come standard in all suites, and the hotel has chosen to retain the European-style taps with separate hot and cold levers (thankfully, the British colonial legacy of separate hot and cold taps doesn't live on here). 
One cute feature on the bathroom counter was this floral dish, which I'm guessing was for placing rings. Of course, it could always be a spare toilet roll holder, but let's keep things romantic. 
There are other small nods to old-world charm, such as the provision of an analogue weighing scale instead of a digital one, and a bathtub mixer that looks like the receiver of a rotary phone. 
The shower cubicle is large, and has a bench seat for you to sit and wash your feet. Both a rain shower and hand shower are available, and both can be turned on at the same time. 
The toilet has a bidet spray, but disappointingly lacks an automatic TOTO washlet. I don't think it'd be too unreasonable to expect one of those, given the price point of this hotel. 
Do remember there's a handy do-not-disturb button on the side of the wall next to the toilet- good for when you're answering the call and don't wish to be bothered. Impressively, all the do-not-disturb buttons within the suite are synced, and the iPad can detect when either of the switches is triggered. 
Bathroom amenities are Isfarkand by Ormonde Jayne, a London-based perfume house. These subtly fragranced bath products were some of the nicest toiletries I ever had in a hotel. More toiletries will be provided upon request, within reason, of course. 
Other amenities include a shower cap (with useful scrunchie), comb, shaving kit and dental kit. 
The Milelioness would like me to point out that the Raffles Hotel Singapore uses toothpaste without SLS, which is great for those who have sensitive mouths. 
All rooms receive a complimentary Raffles Personal Care Kit, which contains two Raffles-branded face masks, a 30ml bottle of french lemon hand sanitizer spray, and a pack of antibacterial wipes. Additional kits can be purchased in the boutique for S$15.90. 
Speaking of hygiene, it wouldn't be a complete review without the trusty old UV light. With the exception of a couple of stains on the wall near the toilet paper holder, the rest of the room passed muster. 
Raffles Hotel Singapore: State Room Suite
I previously mentioned that the Suite Life package books you into a State Room Suite, with a space-available upgrade to a Courtyard Suite. 
Here's the thing: I actually think the State Room Suite is better. Not only is it 9 sqm larger, it also benefits from a lot more natural light. I found the Courtyard Suite to be quite dark, even with all the lights on, and that only served to make the room feel smaller. 
There'll be no such claustrophobia with the State Room Suites, which boast floor to ceiling windows to soak in all that gorgeous daytime sunlight. 
The bedroom has a four post bed, along with a small dressing table area. 
State Rooms boast both front and back entrances. The other entrance is found down a elongated passageway that connects bathroom to bedroom. 
The main drawback is that the bathtub is not freestanding, and is slightly narrower than the one in the Courtyard Suite. 
Other drawbacks include the fact that the State Room Suites face the main road, which could result in more traffic noise, and your outside area is much narrower than the Courtyard Suites. 
So to summarize:
| | | |
| --- | --- | --- |
|   | State Room Suite | Courtyard Suite |
| Size | 67 sqm | 58 sqm |
| Entrances | 2 | 1 |
| Natural Light | Plenty | Little |
| Bathroom | Not directly connected to bedroom | Directly connected to bedroom |
| Bathtub | Not freestanding | Freestanding |
| Noise Level | Possible road noise | Very quiet |
| Exterior Corridor | Narrow | Wide |
You'll have to decide what you value more- space or privacy. For what it's worth, I think I like the State Room Suite more. I even asked the hotel if they could downgrade me, but because of their "24 hour empty room" policy, switching guests between rooms could mess up their schedule and cause all kinds of problems down the line. 
Raffles Hotel Singapore: Facilities
Pool

Gym

Spa

Yes: 7 a.m to 7 p.m

Yes: 24 hours

Yes: 10 a.m to 4.30 p.m
(closed Mondays)

Kids' Club

Business Centre

Others

No

Yes

N/A
As mentioned earlier, both pool and fitness centre require advance reservations. These slots will fill up faster than you think, so make your bookings even before you arrive. 
The following time slots are available for the pool…
🏊‍♂️ Raffles Hotel Singapore Pool Timings

0700-0830 hours

1300-1430 hours

0830-1000 hours

1430-1600 hours

1000-1130 hours

1600-1730 hours

1130-1300 hours

1730-1900 hours
…and the gym: 
🏋️ Raffles Hotel Singapore Gym Timings

0700-0830 hours

1730-1900 hours

0830-1000 hours

1900-2030 hours

1000-1130 hours

2030-2200 hours

1130-1300 hours

2200-2330 hours

1300-1430 hours

2330-0100 hours

1430-1600 hours

0100-0230 hours

1600-1730 hours

0230-0400 hours
It's more important to make a booking for the pool than the gym, because the latter was virtually empty every time I passed through while the former was always maxed out. While you can show up without a reservation and try your luck, the current high occupancy rates mean you're likely to be disappointed. 
Swimming Pool
The pool at the Raffles Hotel Singapore is definitely on the smaller side, although thanks to the current social distancing restrictions you won't find it overcrowded. A maximum of 16 people can be in the pool at any one time, with a further 24 outside. 
Upon arrival, you'll do a SafeEntry check-in and be ushered to a set of pool chairs. All pool chairs are cleaned and sanitized in between guests, with fresh towels draped over them. Complimentary bottles of mineral water are provided too. 
The pool measures 1.5m at its deepest end, which allows for proper lap swimming. The water tastes salty, but it's not actually a salt water pool. It turns out this is a special way of treating the water, so as to reduce the amount of chlorine required. 
Even though we were staying on a weekday, the pool area was constantly at full capacity. There would be brief intervals where no one happened to be in the water, and you could jump in and feel like you had it all to yourself. However, those moments were fleeting and far between. 
There are always at least two attendants at the pool, who handle F&B orders and clean the chairs between uses. The food selection is similar to what you'll find in the all-day dining section of the room service menu. 
Despite the crowd, I found service to be attentive and responsive. Fair warning though: expect to pay luxury hotel prices for poolside drinks (S$25++ for a mojito). The Suite Life package's 15% discount on F&B cushions the blow a bit, but the cheaper drinks are served at the Raffles Courtyard during happy hour. 
Fitness Centre
The 24-hour gym has a wide selection of equipment, some with entertainment devices installed. Expect Technogym treadmills, elliptical equipment, free weights and other ways of torturing yourself. 
I never saw more than a couple of people in the gym at any time, and even though some machines can't be used due to social distancing measures, you're unlikely to encounter waits. 
Raffles Hotel Singapore: Breakfast
Served at

Cost

Style

Tiffin Room

S$72++ (Adult)
S$36++ (Child)

A la carte buffet

Hours

Sparkling Wine?

Discounts?

7.00 a.m to 10.30 a.m

No

None
Breakfast is served at the Tiffin Room every day from 7 a.m to 10.30 a.m. 
Unlike other hotels in Phase 2, there's no need to pre-reserve a time slot. Raffles Hotel has  gone all out to allow guests to dine when they wish, and converted three separate areas into socially-distanced breakfast venues. 
You can sit outside in the Palm Garden by the fountain…
…inside the Tiffin Room…
…or in the Grand Lobby. 
Barring some freak occurrence where all 115 rooms decide to take breakfast at the same time, it's highly unlikely you'll have to wait for a seat. Service times will of course be longer during peak periods, however, so it's advisable to eat before 9 a.m where possible. 
Breakfast is served a la carte buffet style, with guests able to order as many dishes as they like. When one thinks of the Raffles, one might imagine decadent breakfasts with champagne, king crab omelettes and table-side unicorn carvings. But the breakfast menu at Raffles is in fact rather brief: 
Don't get me wrong, I'd much prefer a place that does a few items well than many items terribly, but I was still surprised to see so few options (especially the Western items, since four of them could simply be consolidated under "eggs"). 
In terms of taste, I had no real complaints about the pancakes, waffles or french toast. These all benefit from being made-to-order (instead of sitting under heat lamps for hours, as is wont at regular buffets), and while I've certainly had better, they got the job done. 
I also tried the Raffles Signature Omelette and the Eggs Benedict, but nothing really blew me away here. They were competently executed, if not unmemorable. I think they had an off day with the sides, as the spinach was dried out and the mushrooms bland. 
Thankfully, the Asian options were way superior. You absolutely need to try the Seafood Mee Goreng; it's flat-out delicious, and unlike a certain other luxury hotel, actually has seafood in it. 
Props also to the delicious Nasi Lemak. Each element came together in perfect harmony, from the crispy yet moist chicken & fish, the subtle coconut flavor of the rice, and the sweet spice from the sambal. 
The fish congee was also excellent, and was presented beautifully. 
I'd give the dim sum a miss though. It's rather average, and you'll find much better at yi (see below). 
My take is that Raffles definitely does its Asian items better than the Western ones, and if you're counting your calories, go for the former. 
On Day 1, we started breakfast around 8.30 a.m, and on Day 2 at 8.00 a.m. Both times, dishes arrived within 10 minutes of ordering, but remember, your wait is likely to be longer during peak periods. 
Breakfast at the Raffles Hotel won't go down among my best-ever hotel breakfasts, but the service was fantastic (frequent refills, staff who knew the fine art of appearing when you needed them and disappearing otherwise) and that mee goreng was a star performer. 
Shame they didn't have avocado toast. 
Raffles Hotel Singapore: Other F&B options
Raffles has no fewer than nine eating and watering holes on its premises, all of which can be charged to the room (relevant for those who are intending to pay with Accor points). 
| | |
| --- | --- |
| Restaurant | Status as of 8 August 2020 |
| Butcher's Block | Open |
| La Dame de Pic | Open |
| Raffles Courtyard | Open |
| The Grand Lobby | Open |
| Tiffin Room | Open |
| yi by Jereme Leung | Open |
| BBR by Alain Ducasse | Closed |
| Long Bar | Closed |
| Writers Bar | Closed |
I visited all the open restaurants except La Dame de Pic. That one struck me as a little too expensive, even for a points stay. 
From now till 30 September 2020, Raffles is running a promotion where four people can dine for the cost of three. There's also a 25% discount on the cost of drinks.
Butcher's Block
I had high hopes for Butcher's Block, but sadly I just can't recommend this place. 
Nothing we ate here was great, in fact, most of it wasn't even good. We ordered the beef tartare (S$29++) for a starter. Now, I get the whole "rule of thirds" when it comes to plating, but it looks flat out weird to get it plated like this: 
It just looks like they forgot to add something to the plate. At least a small bunch of microgreens, or some toast (the classic accompaniment to steak tartar), or even a smear of sauce would have improved things tremendously. Taste-wise, I've certainly had much better too. 
The tomato heirloom (S$14++) was much more visually pleasing, and a very interesting dish- a peeled whole tomato with foam and gazpacho. 
But it was the main course where things went off the rails. We ordered the bone-in sirloin (S$108++), medium rare (the only acceptable way to have steak). I've eaten and cooked enough steak to know that what was served was way closer to rare. The cow was still mooing. 
I sent it back, but the problem is that once you've cut the steak, cooking it again is never going to end well. You've already lost a lot of juice, and once you place those small pieces on a blazing hot grill meant for larger whole cuts, this is the only natural conclusion:
There are other steakhouses I know which would have re-fired a new piece, and that's their call to make, I suppose. I'll just say that I didn't enjoy dinner here at all, and there are much better restaurants at Raffles to try. 
On a separate note, Butcher's Block has some unfortunate table design. When we first sat down we thought they'd given us a dirty table, but the staff insisted it was part of the design. I made a quick pass of the restaurant and noted similar "stains" on other tables, so fair enough, but it's not particularly appetizing to look at. 
Even my phone camera thought something was afoot, thinking that the stains were on my camera lens. 
The Grand Lobby
The Grand Lobby is the place to head for the famous Raffles' afternoon tea ritual, which costs S$78++ per person. Afternoon tea is served from 1-5 p.m from Monday to Friday, with extended hours of 12-6 p.m on Saturday to Sunday. 
This is served on a photogenic three-tiered tea set, together with your choice of choice of premium teas. Home-baked scones are also served with clotted cream and rose petal jam. 
As far as tea sets go, it's a substantive meal, ranging from savory finger sandwiches…
…to a selection of sweeter things. 
These were an excellent pairing with the special champagne that the Raffles Hotel Singapore commissioned to mark its reopening in 2019. By the bottle, it's S$158++ (but remember you get 25% off). At the gift shop, it's just S$98. Ah well, you're paying for the atmosphere…
This is also one of the two venues you can take your Singapore Sling welcome drink, between 6-8 p.m daily. 
Tiffin Room
The iconic Tiffin Room is now the longest-running restaurant at the Raffles, and where you'll have breakfast each day (see breakfast section for more details). 
We had lunch here on the first day, and even though I very rarely have Indian food and therefore my opinion counts for little, I thought this was pretty great. 
For starters, we shared the Jhinga Kebab (S$55++), which consisted of two giant tiger prawns with mango salsa. The prawns had a delightful sweetness to them, and mango is always good. 
For the main, we went with the Mera Dabba (S$75++), which lets you pick your own selection of two mains, accompanied by lentils, basmati rice, naan and chutneys. You can have all the naan you want, and what man in the right mind ever said no to that? 
Raffles Courtyard
The Raffles Courtyard is the other venue where you can have your welcome drink (between 3-5 p.m). It's a much nicer environment for a cocktail, in my opinion, with its al fresco setting and in the cool of the evening. 
As for the Singapore Sling, it was my first time trying one, and while it's not without its charm, let's just say I think I'll stick to mojitos. 
The daily Happy Hour menu (5-8 p.m) sadly didn't have mojitos, but they did have other libations. Cocktails cost S$15++ each, which is very cheap considering you also get 15% off as a staycation guest. 
The Kamikaze (S$15++) and Daiquiri (S$15++) looked identical, but each pulled their weight admirably. 
So as to not drink on an empty stomach, we ordered the "Har Cheong" Boneless Chicken Thigh (S$12++), or har cheong gai for the less fancy among us. It was moist and delicious. 
Word of warning: there are mosquitoes buzzing in the courtyard around evening, so those of you who are sensitive to that will want to take note. The Milelioness and I got bitten quite a few times, but the staff had repellent on hand which seemed to stop the attacks. 
yi by Jereme Leung
yi has a gorgeous entrance way, which makes for great photo opportunities. 
Fortunately, it also has the culinary chops to match, and turned out to be an unexpected hit for me. "How great can dim sum be?" I thought to myself when making the booking.
The answer is- "very." yi takes your standard dim sum hits and elevates them to a whole new level. Must tries include the Black Golden Egg Custard Bun (S$9++) and Dried Scallops, Shrimp & Chives Pancake (S$9++).
Even staples like Siew Mai (S$9++) and Har Kau (S$9++) were executed to perfection, and the cheung fun with tiger prawns (S$10++) and barbecue pork (S$10++) had whole slices of shrimp and char siew inside, not the tiny flecks you find elsewhere. 
Long story short, I can't recommend this place enough, and would gladly head back again.
Other Attractions
Raffles Boutique
Yes, the items are probably overpriced, but the Raffles Boutique is more than a tourist trap gift shop- it serves as a mini-museum of some hotel relics, and is well worth visiting. 
Inside you'll find old receipts from guests, photos of the hotel throughout the years, as well as a heck of lot of Raffles-branded merchandise. 
My advice: resist the urge to buy anything here before checking the website first. For instance, this special edition Billecart Salmon Brut Champagne was selling for S$128 in the physical gift shop, versus just S$98 online! 
In case you were wondering, your welcome gift is a tin of Raffles Hotel Blend tea. 
History Tour
The Raffles Hotel is steeped in Singapore history, and the complimentary History Tour allows you to hear these stories first hand, see the spots where famous writers and actors wined and dined, and get access to parts of the hotel you normally couldn't visit. 
We had Nazir as our tour guide, and his job is basically to be a walking encyclopedia on all things Raffles Hotel. I won't spoil the tour for you, suffice to say it's a great use of an hour. 
We even got to walk around the Presidential Suite, which was in the process of being prepared for an arriving guest the next day (rack rate: S$10,000). 
Book your history tour far in advance, because this could well be the highlight of your stay.
Raffles Hotel Singapore: Service
For a hotel in this price segment, you'd expect service interactions at the Raffles Hotel Singapore to be flawless. 
While I certainly found the service here to be the best among any hotel in Singapore, I wouldn't go so far as to call it "flawless". 
Let's start with the little touches that impressed me:
Staff members bother to memorize the names of guests, and I was constantly greeted by name throughout the hotel
I'd made so many bookings for the pool, gym, history tour and various restaurants that I had trouble keeping track of where I was due when. I asked the concierge if they could do up an itinerary for me, and expected them to give me one sheet of paper with each day's appointments listed, but something got lost in translation, and I ended up with 10 different appointment cards. Of course I'd prefer it if they understood me properly, but come to think of it- that's some dedication to write out 10 individual cards just for one guest
Even non-historian staff members love to strike up little conversations here and there about the hotel's history. I was idly taking photos of the grandfather clock in the lobby and the concierge wandered up to tell me more. I asked about the classic Daimler car out front, and the concierge insisted on taking us to it and letting us sit inside
The history tour ended just beyond 5 p.m, which is the cutoff time for getting your welcome drink at the Raffles Courtyard. Nazir specially came over to ensure we wouldn't have issues claiming our drink (it wasn't an issue actually; the staff here thankfully haven't been infected by the "cannot" mentality that's so pervasive in the Singapore service sector)
During the history tour, I asked a throwaway question about a neon sign that used to adorn the facade of the Raffles, which the Nazir wasn't familiar with. I thought nothing about it, but he made a point to check with his mentor and later tracked us down just to let us know
On the first day at the pool, we requested some ice to be served along with the bottled water. On the second day it was brought automatically without asking
On the last day, I wanted to pop back to yi one last time. It was a Saturday, so all the tables were full. However, one call from the staff member at the pool (not even the butler, mind) and they were able to open a last minute table
I do feel, however, that the hotel was missing that last 5% which puts you over the top into the "flawless" category. Some examples:
During check-in, the associate asked me if I'd like some still or sparkling water while I waited. I asked for still, and it never came
I didn't like that I never actually got to meet my butler, who was instead a disembodied voice over the phone. I can't say whether it's because of the current "minimize social contact" policy, but guests should at least get a phone call from the butler introducing him/herself
In the best hotels I've been to, cleaning staff are like ninjas, and housekeeping works around the guests' schedule, not vice versa. The breakfast area/pool/gym/spa will keep in close communication with housekeeping, so that when guests are outside the room, staff can nip in to get the cleaning done. That didn't really happen here
We ordered some drinks at the pool and were served nuts along with them. The nuts were completely lao hong (gone stale). We pointed this out to the staff, who apologised and removed them. I was expecting that they'd bring a fresh batch, but nothing materialized. When we returned the next day, they served the same stale nuts again
I found the Courtyard Suite a little too dark for my liking, so the staff brought an extra standing lamp. I realise there's a cultural element to the whole shoes on or off when in the room thing- Asians generally take them off, Westerners generally leave them on. I'd taken my shoes off, but the staff member didn't pick up on this and walked across the room in his shoes to set up the lamp
When we stayed at the Ritz Carlton Tokyo, the staff had an almost OCD thing about cables dangling on the floor. We'd come back every day to find our laptop and USB cables neatly coiled up, with a hotel-provided velcro strap. No such attention to detail here, sadly. Likewise, clothes were left on the furniture (instead of hung in the closet), and silverware left in the bathroom instead of being cleared
Let's be clear- these are all nitpicky things, and none of them ruined what was otherwise a fantastic stay. However, getting small things like this right is what separates a great hotel from a phenomenal one. 
Did Phase 2 restrictions hamper the staycation experience?
Although it was disappointing that we couldn't visit the Long Bar or Writers Bar, I don't think Phase 2 restrictions really detracted from the overall experience. If anything, it helped hedge against overcrowding at the pool, at a time when the Raffles was running close to full capacity. 
In fact, if not for the requirement to wear a mask in public areas, I'd be hard pressed to tell that anything was different. That's all the more because of how Raffles has gone about implementing safe distancing measures around the hotel. 
Other hotels have laid down safe distancing markers, blocked out seats and placed reminder signs throughout their properties. Unfortunately, most of these are visual eyesores. 
In contrast, the Raffles Hotel Singapore has forgone those ugly masking tape markings on the floor and hazard tape across chairs, replacing them with much more subtle reminders that fit organically into the hotel's style. 
It's a small thing, but it helps preserve the overall Raffles theme, and honestly, who needs more reminders about the need to safe distance anyway?
Conclusion
The total damage for a two night stay, including one meal at Butcher's Block, one at Tiffin Room, one and a half at yi (I dined solo on the last day as The Milelioness had work), a couple of drinks sessions at Raffles Courtyard and the pool, and high tea for four people was S$1,779. 
I used 54,000 ALL points (€1,080) to offset the bill, which converted into S$1,753.49. That's a more than fair conversion rate, given the Google rate came out to S$1,747.03. 
The Raffles Hotel Singapore feels like a destination in itself, and The Milelioness and I enjoyed wandering the grounds, popping into the little boutiques and feeling like we were overseas.
No doubt it's expensive, even with the current staycation promotion, but it's hard to place a price tag on an experience like this. I'd say that if a trip to the Raffles Hotel has always been on your bucket list, you'll never find a better time than right now. 
🏨 In Summary
Is the Raffles Hotel all that and more? Yes, and the Suite Life promotion could be your best chance to stay here. It's not cheap, but put it this way: it's the closest thing you'll get to an overseas holiday right now.
Do say: If we sell one kid, we could stay here again.
Don't say: And perhaps a kidney or two.