Update: After filing a complaint with the hotel regarding the room intrusion (see below), the hotel's director of rooms reached out to apologise and asked for an opportunity to make it right next time.
I decided to see how sincere they were about that, so I mentioned I'd be returning in early November and was willing to give the hotel a second try. He then replied that he'd be happy to offer me a "special rate"- which turned out to be even more expensive than the rate on the website! Needless to say, I'll be writing off this hotel…
After clearing German immigration and customs, I headed to the S-Bahn station for the 45-minute trip to downtown Munich. 
In my brief 80 hours, I'd be reviewing three different hotels across three different price points: Kempinski Munich, Hilton Munich City and Aloft Munich. 
🏨 Bavarians at the Gate: Hotels

Night
Hotel
Cost

1

Kempinski Munich 

€369

2

Aloft Munich

37,500 Marriott points

3

Hilton Munich City

68,000 Hilton points
What better way than to start off with the most luxurious of them all?
🍺 Bavarians at the Gate
🇸🇬 Singapore- Germany VTL 🇩🇪
Check-in
The Kempinski Munich (full name: Hotel Vier Jahreszeiten Kempinski Munich; somewhat confusing because Vier Jahreszeiten means "four seasons") is located near the Marienplatz district, Munich's old town and popular tourist haunt. 
That said, it's still a 500m walk from the S-Bahn station to the hotel, so you'll need to drag your luggage some distance across sometimes uneven streets. You know you've arrived when you see the building with all the fancy cars in front of it. 
One of the main reasons why I booked Kempinski Munich was the possibility of a 9 a.m check-in as a DISCOVERY Black member. My flight from Singapore had landed at 7.45 a.m, and I really needed a wake-up shower.
Sure enough, I was able to check-in immediately upon arrival.
The associate handling my check-in in was a trainee, and evidently unfamiliar with DISCOVERY Black benefits. When handing me the room key, she mentioned I'd received a "very lovely" Superior room, which was exactly the category I'd booked.
Upon mentioning this, she called a manager over, who fiddled with the computer and gave me a three-category upgrade to a Grand Deluxe. I was also given 6 p.m check-out the following day, netting me 33 hours of stay time.
Sometimes it pays to ask. 
Grand Deluxe Room
I'd been assigned to room 128, a Grand Deluxe room on the second floor of the hotel.
I'd be lying if I said I wasn't slightly disappointed upon opening the door. While Grand Deluxe rooms at the Singapore Kempinski measure in at 50 sqm with modern yet timeless interiors, the same category here starts from just 28 sqm, with a considerably more yesteryear vibe. 
It's not that the room was run down or anything, it was just rather modest-looking and cozy (though I understand that's par the course for European hotel rooms), making me wonder if I should have splurged €369 for the privilege. 
At least it overlooked a quiet side street, which made for good rest at night.
While on first glance the bed looked like two single mattresses pushed together, it was just how they'd folded the sheets. Each person got their own blanket (a marriage saver if I ever saw one), and the mattress itself was a very comfortable king-sized one. 
Each bedside had a Type C power outlet and two USB ports. 
The work desk had a comfortable chair which provided good support for your lower back. Two type C plugs, four USB ports and a HDMI connector were built into the wall.
Above the work desk was a flat-screen TV with numerous entertainment and news channels. Trust me, you haven't lived till you've watched Wallace and Gromit in German. At least I thought it was Wallace and Gromit, upon closer inspection it might have been a Teutonic knock-off. 
This being Europe, the TV also had more…adult-oriented content. Careful if your kids are into channel surfing. 
Next to the work desk was a mini-bar that opened up to reveal a coffee machine, cups and wine glasses. Two complimentary bottles of sparkling mineral water were provided at check-in, and replenished upon turn down. 
In a corner of the room was a small seating area with an armchair and coffee table.
Clothes could be stored inside the spacious wardrobe, which also had two bathrobes, two umbrellas and a digital safe. 
While the room may not have been all that impressive, the saving grace was the bathroom: bright and modern, with a large-sized rain shower head and TOTO bidet seat. Water pressure was excellent, and I took a refreshing hot shower the minute I got into the room.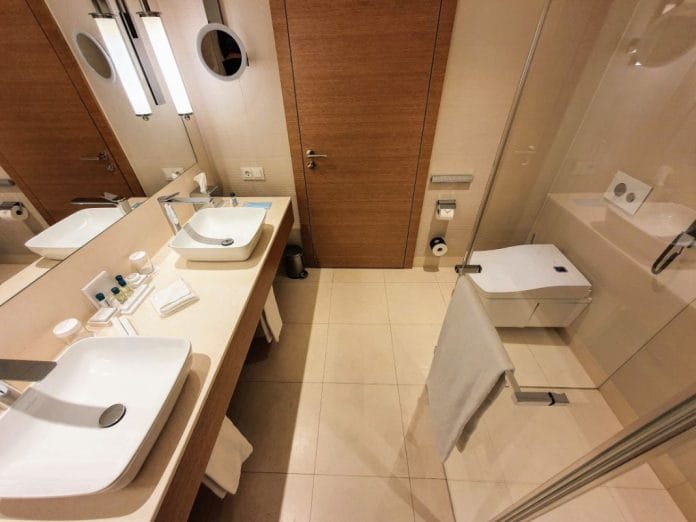 Bathroom amenities were by Salvatore Ferragamo, just like Kempinski Singapore. 
Facilities
Kempinski Munich has a spa area on the 6th floor which houses the swimming pool and fitness centre. 
The indoor pool measures 12.5m long, and is heated for year-round swimming. 
The gym had the usual assortment of cardio and strength training equipment, with alternate machines blocked off for social distancing just like in Singapore. 
Breakfast
Breakfast at Kempinski Munich costs €42 per adult, but DISCOVERY Black members enjoy a 15% discount, bringing it down to €35.70.
If you read my Kempinski Singapore review, you'll know how highly I thought of the breakfast experience there. So it means quite a bit when I say that Kempinski Munich tops it, easily. 
Guests can choose from a selection of made-to-order eggs and waffle/pancake dishes.
I ordered the Maximilian, eggs benedict and waffles. All were divine. 
Supplementing that is the buffet, and what a buffet it is. 
First up, self-serve buffets are a thing again in Germany. All guests must wear masks and disposable gloves when approaching the buffet line, a practice I wouldn't mind continuing long after COVID. 
After you've donned your protection, help yourself to food like it's 2019.
This was an extensive spread that didn't forgo quality for variety. 
The selection included a wide selection of breads and every kind of spread imaginable, plus  honey on the comb. 
There was even a separate warmer just for croissants, because what kind of savage has them cold?
The cold cuts area featured smoked salmon, cheeses, ham and my new favourite thing: zwiebelmettwurst, a spread of raw pork with onions. This is probably the only place on earth you can eat raw pork without getting food poisoning. 
Inside the fridge was a variety of yoghurt and parfait.
The hot food area had breakfast meats like bacon and different kinds of sausages, plus mushrooms and scrambled eggs. 
Elsewhere in the buffet were fresh fruits, salads, and a selection of Arabic mezze.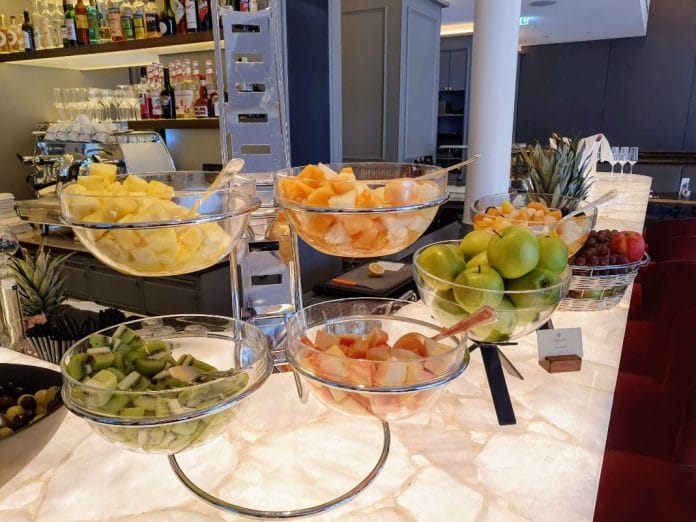 Oh, and did I mention the best part? Self-serve, all-you-can-drink champagne. Not sekt, not prosecco, not cava. Champagne.  
If you didn't partake, there was also a wide selection of fresh and bottled juices, plus still and sparkling mineral water. All in glass bottles, of course. 
My word, what a spread. This was easily one of the best breakfasts I've had anywhere in the world, and I stayed all the way till closing time.
Dining
At check-in, DISCOVERY Platinum/Black guests are given the option to redeem a Local Experience during their stay. It's not mandatory; you could always save it up for another occasion. Nonetheless, I decided to live a little.
So I chose a 3-course dinner at Schwarzreiter, the hotel's Michelin Star restaurant. Guests could pick one starter, one main and one dessert from the menu below.
I asked the staff to surprise me, and what followed was a lovely series of dishes that redefined what I thought about German cuisine. 
The starter was a Bavarian steak tartare, with hash browns, sour cream and herbs. The beef was very fresh, and the layer of crispy onions added a satisfying crunch. 
For a country with only one coastline, I didn't think that seafood would feature much on the menu. And yet Germans rank among the biggest consumers of fish in Western Europe. The sea bass with artichoke and black rice showed they knew what they were doing too. 
The evening finished with a deconstructed lemon curd; lemon sorbet with pistachio crumble and meringue. 
While wine pairings are normally exorbitantly priced at restaurants, never mind Michelin-starred ones, it came complimentary with the Local Experience. The friendly sommelier helped me choose, and each of his recommendations was spot on.
Service
While the service at the restaurant was superb, the rest of the hotel left much to be desired. 
I didn't see my DISCOVERY Black welcome amenity when I got to my room, so I dropped the front desk a reminder on my way out. They said they'd get it sent immediately, but when I returned, it still wasn't there. I called reception and asked about it again; the lady said she'd check and put me on hold…then the call got disconnected and she didn't bother calling me back to follow up.
So I asked a third time, then went to take a shower. When I came out of the bathroom, I saw this on my coffee table.
All I can surmise is that someone had come to the room while I was showering and let him/herself in. Now, you'd think the natural reaction upon entering and realising someone was showering would be to back out immediately, but no. Whoever it was trekked across the room, placed the item and left. 
Needless to say I wasn't very happy about this, not just because I bathe naked (gasp) but because my valuables were on the desk in full view at the time. I called up the duty manager and reported the incident; he apologised and said the staff member would be counselled.
Given what happened, I thought the least they should have done was comp breakfast or come to speak to me personally at check-out, but nope. That was it. I felt there was a bit of aloofness in the way they handled the whole thing. 
Conclusion
While I'm not entirely convinced the rooms or service at the Hotel Vier Jahreszeiten Kempinski Munich justify its high pricing, it did have one of the best breakfast spreads I've enjoyed in a long time. The location is also great, and it's the only option in town for DISCOVERY members anyway. 
Anyone had a more positive experience here?