The Capitol Hotel's troubled history is a matter of public record.
Originally slated to open by the end of 2015 as the six-star Patina Capitol Singapore, a protracted legal dispute among its owners saw the opening date slip by a year, then two. The completed hotel's spanking new interiors sat vacant as a courtroom battle raged, and with every passing month, the pristine white facade looked more and more like a pristine white elephant. 
So it was no small relief when in October 2018, the doors finally swung open and the Kempinski Group (brought in earlier that year as the new operators) made the Capitol Kempinski Singapore their third hotel in South East Asia after Bangkok and Jakarta. 
I had no plans to review this property at first. But a few weeks ago, I ran a poll of The Milelion's Telegram community to ask which hotel people wanted to see reviewed next- and the Kempinski was the runaway winner. 
I have to admit I was surprised, due in part to my limited familiarity with the brand. The closest I ever came to a Kempinski was when I got lost wandering through the labyrinth of Siam Paragon. Moreover, I knew the brand was a prominent player in the luxury market, but weren't such hotels a dime a dozen in Singapore? 
And yet, there had to be something about this place that got people so excited. "It could be better than Raffles," said the owners- a bold claim indeed. 
But could it? 
Booking a Capitol Kempinski Hotel Staycation
Trip.com is currently selling a two-night stay at the Capitol Kempinksi Hotel for S$588 nett, which is a fantastic deal considering the base rooms here generally cost upwards of S$400 nett a night. 
🏨 Trip.com Voucher (S$588 nett)

2 night in Classic Room

Daily breakfast

S$50 F&B credits


3 p.m check-out, subject to availability

Buy By

While stocks last

Stay By

30 June 2021

Link
However, for the purposes of reviewing the property I only really needed one night. Moreover, I was eager to use my GHA Black status (which I received for free thanks to my since-cancelled Citi Prestige card), and status benefits wouldn't be available unless I booked direct. 
I ended up booking the Stay In Style package , which cost me S$406 nett for a one-night Thursday to Friday stay. Remember to login to your GHA account when booking, because members receive a further 10% discount. 
🏨 Stay In Style (from S$406 nett)

1 night in Classic Room

Complimentary 1-category upgrade upon availability

Free parking (which all guests get anyway)

Daily breakfast

S$38 F&B credits


2 p.m check-out, subject to availability

Book By

29 Dec 2020

Stay By

29 Dec 2020

Link
Thanks to my GHA Black status, I'd receive further benefits as follows:
Double room upgrade at check-in (upon availability)
9 a.m check-in (upon availability)
6 p.m check-out (upon availability)
Local amenity upon check-in
One local experience 
Capitol Kempinski Hotel Singapore: Pre-arrival
Slightly over a week before my staycation, I received a pre-arrival email from the Capitol Kempinski Hotel reservations team. 
The link brought me to a survey which covered preferences like room location (courtyard vs side street), floor (high vs low), bed (King vs Twin), right down to the pillows. Guests can choose from no fewer than 11 different types, including:
Wellness pillow

Buckwheat pillow

Pregnancy pillow

Anti-stress contour pillow

Anti aging pillow- premium down

Refresh neck-supporting foam pillow- soft filling

Conform neck-supporting latex pillow- firm filling

Swiss pine pillow

Spelt chaff lavender pillow

Horse hair pillow

Non-allergy bolster "Imprima" pillow
What a time to be alive. 
The survey also asks your preferences for activities, water type, wine type, coffee versus tea and savory versus sweet. I'm not sure how many of these actually got incorporated though, since there was no sparkling wine in the room, and both coffee and tea were provided in abundance. 
Finally, there's a rather thoughtful section that lets you specify whether your companion is arriving at the same time as you. If not, they'll specifically look out for him/her, process the paperwork and provide an escort to the room. 
Interestingly enough, the email made no mention of pre-booking slots at the gym or swimming pool. These facilities are indeed available to guests, but (for the moment at least) not quite what you might expect. I'll explain more in the facilities section. 
Capitol Kempinski Hotel Singapore: Arrival and Check-in
Note: Apologies about the dimensions of some of the photos in this review. My camera was accidentally set to the 16:9 aspect ratio, which yields "thinner" images than the regular 4:3. If you're having trouble seeing the photos on your phone, do give it a try on desktop
The Capitol Kempinski Hotel is located at the heart of the City Hall area, and marries two iconic landmarks in Singapore- the Capitol Building (1933) and Stamford House (1904). The hotel boasts 157 rooms spread across the two buildings, a fusion of art deco and Victorian aesthetics. 
Access by taxi can be tricky if your driver isn't paying attention. The entrance is a small, nondescript alley, and if you miss the turn, it's probably better to get out and walk, or else incur the time and expense of a big loop. 
If you're the one doing the driving, free parking for guests is available at the Capitol Piazza. Otherwise, it's a short walk from the City Hall MRT, and there's even a direct underground passageway leading to the hotel via the Arcade. 
I arrived just after 9 a.m (GHA Black members are entitled to early check-in, but it's always best practice to confirm availability with the hotel the day before), was greeted warmly by the staff and escorted to the lobby for the check-in formalities. 
The lobby is small and intimate, but looks every bit the part, opulently appointed with Italian marble floors and glossy rosewood lacquered finishes. In some places of the hotel, you'll even find Chengal wood flooring from the original building. Richard Meier melded the two structures together, but the interior décor was the work of the late Jaya Ibrahim (the mind behind the Conrad Centennial and Capella Singapore, plus many more luxury hotels worldwide)- his last project before passing. 
I was checked in by The Lady in Red (I felt like saying "by one of the Ladies in Red", but registered trademarks yo), one of Kempinski's brand ambassadors. Although there are a handful of "Gentlemen in Red" (e.g at the Hotel Adlon Kempinski Berlin), the role in Singapore is reserved exclusively for ladies. 
The first half of check-in was handled in the lobby (from across an acrylic shield), but after that I was invited to complete the rest of the process in the room. Come to think of it, in-room check-in kind of defeats the whole purpose of an acrylic shield, but guests can of course opt to do the whole thing downstairs if they're more comfortable. 
We headed up to the second floor to Room 221, and en route she told me a bit more about the hotel, its facilities, and confirmed my 6 p.m departure the following day (another GHA Black perk). 
Because I booked directly through the hotel's website, I also received a further unexpected gift- a S$20 F&B or spa credit (the spa's still not open, though). This stacked with the existing S$38 F&B credits from the Stay In Style package for a total of S$58. 
I wasn't told this until check-out, but apparently there's also an ongoing 15% F&B discount for GHA Black members. FYI: the F&B credit is deducted first before the 15% discount is applied. 
Capitol Kempinski Hotel Singapore: Stamford Suite
The Capitol Kempinski Hotel has 157 rooms, split across four floors. That may sound like a tight squeeze, until you remember the rooms are further distributed across two buildings.
| | |
| --- | --- |
| Room Type | Size |
| Classic Room  | 32 sqm |
| Deluxe Room | 45 sqm |
| Heritage Room | 45 sqm |
| Grand Deluxe Room | 50 sqm |
| Terrace Room | 45 sqm |
| Executive Suite | 55 sqm |
| Stamford Suite | 58-61 sqm |
| Bidwell Suite | 71 sqm |
| Heritage Suite | 137 sqm |
Thanks to the restrictions inherent in occupying a heritage building, room layouts may differ significantly, even within the same category (the hotel says you can expect 50 unique room configurations). Furthermore, the Capitol and Stamford Wings each have their own architectural philosophies, so that's all the more reason for a return visit. 
I was staying in the Stamford Wing, and received an upgrade to a Stamford Suite.
The Stamford Suite measures a cavernous 58-61 sqm in size, and is divided into three parts- the first third of the room is the bathroom, the second the living area, and the third the bedroom. 
Although it sounds strange to enter into the bathroom, you won't realise it at all. The entrance corridor is lined with movable wooden partitions that slide back and forth to close off access to the bathroom. 
It's only when you turn around and look back that you realise how close the toilet and shower are to the door! 
While the suite generally adopts an "open bathroom" concept (there's a clear line of sight from the bed to the toilet), the more shy among you can draw the panels closed, and be none the wiser. 
In fact, each section of the room can be hermetically sealed off by closing the sliding wooden doors, creating physically separated areas for bathing, lounging, and sleeping. 
I'll come back to the bathroom later, and talk about the living room and bedroom first. The living room had a lounging area with a sofa, as well as a small round dining table with two seats. 
On the dining table was the cutest welcome gift I've ever received- some movie snacks of popcorn, Cokes and candy to match the Capitol Theatre theme. They captured my likeness perfectly on the movie poster, too. 
On the coffee table was a fruit and nut platter. It was nice to see a hotel actually put some thought into fruit basket selection, because most of these items could just be peeled or washed and eaten straight away. I've been to other hotels where the fruits require specialised equipment just to open (pineapples, anyone?). 
Across the room and below the living room TV were the mini-bar and coffee sections. 
While the alcohol and snacks aren't free (expect to pay S$90++ for a 375 ml bottle of champagne, roughly 2x the price outside)…
…the soft drinks, juices and water are. These were replaced again during turn down service. 
Likewise, the Nespresso coffee capsules and TWG teas are yours to enjoy, with compliments. 
The inner sanctum hosts the bedroom, with tall windows to let in natural light (heritage regulations mean they can't be tinted, however, so take note before you go full monty). 
The bedsheets were plush, and the King-sized bed, while not as firm as the one at the Raffles, still provided a good night's sleep. 
Even though the Kempinski's style evokes old-world luxury, that longing for yesteryear doesn't extend everywhere, thankfully. For instance, both bedside tables had universal power outlets, but side closer to the bathroom went one better by having a digital alarm clock with 2x USB ports and a wireless charging pad.
Curtains and blinds could also be controlled at the flick of a bedside switch. Unlike the finicky ones at the W Sentosa (which insisted on being completely closed or completely open), these could be opened or closed to any degree you wish.
At the window area was a long vanity table that despite the name, is still a decent place for doing some work (the chair doesn't have the best of back support, so you may need to fetch a few cushions from the living area). The center portion flipped up to reveal a Hollywood-style mirror and hairdryer. 
Speaking of work, here's the Wi-Fi test results for the Capitol Kempinski. 
Wi-Fi clocked in at 16 Mbps up and 13 Mbps down, which put it somewhere in the middle of hotels I've reviewed so far. It's certainly fast enough for all kinds of video streaming, so I wouldn't be unduly concerned. 
 
🔽

Download

🔼

Upload

Mandarin Orchard

273 Mbps

294 Mbps

YOTELAir Changi

29 Mbps

49 Mbps

W Sentosa Cove

34 Mbps

34 Mbps

The Fullerton Hotel

23 Mbps

24 Mbps

The Capitol Kempinski Hotel

16 Mbps

13 Mbps

The Barracks Hotel

7.3 Mbps

7.7 Mbps

Hotel 81 Tristar

7.0 Mbps

6.8 Mbps

Raffles Hotel

6.9

Mbps

6.8

Mbps

Hotel Soloha

4.7 Mbps

5.

1 Mbps

Internet speeds based on Speedtest.net scores as recorded during my own visits 
The view from the room wasn't great, but at least it wasn't noisy. The hotel has been careful to install double layered glass to block out most of the noise, although when a double decker bus rolls by you may still feel the vibrations.
In the far corner of the bedroom was a wardrobe which had two of the fluffiest bathrobes ever. These were very efficient at retaining heat- perhaps a little too efficient. I felt like I was overheating barely minutes after putting it on, but The Milelioness, who believes in setting the air con thermostat at  25°C (the monster), found it just right. 
Directly across from the wardrobe is storage space for luggage. Whether accident or design, the little nook they've carved out helps hide your bags from general view. 
Both the bedroom and living room had a handsome Sonos soundbar, which allows you to connect and play your own music. 
Available on TV was a wide selection of news, sports, education and foreign language channels. 
I decided to watch some Fox News because I felt like getting angry about nothing in particular. It worked. 
The television also let you stream content from your Android or Apple phone, at least in theory. 
In practice, we had major issues with connecting our phones. We didn't manage to do it the whole of the first day, and when we called IT that evening, they realised the TV was broadcasting the wrong SSID, a problem that couldn't be properly remedied till morning. 
Apparently,  the previous TV in room 221 had malfunctioned, so another TV was brought in from an unoccupied room. But through some oversight, the replacement TV was still configured to the previous room, preventing us from connecting to it. 
However, even after the issue was "fixed" the following day, another one popped up. Whenever you used the Apple AirPlay function, this alert message would appear, and could not be dismissed unless one had the Apple TV remote (only the IT guys had it, the remote on the room was for the regular TV only). 
By this time we were hours away from check-out, so we didn't bother calling them back again.
All suites have his and her sinks (in fact, all rooms save the Classic and Deluxe categories have this), yet don't compromise on counter space. You'll find plenty of room for your sundries. 
Duravit bidet seats are also standard across the property, and this warms the seat, opens and closes the lid, and guides you in the dark with automatic night lights. It does everything short of flushing.
The highlight of the bathroom was the freestanding deep-soaking bathtub that easily fit two people, complete with TV and waterproof floating remote control. What was missing here was a head rest, or some sort of bath pillow (I checked, housekeeping doesn't have them). 
Unlike the smart TVs in the living room and bedroom, the TV in the bathroom could only play the regular channels, so you couldn't cast your Netflix/other streaming apps to the screen.
That said, the shower was pretty darn impressive too, because the high ceiling creates the tallest rain shower I've ever seen. You'll really feel like it's raining, as the water cascades down from what must be three meters or more. The designers were thoughtful enough to build a bench too, which makes soaping your feet easy. 
Bathroom amenities are by Tuscan Soul, a Salvatore Ferragamo brand, and they don't skimp on them here. You'll find one full set in the shower, another set by the sink, and other vanity products like lip balm, face cream, eye cream, facial mist, aftershave and shaving gel. It's better than what you'll find in many airlines' amenities kits.
In a nod to the current COVID-19 situation, a bottle of hand sanitizer and two masks are provided per room. Although there's a Capitol Kempinski sticker on the plastic wrapper, the masks themselves are not actually branded- a missed marketing opportunity surely (I'd love one of those beautiful masks the front desk staff wear). 
Overall thoughts: The Stamford Suite is easily one of the nicest hotel rooms I've had in Singapore. It's spacious, well-designed, and all the fittings and finishes complement the premium feel of the hotel. It's a shame we couldn't get the TV streaming to work properly, but otherwise there's very little to dislike. 
Capitol Kempinski Hotel Singapore: Facilities
Pool

Gym

Spa

Yes: 8 a.m to 11 p.m


(main pool currently under renovation)

Yes: 8 a.m- 11 p.m


(main gym currently under renovation)




Currently closed

Kids' Club

Business Centre

Others

No

No

N/A
While the rooms are great, would-be visitors to the Capitol Kempinski may want to delay their visit until sometime in October. That's because both pool and gym are currently closed for renovations, and the alternative arrangements are…less than ideal. 
Swimming Pool
🏊‍♂️ Capitol Kempinski Hotel Pool Timings (90-mins per day)

0800-0930 hours

1400-1530 hours

0930-1100 hours

1530-1700 hours

1100-1230 hours

1700-1830 hours

1230-1400 hours

1830-2000 hours

Note: On Monday, Friday and Public Holidays, pool hours are 11 a.m to 8 p.m
The Capitol Kempinski Hotel boasts an outdoor salt water relaxation pool (the first in Singapore), but as mentioned it's undergoing refurbishment now and isn't expected to reopen until end-September.
In the meantime, the hotel has arranged pool access with the neighbouring Eden Residences luxury development. 
When I first learned about this, I went to google pictures of the Eden Residences pool and thought: OK, that looks quite nice. Perhaps it's even bigger than the hotel's usual pool.
Not quite. Hotel guests don't have access to the main pool. What Capitol Kempinski has done instead is secure the keys to a penthouse unit that has its own private outdoor pool. That sounds swanky in theory, but well, you'll see.
The hotel ferries you over to Eden Residences on an electric buggy, a ride that takes all of one minute. Do note that you'll be driving on public roads, so it's not advisable to show up in your bathrobe (unless you want to be the talk of all HWZ). 
Once there, you'll be escorted up to a duplex penthouse unit. It's currently unoccupied (duh), and the amount of space in the living room is a sight to behold indeed. That said, the unfurnished nature kind of makes you feel like a squatter who broke in. 
Head up the stairs and out the door, and you'll be at the pool area. This pool has decent views, but it's too small to swim laps, and is more of an outdoor jacuzzi than anything else. 
A maximum of four people can use the pool at any one time, but frankly, there's no way you'd want to be here with strangers. The quarters are just too close for comfort, and it's going to be one heck of an awkward experience (unless you're the kind who loves to chat up random people in the elevator, in which case I hate you). The staff are more than aware of this issue, and actively try to reschedule people so they can visit in private groups.
In any case, this isn't a place you'd want to hang out for prolonged periods of time, since it's physically disconnected from the hotel and you won't get poolside Mai Tais or massages here.  
Gym
🏋️ Capitol Kempinski Hotel Gym Timings 
Note: There are no fixed time slots for the gym
Just like the swimming pool, the gym is currently undergoing renovations, with an estimated completion date of end September.
In the meantime, one of the existing rooms on the first floor has been turned into a makeshift gym.
You heard me right- a room. It's quite a surreal experience, as you enter and see the bed and furniture stripped away, and in their place a series of heavy gym equipment. The toilet and shower are still in place, and while you can't use the latter, the toilet is fully operational. Just remember the wooden doors aren't sound proof, so you may want to carry out your…heavy duty stuff in your own room.
The gym is sufficiently equipped to get the job done, but it's of course no replacement for a proper facility. 
Capitol Kempinski Hotel Singapore: Breakfast
Served at

Cost

Style

15 Stamford

S$45++ (Adult)
S$22.50++ (Child aged 12 and below)

A la carte buffet

Hours

Sparkling Wine?

Discounts?

0630- 1030

Yes

None
My room rate came with breakfast, but if yours doesn't, it's S$45++ per adult and S$22.50++ per child (aged 12 and below). 
If you're wondering whether it's worth paying for breakfast, the answer is yes, yes, a thousand times yes. The Capitol Kempinski, quite simply, has the best hotel breakfast in all of Singapore (better than Raffles, even). 
There's no need to pre-book a time slot, probably on account of how big 15 Stamford is. The default layout is already quite conducive to social distancing, and there wasn't much of a crowd at 9 a.m on a Friday morning.
We were seated quickly, and presented with the menu via QR code. It's a sight to behold: 
The variety here dwarfs any other a la carte buffet menu I've seen so far in Phase 2, and you'd need two mornings just to fully explore the range. 
After orders are taken, you're invited to partake of a power shot. A mixture of apple and carrot, or orange and grapefruit was offered, and yes, all juices at 15 Stamford are freshly squeezed. You'd think this would be the standard at 5 Star hotels (believe me, one can tell the difference), but alas (looking at you, Fullerton). 
After orders were taken, the baker came to the table with the "pass around service". It's basically a selection of all the day's breads, portioned out to your plate or toasted on request.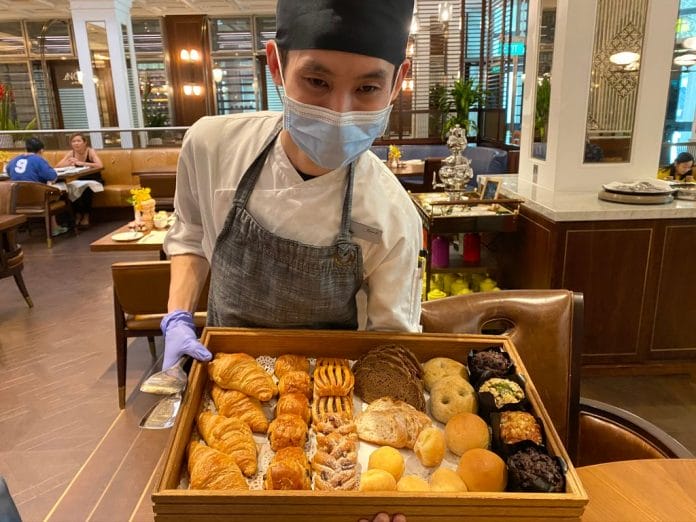 But before you tuck in to your bread, wait for the Wagon Trolley, a standard feature at Kempinski hotels. This larder on wheels features honey on the honeycomb, truffle honey, dark chocolate spread, white chocolate spread, passion fruit chocolate spread and all sorts of goodness. The truffle honey in particular is a must-try. It was cloy like regular honey, but with unmistakable aroma of truffle.
As much as I'd have loved to try the french toast, pancake and waffle, we settled for the latter two. While the waffles were average (not crispy enough), the pancakes were some of the best I've had at a hotel breakfast anywhere. Light, fluffy, and of course, paired with genuine maple syrup. A scoop of vanilla ice cream and I'd be in heaven. 
I tried the breakfast plate, which had pork sausage, roasted bacon, sautéed mushrooms, grilled tomato, baked beans, and sunny side up eggs. Given the hotel's German heritage, I had high expectations for the sausage, and it didn't disappoint. This was no cheap supermarket mystery meat; it was a hearty pork banger with a snappy casing and a lovely texture.
In addition to the western options, there's a good number of local delights too.The kaya butter toast tasted exactly like what you'd find outside, with thick bread and firm butter. The eggs were perfectly paired with thick dark sauce and white pepper. 
The prawn noodles weren't the best I ever had (frozen prawns), but the broth was passable and the pork was tender. 
Nasi lemak was very good in my opinion, and I particularly liked the type of rice they used. One of my pet peeves is when a place cheaps out on the rice, but these grains were firm and subtly scented with coconut. 
There's a choice of five different congees, and we went for the fish one. I'd say the Raffles Hotel congee has the edge here, both in terms of presentation and taste, but it was still a good dish in and of itself.
There's a note at the bottom of the menu that if you don't see what you like, the kitchen can prepare it for you. I decided to put that claim to the test, and ordered my Millennial essential: avocado toast.
The staff didn't even blink, and soon after an "avocado toast hollandaise" was delivered to the table, with poached eggs, spinach, sliced avocado and sourdough bread. Now I wish I'd asked for a Double Triple Bossy Deluxe on a raft, four by four, animal-style, extra shingles with a shimmy and a squeeze, light axle grease, make it cry, burn it, and let it swim, but oh well, there's always next time.
If you want to make breakfast a bit more fun, bubbles are available. It's prosecco rather than champagne, sadly, but once you put it in mimosa form, you can't really tell. I understand that at the pre-CB breakfast buffet, champagne was served. 
What more can I say about breakfast? There was a wider variety of items than even the Raffles Hotel, the quality was even better, and there were bubbles. It's everything you could want and more.  
Other Dining Options
| | |
| --- | --- |
| Restaurant | Status as of 4 September 2020 |
| 15 Stamford | Open |
| Lobby Lounge | Closed |
| La Scala Ristorante | Open |
| Frieda | Open |
| Chalerm Thai | Open |
| El Teatro Tapas | Open |
| Broadway American Diner | Open |
| Berthold Delikatessen | Open |
There's no shortage of dining options at The Capitol Kempinski, although technically, most of them are on the arcade side. 
In line with the Capitol Theater theme, all of them are named after famous performance venues worldwide (except for Berthold and Frieda, named in honor of the founder of Kempinski and his daughter) like Chalerm and La Scala. 
This is an AMEX Platinum Card member's dream. With the exception of Lobby Lounge and Berthold Delikatessen (which is less restaurant and more cafe anyway), all restaurants participate in the Love Dining program, which gives up to 50% off the bill. To enjoy the Love Dining discount, you will need to pay on the spot with your AMEX card, however. This means you can't charge the bill to the room, which means you can't use your F&B credit. 
15 Stamford
15 Stamford's set lunch menu prices at S$29++ for two courses (S$39++ for three), and for the quality of the food you get, that's tremendous value. Since Love Dining discounts do not apply to set lunch, you're better off charging the bill to the room and offsetting it with F&B credits, plus any applicable GHA Black discount. 
I had lunch with my parents on the first day, which gave us the opportunity to try a wide range of dishes. First up was the Asian Sea Bass (palm sugar, cilantro, red chilli and lime coco milk) plus Foie Gras Kaya Toast (organic egg foam, kaya gel, milk toast, +S$8 supplement). The sea bass ceviche was good, but the kaya toast was outstanding. Fusion cuisine can often go so wrong, but not at 15 Stamford. 
For the mains, we had the barramundi, bak kut teh and chicken rice. I had previously tried the chicken rice a year ago and thought it to be average. However, I'm glad I gave it a second try, because this time it was sensational. Plump, firm grains of premium rice, paired with tender chicken and chili that hadn't been dumbed down for a tourist's palate. The meat on the bak kut teh was falling off the bone, and while Gordon Ramsay may chaff at the idea of grilled watermelon, what does he know? This worked out great. 
I love 15 Stamford so much that we went back again that evening, this time to try the wild king tiger prawns, served with tomato jambu vinaigrette (S$49++), and a side of fries with smoked chili sea salt, ginger flower and tamarind vinegar (S$10++). With the Love Dining 50% off, we paid just over S$60. 
High Tea
High tea is served from 3-5 p.m daily. It's usually held in the Lobby Lounge, but since that's closed at the moment, 15 Stamford is used instead.
High tea costs S$58++ per person, or S$78++ with two glasses of champagne. That's a reasonable price for an upgrade, given how you'd normally pay upwards of S$25++ for a single glass of champagne at most hotels.
Tea is served in five movements, two savory, three sweet. The first course had chicken rice "Arancini", chili crab quiche, and a smoked duck and cantaloupe cornet with Thai dressing.
I loved how they incorporated local flavors into a western tradition, and while I was skeptical about the concept of Arancini done with chicken rice, I couldn't argue with the results. The chili crab quiche fused the familiar taste of chili crab with a flaky, buttery quiche crust, and the cornet was the stuff of dreams, like a savory little cornetto. Full marks for plating too- instead of the usual three tiered tea tray, this was served on a bed of colorful seeds.
You can read the tea pairing off the menu, but a quick word here: I don't really drink tea, but the Milelioness drinks enough to know when something's off. For most of the teas, the first pour tasted quite dilute, like the tea hadn't had enough time to infuse the water. Subsequent pours were much improved, so don't feel shy to make your preference known.
The second course was (from bottom to top) tuna mayonnaise croissant, potato, egg and brioche bun, prawn salad with mango salsa, and salmon gravlax with sour cream, fried capers and keta roe. My pick of this lot would be the prawn salad with mango salsa, a delicious mix of sweet and savory.
The third course saw two kinds of teatime-essential scones, in classic and cranberry flavors. The usual clotted cream was paired with caramelised passion fruit chocolate jam (the same one served at breakfast), and housemade forrest berry marmalade. I much preferred the classic to the cranberry, because the plain canvas allowed the accompaniments to truly shine.
The fourth course was a round of financiers. I had never heard of a "financier" before this (I assumed it was what patrons on onlyfans called themselves), but as it turns out, it's a small French almond cake, flavoured with brown butter. There were three flavors- chocolate, matcha and pistachio, and almond, and be warned- these are on the heavy side.
To bring proceedings to a close was a medley of tarts and profiteroles. The Salty Dulcey Orange Hazelnut Tart is one for the ages, while the classic vanilla and Cointreau profiterole, boring through it may sound, hit the spot for me.  
I've so far sampled high tea sets at Mandarin Orchard, Fullerton Hotel, Raffles hotel and now the Capitol Kempinski. While nothing can beat the high tea at Raffles Hotel for ambiance, the Kempinski comes out on top for taste. 
The Capitol Kempinski Hotel Singapore Service
Given the price and location of the Capitol Kempinski, comparisons with the Raffles Hotel (check out my review here) are inevitable. While both hotels offer phenomenal service, at the risk of splitting hairs I will say that the staff at the Kempinski had that little extra attention to detail. 
For instance, housekeeping achieved the ninja standards I always look out for at top notch hotels. We left for breakfast around 9 a.m, and when we returned at 10.30 a.m, the room was fully made up. Trash was cleared, mini-bar was restocked, bath was drained, bed was made, they even folded our clothes and neatly arranged personal items on small white handkerchiefs. 
This wasn't the case at the Raffles, where housekeeping and the breakfast area didn't seem to communicate as much as they perhaps should be. Also, personal items were left alone, but that could be deliberate rather than oversight. Staff may have been under explicit instructions to minimize contact with the guests' items, given the hypochondriac world we now live in. 
Staff at the Raffles and Kempinski are equally pleased to make small talk, or give you space and privacy if you so desire. However, Kempinski staff had that knack for remembering personal preferences. At high tea, when it became clear I wasn't much of a tea drinker, the waiter remembered I enjoyed green apple juice at breakfast and offered to bring me some. 
The only shortcoming I can think of is that some calls to guest services went unanswered, but even then, missed calls were returned within minutes. 
Phase 2 Reflections
The Capitol Kempinski has some cute safe distancing markers in the form of lions blocking off seats in the lobby (I hear these sometimes go missing under mysterious circumstances). 
Unfortunately, the hotel has joined the masking tape crowd when it comes to the lift. In contrast, The Fullerton Hotel printed special floor stickers, and the Raffles Hotel used door hangers on the elevator railings. While it's no doubt a small detail, masking tape gets frayed and the edges pick up dirt, detracting from the overall aesthetic. 
While hand sanitizer is freely available in the lobby, it would have been good to put some in the lift or corridor so guests can clean their hands when entering and exiting lifts. 
I ran the black light test on the Stamford Suite, and it came back spotless. 
Finally, guests have the option of putting "no service please" hangers on their door, which means they'll be the only ones setting foot in the room throughout their stay. 
Conclusion
Is the Capitol Kempinski better than the Raffles? 
While it's hard to give a definitive answer, especially when I don't have a "fair comparison" on my hands (the pool & gym at the Kempinski are undergoing renovations, and my GHA Black status gave me some additional perks that not all guests will receive), here's my attempt:
| | |
| --- | --- |
| Room | Assuming no upgrades, the base room at the Raffles (State Room Suite) is way superior to its equivalent at the Kempinski (Classic Room). It's double the size, there's a lot of natural light, and you have an outside patio to chill on |
| Facilities | This is effectively a walkover for Raffles, so long as Kempinski's pool and gym remain under renovation. Even when that's done though, the Raffles pool looks bigger and more conducive for lap swimming.  |
| Breakfast | Raffles is good, but Kempinski is phenomenal. Bigger menu, fresh juices, sparkling wine, and the staff will happily make you an off-menu item |
| Other Dining Options | Assuming you have an AMEX Platinum Card, you'll get much better value at the Kempinski with Love Dining discount. That said, both hotels boast must-try restaurants (15 Stamford at Kempinski, yi at Raffles) |
| Service | Neck and neck, but Kempinski edges it thanks to a greater attention to the fine details |
| Overall Value | The current Raffles Hotel Suite Life package is fantastic value at S$936 nett for 2 nights, but that's set to end on 30 September. After that, the Raffles will easily be more than 2x the price of the Kempinski |
It boils down to this for me: Given the imminent demise of the Raffles Hotel Suite Life package (30 September), it's going to be very, very hard to justify the expense going forward. It seems the replacement offer at Raffles will be the Home Suite Home deal, but even with 25% off BAR, this still comes up to a jaw dropping S$750++ per night (even more on weekends)
In that sense, the Capitol Kempinski represents much better value, especially if you snag the S$588 nett Trip.com deal. Heck, if you want a nicer room you could book the Super Special Staycation package (which gives 50% off a minimum of two nights in the Stamford Suite) and pay S$1,070++ for two nights, still much cheaper than the Raffles. 
Anyway, it's also my understanding that occupancy rates at the Kempinski are much lower than Raffles, which improves your odds of early check-in/late check-out, as well as upgrades (there's a data point in the Telegram group of a guy who had a Chope voucher for a Deluxe room getting upgraded to a Stamford suite, without any status). 
So if the pool and gym are important parts of your staycation experience, hold off a little longer. But once those are back in play, I'd heartily recommend the Kempinski to anyone. 
Have you been to the Capitol Kempinski Hotel for a staycation recently? What was your stay like?
🏨 In Summary
Is the Capitol Kempinski Hotel "better than Raffles?" Well, it'll certainly be better value from 1 October, and with impeccable service, beautiful rooms and the best breakfast in all of Singapore, it's one of the best staycations I've had so far.
Do say:  I volunteer as tribute
Don't say: It's a hunger games reference