After the free-spirited, unrestrained vibes of QT Sydney, it was time for something a lot more buttoned down and corporate: the Shangri-La Sydney. 
I received, shall we say, a mixed reception when I mentioned this hotel in my Trip Planning post. One reader told me about the front desk's "friendly warning" not to expect the same experience as the Shangri-La in Singapore (one heck of a way to welcome guests!), other opinions ranged from "just OK" to "an affront to the chain".
However, what everyone agreed on is that given the rate I had, it was impossible to go wrong. That's a ringing endorsement if I ever heard one!
🦘 Journey to the Hermit Kingdom
🏨 tl;dr: Shangri-La Sydney

With tired and dreary rooms, the Shangri-La Sydney fails to live up to its marquee name, save the occasional bright spot here and there. 

👍

The Good

👎

The Bad

Excellent views from Altitude restaurant

Well-equipped gym

Luxury advisor rates (Virtuoso, Luxury Circle etc.) particularly good value now

Old, tired-looking rooms in dire need of renovation

Hit and miss service
Booking
I booked a Virtuoso rate at the Shangri-La Sydney via HoteLux, which cost A$280 nett and included:
US$100 hotel credit
One category room upgrade (at time of booking)
Breakfast for 2 adults
Early check-in and late check-out, subject to availability
While the room upgrade is supposed to be granted at time of booking (as opposed to on arrival), I found HoteLux's customer service to be somewhat lacking. By right they're supposed to contact you within 24 hours to confirm the upgrade, but I never heard anything. In the end, I had to chase them to find out whether the upgrade had indeed gone through.
I also asked them to enter my Golden Circle number on the reservation; and they assured me it was. So naturally, when I arrived at the hotel there was no record of it. 
Check-in
The Shangri-La Sydney is located at 176 Cumberland Street, in the Circular Quay neighbourhood. It's fairly close to The Rocks and Harbour Bridge, with the Opera House a 20-minute walk away. Be warned that the property is up a steep hill, and not very accessible by public transport. Do yourself a favour and hail a cab if you've got luggage in tow. 
This Shangri-La is decidedly old world in its charm, to put it politely. The lobby is decked out in marble, gold trimming, and dark wood panels, but felt claustrophobic because the curtains were drawn and there was little to no natural light. 
Unlike most stays, check-in wasn't very smooth. The front desk seemed unclear about the benefits accorded to Virtuoso bookings, and I had to double confirm that breakfast was included. I then asked if they had my Golden Circle number on file, to which she said something along the lines of "oh, you're a member?" Either HoteLux didn't pass on the information, or the hotel missed it out. 
I was also informed that unlike American Express FHR bookings, Virtuoso bookings don't come with 4 p.m guaranteed check-out. That wasn't as big a deal, but still worth noting in case you intend to book a similar rate. 
Room
My reservation was for a lead-in Deluxe Darling Harbour Room, and I received a one-category upgrade to a Deluxe Opera House City Room. As the name suggests, this is purely a "view upgrade", and as you'll see below, verges on false advertising.
Deluxe category rooms range from 40-50 sqm, and since I had a corner unit, mine fell on the upper end of that spectrum. 
The door opens into a living area, which sets the tone for the rest of the room- drab, old, and tired. The couch had a notable sag in the middle, and it was like someone took their interior design inspirations from the day room in a retirement village.
Beyond the living room was a passageway linking up with the bedroom, with the bathroom on the left. 
While I appreciated the extra space afforded by the corner placement, the bedroom's decor wasn't exactly Wallpaper magazine material. Light grey walls, a golden yellow headboard, and dark wooden furniture just don't cut it for me, and it reminded me of the Shangri-La in Yangon- old and way past its prime. 
Oh, and about that view? This "Opera view room", for all intents and purposes, had nothing to see at all. 
The only way you could catch a fleeting glimpse of the Opera House was to (1) press up all the way against the side of the glass and (2) activate the wide angle lens on your camera. 
If I paid actual money for an Opera view room and got this, I'd be very upset indeed. 
I had concerns about how the bed would hold up, given the sagging couch in the living room. Thankfully, it offered great support, and the sheets and pillowcases were spotless. 
Power outlets were only available at one bedside, and the presence of an iHome iPod dock might give you some clues as to the vintage of the last refurbishment…
The room had an old flat-screen TV, which placement made it a white elephant. It swiveled ever so slightly, but there was no way you could watch it from bed.
Thankfully, the work desk had a comfortable office chair and universal power outlets (no USB ports though). I got a bit concerned reading other reviews because some rooms only have a backless stool, so perhaps I just got lucky.
Surprisingly for a business-focused hotel, Wi-Fi performance was the poorest of all the properties I stayed in Sydney. While the download speed of 70 Mbps was great, the uploads clocked at a mere 8.5 Mbps (I ran the test several times).
Next to the work desk was the mini-bar area, with an empty mini-fridge and safe. 
Just outside the bathroom is a long closet for storing clothes, concealed behind a white sliding panel. The room's iron and ironing board were found here. 
Although the bathroom wasn't anything spiffy, it was spacious and provided plenty of countertop space at the vanity area. 
Two bottles of mineral water were provided, as well as amenities like dental kits,shower caps, hair bands and cotton buds.
The shower had excellent water pressure, and if you asked me to pick a highlight of the room, this would be it. Unfortunately, there was no hand shower, which made it difficult to wash certain…hard to reach areas. It's a very poor omission.
I didn't use the tub at all, given it looked narrow and not very inviting. 
Bathroom amenities were by Eloura, an Australian hair salon and day spa brand. I can't remember offhand if Shangri-La has a global toiletries brand, but the one in Singapore uses L'Occitane. 
I was surprised to see that the toilet didn't have a concealed cistern, which hotels usually adopt to prevent people from futzing with things. The yellowed phone next to it was…well, I just hope no one calls while I'm on the can.
So remember what I said about my Golden Circle number? I raised it at check-in not because I needed positive affirmation (OK, maybe a bit), but because Jade members get a welcome amenity during their stay. It's usually something like chocolates or fresh fruit, but it can also be what's euphemistically called a "local/seasonal amenity".
In the case of the Shangri-La Sydney, this was dried fruit salad. Fine, the retail price is A$8, but it felt somewhat underwhelming. 
But there was a pleasant surprise later that day, perhaps because I mentioned to one of the staff that the "opera view" description was somewhat misleading. They sent up a bottle of Australian sparkling wine, some chocolate, and…another fruit salad. Have to give them points for trying, I suppose!
Facilities
Swimming pool
The Shangri-La Sydney's indoor pool is open from 8 a.m daily, closing at 7 p.m Monday to Thursday & Sunday, and 8 p.m on Friday & Saturday. It's not heated, unfortunately, which makes swimming a bit of a dicey proposition during winter.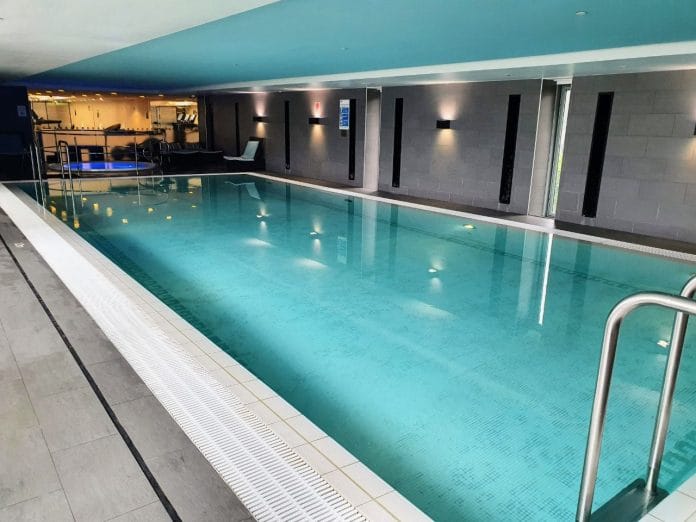 Thankfully, there's a heated whirlpool bath for chilly days, though it probably takes two people at best. 
Gym
The large-sized gym has similar operating hours as the pool, with more than 16 cardio machines including treadmills, cross trainers and bikes. 
It's definitely one of the stronger points (pun) of the hotel, and just being there made me hum "macho man" in my head. 
Breakfast
A set menu breakfast is served at Altitude restaurant on the 36th floor from 7 a.m to 10.30 a.m daily. If you visit on Sunday, there's also a buffet option available at Cafe Mix on Level 1 from 8 a.m to 11 a.m. I'm not sure about the buffet option, but the set menu at Altitude costs A$49+ if not included in your rate- very expensive, even by Sydney standards. 
For Altitude, guests can pick one hot and one cold dish from the menu. Coffee/tea and boxed juice are included, though there's an upcharge for fresh juice and alcohol. 
Cold dishes, incidentally, include toast. 
For my main, I went with the breakfast chorizo bowl, with spiced pork chorizo, baked smoky tomato & beans, poached eggs and sourdough toast. It was much better than I expected, though I really should have tried my luck and asked if they'd throw in some smashed avocado for free. 
But the real highlight of breakfast are the views. On a clear day, you get a panoramic view of the harbour area, including the bridge and Opera House. Come early if you want to secure a prime seat by the window. 
Other Dining
On the final day, I had lunch at Altitude to spend my US$100 hotel credit (converted to A$135). This time I got a seat right by the window- sadly it was slightly overcast!
While Altitude can be frightfully expensive for dinner, it's slightly more reasonable at lunch where a two/three-course meal will set you back A$65+/A$80+. Wine pairings are available at A$35+/A$55+.
For the starter, I had the marinated beef round eye, garnished with green mango, almonds, spring onion, avocado puree, and Nam Jim dressing. Think of it as beef with Thai-style dressing. The beef may not have been the most tender, but the dish was still delicious.
For the main, I went with the market fish, which on the day was a lovely piece of salmon, cooked perfectly medium and accompanied by wild rice, eggplant and capsicum caponata, anchovy crisp and gremolata salsa. I also added on an additional side of charred broccolini, which was excellent. I loved that they threw in some cashew nuts for extra crunch.
Dessert was simply called "Mango", a combination of buttermilk, mango leather, lime and mango sorbet. 
I had my concerns about Altitude, given its middling 3.7 Stars on Google reviews. But if you read the reviews, you'll see that most of the bad scores are from people complaining about not getting a seat near the window, or having to wait too long for a table. 
It's rare you'll find anyone criticising the food. 
Conclusion
The Shangri-La Sydney is a mixed bag. On the one hand, rooms are in dire need of a renovation, and the hotel has an air of faded glory about it. On the other, it's got a passable breakfast (though the views were more memorable than the food), some decent facilities and lunch at Altitude was a definite highlight (though you don't need to be staying at the hotel to do that).
For the price I paid, it's hard to be too critical. I certainly wouldn't be willing to pay its pre-COVID rates of A$400+, however.