Next up on my seven nights, seven hotels tour was the Fullerton Hotel Sydney. It's not the kind of place I'd normally stay in, but I'd already reviewed both The Fullerton Hotel and The Fullerton Bay Hotel in Singapore, so I figured I might as well complete the trifecta and visit the outpost in Sydney too.
This was the most expensive of the four hotels I paid cash for, and expectations were high. 
🦘 Journey to the Hermit Kingdom
🏨 tl;dr: Fullerton Hotel Sydney

While the historical charm of the Fullerton Hotel Sydney is undeniable, it's a significant step down from the experience at its Singapore cousins.

👍

The Good

👎

The Bad

Heritage setting that should fascinate history buffs

Well-equipped gym

Boring, dated rooms which give the feeling you're not getting value for money

No swimming pool

Breakfast is nothing special
Booking
Sydney hotels reopened in October after a prolonged lockdown, and for this stay, I booked a reopening offer with 20% off the BAR and daily breakfast for A$307. I'd say this is a pretty decent rate, given how room-only rates usually start upwards of A$360. 
If you're looking for deals, you can browse some other options here. One interesting package is an A$360 voucher that includes one night in a Tower Premium Room and a A$100 dining credit. 
Check-in
The Fullerton Hotel Sydney's official address is 1 Martin Place, although if you navigate here, you'll end up on the back side of the hotel. To find the driveway and main entrance, set your GPS instead for 159 Pitt Street. 
The hotel is very accessible by public transport, with the Martin Place and Wynyard stations a short walk away. There's also plenty of shopping in the area, courtesy of The Strand, Westfield and the Queen Victoria Building. 
Just like the Fullerton Hotel in Singapore, the Sydney outfit is housed in a former General Post Office building. This was completed in 1891 and functioned as NSW's postal service headquarters until 1996, before becoming the Westin Sydney for more than two decades. Fullerton Hotels secured a management agreement for the hotel, and reopened it in 2019 as the Fullerton Hotel Sydney.
The lobby was decked out in Christmas decorations, and in terms of architecture, felt very similar to its Singapore counterpart. A grand staircase forms the centerpiece, and doubtlessly makes for very good wedding photos. The soaring atrium is filled with natural light, and the stately interiors give it a natural elegance few hotels can match. 
There wasn't any queue at check-in, and I was attended to immediately. I was hoping my I Prefer Elite membership might be worth something here, but not really. The staff told me I'd been given a "larger" Tower Premium King Room, but looking at the size and layout (see next section), I'm quite certain that didn't happen. The only amenity worth noting was a complimentary Sydney Sling. 
I was also hoping to book a heritage tour, one of the signature experiences of staying in a Fullerton hotel. Unfortunately, these were suspended due to COVID-19, though a spokesperson tells me they'll return very soon. 
During regular times, the 90-minute tours run on Wednesdays, Fridays and Saturdays at 10 a.m and 11.45 a.m. The 10 a.m slot is exclusive to hotel guests, and interestingly enough, 11.45 a.m can be attended by the general public. 
Room
My booking was for one of the Tower Premium King rooms, which as the name suggests, are located in the hotel's high-rise section (levels 14-27). 
Rooms in this category measure between 33 and 50 sqm. The front desk mentioned I'd been given a room on the larger end of this spectrum, but looking at the floor plan, I highly doubt that. If anything, it looked like one of the smallest rooms on the floor.
I'll be frank: I didn't find the rooms anything to get excited about. The beige walls, light wood furniture, frosted glass table toppers are straight out of a 1990s time capsule, and for the amount they're paying per night, guests should expect much better. 
The room didn't feel luxurious or welcoming at all, just bland and lacking any sort of character. A review from March 2020 mentions that a refurbishment is due, but more than 18 months later, there's still no word as to when this will actually happen. 
At least beds are timeless, and this king-sized mattress was firm and comfortable. Guests can choose from a pillow menu featuring options like buckwheat, contour neck, and latex.
The bedside area had a Harman Kardon bluetooth speaker, plus a pair of power outlets and USB ports. 
Another sign of the room's age was its ancient-looking TV, an early-generation LCD screen that washed out easily in bright light. 
To complete the last century vibe, there was even a DVD player!
Beneath the TV was a mini-bar with a Nespresso machine, three capsules and assorted TWG teabags. 
Unlike some other hotels in Sydney, the mini-bar was stocked with still and sparkling water, juices, energy drinks, beer and half bottles of wine and champagne. Snack options included chocolates and cookies. All items must be paid for.
The work desk had a blue cloth covered chair that didn't provide much in the way of back support, though stuffing a pillow behind improved it somewhat.
Wi-Fi speeds clocked in at 169 Mbps up and 200 Mbps down, making it suitable for practically anything you could think of. 
On the table was a tablet which allowed guests to order in-room dining, look up information about the hotel and facilities, and order pillows from the pillow menu. You could also request for luggage assistance, or a shoe shine. 
Two complimentary bottles of 350ml mineral water were provided. 
Outside the bathroom was a wardrobe area with hangers, bathrobes, an ironing set, and a digital safe. 
There was also a separate luggage nook that could fit a large-sized check in bag.
The bathroom was clad in light colored tiles, with clear glass shelves and countertops. 
While the vanity area provided plenty of storage space, the shallow design of the sink meant that water splashed out quite easily.  
The bathtub's design allowed for lying at either end, and you could lower a set of blinds to provide some privacy from the bedroom. 
The shower area didn't have the best of water pressure, although it was a welcome sight to see shower amenities from Atkinsons' Amber Empire range, in their signature purple squeeze tubes. 
The toilet lacked a bidet hose, and surprisingly didn't have a concealed cistern (which hotels often adopt to prevent tampering).
Compared to the Fullerton Bay and Fullerton Hotel Singapore, this room was conspicuous by virtue of its anonymity. Even at the discounted rate I was paying, I felt distinctly underwhelmed. 
Facilities
The Fullerton Sydney lacks a swimming pool, which is a bit of a downer for what's supposedly a luxury property. 
Instead, guests can make use of a fitness centre, open 24/7. To get there, take the lift to level 6 and cross over the bridge that links the two ends of the hotel- you'll enjoy some great views en route.
The gym is fully kitted out with Technogym equipment, all in very good condition. 
Self-serve bottled water and towels were available for guests.
Breakfast
A buffet breakfast is served at the somewhat pretentiously-named "The Place" from 7 a.m to 11 a.m daily. This costs A$30+ per person, if not included with your rate. 
This was the first buffet breakfast I had on my Australia trip (QT Sydney and Shangri-La did it a la carte style), and given how seriously breakfast is taken here, I was hoping I'd be in for a treat. Reality, unfortunately, was disappointing. The buffet may have had a good spread, but the food quality was average at best.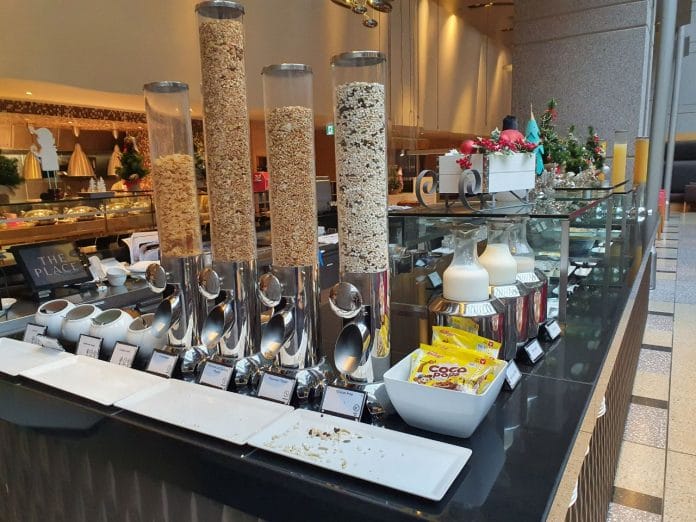 None of the items impressed. Bacon and hashbrowns were soggy, pancakes were too dense, vegetables lacked seasoning, and fruit was served before it was ripe. I'd much rather they'd served a few items and focused on getting them right than going for variety and messing it all up. 
Perhaps the most disconcerting thing for Sydneysiders is that coffee comes from a soulless machine- no barista here!
Conclusion
The Fullerton Sydney isn't bad by any means, but it's also not a hotel I could recommend wholeheartedly. The rooms feel old and dated, and breakfast is a far cry from the quality you could find elsewhere. While the gym is impressive, there's no swimming pool, and given the price guests are paying, it feels like they should be getting more. 
And if you think it's silly to complain about dated rooms in a heritage hotel, the Fullerton Singapore shows how "contemporary heritage" isn't an oxymoron. Not too long ago, its rooms weren't all that different from the Fullerton Sydney.
But a major refurbishment gave the rooms a whole new lease of life, while still maintaining their historical character. Take a look at the photos below and tell me that's not impressive.
So I can only hope the Fullerton Hotel Sydney has a similar transformation planned, and soon. Otherwise, it's just dragging the brand down.