My plan for Sydney was to visit seven hotels over seven nights, and after a brief but pleasant stay at the Meriton Suites Sussex (which I won't be reviewing separately), I headed over to the QT Sydney.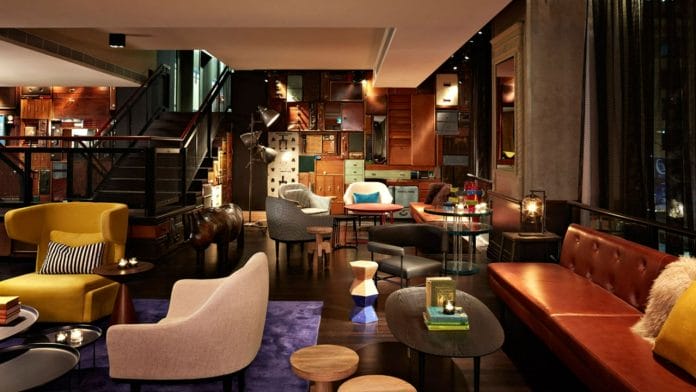 At the time of booking, QT was under the DISCOVERY umbrella. However, EVENT Hospitality & Entertainment (which owns Atura, QT and Rydges) decided to leave DISCOVERY at the end of November and focus on its own Priority Guest loyalty scheme.
That's a shame, because QT is undoubtedly one of Australia's more unique hotel brands, and Rydges was always an affordable way to rack up Local Experiences (not that these exist in the new DISCOVERY programme, anyway).
🦘 Journey to the Hermit Kingdom
🏨 tl;dr: QT Sydney

The QT Sydney's over-the-top styling might be a bit much for some, but it's certainly a breath of fresh air for anyone tired with big box chains.

👍

The Good

👎

The Bad

Unique design that if nothing else, makes for great Instagram photos

Nice upgrade for GHA Black members

Friendly service

Middling breakfast experience
Booking
The QT Sydney was pricing in excess of A$400 on the DISCOVERY website, but I managed to secure a post-tax rate of A$270 by contacting the hotel directly. 
The hotel also confirmed that DISCOVERY benefits would be honored, although as mentioned the QT chain has since left the programme. 
Check-in
The QT Sydney is located at 49 Market Street, opposite the Queen Victoria Building and just a short walk from Town Hall and St James Station. 
Guests are welcomed on the ground floor and ushered into a lift that brings you to the check-in area upstairs. It's a shame the lift gag wasn't working during my visit- when the QT Sydney originally opened, the lift's sensors would detect the number of passengers and change the elevator music accordingly. Solo guests might get songs like Me Myself and I, couples might get Just the Two of Us, and groups receive party mixes. 
Past reviewers have remarked that the QT could just as easily have been called the OTT, and it's easy to see why. The reception area looks like someone went a little overboard with the interior decorating budget, a mashup of art deco, pop art and hat tips to film noir. 
There's Pan Am trinkets, digital LED installations, stage lights, partially-clad mannequins, and every manner of tchotchkes. The design team apparently spent 18 months gathering objects like magpies from auctions, eBay, even council clean-ups. 
As a DISCOVERY Black member, I was upgraded from the lead-in QT King to a QT Junior Suite, significantly more than the prescribed two-category bump. My room wasn't ready when I arrived at 11 a.m, so I sat in the lobby and worked for about an hour.
Room keys are embedded into circular wooden fobs embossed with the QT logo. The only other place I've seen a wooden keycard is the Oasia Resort Sentosa, but I imagine environmental concerns will drive further adoption. 
Room
The Alice in Wonderland funhouse vibe continues as you wander the corridors, lined with artwork that can only be described as "eclectic". Room numbers are displayed by hands extending out of the walls, because why not. 
Junior Suites measure in at 50 sqm, about 40% larger than the lead-in King Room. Compared to the chaotic design of the lobby, these are positively restrained by comparison (I was half expecting a disco ball and stripper pole). 
That doesn't mean they're by any means conventional. The bedframe and headboard are steeped in whorish red, display cabinets emit a reddish-amber glow, and the sheer curtains bathe the room in a lusty red hue. Yes, someone really loves red.
The king-sized bed was a bit too bouncy and soft for my liking (perhaps designed with other nocturnal activities in mind), though I still managed to get a good night's sleep. Bedsides have Type I power outlets and USB ports. 
Opposite the bed was a TV and seating area. The positioning of the chairs relative to the bed suggest this room may be designed for those with…exhibitionistic tendencies. 
But if you're in the see-no-evil camp, you can always take a seat at the work desk, overlooking the window. 
Wi-Fi speeds were a zippy 182 Mbps down and 127 Mbps up (Australian hotels really put Singapore ones to shame when it comes to internet connectivity). 
An invitingly-lit mini-bar area had all sorts of snacks and drinks, though none of them were complimentary unfortunately.
What was complimentary was Nespresso coffee and T2 teabags, in a separate drawer. They even provided the milk frother, for those who need an upgraded caffeine fix. 
My DISCOVERY Black welcome amenity was missing, but when I asked the front desk about it I was told "this property is exempt". I didn't see anything in the T&Cs about that, but they quickly added "however we'd be happy to arrange something for you".
That something turned out to be a refreshing bottle of Dal Zotto Australian prosecco (if such a term can be uttered). 
The bathroom was elaborately designed, with transparent display cabinets, hollywood mirrors, and dark marble floor tiles. 
The expansive vanity area had his and hers sinks, plus plenty of storage space for personal items.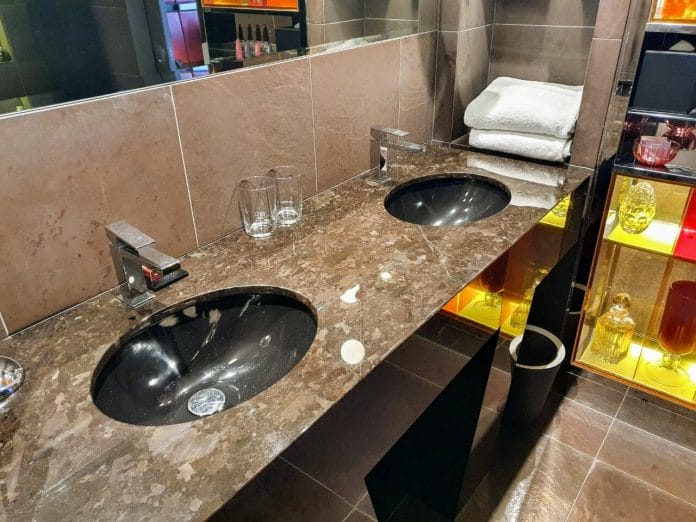 The highlight was the bathtub, shaped like a futuristic space pod. The sloping design allowed you to lie back without a bath pillow, and it retained heat surprisingly well. I took a bath and went to bed, and when I woke up in the middle of the night to pee, the bathwater was still warm (no, I didn't warm it further).
Inside the shower area was a rain shower head and hand shower, although the coverage area was rather small.
Bathroom amenities are from Kevin Murphy. I'd never heard of them before this trip, but apparently they're a well-known beauty brand. 
The toilet lacked a bidet seat or hose. 
To summarise, the Junior Suite is unapologetically one of those made-for-Instagram rooms, but at least they didn't sacrifice practicalities like the work desk in the process. I enjoyed the extra space and the deep soaking tub, and could see this being quite the place for date night. 
Facilities
Guests at the QT Sydney get complimentary access to the nearby Virgin Active Health Club at Pitt Street Mall. This opens from 5.30 a.m to 10 p.m on weekdays (9 p.m on Fridays), with shorter hours on weekends. 
However, there's also an in-house alternative open 24 hours a day, although having seen it I understand why they nudge guests towards the other option. The QT's gym is an awkward departure from the irrepressible style you see elsewhere in the hotel. I'd liken it to spotting the utilities closet at Disneyland- something that completely and utterly breaks immersion. 
Breakfast
Breakfast is served at Parlour Cucina on the ground floor from 7 a.m onwards. You can add on breakfast for A$30 per person if it's not included with your rate, but I was told by the front desk that it might be better to order a la carte instead, since people rarely hit A$30 in value. 
I opted for the breakfast muffin, described as Byron Bay pork sausage, hash brown, egg, cheese and brown sauce. I asked them to hold the cheese and put the avocado on the side, so naturally it came with cheese, and avocado inside. 
I sent it back and got a reworked version shortly after. 
In my case the cheese request was a personal preference rather than a dietary restriction, but the failure to take heed could have been much more serious for someone with allergies- quite a poor mistake for any restaurant, much less one in a luxury hotel. 
The food tasted decent enough, but I didn't find it to be anything exceptional- certainly nowhere near the "Masterchef-worthy" reviews I was reading on TripAdvisor. Also, breakfast didn't feel like a pleasant experience on account of how busy the place was. They didn't set aside any separate seats for in-house guests, so you were treated like any other walk-in customer. In my case I was slotted into a counter seat between two other patrons.
Conclusion
Service throughout my stay was cheerful (breakfast aside, where the staff seemed rather brusque), with the front desk and concierge always ready to give suggestions or help with small tasks. 
I should also note that the hotel's location is fantastic for those who want to shop. It's near Westfield Sydney, The Strand Arcade, Queen Victoria Building, and all the other shops in the Pitt and George Street area. 
The QT Sydney's over-the-top style won't be for everyone, but it'll certainly be a breath of fresh air for those yearning to escape the paint-by-numbers approach of the big box hotels.