If you've been hanging out on Flyertalk or any frequent flyer forum, you'll be well aware that the Park Hyatt Sydney is something of a byword amongst miles and points fanatics, and for good reason. 
This, after all, is a hotel that boasts million dollar views of the Sydney Opera House, one of the most iconic landmarks in the world. Photos don't do justice to the unobstructed panoramas set at eye-level; it has to be experienced to be believed. 
This hotel has been on my bucket list for a while now, and on this trip I finally pulled the trigger.
🦘 Journey to the Hermit Kingdom
🏨 tl;dr: Park Hyatt Sydney

While it's not flawless, the Park Hyatt Sydney's surreal views make for an unforgettable experience.

👍 The Good
👎 The Bad

Amazing views (assuming you're facing the right way)

Luxurious, well-appointed bathrooms

Not the kind of fawning service you'd expect from a hotel with a four-digit price tag

Some room defects
Booking
The Park Hyatt Sydney just might be the most expensive hotel in town, with room rates well above A$1,000 per night. I wasn't quite ready to spend that amount of money, but was willing to burn 30,000 Hyatt points for the experience (the Park Hyatt Sydney is a Category 7 property, which means that rooms will price at 25,000, 30,000 or 35,000 points per night depending on season). 
Even better, a friend helped me book a Guest of Honor stay which gave me the same benefits as a Globalist member, namely:
A room upgrade (including standard suites- although the Park Hyatt Sydney doesn't include these in the upgrade pool)
Complimentary breakfast
Free parking
4 p.m check-out
Check-in
The Park Hyatt Sydney is located at 7 Hickson Road, near The Rocks and in the shadow of the Harbour Bridge. Despite its location on some of the most prime land in all of Sydney, it still manages to be secluded- which means you'll probably want to take a cab here. The closest train station is at Circular Quay, a 10-minute and 850m walk to the hotel.
On arrival, the staff helped unload my luggage. One of them asked me my name, escorted me to the front desk and said "Mr Wong is here to check in". It was a nice little touch, although that was the only time I was ever addressed by name. I was hoping that for a 155-room hotel, the staff might make an effort to go beyond the usual "sir/madam". 
The front desk confirmed that I was staying on a guest of honor booking, and automatically coded my keys for a 4 p.m check-out. 
As mentioned earlier, Park Hyatt Sydney has a policy of not upgrading elite members to suites, so instead I got a view upgrade. At most hotels, a view upgrade is a complete sham. But at this particular hotel, it's actually worth something- you'll see why in the next section. 
Room
The Park Hyatt Sydney basically has two types of non-suite rooms: regular, and deluxe/premium. The regular rooms range from 40-45 sqm, and the deluxe/premium rooms measure in at 75 sqm. The main differentiating factor is the view. 
In terms of hierarchy, here's how they run from cheapest to most expensive:
1 King Bed/2 Twin Beds
1 King Bed with Harbour View
1 King Bed with Opera View
1 King Bed Deluxe
1 King Bed with Opera View Deluxe
1 King Bed with Opera View Premium
Award bookings put you in the 1 King Bed/2 Twin Beds lead-in category, which I notice the hotel doesn't even sell on its website (the lead-in category for cash stays is the 1 King Bed with Harbour View). A cynic might say it shows that points-paying guests are second class citizens here, shuffled off to the rooms with the worst views while cash-paying guests get the better ones.
That could very well be what's going on, but in any case my points booking had been upgraded to 240, an Opera View Room. This required a rather long walk down the corridor, but as a general rule of thumb, walking is a good thing in this hotel- the further you walk, the better the view.
The door opened into a large entryway with the toilet to the right, the bathroom diagonally across and the bedroom further on. 
Rooms at the Park Hyatt Sydney have a minimalist yet elegant aesthetic to them, with brown, beige and light grey tones. The patterned texture on the wall behind the bed made me think of a Japanese ryokan, and even though the hotel's last major renovation was in 2012, it didn't feel like it'd aged much. 
Floor to ceiling windows let in natural light through a series of electrically-controlled day blinds, with blackout night blinds also an option. 
In the corner of the room was a square table, which was equally suitable for work or dining. 
Wi-Fi speeds clocked in at 31 Mbps up and 13 Mbps down- far from the triple-digit speeds I was getting at other Sydney hotels, but respectable nonetheless.
A single-armed lounge chair and ottoman were in the other corner, providing a nice space to read a book while soaking in the view. 
The king-sized bed was extremely comfortable, with plush linens and a firm mattress. Some reviewers have noted that the beds are almost too firm (separate mattress toppers are available on request) but that's how old men like me like it. There's also a pillow menu, naturally. 
Both bedsides had touch-sensitive light and blind controls, etched onto a glass backing. Both also had Type I outlets, but only one side had USB ports.
The room had an impressive-looking minibar spanning a full height closet, with spirits, wines, champagne and soft drinks- none of which are free, unfortunately!
Complimentary Aurora teabags and Nespresso capsules were provided. Aurora isn't quite as premium a brand as I'd have expected for a place like this, although I'm not much of a tea drinker myself. 
What was free was the welcome gift of Cuvee chocolates. This mini collection of bite-sized Grand Cru, Amphora and Soleo samples was delicious. 
What's interesting is that the welcome card is signed by Marc Von Arnim, who is no longer the GM at the Park Hyatt Sydney. The new man at the helm is Samuel Dabinett, a development that's causing some consternation among the Flyertalk faithful. 
The TV is definitely on the smaller side; they could stand to upgrade this to at least a 55″ model because it's hard to make out the picture from bed. A Bose bluetooth speaker was provided for guests to play their own music. 
The TV supposedly had a Chromecast feature, but I simply couldn't get it to work. I later discovered it was because the Chromecast unit had no power cable. Despite flagging this early the following morning, it was never rectified during my stay. 
But there's little need to watch TV when the view outside is this amazing. The highlight of the room by far was the balcony area with a single chair and ottoman, from which you had an unobstructed line of sight to the Opera House. 
I spent large chunks of the day just sitting on the balcony, still in disbelief at the view. I popped open a bottle of sparkling wine and tried not to let the sights distract me from work. It was difficult. 
Since the room overlooks a public promenade, you'll want to draw your blinds during the day for privacy. It's not difficult for someone at the right angle to look directly into the rooms. 
Here's an idea of how visible you are from the promenade level.
Opposite the toilet was a double wardrobe, with luggage storage, plenty of hangers, as well as an ironing board.
The bathroom was separated from the bedroom by sliding wooden panels. You could open these up to make room feel even bigger, or draw them shut for privacy. If you intend to go open concept, remember to draw the blinds (unless you want to give the entire promenade below a free show).
As expected at a Park Hyatt, the bathroom was a picture of luxury. Elegant marble countertops, his and hers sinks, and thick bath towels came standard. 
The bathing area combined a shower and sunken bathtub. I rather like this concept actually, since you can easily shower off after soaking, instead of having to drip water all over the bathroom floor while transiting. 
Park Hyatt uses bathroom amenities from Le Labo's Bergamote 22 range, which are quite superb.
A quirk about the bathroom is that the toilet was located outside, near the room entrance. It could be because of architectural constraints, but it's not a bad idea actually because it allows one guest to answer the call of nature while the other is showering, with no intermingling of odors. 
The toilet had a heated TOTO bidet seat, making it the only hotel out of all my Sydney stays to have such a feature. 
Facilities
Swimming Pool
Even if you don't score a room with a view, the Park Hyatt Sydney's rooftop pool will sort you right out. The Opera House and much of the CBD is visible from the roof, making it a must visit even for those who intend to stay dry. 
The pool itself is on the small side, but that's kind of besides the point. It's regular-shaped for lap swimming (although narrow enough to be an issue when others are just there to splash around), and heated during autumn and winter.
The main attraction for me was the heated jacuzzi, from which you can soak in the views- quite literally. Come here in the evenings with a (plastic) glass of bubbly, turn on the jets and watch day turn to night. It's an experience like no other. 
Around the pool are numerous pool chairs, all of which were in good condition (i.e. no bird poop stains). 
Three cabanas were available on a first-come-first-serve basis. 
Guests can help themselves to bottled water from a concealed fridge. You can also order food and consume it in the pool area. 
Gym
The Park Hyatt Sydney's gym is located on the third floor, and while it doesn't have the same awe-inspiring views that the pool has, it gets the job done. Equipment is by Technogym, with treadmills, elliptical machines, and exercise bikes available, plus free weights and medicine balls. 
Breakfast
Breakfast is served from 7 a.m to 10.30 a.m (11 a.m on Sundays), but don't make the mistake of coming too early! I arrived at 7 a.m and was seated in The Living Room, the hotel's high tea venue. Had I come about 30-40 minutes later, I'd have been able to sit in The Dining Room, which has much more comfortable chairs and direct access to the buffet. 
Regardless of where you're seated, you'll be able to order one hot item from the menu, as shown below. 
Toast and fruits were served while waiting.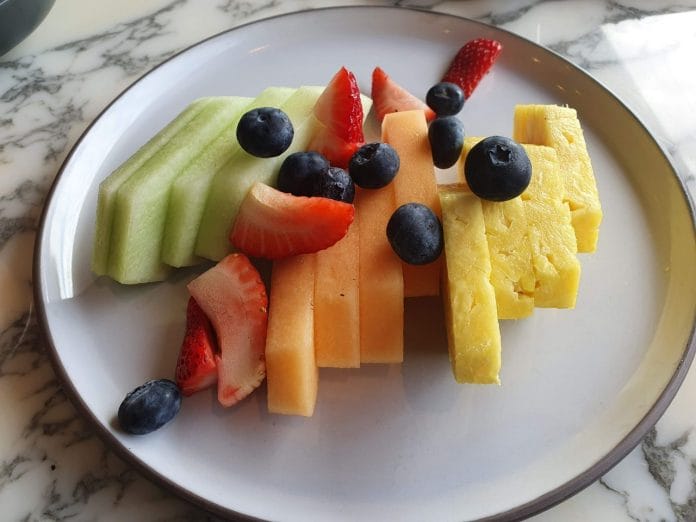 I ordered the chorizo, sweetcorn, tomato salsa, puffed rice and scrambled eggs, with sides of avocado and hash browns and mushrooms (there was no extra charge for sides). 
Guests in The Dining Room can help themselves to further items from the buffet such as cereals, cured meats, smoked salmon, cheese and breads. I could also have had this served to me in The Living Room, but the staff weren't too descriptive as to what exactly was available so I had no idea. 
Service
While all the staff I interacted with were perfectly polite, I felt the service didn't quite reach the level you might expect for a hotel that charges more than A$1,000 per night. For example, guests were never addressed by name, and there was no pre-arrival email to try and get to know their likes and dislikes better. I didn't feel like anything more than just another random guest, which wouldn't be a big deal in a 800-room business hotel, but isn't good enough for a 155-room luxury boutique. 
There were also things that could have been communicated much better. For example, the jacuzzi was closed for almost the entire second day of my stay for repairs. A letter at check-in would have been a good heads up.
I previously mentioned that the Chromecast in my room wasn't working, but even though I raised the matter with reception the following morning, no one ever came around to fix it (and remember, I only left at 4 p.m). 
I also had quite an unpleasant experience with the bathroom lights- I don't know whether they're triggered by motion sensors, but I was woken up twice by the lights suddenly going on for no rhyme or reason. I eventually resolved the issue by closing the partition between the bedroom and the bathroom, but could still hear a click everytime the lights came on, which must have happened several more times that night. I also realised that the light beneath the sink was flickering, creating an unpleasant strobe light effect. 
The hotel, to their credit, was apologetic about the issues and proactively refunded me 15,000 points. 
Conclusion
Despite some issues, the Park Hyatt Sydney was hands down the most impressive stay during my entire Australia trip. It's really all about the breathtaking views, the kind that make you pause and pinch yourself to make sure you're not dreaming. My biggest regret is I didn't have The Milelioness in tow, because this is the kind of experience that's meant to be shared with someone. 
I don't know whether I'd be willing to pay the A$1,000+ rates, but it's certainly worth a points splurge for a special occasion. 
Park Hyatt Sydney veterans- thoughts?