I recently returned from a five-day trip to Bangkok, my first visit since July 2019.
The good news is that the city is alive and well. Healthland's still there (and really empty on weekdays), Roast has opened an additional outlet at CentralWorld (though the original at Thonglor remains the best by far), and Soi Cowboy remains as lively as ever (or so I'm told, he said quickly).
There's a 11 p.m curfew on drinking and mandatory masking everywhere, but take that away and you might almost believe that life (at least for tourists) had gotten back to normal. 
Well, COVID-19 testing is part of the new normal, and even after clearing the one on arrival, there's 1-2 more waiting for you. Here's some things to know about Day 5 testing, as well as the pre-departure test for travel back to Singapore.
♻️ Test & Go & Come Back & Test & Go Again
🇹🇭 Thailand Test & Go Requirements
Fully vaccinated with approved vaccine (age 17 and below exempt)

Purchase travel insurance with min. US$50K COVID-19 medical coverage (foreigners only)

Book AQ/SHA Extra+ hotel for Day 1
Book AQ/SHA Extra+ hotel for Day 5 (not required if departing on or before Day 5)
Apply for Thailand Pass

Take pre-departure PCR test 72h before flight (age 5 and below exempt) 

Take PCR test on arrival and approved transport to hotel; isolate until result is out

Take PCR test on Day 5 or 6 (not required if departing on or before Day 5); isolate until result is out
Day 5 testing
One of the most perplexing things about the new Test & Go process is the Day 5 testing requirement. It's not the test per se (though the additional cost is certainly unwelcome), it's having to isolate afterwards- when you've already been mixing with the general population for the past four days!
While I didn't stay long enough to have to do the Day 5 test (you're excused if you stay in Thailand for five days or fewer), everyone I spoke to thought it was the most ridiculous requirement they'd ever heard of, and were certain it wouldn't last more than a couple of months. 
❓ How do you count the day of arrival?
The day of arrival counts as Day 1, regardless of what time your flight lands.
Previously, the rule was that if your flight arrives from 12.01 a.m to 6.00 p.m, the day of arrival counts as Day 1, and if your flight arrives from 6.01 p.m to 12.00 a.m, the day of arrival counts as Day 0.
But until that day, it's part of the rules for coming to Thailand, and you'd do well to respect it.  Your hotel will handle all the logistics for the Day 5 test, so all you need to do is show up and swab.
How long do results take to come back?
The results from my PCR test came back in just over three hours, but I'm led to believe that's the exception rather than the rule. Based on data points from other travellers, 6-8 hours is a safe bet.
Express options are available for an additional fee, though I'm not convinced it's worth paying for particularly if you can arrange your swab just before sleeping (see below).
Do I *really* need to isolate after the test?
Like most things in Thailand, it depends who you ask!
Grand Hyatt Erawan told me that guests must stay in their room after taking the Day 5 test until they receive a negative result
Waldorf Astoria Bangkok told me that guests must stay in the hotel after taking their Day 5 test, but can use the facilities as per normal
So one thing's for certain: you can't leave the hotel. Whether that means room isolation or hotel grounds isolation, however, appears to be a YMMV situation. 
According to my hotel-owning friend, it's one of those by right by left things. The regulations state that guests must stay in their room, but some hotels will decide to accept the risk and give further leeway.
What's the ideal testing strategy?
No one likes isolating, but it seems to me there's a rather simple solution.
Since you can do your test anytime on Day 5, why not do it just before you go to bed? Assuming your hotel offers 24-hour swabbing (and most of the ones I looked at do), you might as well spend your isolation time sleeping.
Results are typically back within eight hours, which means you could swab, sleep, and wake up to a (hopefully) negative result and breakfast. That would remove most of the inconvenience of Day 5 testing, because you can spend the day doing whatever you want.
Can my Day 5 result be used as a PDT for travel to Singapore?
Well, it depends on what your certificate says. As per the ICA, all PDT certificates must feature the following information:
the traveller's name
at least one other personal identifier such as the date of birth or passport number corresponding exactly with the information in the traveller's passport used for entry into Singapore;
a negative COVID-19 test result;
the date and time when the COVID-19 test was taken; and
the name of the testing institution conducting the COVID-19 test.
I can't speak for every testing institution, but BNH Hospital (which Grand Hyatt Erawan partners with) meets the grade.
I'd recommend you ask your hotel to get in touch with its hospital partner and send you a sample of the results certificate. See if it features the information ICA requires (remember, date of birth is an acceptable substitute for passport number), and if not, ask them how much top-up is required to get a fit-to-fly certificate. 
VTL pre-departure testing
✈️ Summary: Thailand VTL

To Singapore 🇸🇬
14 day travel history: Singapore or any Category I/ VTL country

Purchase travel insurance with min. S$30K coverage (short-term visitors only)

Apply for VTP (short-term visitors and long-term pass holders only)
Fully vaccinated with WHO EUL vaccine (age 12 and below exempt)

Take pre-departure ART/PCR test 2 days before flight (age 2 and below exempt)

Take designated VTL flight to Singapore

Take PCR test on arrival in Singapore (pre-booking required) and isolate until result is out (age 2 and below exempt)

Take self-administered ART swabs on Days 2-7 if leaving accommodation (age 2 and below exempt)
All VTL travellers to Singapore must take a professionally-administered COVID-19 ART or PCR test within 2 days of their flight (not 48 hours- there is a difference!). 
If your flight departs at 9 p.m on 14 February 2022, for example, you can take your test anytime from 12.01 a.m on 12 February 2022. 

Singapore Airlines' website says that pre-departure testing is not available at the airport. This is incorrect, at least where Bangkok Suvarnabhumi Airport (BKK) is concerned. An ATK station (what Singapore calls ART, Thailand calls ATK; don't get confused) operates 24 hours a day and provides certified results in 30 minutes or less. 
To find the booth, head down from the departures level to Level 1, where the public transportation pickups happen.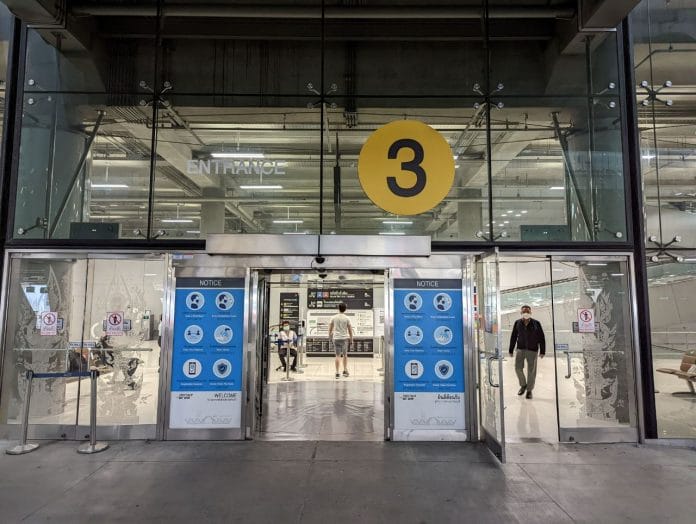 Exit via Door 3 and you'll see it on your left. 
This station is operated by SamitiveJ, a private chain of hospitals in Bangkok. An ATK test costs 550 THB (the sign below says it's a promotion till 30 November 2021, but the rate was still valid when I visited on 10 February 2022; I guess they never bothered to update it), and you receive a results certificate that clears you to fly. 
The booth gets the busiest during early morning and early evenings, when the bulk of international flights depart. I can't say for certain what your experience will be like, but here's the waiting area at 9.30 a.m on a Friday.
I didn't do my test here, however. Instead, I visited a place called MN Medical Care, a short Grab ride away from SO Bangkok where I stayed for the final night.
I can't say I recommend it though. The clinic is located in an unused hotel conference wing, with a surprising number of mosquitoes lurking inside. 
I waited about 15 minutes to get swabbed, and a further 15 minutes to get my results. They somehow managed to get my certificate wrong twice- once on the passport number, once on my name. 
An ATK test costs 500 THB, and they asked if I wanted to top-up a further 400 THB for a doctor's note. You don't need this to fly to Singapore; the test report itself (shown below) is sufficient (by the way, even if you do your swab at BKK airport they don't give you a doctor's note- there's really no need!).
So yes, I don't exactly recommend MN Medical Care, but I suppose if nothing else I've verified that its results are kosher for travel to Singapore.
Other places that travellers have reported good experiences are:
Conclusion
I'm quite confident the Day 5 test requirement won't last very long, with the hotel and tourism industry already up in arms about it. In the meantime, the best approach is to do it as late on Day 5 as you can, so you spend your isolation time sleeping.
In terms of pre-departure testing, BKK Airport offers a fast and convenient option, though slightly cheaper options can be found downtown if you're willing to take some time to get tested beforehand. 
Any questions on Day 5 or pre-departure testing?