The first thing awaiting Test & Go travellers on arrival in Thailand is a PCR test and isolation, which could be a couple of hours or up to a day, depending on your luck. You're confined to the hotel room until you get a negative result, so it'd be wise to pick a place that won't give you cabin fever. 
That place for me was the Grand Hyatt Erawan Bangkok, which came highly recommended as a Test & Go option by the hivemind on Flyertalk. 
♻️ Test & Go & Come Back & Test & Go Again
🏨 tl;dr: Grand Hyatt Erawan

While not the most exciting property in Bangkok, the Grand Hyatt Erawan is nonetheless an excellent Test & Go choice.

👍 The Good
👎 The Bad

Seamless and efficient Test & Go process

Generous with the room upgrades, even for Explorists

Extensive health and wellness facilities

Good location for exploring downtown Bangkok

Club lounge food is passable, but not memorable
Grand Hyatt Erawan Bangkok: Booking
I booked a Test & Go package at the Grand Hyatt Erawan Bangkok for THB 6,900 nett (~S$288), which included:
1-night accommodation
One-way airport transfer
1x RT-PCR test
Breakfast for two
After booking the package, I sent my passport and flight details to the reservations team, who replied on the same day with the following document required for my Thailand Pass application. 
A few days before arrival, I received an automated email regarding upgrades, and to my surprise, a Grand Club room cost just THB 900++ (S$44 nett) extra per night. 
Of course, there's no point in having a club room if you're still waiting for your PCR results come evening time, so I emailed the hotel to ask whether they'd be able to serve cocktails in-room in that case.
I don't know whether something got lost in translation, but here's the response:
Refer to your e-mail, we can upgrade you to Club Room as a complimentary. But the evening cocktail, are unable to serve in-room during Covid Situation.

We hope for your kind understanding us.
Well, I'm hardly going to argue with that! 
Grand Hyatt Erawan: Arrival & Check-in
After completing the on-arrival formalities for Test & Go, I exited the secure area and met the hotel representative at the arrivals hall. 
The representative confirmed my details and led me to the waiting car. I was pleasantly surprised that Grand Hyatt Erawan had sent a Mercedes, since the default option for other 5-Star hotels was a Toyota Camry. 
Since the front passenger seat is sealed off, each car can take two passengers at most. If you're travelling as a family, your hotel will arrange for a minivan.
Depending on which hotel and package you book, you might either stop at a hospital en route to do your PCR test, or do it at the hotel. The former is faster, since there's no need to transport the samples, but also tends to be more expensive. 
Mine was the latter. I can't recall Bangkok traffic ever being this light, and it took just under 30 minutes to reach the Grand Hyatt Erawan.
The hotel's lobby certainly lives up to the "grand" title, an indoor arboretum with soaring ceilings and grandiose-looking columns and regal staircases. It the kind of old world opulence that was all the rage in the 90s. 
Since I was on a Test & Go stay, I bypassed the check-in desks and was escorted straight to my PCR test.
A villa near the swimming pool had been converted into a temporary swabbing tent, and there was only one person (a pilot) ahead of me. 
Following the swab, I was escorted to my room to wait for the results. For obvious reasons, they don't issue you a room key until you get a negative result.
Now here's what surprised me. I knew that by virtue of doing my swab at the hotel (instead of at a hospital), I was already on the "slow track". I was told to expect results to come out in 6-8 hours, but I did my swab at 12.06 p.m and got a negative result back at 3.17 p.m.
I can't promise that you'll have the same experience (as it depends heavily on which provider your hotel uses, how busy they are at the time etc.), but goodness me was I stunned when I got the call early. 
A staff member came to the room to pass me a key and the results slip.
Grand Hyatt Erawan uses BNH Hospital for its testing, and in case you were wondering, this results slip could be used for travel back to Singapore (assuming you left in the next 2 days) because it had:
My full name
Date of birth (remember: date of birth is an acceptable substitute for passport number)
Date of result
A "Not detected" or "negative" result
Grand Hyatt Erawan: Room
My room was 1627, a 40-sqm King Bed Club Access room on the 16th floor. Club lounge privileges aside, it's exactly identical to the lead-in category. 
The Grand Hyatt Erawan opened in 1991 so it's clearly getting on in years, though the room looked well-maintained with no obvious sign of wear. 
I can't say the view was spectacular, but this is an area surrounded by high-rise buildings anyway.
The bed was firm and comfortable, though the pillows were a little undersized relative to the mattress. 
Each bedside table had an orb-like control module, which allowed you to adjust the lights in the room, as well as certain aspects of the air conditioning (fan speed, on/off, but strangely not temperature). You could also control the privacy please/make-up room signs. A sleek black iPod speaker, plus universal power sockets and USB charging ports were also available. 
A 55-inch Smart TV was opposite the bed. You could connect your own media to the screen, or use the built-in apps to watch videos. 
Next to the TV was a tea set, four glass bottles of mineral water, plus wet wipes and hand sanitiser. Surprisingly for a club room, there was no Nespresso machine. 
The mini-bar contained a small selection of soft drinks, still and sparkling water, beer and a can of Red Bull. These weren't complimentary, though club lounge guests could always head upstairs and get the same thing. 
Near the window was a working area, with a small couch, an armchair, and a glass table. Several universal power outlets could be found here, but strangely no USB ports.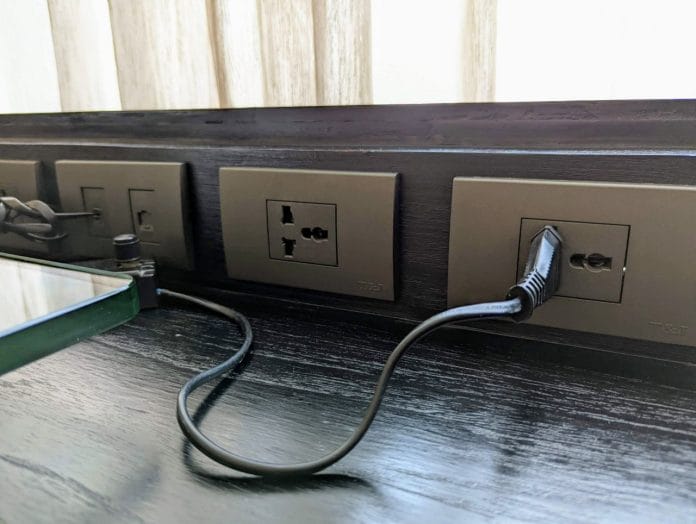 Wi-Fi speeds clocked in at 50 Mbps down and 37 Mbps up, with the network able to handle everything I could throw at it.
I found the TV served as a great second monitor, and created a makeshift workspace by pulling up the chair to the TV console and plugging in a HDMI cable. 
Near the bathroom was a sizeable closet space, with a bathrobe, ironing board and slippers. Several storage baskets and a digital safe were also provided. 
While the bathroom is aesthetically pleasing with its detailed tile patterns, it's also very cramped. This was a tight enough squeeze for one person; two people would probably have to take turns. 
The bathtub, unfortunately, was tiny. The sides were narrow and it wasn't long enough for me to extend my legs. 
So I avoided the bathtub altogether and just used the rain shower, which had good water pressure and Balmain bath amenities. 
The toilet had a bidet hose, as was standard for most hotels in Bangkok.
Grand Hyatt Erawan: Facilities
Swimming pool
The Grand Hyatt's outdoor pool is open from 6 a.m to 9 p.m daily. It's freeform in shape, but still measures 25-metres across and 1.1 metres deep, allowing for decent lap swimming.
There's also a separate jacuzzi with jets and lukewarm water. 
A large number of deck chairs and parasols were lined up on the teak sundeck area around the pool.
Gym
The gym is open from 6 a.m to 10 p.m daily, with a wide range of Technogym cardio and strength training equipment. Guests can also sign up for personalised fitness training, which starts from 1,500++ THB for 60 minutes. 
Other facilities
In addition to the pool and gym, the Grand Hyatt Erawan offers a spa, tennis courts, squash courts, and a walking trail. 
Grand Hyatt Erawan: Club Lounge
The Grand Club Lounge is located on the 17th floor, connected to the 16th and 18th floors via a staircase (it's faster than taking the lift, trust me). It seats maybe 50 people, and was about 50% full when I stayed. 
Afternoon tea is not served, but cocktails and canapes are available from 5.30 to 7.30 p.m daily. The staff were cheerful and efficient, seating guests as soon as they arrived and making sure glasses never stayed empty. 
Cold items included salads (they'd mix a som tam to order, a nice little touch), smoked salmon and deli meats, fruits and bread. 
Three hot items were available: a potato soup, some stir-fried beef and a sweet & sour fish dish. 
In terms of beverages, there were soft drinks, beer, juice, San Pellegrino sparkling water and beer, plus various spirits and wines.
One red, one white and one sparkling wine were served.
None of it's Robert Parker stuff, though I will say the prosecco was surprisingly decent. I'm partial to extra brut, since I prefer less sugar in my wines, and prosecco is naturally sweeter to begin with. 
While the food was serviceable, I didn't think it was anything to shout about, and didn't opt for seconds of anything. It's a nice little appetiser before dinner, though I wouldn't consider it a dinner replacement by any means. 
Grand Hyatt Erawan: Breakfast
Breakfast is served at The Dining Room in the lobby from 6.30 a.m to 10 a.m daily. It costs THB 850++ per person if not included with your rate, but as always is complimentary for Globalist members. 
All food is served by staff members, with guests approaching the counter and pointing at what they like. A wide selection of Asian and Western options were available, including dim sum, eggs, pancakes and waffles, plus a bakery section. 
Breakfast was hearty, and I appreciated that they made the waffles and pancakes to order. The staff were attentive and happy to whip up custom items like freshly-squeezed green apple juice, at no additional charge.
Conclusion
The Grand Hyatt Erawan Bangkok provided a seamless Test & Go experience, with everything moving like clockwork on arrival, and an unexpectedly fast PCR test result (though you can't take that as a benchmark since it's very much a YMMV thing). 
I also appreciated the upgrade to a club room, despite my lowly Explorist status. At some hotels, upgrades to club rooms don't come with club lounge access, so full marks to them for not being half-hearted about it. 
It's clearly not the most modern or exciting of hotels in Bangkok, but the location is great (just opposite Central World and the Chit Lom station) and you'll be able to hit all the classic Singaporean haunts like Roast, Siam Paragon and various massage chains without walking too far. 
An excellent Test & Go option, all things considered.