Mention Kempinski in Bangkok, and most people by default will think of the Siam Kempinski at Siam Paragon. But Bangkok now boasts two Kempinski properties, following the Sindhorn Kempinski's May 2020 opening – you know, just in time to welcome all the June holiday goers from around the region. 
Oh.
Is Bangkok in danger of Kempinski overload? Hardly- the Sindhorn Kempinski offers a rather different value proposition from the one in Siam. While the Siam Kempinski unapologetically caters to businessmen and tourists in the epicentre of Bangkok's busiest shopping belt, the Sindhorn Kempinski focuses on long-term residential stays, in the quiet, upscale neighbourhood of Langsuan.
Just a stone's throw away from Lumphini Park and nestled within Bangkok's own green corridor, the hotel feels like a escape from the chaos of downtown. Instead of traffic jams, blaring horns and catcalling masseurs, you're more likely to hear birdsongs or the laughter of children playing in one of the many green spaces. 
As much as I'd have liked to finally visit the Siam Kempinski, I figured a review of this newer property might be more useful.
♻️ Test & Go & Come Back & Test & Go Again
🏨 tl;dr: Sindhorn Kempinski

With spacious rooms, extensive wellness facilities and a tranquil environment, the Sindhorn Kempinski offers a laid-back alternative to its Siam Paragon brethren.

👍 The Good
👎 The Bad

Largest lead-in category rooms in Bangkok

Great breakfast spread with numerous made-to-order items

Extensive wellness facilities, including a pimped-out gym and spa

Swimming pool can be frigid

Not as close to the action as Siam Kempinski, which may be a bug or a feature
Booking the Sindhorn Kempinski
GHA DISCOVERY recently underwent a major revamp, which saw new tiers and revised qualification requirements, as well as Discovery Dollars (D$) introduced to replace Local Experiences. 
While I have mixed feelings about the changes, GHA gave members a rather nice golden handshake: D$100 (US$100) for every accrued Platinum Local Experience, and D$200 (US$200) for every Black Local Experience. 
I booked a one-night stay with breakfast (GHA Titaniums don't receive complimentary breakfast, remember) at the Sindhorn Kempinski for THB 9,057 (S$376). I had concerns at first because it was labelled a prepaid and non-refundable rate, and there's no option to redeem D$ on the GHA website (it'll be added eventually, but not yet).
However, the reservations team assured me my card wouldn't be charged until check-out (so much for prepaid!), when I could let the front desk know I wished to redeem D$. The D$200 ended up knocking THB 6,552 off my bill. That was more or less the same as spot rates on the day, so no complaints here. 
Sindhorn Kempinski: Arrival & Check-in
The Sindhorn Kempinski may not have the prime location of its Siam Kempinski sibling, but it's not completely out of the way either. A regular shuttle bus will drop you at Chit Lom BTS station in less than five minutes, from which you can walk or train to the various malls. So no, I wouldn't let concerns about location alone dissuade me from booking this hotel. 
I took a taxi over from the Waldorf Astoria, which cost less than S$3 and took all of four minutes. 
The hotel building was reminiscent of a cave, with solemn exposed concrete forming the walls. Yet it didn't feel oppressive by any means, thanks to the soaring skylight and warm lighting.
The lobby was the very picture of soft elegance, with couples indulging in high tea, and a grand piano playing in the background. 
Exit the lobby through the rear, and you'll find a very lovely park. This leads to Velaa Sindhorn Village, with various eateries (Vaso Spanish Tapas Bar is a must-try) and a supermarket. 
As a GHA Titanium, I received a two-category upgrade from the lead-in Grand Deluxe Room to an Executive Club room- sans club lounge access (they quoted me a whopping THB 3,000++ THB for that). Fortunately, as we'll see in the next section, Executive Club rooms are an upgrade from Grand Deluxe Rooms even without the lounge. 
I was also offered a welcome gift of tea, and a choice of juice, a series of homemade chocolate bars, or mango sticky rice. 
Sindhorn Kempinski: Executive Club Room
What surprised me when I stepped out of the elevator was that the Sindhorn Kempinski had outdoor corridors. It gave the place more of a resort feel, and helps conserve electricity too (since you don't need to air condition it). 
Unlike its companion at Siam Paragon, the Sindhorn Kempinski was built as a serviced residence first, hotel second. That means the lead-in Grand Deluxe Room is a whopping 66 sqm- that's the largest of any hotel in Bangkok, and just 4 sqm shy of a suite at the Siam Kempinski!
| | | |
| --- | --- | --- |
| Category | Size | No. of Rooms |
| Grand Deluxe Room | 66 sqm | 65 |
| Premier Residence Room | 70 sqm | 82 |
| Executive Club Room | 80 sqm | 37 |
| Executive Suite | 95 sqm | 32 |
| Grand Executive Suite | 145 sqm | 11 |
| 2-BR Grand Executive Suite | 130 sqm | 6 |
| 2-BR Residence Suite | 120 sqm | 34 |
| 3-BR Sindhorn Suite | 270 sqm | 4 |
| 3-BR Sindhorn Presidential Suite | 290 sqm | 2 |
| 3-BR Sindhorn Royal Suite | 316 sqm | 1 |
Although it's built as a residence, only the Premier Residence Rooms, or 2-BR Residence Suites and higher have kitchenettes and washing machines. 
As mentioned, I'd been upgraded to an Executive Club Room, and even though I didn't receive the club lounge benefits, I still got an extra 14 sqm of space. 
This is a big room, no two ways about it. It probably looks even bigger because they didn't build a separating wall between the living room and bedroom area, 
Warm lighting and colourful pillows gave the interior a homely feel, and the walls were decorated with photographs of ornate motifs and decorative tiles from Wat Ratchabophit, built in the 1860s under the commission of King Rama V. 
The seating area around the TV looked inviting, which is probably a good thing because this is the only spot in the room where you can watch it. Even though the TV faces the bed, the ~8-metre viewing distance is way too much for a 55-inch screen. 
A welcome amenity of fruit and some chocolate bars spiked with nuts and seeds was waiting on the coffee table. 
In the corner of the room was a two-top dining setup.
All rooms at the Sindhorn Kempinski have balconies. Outdoor space is always welcome, but the views from my room weren't particularly inspiring. Also, due to the curvature of the building, the balcony feels more like a pillbox with a restricted field of vision.
The king-sized bed offered a good night's rest, and guests can request for special pillows like memory foam or support latex. 
On the bedside tables was a phone, an alarm clock and a miniature gong, as an alternative way of waking up your significant other. Each side had a universal power outlet and two USB Type-A ports. The room's curtains were electronically controlled by switches found here. 
The work desk was in a corner of the room, together with a bright yellow lounge chair and ottoman. 
Wi-Fi speeds clocked in at a relatively sluggish 15 Mbps down and 12 Mbps up; good enough for most uses, but far from the fastest I've seen. 
The mini-bar area was located near the room's entrance, with a Nespresso Pro machine on top. The Nespresso Pro capsules aren't compatible with the home machines, and are typically used  in hotels or workplaces to discourage people from taking them home.
As is customary for Kempinski hotels, all items in the minibar were complimentary. This comprised of one bottle of still and sparkling water (Acqua Panna and San Pellegrino), some Fever Tree tonic waters, and assorted juices. Snacks included some banana chips, root chips and a granola bar. 
A giant walk-in wardrobe area was outside the bathroom, with a full-sized dressing table, luggage storage area, and plenty of hangers. 
The bathroom walls and floors were covered with pristine white marble tile, and black lacquered dual vanity countertops. Personal hygiene amenities like toothbrush sets, shower caps, shaving kits and combs were also provided. 
The shower area was spacious, with a bench that made washing your feet easy. Both a rain shower head and a handheld shower were available. Bathroom amenities were from Rituals, which you might recognise from the Qatar Airways lounge in Doha.
It's a curious thing, but the bathtub looked bigger than it actually was. When I (1.8 m) tried to get inside, I found that my legs were scrunched up against the opposite wall. 
But perhaps it's for the best, because my first encounter was…less than ideal. When switched on, the tap spewed an endless torrent of discoloured yellow water. I called the front desk, who sent maintenance to fix it. Apparently they'd done some maintenance on the pipes and forgotten to flush them out before guests arrived. It's a relatively small thing, but a poor miss from a brand normally so obsessive about the small details. 
The toilet didn't have an electric bidet, but at least had a manual bidet hose.
Sindhorn Kempinski: Facilities
Swimming pool
The Sindhorn Kempinski has a 25-metre saltwater infinity pool on level 9, open from 6 a.m till 10 p.m daily.
The pool offers sweeping views of the surrounding neighbourhood, and an overhang protects it from direct sunlight. That's both a blessing and a curse, because what little sunlight the pool receives is inadequate to bring the water above a frosty 27 degrees. 
A large number of pool chairs were laid out by the pool and even in the foyer area, so you shouldn't have issues snagging one. 
The pool had about three attendants present at any one time, and one of them brought over water and extra towels once I'd picked a spot. I was also given a food and drinks menu, but warned that items would take up to 30 minutes to arrive- fortunately, my cocktail took just under half that time. 
Gym
The Sindhorn Kempinski's gym is is open from 6 a.m to 8.30 p.m on weekdays, and 8 a.m to 8 p.m on weekends. It's certainly one of the best equipped gyms I've seen in a long while, and spread across two floors. 
The upper floor contains all the gym equipment, like treadmills, elliptical machines, bicycles and various strength training stations. 
The lower floor has workout studios offering Les Mills classes, CrossFit and virtual workouts. Fitness classes like body pump, HIIT, pilates and virtual cycling are available to hotel guests for a nominal fee. 
Spa
The spa at Sindhorn Kempinski is open from 11 a.m to 8 p.m on weekdays, and 9 a.m to 7 p.m on weekends.
I didn't do a treatment here, but here's an idea of the prices.
Having read through the full range of facilities online, however, I do feel a bit of regret I gave it a pass. This is one pimped-out spa, with a hammam, salt sauna, cold room, bio-sauna, steam room, tepidarium, and rasul room.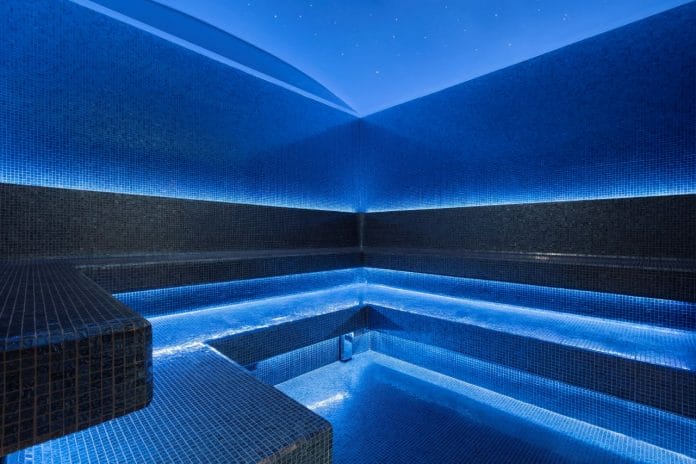 You can take a virtual tour here. 
Sindhorn Kempinski: Breakfast
Breakfast is served at Flourish in the lobby from 6.30 a.m to 11 a.m daily. 
Breakfast was a fusion of buffet and a la carte. The buffet had salads, cold cuts, cheese, cereal, fruits, yoghurt, dim sum, and various breads and pastries.
The a la carte menu had a wide range of Western and Asian items, all cooked to order.
I ordered myself a traditional fry up, with sunny side eggs, Paris ham, cherry tomatoes, sautéed mushrooms and smoked salmon. It's not a particularly revolutionary combo, but it's cliched for a reason. 
I also tried the Kanom Pang Sangkaya, which is basically steamed bread with kaya. You might have had steamed kaya toast at Ya Kun (which is more addictive than it should be), and this is basically another rendition of it- only with the crusts left on.
I really wanted to try all the different noodle dishes they had on offer, but in deference to my waistline decided on the guay tiew, with chicken broth and pork balls. The broth could have been richer, though it wasn't bad by any means. 
Pancakes and waffles are made to order, and plated rather attractively. Real maple syrup is available as well.
With the sheer variety of items on the menu, I imagine you could stay for a prolonged period and not get tired of the food- which I believe is the idea.
Conclusion
The Sindhorn Kempinski may not be at the heart of the action, but if it's personal space and tranquillity you're after, you'll find it here in spades. Everything is spanking new, breakfast offers enough permutations to last you a week, and with its sprawling wellness facilities and lush green environment, it feels like a refreshing escape from the chaos of downtown Bangkok.
I only wish I had a chance to try the executive lounge- if you did, do chime in on the experience.