The Waldorf Astoria Bangkok opened in 2018, becoming Southeast Asia's first Waldorf hotel, and the only one to date, as long as the Waldorf Bali languishes in a state of permanent limbo. 
While I've stayed at countless Hilton brands over the years, I've only visited a single Waldorf Astoria- the one in Rome, which didn't impress me too much. But I wasn't about to let one mediocre experience put me off, and immediately after checking out from the Grand Hyatt Erawan, dragged my bag 100 metres down the road to the Waldorf Bangkok.
♻️ Test & Go & Come Back & Test & Go Again
🏨 tl;dr: Waldorf Astoria Bangkok

The Waldorf Astoria Bangkok is an non-stop exercise in superlatives, and given the prices now, can't be beat.

👍 The Good
👎 The Bad

Elegantly designed rooms that look every bit the part

One of the best breakfasts in Bangkok

A stunning, heated swimming pool with wonderful sunset views

Rates are temporarily depressed due to COVID

Expect to pay top dollar for dining and spa services (though some limited-time discounts apply)
Waldorf Astoria Bangkok: Booking
I managed to book an excellent rate of S$305 nett through the American Express Fine Hotels & Resorts (FHR) programme, which came with:
A US$100 property credit
Room upgrade (subject to availability)
12 p.m check-in (subject to availability)
4 p.m check-out
Breakfast for 2 adults
The property credit alone already knocked 45% or so off the rate, and I was automatically upgraded a few days before arrival from the lead-in Deluxe Room to a Deluxe Suite.
Since cash rates are so low at the moment, I don't think it's worth redeeming 67,000 points per night. In March, for example, cash rates start from THB 8,855 nett per night. This would give you a value of 0.4 US cents per point, below the 0.5 US cents you should be targeting. 
Waldorf Astoria Bangkok: Arrival & Check-in
The 171-room Waldorf Astoria Bangkok is located near the busy Ratchaprasong intersection and Chit Lom BTS. It occupies floors 6-17 and 55-57 of a mixed-used high rise development shared with the Magnolias Ratchaprasong Serviced Residences.
Like many hotels in mixed-use buildings, the Waldorf Bangkok's ground floor is merely a reception area. I was warmly greeted by the staff, who took my bag and escorted me to the lift for check-in on level 16. 
The hotel's interiors were sculpted by renowned architect Andre Fu (CV: Andaz Singapore, Four Seasons Tokyo, The Upper House in Hong Kong, and The Berkeley Hotel in London), whose design studio AFSO clearly spared no expense in creating one of the most opulent lobbies in all of Bangkok. 
High ceilings, brass patterned screens, stately white pillars and abundant natural light made this a place you wanted to linger. It felt like a tranquil escape, compared to the chaos of the streets below. 
The lobby overlooks the Royal Bangkok Sports Club, Thailand's first racecourse and one of its oldest golf courses (estimated membership waitlist: 10 years). You can take in the views while enjoying tea at the Peacock Alley lounge, named after the daily promenade of notables through the original colonnade connecting The Waldorf and The Astoria hotels (I've covered the history of the rivalry-turned-uneasy-friendship here).
Check-in was handled at one of the three desks, each clad in handsome light bronze accents. 
A welcome drink was served, and I was given a letter explaining the FHR benefits I'd receive. FYI, the US$100 hotel credit was converted into THB 3,100, which represented a 4.5% haircut compared to spot rates on the day.
Waldorf Astoria Bangkok: Suite
I stayed in 1406, a 75-sqm Deluxe Suite on the 14th floor. While it's not a suite in the traditional sense of the word (since the living area isn't walled off from the bedroom), it boasted panoramic views through wraparound floor-to-ceiling windows, and tastefully-decorated interiors with neutral colours and subtle Thai motifs. 
Near the entrance was a seating area, with a crescent-shaped sofa, a lounge chair and oversized coffee table.
A little welcome amenity consisting of two fruit tartlets was provided.
The king-size bed featured a plush top, liquid-gel memory foam mattress with premium bedding. I'd rate this as one of the best hotel beds I ever had, and of course, a pillow menu is available. 
On the bedside tables was an iPod dock (kind of an odd throwback for a new hotel) and a digital tablet for controlling the climate and lighting in the room.
On first glance, I thought they'd missed a trick by omitting bedside charging or USB ports, but it turned out these were located in the hollow area beneath the table. Each bedside got a universal power outlet and 2x USB Type-A ports. 
Opposite the bed was a 49-inch TV, which I thought was a tad bit small for a room this size (55-inches should be the minimum). That said, the picture quality was good, and you could stream personal media from your own device. 
Near the entrance was the room's mini-bar, which opened up to reveal a kettle, teacups, a mini-fridge, and some cocktail mixers. 
Inside the minibar were four bottles of Singha beer, two bottles of coke, two bottles of Acqua Panna still water and two bottles of San Pellegrino sparkling water. These were all chargeable, but the two Waldorf-stamped coconuts were a complimentary welcome amenity. 
Nespresso capsules and Chaidim organic teabags were provided.
Instead of plastic (or even glass) bottles, guests get water in a laminated cardboard box. It's lighter to transport and less energy-intensive to recycle, plus it looks cool.
The suite lacked a proper work desk, but instead had a dining table with two chairs. Power outlets, USB and HDMI ports were built into the side table, so at a pinch, it could double up as a work area. However, the chairs really weren't good for prolonged sitting, unless you wedged a pillow between your back and the backrest. 
The Waldorf's Wi-Fi network was the fastest of any hotel I stayed in Bangkok, clocking a whopping 290 Mbps down and 243 Mbps up. You could be holding a Zoom call while streaming 4k Netflix and bit-torrenting and the same time, and it'd barely stutter. 
A massive dressing room and walk-in wardrobe provided plenty of space for preening and trying on outfits. 
The gorgeously-designed bathroom had dual vanities, with peekaboo gap in-between that let you see into the bathing area from the bedroom. This had the advantage of making the room feel even more spacious, though you can obviously close the door if you're not into exhibitionism. 
The toilet, as you might expect, was a top-of-the-line TOTO bidet seat with wall-mounted control panel. 
As impressive as the toilet was, I'd say the real highlight was the soaking tub. It's massive; you could put two people inside and still have enough space to stretch out. 
I really appreciated that this bathtub had a proper TV screen. Most bathroom screens I've seen so far are grainy and low definition, only providing a limited selection of terrestrial TV channels. This one was crystal clear, and you could stream your own media to it. 
The shower area offered both an overhead rain shower and a handheld shower. Because of its open design, quite a bit of water splashed out into the corridor while bathing- be careful when walking.
Bath amenities were from Salvatore Ferragamo, stored inside bronze-coloured pump dispensers to minimise plastic waste. 
You'd expect fancy bathrobes at a place like this, and the Waldorf doesn't disappoint with its genuine Boca Terry microfibre robes. Soft and luxurious, I'm tempted to get a set for my own house. 
Waldorf Astoria Bangkok: Facilities
Swimming pool
Located on the 17th floor, the Waldorf Bangkok's temperature-controlled infinity pool is yet another one for the highlights reel. It's not quite a rooftop pool (remember, this building has 60 floors), but you nonetheless enjoy a great vantage point thanks to the overhang. 
While most pools are all about soaking in the sun, this one offers a shaded place to rest, thanks to the tree-like superstructure radiating from the middle. 
Sitting in the water are "floating cabanas" (no, they don't actually float) which you can reserve beforehand. 
Guests can order light bites and other libations from the nearby bar. 
Service at the pool was attentive, and no sooner had I picked a spot than an attendant hurried over with towels to drape on the cushions, plus ice water and a fresh fruit skewer. 
The best time to visit the pool is about an hour before sunset, so you can enjoy the warm water, swim a few laps, and order a sundowner just as the show begins. 
I highly recommend you stay on after dusk, because the pool becomes a totally different experience at night. There's something magical about seeing the surrounding buildings illuminate and the stars appear (or what few you can see with Bangkok's light pollution), all while nice and toasty within the water. You won't want to leave.
If there's one complaint I had, it's that I was previously told by the front desk that Hilton's Dine Like a Member offer (which gives Golds and Diamonds 25% off all F&B) applied at all outlets in the hotel. However, my pool bill rang up at full price, and when I ask about it, they apologised for the mistake and that was that. I'd really have expected them to own their mistake and offer the discount, but I didn't pursue the matter. 
Gym
The Waldorf Bangkok's gym is open 24/7, and decked out with Technogym cardio and strength-training equipment. Full-length windows allow you to sweat with a view, and equipment is meticulously cleaned after each guest.
The gym was well-stocked with towels and boxes of water.
Spa
The Waldorf Astoria Spa is open 10 a.m to 10 p.m daily, and located next to the pool area. You can browse the spa menu here, though the prices don't reflect ongoing discounts and promotions. I was pleasantly surprised to receive a flat THB 1,000 discount off my THB 2,700++ foot reflexology treatment!
I was offered a drink while waiting, and a cold towel and alcohol wipe were also provided. 
Guests are free to use the steam room and sauna facilities regardless of whether they book a treatment, which are located inside the changing rooms. 
If you're doing a spa treatment, you'll also have your own personal changing room. 
I opted for a foot reflexology treatment, which was a relaxing experience (you get to lie down on a bed instead of sitting in a lounge chair), and one I'd heartily recommend. 
Waldorf Astoria Bangkok: Breakfast
It's been said that the Waldorf Astoria serves up the best breakfast in Bangkok, and on the balance of evidence, I'm inclined to agree. 
Breakfast runs from 6.30 a.m to 11 a.m on weekdays, with an extra 30 minutes on weekends. It costs THB 950++ (weekdays) or THB 1,100++ (weekends) if not included with your rate. 
While other hotels in Bangkok tend to take a kitchen-sink approach to breakfast buffets (where else can you have ice cream with your omelette?), the Waldorf's approach is more focused and curated.
The first island table near the entrance featured smoked salmon, cold cuts and deli meats, as well as cheese. There was an impressive-looking Serrano ham leg, which the staff trimmed to order.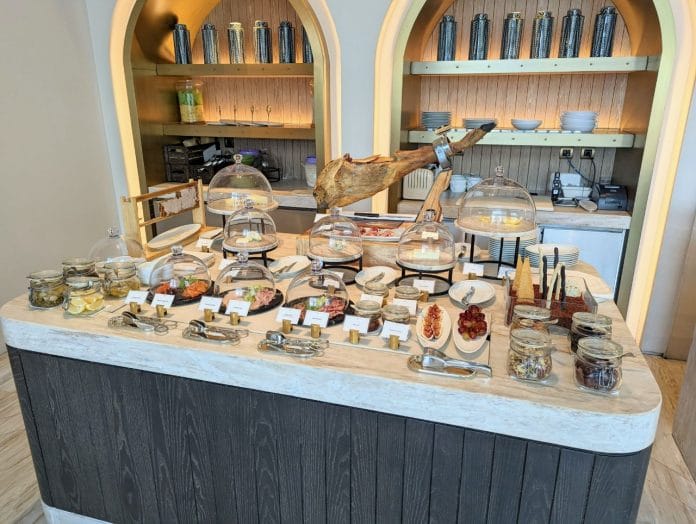 Further on was a long serving counter with various Thai and Western dishes. 
Another island table followed, with sliced fruits and salads. 
Around the corner was the bakery section, with a yoghurt and cereal selection.
You could walk up to the window and order waffles, pancakes, French toast, or croffles. My advice? Go for the croffle, a heavenly marriage between a croissant and waffle. 
I was really blown away by the quality of the food, and even the dim sum, which in many places is nothing more than afterthought, could probably hold its own. 
Guests could also order various egg dishes from a menu. 
I tried both a truffle egg and chili egg, which were jazzed-up versions of eggs benedict. Both were lovely, though I think the truffle egg just edged it for me.
I also tried the Thai omelette, which was served hot and crispy with chili sauce and optional rice. 
All in all, one of the most impressive breakfasts I've had on my visits to Bangkok. 
Other Dining
Bull & Bear
While the Waldorf Astoria Bangkok has seven F&B outlets, I only had time to visit Bull & Bear on level 55, named after the iconic Wall Street symbols.
This art deco designed bar and restaurant serves up a three-course set lunch from THB 1,000++, with the following options. 
Hilton's Dine Like a Member discount does not apply to set menus, although you can use your US$100 hotel credit to pay for it.
For my starter, I chose the king salmon tartare, with fennel, yuzu dressing and avruga caviar. Avruga caviar isn't the real thing, since it's made with herring instead of fish roe, but the salmon was fresh and paired beautifully with the citrus of the yuzu.
I hadn't had a burger for a while, and it came highly recommended, so I chose the Wagyu short rib burger which came with smoked bacon, carmalised onion, mustard mayo, a quail egg and gruyere cheese. The cook on the burger was spot on, and the brioche bun was toasted to perfection. I had to stop myself from finishing the whole thing.
For dessert, I had the burned cheese cake, topped with bourbon orange caramel and paired with bourbon and pecan ice cream. Like the burger, it hit all the right spots. 
Conclusion
From start to finish, the Waldorf Bangkok is a never-ending exercise in superlatives: the awesome breakfast, the breathtaking pool, the tranquillity of the spa, and of course, the lovely suite.
It's easily the best of the four hotels I stayed at in Bangkok, and I'd encourage you to try it out so long as the rates remain low.