The Milelion's RTW Trip 2016: Trip Planning
Introduction: Around the world in 28 days
EVA Air B77W Business Class Singapore to Taipei
EVA Air B77W Business Class Taipei to Los Angeles
Silvercar LAX
Avenue of the Arts Costa Mesa
Sheraton Gateway Los Angeles
United A319 First Class Los Angeles to Mexico City
Le Meridien Mexico City
United A319 First Class Mexico City to Houston
United B767 Business Class Houston to Sao Paulo
Sheraton Sao Paulo WTC
South African Airways A330  Business Class Sao Paulo to Johannesburg
Hilton Sandton
Ten Bompas Johannesburg
Turkish Airlines A330 Business Class Johannesburg to Istanbul
Turkish Airlines A319 Business Class Istanbul to Zagreb
Westin Zagreb
Croatia Airlines A319 Business Class Zagreb to Frankfurt
Lufthansa First Class Terminal Frankfurt
Lufthansa A330 First Class Frankfurt to Riyadh
Four Points Riyadh
Air India B77W Business Class Riyadh to Mumbai
St Regis Mumbai
ANA B787 Business Class Mumbai to Tokyo
Asiana A330 Business Class Tokyo to Seoul
Westin Chosun Seoul
W Walkerhill Seoul
Asiana B744 Business Class Seoul to Tokyo
ANA B787 Business Class Tokyo to Singapore
---
EVA BR 226
Taipei (TPE)- Los Angeles (LAX)
Saturday, May 21
Depart: 18:40PM
Arrive: 3:25PM 
Duration:  11H30M
Aircraft: B777-300ER
Seat: 5K (Business Class)
The doors to the plane opened at 5:52pm which meant I had just short of 18 minutes to get to the lounge and snap some photos before connecting to BR12 to LAX. I cleared security again and went up an escalator to the departure area.
I saw a sign labelled "VIP Lounges" and headed briskly in that direction. After jogging for 5 minutes I wondered why I wasn't getting any closer to the lounge. Then I paused, took a look at the terminal map and realised I'd been going the wrong way. Probably the champagne.
So I turned around and jogged in the opposite direction, now with only 8 minutes to go to boarding.
EVA operates 4 different lounges in Taipei airport- The Infinity,  The Star, The Garden and The Club. Because I was in such a rush I didn't have time to accomplish my original plan of visiting all 4. Something for next time then!
The Infinity was really crowded when I entered, presumably full of passengers on evening departures to the USA and Europe. Because of time constraints I only managed to get snaps of the food. There was a large buffet spread with the following highlights
The Chinese options
And the Western ones. Even though I'm a pasta snob I am still a sucker for a bad bolognaise. Especially when the caterer goes through great lengths to convince me of its pedigree.
Truth be told, it was closer to la mian with ketchup than pasta
The Movenpick ice cream station has been a staple of the EVA lounge even back in 2012 when I first visited. Ah, I remember that trip. I was en route to New York as part of a business study module at SMU.
Although I wasn't as astute at the miles and points game then as I am now, I still had the good sense to get myself a Diners Card (the Delifrance co-branded one because it had a $500 credit limit version that students could apply for ) which gave me 1 free entry per year to any of the Diners contract lounges (for more info on lounge access via credit cards, check this out)
I digress.
There was a make-your-own-hotdog station
And a salad bar with Tron-style lighting
And the usual well-stocked drinks fridge.
After a hurried visit I dashed off to the boarding gate where boarding was just about to start
As for the flight- I've covered most aspects of the hard product on the SIN-TPE route so I won't repeat them here. The only difference on this flight was that they were using a newer version of the Panasonic IFE system- the type SQ has on its new cabin products with the touchscreen. There were also 2 USB ports for charging (versus only 1 USB port on the SIN-TPE leg)
What struck me most was the difference in service between EVA's short haul and long haul routes. My SIN-TPE flight was solid, not spectacular. There were bits and pieces missing from the service element (be it addressing passengers by name or doing frequent passes of the cabin) that detracted from the whole experience.
Not so TPE-LAX. The difference was visible the moment I entered the cabin. The crew greeted each passenger and showed them to their seat (versus absent crew and seat yourself model for the SIN-TPE leg), each seat had bedding, a Rimowa amenities kit and a bottle of Fiji water waiting (versus nothing for SIN-TPE). Later on, a stewardess came by with pyjamas. There are only a handful of airlines that provide pyjamas in business class and they tend to be those who don't have a first class anyway (eg Delta).
I finally had my long-awaited Rimowa kit.
The standard stuff inside- toothbrush and toothpaste, earplugs, moisturizing cream, eyeshades and grippy socks. I'd be interested to know how much EVA pays per kit because the crew tightly control its distribution- any empty seat didn't have one waiting there, only the seats they saw on the manifest would be occupied.
A welcome drink was served together with a Godiva chocolate. Just as it was the case in Singapore, EVA sticks to serving only sparkling wine on the ground in Taipei
I found the service a lot warmer than the SIN-TPE leg as well. The crew made an effort to address every passenger by name and frequently patrolled the cabin to see if anyone needed anything.
Here's the dinner menu for the TPE-LAX leg. I was disappointed that Din Tai Fung catering was not available on this flight. I've yet to understand how EVA decides which flights get DTF catering because the TPE-SIN leg had it on offer.
I decided to pair dinner with what must be my favourite travel book- A Week At The Airport by Alain De Botton. Although I must have read it half a dozen times, I still find new joy every time in reading De Botton's exquisitely crafted prose. For those of you unfamiliar with his work, De Botton is the kind of man who can take the mundanities of life and describe them back to you in a way that makes you see them in a whole new perspective.
Here's the opening paragraph of the book, if only to whet your appetite
"While punctuality lies at the heart of what we typically understand by a good trip, I have often longed for my plane to be delayed so that I might be forced to spend a bit more time at the airport. I have rarely shared this aspiration with other people, but in private I have hoped for a hydraulic leak from the undercarriage or a tempest off the Bay of Biscay, a bank of fog in Malpensa or a wildcat strike in the control tower in Malaga (famed in the industry as much for its hot-headed labour relations as for its even-handed command of much of western Mediterranean airspace). On occasion, I have even wished for a delay so severe that I would be offered a meal voucher or, more dramatically, a night at an airline's expense in a giant concrete Kleenex box with unopenable windows, corridors decorated with nostalgic images of propeller planes and foam pillows infused with the distant smells of kerosene."
Beautiful.
Dinner started with a strange hodgepodge of appetizers. What strikes me as weird is that even if you pick the Chinese option, everything up to the main course is Western-style. This starter had peaches, avacado salad, half a cherry tomato and goose liver pate.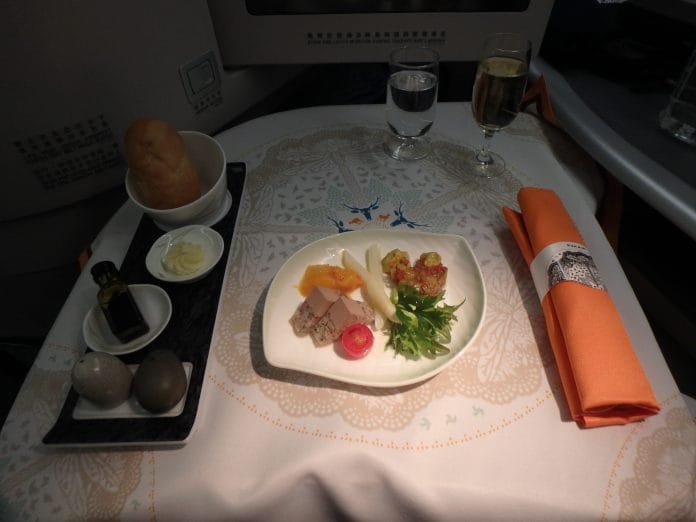 This was then followed by a perfectly passable tomato soup.
Curiously enough EVA's standard cutlery loadout does not include a spoon. I noticed this on the SIN-TPE leg but assumed I just got lucky. They only bring spoons for dishes that require them, like soup
Next was a lifeless salad. Wilted greens were never a more appropriate description.
And then the main event
Three Cup Chicken and Coconut Cream Chicken with Taro in Egg Crepe Parcel, Mixed Vegetables, Monascus Rice
I'm particular about my rice and was intrigued to learn that apparently this was Chishang Premium rice, something I'd never heard of but heck, if they commit an entire page in the menu to it it's got to be good, right?
After dinner it was time to wash up and test out the bed. Another difference I noted between the short haul and the long haul was that for the TPE-LAX leg they set up an amenities dispenser in the looo with earplugs, towels and toothbrushes (despite the amenities kit already having a toothbrush and earplugs)
Here's a picture of the fully-deployed seat
The bed was excellent. The cabin was 1/4 empty so I helped myself to an extra pillow and blanket, which I laid on the seat as a replacement padding. It should also be noted that the kind of blanket EVA uses on the long haul flights is very different from the short haul one. The short haul blanket was thin and more of a day-blanket, if such a term even exists. The long haul one was much warmer and less scratchy.
I slept a good 5 hours and awoke for the pre-landing refreshment service
My first choice (Royal Laurel) was unfortunately not available. I guess everyone likes a big bowl of soup noodles first thing in the morning. It didn't bother me too much because I was making a beeline for In-N-Out burger the minute I landed. Anecdotally though, I've never been denied a first choice meal on SQ. I'm not sure if it's just differences in catering strategy or whether my (admittedly insignificant) KF Elite Gold status meant I got higher dibs on meal choices in the event of a tiebreak situation
So I went with the Chinese option, described as
Superior Chicken Millet Puree with Sea Cucumber, Steamed Bun with Egg Yolk and Sweet Butter Filling, Pork Patties with Coriander, Stir Fried Spinach with Lily Bulb and Wolfberry
The steamed bun with egg yolk (aka liu sha bao) was really good, the rest was average.
And a fruit platter
There were some great views coming into Los Angeles
We landed at LAX and parked near a familiar face that was just pushing back from the terminal…
So what do I think of EVA? It's a tremendous product on long haul routes and a passable one on short haul.
I think their hard product is even slightly better than SQ's (but that's mainly due to a personal preference for more lounging positions and I can completely understand why people would prefer the more private, wider SQ business seat), and they offer a lot of other touches that SQ does not (vintage champagne, Rimowa amenities kits, pyjamas). I also feel SQ's catering is superior, but that might be because I didn't get a chance to try the Din Tai Fung dishes on EVA.
All in all, I'd have no hesitation to fly EVA again.
---
There was a huge line at immigration but thankfully I had my APEC Business Travel card. There was no "official" signage for APEC but someone directed me to the wheelchair/diplomat line where I queued uncomfortably behind 5 people in wheelchairs, always fearing someone would loudly question my right to be in that line. In all I waited about 20 minutes, which is still a lot better off than the flight crew line (which was stretching out the back of the immigration area).
Now it was off to Silvercar to try my first ever rental experience with them.