Introduction: It's the most wonderful time of the year
A Tale of Two Lounges: SATS Premier T2 and the Qantas SIN Lounge
Malaysia Airlines B737 Business Class SIN-KUL
Malaysia Airlines Business Class Golden Lounge KUL
Malaysia Airlines A330  Business Class KUL-NRT
Japan Airlines Business Class Sakura Lounge NRT
Japan Airlines B77W Business Class NRT-LAX
The Westin LAX
The Westin Westminster
Aloft Boston Seaport
The Consolidated AA Domestic First Class Experience
American Airlines Flagship Lounge JFK
American Airlines B772 Business Class JFK-LHR
American Airlines Arrivals Lounge LHR
The Great Northern Hotel, London
Sheraton Grand Park Lane, London
Westin Paris Vendome
Courtyard by Marriott Madrid Princesa
Four Points by Sheraton Barcelona Diagonal
The Consolidated Intra-Europe Business Class Experience
Sheraton Casablanca
Royal Air Maroc Business Class Lounge CMN
Royal Air Maroc B737 Business Class CMN-ACC
Ethiopian Airlines B787 Business Class ACC-ADD
Ethiopian Airlines Cloud 9 Business Class Lounge ADD
Ethiopian Airlines Q400 Business Class ADD-DAR
Protea Hotel by Marriott Dar Es Salaam Courtyard
Qatar Airways A320 Business Class DAR-DOH
Qatar Airways Al Safwa First Class Lounge DOH
Qatar Airways A330 "First" Class DOH-MCT
Oman Air Business Class Lounge, MCT
Oman Air E175 Business Class MCT-DXB
The Grosvenor House Dubai
W Doha
Qatar Airways Business Class Lounge DOH
Qatar Airways B772 Business Class DOH-BLR
The Ritz Carlton Bangalore
Vistara A320 Business Class BLR-DEL
Cathay Pacific A330 Business Class DEL-HKG
Cathay Pacific Arrivals Lounge HKG
W Hong Kong
Touring Cathay Pacific's HKG Lounges
Cathay Pacific A350 Business Class HKG-SIN
---
After landing in Narita, we had about a 9 hour layover until our JAL flight to Los Angeles.
The first order of business was going to the JAL check-in desks to make sure our luggage was transferred properly from MH88 to JL62. The counter staff checked our documentation, confirmed the transfer would be done and issued new boarding passes for the onwards journey.
With that done, the most logical thing next, of course, was to go Japanese fruit hunting.
There are numerous options to get to downtown Tokyo from Narita, but the most economical still remains the Tokyo Shuttle. Our round trip tickets cost JPY 1,900 each (S$23), about half of what it would have cost to take the Airport Limousine or Narita Express. Travel time is almost identical too at slightly over an hour.
I had read a lot about Sembikiya, which is supposed to be the Louis Vuitton of fruits. They have a flagship store near Tokyo station, about a 5-10 minute walk away.
I have to admit the place was smaller than I expected. For some reason, when I read "fruit emporium", I sort of expected multiple levels of fruity goodness. But in reality the fruit section itself is a compact corner on the ground floor.
The fruits were beautiful, though, and the prices were eyewatering.
I finally settled on a bunch of $20 grapes. I mean, those who had tasted Japanese grapes told me fantastical things about them: about their texture, how they tasted like jelly in your mouth and carried you like Valkyries to Valhalla.
My mum will attest that I am something of a self-proclaimed grape connoisseur. I can tell by looking at grapes whether they will be crunchy or soft or sweet or sour. And my first impressions of these babies wasn't great.
Then again, I told myself, I am but a philistine when it comes to Japanese fruits. Surely these transcend some other level such that my existing senses are ill-equipped to render pre-judgement.
So I popped one in my mouth and chewed. My colleague did likewise. We sat there chewing. And staring at the grapes. And chewing. Both of us glanced at each other.
I was the first to admit the emperor had no clothes,
She concurred.
By the time we polished off the batch, I had the feeling that either it wasn't grape season or I'd just picked the wrong thing. Ah well.
The two of us really wanted to try another Japanese musk melon, but with the starting price at Sembikiya upwards of US$100 decided there was no way we were going to pay that. Fortunately, later on that day we went to a Takashimaya and found much more reasonably priced melons, as low as US$30
For lunch we stopped by Sushi Tsubaki.
You won't find it on a lot of tourist lists but it's up there with the best, and the lunch set is only JPY 5,400. Really, there's no need to seek out "the best" sushi or the top rated things on Tripadvisor. You're just setting yourself up for a lot of queues and disappointments. The baseline standard of sushi in Tokyo is so high it's hard to go wrong.
Here's our lunch. The courses are probably not in order.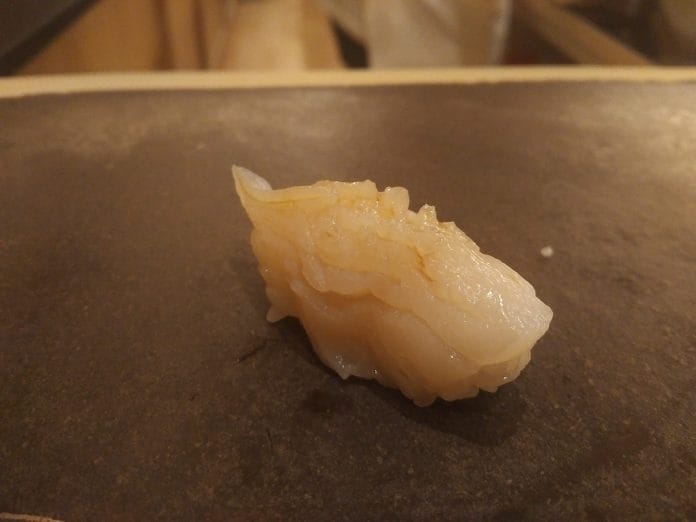 Don't feel obliged to "upsize" your set to one of the more pricey options- there was plenty of food and we were very satisfied.
It was just our luck that it started pouring and we didn't have an umbrella. But the owner at Sushi Tsubaki was incredibly nice, he fished out one that someone else left behind and gave it to us. I shall return one day and give him back an umbrella. It would be more symbolic had I given him back the same umbrella, but as I write this AA has lost said umbrella. Sad.
We took the Tokyo Shuttle bus back to Narita and went directly to immigration.
If you're looking for the JAL Business Class lounge you might be a bit confused when you see the exterior.
The signage outside says FIRST CLASS LOUNGE / SAKURA LOUNGE. It's only if you know that JAL calls its business class lounge the Sakura lounge that you'll know this is the right place. We eventually figured that out with some help from the information desk.
The lounge is divided into two segments. Business Class passengers turn to the right and head down the escalator to access Level 2, where the majority of the Sakura lounge is.
I say majority, because confusingly enough, the lounge has a completely separate dining area on Level 3 with a staircase and lift leading up. I said in my review of the MAS Golden Lounge in KUL that there didn't seem to be any sort of segmentation within that lounge. Well, JAL had gone to the other extreme- the only food available in the lounge was on Level 3, with big signs asking people not to take food out of the dining area. The rest of the lounge on Level 2 was for seating, and although there were drink bars, there wasn't any food areas.
Before I explored the dining area, however, I wanted to get a shower first.
The shower rooms are on the 2nd floor with the main lounge in the very minimalist "Relaxation Corner"
This area also had a spa, but the complimentary appointments were fully booked for the next 2 hours and we wouldn't be able to get one before flying.
As was the case in the EVA Air lounge, the JAL showers work on a card basis. You're issued a keycard that serves to open the door to a particular shower suite.
The suites are nice enough, nothing fancy but clean and dry. Note that you have to request items like a toothbrush and razor (unlike the ANA showers where everything you could possibly need is already waiting for you in the shower)
The bathroom amenities weren't anything special, sadly. Or even if they were, they didn't get any branding justice.
It was at this point I realised my waterproof shoes weren't that waterproof, and my socks were soaking wet. I managed to dry them out somewhat by leaving them facing the hairdryer blowing full blast. I was quite proud of how domestic I was.
After my shower I went to explore the dining area. As mentioned, the dining enclave is separate from the rest of the lounge on the 3rd level.
This is a large-ish area (maybe 100+ seats) with both individual and communal tables.
All tables have power outlets and USB charging ports.
The ambiance of the dining area is nice enough, with full length windows overlooking the tarmac.
In one corner of the dining area was the buffet section, which had a solid selection of hot and cold items.
Hot items included Japanese hamburger patties
Dumplings of the pork and prawn variety
Simmered beef and onions
And amazing, amazing Japanese rice. I cannot emphasize enough how obsessive Japanese are about rice, and I for one am glad. Rice is at the heart of any dish, and I'm the kind who boycotts restaurants because they can't get the rice to water ratio right. No worries here, as the rice was fluffy and spot on.
There were a few garnish stations as well
And one Japanese and one Western soup.
There was the usual assortment of European pastries that the Japanese seem to love
And the ubiquitous salad bar
Where drinks are concerned, there were juices, milk, isotonic drinks (for whatever reason), sodas
And a selection of white, red and sparkling wines. No champagne.
I got myself a seat at one of the communal tables.
The food was very high quality. However, the internet was not. It was even slower than the MAS lounge. For a country like Japan, this was totally unacceptable.
I wasn't sure about what the policy in the States would be towards fresh fruit, so I decided it was better to split the melon we bought from Takashimaya now.
I approached the staff and asked if they could help us cut the melon, only to be politely rebuffed. I was confused at first, then realised that the lounge was probably subject to some sort of food hygiene licensing standard, and couldn't serve any food they didn't themselves prepare or source. Or maybe they just didn't want everyone seeing it and wanting some.
So I got a butter knife from the buffet and did it myself. Sure enough, as soon as I sliced it, a Japanese man approached me and inquired where he could get a melon.
The melon itself, however, was disappointing. I suspect it wasn't ripe enough, because the flesh wasn't soft and sweet like the previous few melons I had.
Melon finished, I headed back down to explore the rest of the 2nd floor. It wasn't unduly exciting- there was a lot of seating, some drinks counters and nothing much else.
If you need to get some work done, there's a fully-equipped business centre with printing and fax facilities. Apparently faxes are still a thing in Japan. Who knew.
As mentioned, there isn't any food on the 2nd floor, but there's a good selection of drinks including everyone's favourite automatic beer pouring machines.
I think the biggest question for me would be: how does this lounge measure up to the ANA lounge?
ANA has a slight edge over JAL in that it has a counter that does freshly prepared udon and rice bowls (I guess freshly-prepared might not be the right term to use insofar as all the food is probably already cooked, the chefs just portion it out for you), has fully-equipped shower rooms (vs JAL's arrangement where you have to request for items) and much faster wifi.
However, JAL has complimentary spa treatments (if you can get a slot), and call me crazy, but I think their rice is better than ANA. And as we know, that's all that matters.
I left the lounge and headed to the boarding gate early, eager to see JAL's Skysuite product.