Introduction: It's the most wonderful time of the year
A Tale of Two Lounges: SATS Premier T2 and the Qantas SIN Lounge
Malaysia Airlines B737 Business Class SIN-KUL
Malaysia Airlines Business Class Golden Lounge KUL
Malaysia Airlines A330  Business Class KUL-NRT
Japan Airlines Business Class Sakura Lounge NRT
Japan Airlines B77W Business Class NRT-LAX
The Westin LAX
The Westin Westminster
Aloft Boston Seaport
The Consolidated AA Domestic First Class Experience
American Airlines Flagship Lounge JFK
American Airlines B772 Business Class JFK-LHR
American Airlines Arrivals Lounge LHR
The Great Northern Hotel, London
Sheraton Grand Park Lane, London
Westin Paris Vendome
Courtyard by Marriott Madrid Princesa
Four Points by Sheraton Barcelona Diagonal
The Consolidated Intra-Europe Business Class Experience
Sheraton Casablanca
Royal Air Maroc Business Class Lounge CMN
Royal Air Maroc B737 Business Class CMN-ACC
Ethiopian Airlines B787 Business Class ACC-ADD
Ethiopian Airlines Cloud 9 Business Class Lounge ADD
Ethiopian Airlines Q400 Business Class ADD-DAR
Protea Hotel by Marriott Dar Es Salaam Courtyard
Qatar Airways A320 Business Class DAR-DOH
Qatar Airways Al Safwa First Class Lounge DOH
Qatar Airways A330 "First" Class DOH-MCT
Oman Air Business Class Lounge, MCT
Oman Air E175 Business Class MCT-DXB
The Grosvenor House Dubai
W Doha
Qatar Airways Business Class Lounge DOH
Qatar Airways B772 Business Class DOH-BLR
The Ritz Carlton Bangalore
Vistara A320 Business Class BLR-DEL
Cathay Pacific A330 Business Class DEL-HKG
Cathay Pacific Arrivals Lounge HKG
W Hong Kong
Touring Cathay Pacific's HKG Lounges
Cathay Pacific A350 Business Class HKG-SIN
---
JAL 62 was running 30 minutes late due to the "late arrival of the aircraft". This was very unlike Japanese efficiency.
Nonetheless, it gave me time to snap some photos of the 777W taking us to LAX. Most of them turned out horrible. Here's the only decent one. It was a gloomy day.
Eventually boarding was called, and I got my first look at JAL's Skysuite product.
First things first- JAL has a 2-3-2 configuration in business class on its 777W aircraft. I know what you're thinking: 7 abreast in business class? That's quite a squeeze isn't it?
Short answer is yes, if you're a big fat guy. But I'm svelte that way, and if anything the high density layout almost reminded me of capsule hotels in Japan. I know that's not the most flattering comparison to make, but as you'll see I really did like the seat.
The 3 seats in the middle are arranged in a staggered format, so at least the guy in the middle doesn't feel so awkward. You'll also note that there are high privacy dividers between each seat that go up in flight, so you won't need to see much of your seatmates if you don't want to.
The staggered format also means that each seat has direct aisle access (the dude in the middle goes through the narrow passageway infront of each row of 3)
Now that passageway is quite tight, and I wonder whether it gets awkward for…passengers of size.
But never mind them. This is what the 2 seats at the side look like
I normally don't spring for the window seat because I want direct aisle access, but this is the exception. The window seats in this configuration are the most lucrative because there's a ridiculous amount of privacy. Once that divider goes up, you're in a suite all by yourself and the high walls make it very hard for looky loo passerbys to see inside.
To even talk to you, the stewardess has to navigate this narrow passageway.
How much privacy do you get from your seatmate when the barrier is down (as it needs to be during taxi takeoff and landing)? It's still decent- the staggered config means you won't see his/her face, but you will see their legs.
To give you another idea of how the staggering looks like, this is what the view is if you sit at the front of your window suite and look back.
This seat definitely can't compete with the SQ product for width, but thanks to the staggered configuration it's not as punishingly narrow as other high density business class configurations (ahem BA ahem)
Any further questions about the seat? Read the manual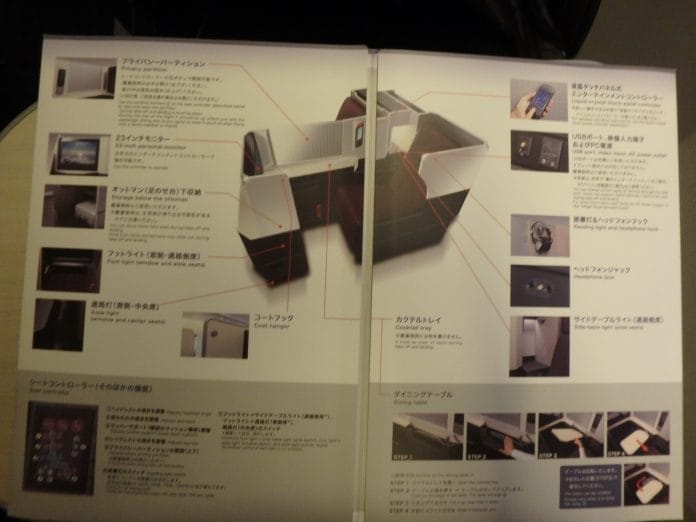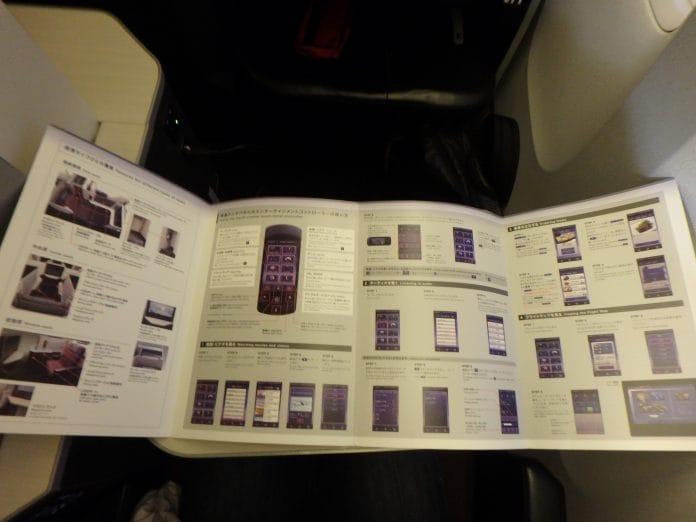 Each seat had a pair of slippers, blanket, amenity kit and pair of headphones waiting.
The seat controls on the side panel were a little worn but still worked perfectly. There is a massage function in the seat. That up and down symbol you see on the right? That's to raise and lower the privacy divider. I only realised that after trying to manually force the divider up. D'oh.
The privacy divider, when fully raised, is a majestic thing. It removes the need for social interaction.
There's in seat power (this plug type is a bit different, it doesn't accept Singapore plugs without an adapter) and USB charging.
As weird as it sounds, one of my favourite features of the seat was that someone had finally solved the first world problem of "my meal is on my tray so I can't go to the loo". JAL's tray rotates sideways, giving you enough room to squeeze out at the side! Incredible.
The amenities kit is Zero Haliburton branded. It has lip balm, ear plugs, a toothbrush kit, eyeshades, socks and a packet of tissues. I was surprised there wasn't any hand sanitizer, given how obsessive the Japanese are about hygiene. Nor was there a face mask, for that matter.
The amenity kit was definitely nicer than what rival ANA has to offer in business class
Slippers are slippers.
This picture below sums up what I thought was one of the strangest contradictions about JAL. The earphones are high quality (if not slightly uncomfortable because of their on-ear rather than around-ear design) noise-cancelling Sony models. The amenities kit is Zero Haliburton, which by all accounts is a great brand. So why is the pre-departure drink served in a plastic cup? That's just undercutting everything.
A  glance out the window reminded me it was still storming outside. I wondered if that was delaying departure, because by this time we were 1 hour past the original scheduled departure time.
The captain came on the PA to apologise for the delay. He said that we were now set for pushback and they'd try to make up for the time en route.
What's interesting is that it was gloomy and raining at Narita, but once the engines spooled up and we climbed to cruising altitude-
Just beautiful. This is why we fly.
Now let's get to the even better stuff: the catering. Menus were distributed after takeoff. I l am digging the all black motif.
All menu photos can be enlarged by clicking on them
There was a choice of Japanese and Western dinners.
The anytime snack menu, which looks amazing in and of itself. I really, really wanted to try the pasta carbonara but unfortunately/fortunately I slept too much. JAL doesn't have any ramen tie-up the way ANA has with Ippudo.
There was a light meal served before landing, again Japanese/Western.
The chamapgne on offer was Delamotte. Not many people know that this nondescript brand's sister is the very descript Salon.
Yes, this Salon, which is served in First Class
There was also the usual assortment of everything else. Sake fans, take note.
If I were nitpicky, I'd say the crew took a bit too long to start dinner service. I get that it's a higher density configuration with more mouths to feed, but there should be a corresponding scaling up of flight crew. Dinner service started about 90 minutes after takeoff, but for me the gold standard on a flight like this would be 60 minutes. At least that's what I've experienced on SQ. It does help maximise rest. But enough of that, because the food was so good I'd have gladly waited longer.
The amuse bouche was sesame tofu with wasabi, and fresh cheese and tomato mousse. I normally don't like any of these ingredients, but whatever Chef Chikara Yamada did made them work collectively.
And the starter was beautiful to behold. Even on ANA I've never seen packaging and presentation like this.
The Spring Haze selection came wrapped in a small wooden box. Unwrapping it unveiled an exquisite selection  of Japanese treats
I like how the menu's layout intuitively explained what each dish was.
Sidenote: I have never had sashimi on a plane. I always assumed this wouldn't be possible because of hygiene concerns, but apparently it can be done. And the tuna was amazing.
That set the scene well for the main course of Japanese style beef steak and grilled salmon.
And you're going to have to let me gush about the rice because I love rice. This was the best rice I have ever had on a plane. As per the menu, this is Yukigura Imazurimai Koshihikari rice, characterized by freshness, stickiness and sweetness. I want more.
Desert was a jetblack kudzu starch cake flavored with black sesame. I poked at it with my spoon and asked the stewardess for the Dean and Deluca "super premium" vanilla ice cream.
It was exquisitely rich. I think I have never had vanilla ice cream this good. Trust me, I know vanilla ice cream. I went to a famous ice cream store in Margaret River, strolled up to the counter and asked for Vanilla. The counter staff felt obliged to give me a free scoop of some more exotic flavor, because in his words "that's a long way you've come for just vanilla". I thanked him and gave the free scoop to my mum later, scraping off as much as I could so the vanilla didn't get ruined.
After my meal I had time to fiddle around with the IFE. For me, JAL's IFE is a thumbs down. The system was buggy, and froze up frequently before having to be reset.
And then it defaulted to Japanese, and there was no easy way of changing it to English.
I know what you guys are thinking- don't be noob, just go to settings.  Well, the settings menu didn't have a language function. And even though everything else was in Japanese, the settings menu defaulted to English, for whatever reason.
The other confusing thing is that apparently you control the IFE system from your handheld controller, and only after you've done your selection does the image get thrown to the big screen. At least that was my experience. I couldn't scroll through the entertainment options on the big screen, I had to do everything from the handheld controller before "transferring" the image to the big screen as the final step.
There were other cool features in the IFE that didn't seem to be activated- one of which was the ability to order meals and drinks. The window seat is great for privacy, but the upshot of that is it's harder to flag the stewardesses in the aisle. I mean, you could always press the call button but this system would have been much more efficient.
I watched Moana, one of my to watch films. Did you know that when it was released the PC brigade went nuts about its portrayal of Polynesians as obese? I mean, Maui/Dwayne Johnson isn't obese, he's wicked powerful. Seriously, some people are just looking to be offended.
There were several news channels available, but none of them were live. I switched over to the BBC. Watching the news reminded me how much evil, pain and suffering there was in the world.
After a while I decided it was time to wash up for bed. The JAL bathrooms aren't anything fancy, apart from the almost mandatory bidet you find in Japan.
In fact, their loos are probably less impressive than ANA's given the lack of any branded soaps or fragrances, the type you'll usually find in any good airline lav.
No PJs are provided for business class passengers, which I guess I can't really hold against them as it's not become the norm (yet). I put the seat into bed mode, which as you'd expect is a 180 degree flat bed.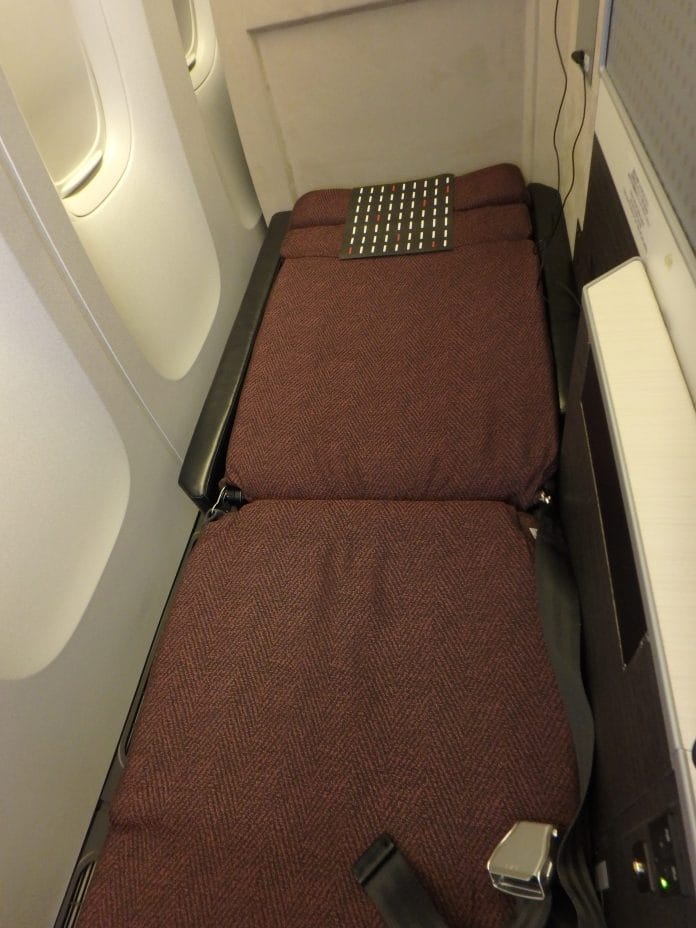 As it turns out, there is a special sleeping mattress available, which I almost missed out on because it wasn't in my overhead bin. I got a passing stewardess to help me with this and she was really surprised my overhead bin was lacking one, which suggests some oversight on their part.
I'm glad I got the padding, because it made a world of difference. JAL takes the bed padding seriously, partnering with airweave to deliver a top quality mattress pad. There's a great article on Runway Girl Network about what airlines are doing with respect to bedding that you might be interested in.
I mean, if it's good enough for these guys…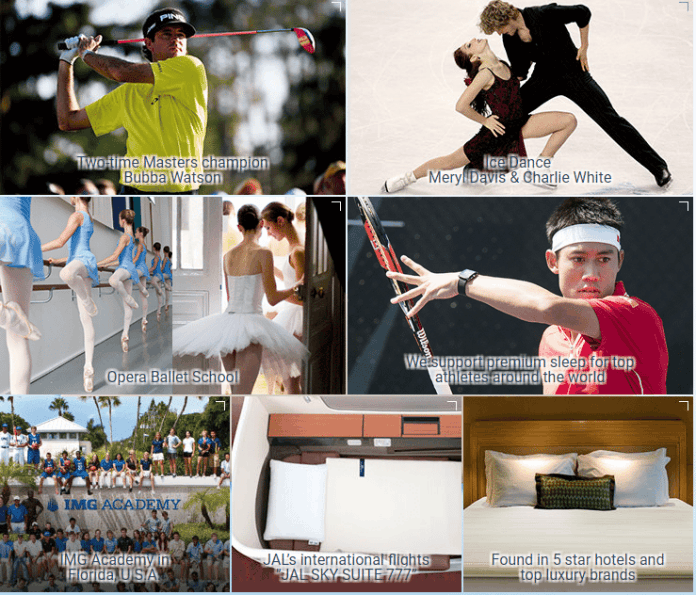 I was woken up 90 minutes before landing for the breakfast meal. I have to be honest, after the amazing dinner I had everything else would be a step down.
The beef provided was chewy, and with that as the centerpiece of the dish it never rose above average.
FYI, this was "sauteed wagyu beef fillet and mugwort (what's that?) flavored fu, citrius flavored sesame sauce and smoked tofu.  Should have had the carbonara…
The crew came around to distribute paper customs forms before landing (which I don't need, thanks to my newfangled Global Entry) and we landed about an hour late.
Conclusion
So, how does JAL measure up in my mind? The catering (average breakfast aside) is really on a whole different level. I would put that dinner in the top 3 (if not the very top) of all meals I've ever had on a plane. I'm not exaggerating when I say it redefined what airline dining could be for me.
Similarly, the quality of the hard product is impressive. The privacy I had in that window seat was excellent, and the bedding they provide is up there with the very best.
I would say that ANA has the edge when it comes to service, as I felt the ANA attendants had a better grasp of English and were generally more friendly. It's also very difficult to beat a 1-2-1 configuration the likes of which ANA has in business class, and if push came to shove I would still go for ANA's hard product, albeit narrowly.
I think the main takeaway is that Japan has 2 fantastic airlines and you can't go too far wrong choosing either of them.