Introduction: It's the most wonderful time of the year
A Tale of Two Lounges: SATS Premier T2 and the Qantas SIN Lounge
Malaysia Airlines B737 Business Class SIN-KUL
Malaysia Airlines Business Class Golden Lounge KUL
Malaysia Airlines A330  Business Class KUL-NRT
Japan Airlines Business Class Sakura Lounge NRT
Japan Airlines B77W Business Class NRT-LAX
The Westin LAX
The Westin Westminster
Aloft Boston Seaport
The Consolidated AA Domestic First Class Experience
American Airlines Flagship Lounge JFK
American Airlines B772 Business Class JFK-LHR
American Airlines Arrivals Lounge LHR
The Great Northern Hotel, London
Sheraton Grand Park Lane, London
Westin Paris Vendome
Courtyard by Marriott Madrid Princesa
Four Points by Sheraton Barcelona Diagonal
The Consolidated Intra-Europe Business Class Experience
Sheraton Casablanca
Royal Air Maroc Business Class Lounge CMN
Royal Air Maroc B737 Business Class CMN-ACC
Ethiopian Airlines B787 Business Class ACC-ADD
Ethiopian Airlines Cloud 9 Business Class Lounge ADD
Ethiopian Airlines Q400 Business Class ADD-DAR
Protea Hotel by Marriott Dar Es Salaam Courtyard
Qatar Airways A320 Business Class DAR-DOH
Qatar Airways Al Safwa First Class Lounge DOH
Qatar Airways A330 "First" Class DOH-MCT
Oman Air Business Class Lounge, MCT
Oman Air E175 Business Class MCT-DXB
The Grosvenor House Dubai
W Doha
Qatar Airways Business Class Lounge DOH
Qatar Airways B772 Business Class DOH-BLR
The Ritz Carlton Bangalore
Vistara A320 Business Class BLR-DEL
Cathay Pacific A330 Business Class DEL-HKG
Cathay Pacific Arrivals Lounge HKG
W Hong Kong
Touring Cathay Pacific's HKG Lounges
Cathay Pacific A350 Business Class HKG-SIN
---
Boarding for QR 572 began promptly at 7pm for a 7.30pm departure. Priority boarding was strictly enforced, despite a load  of people crowding around the boarding pass scanning area.
I headed down the jetway and entered the cabin of Qatar's 772.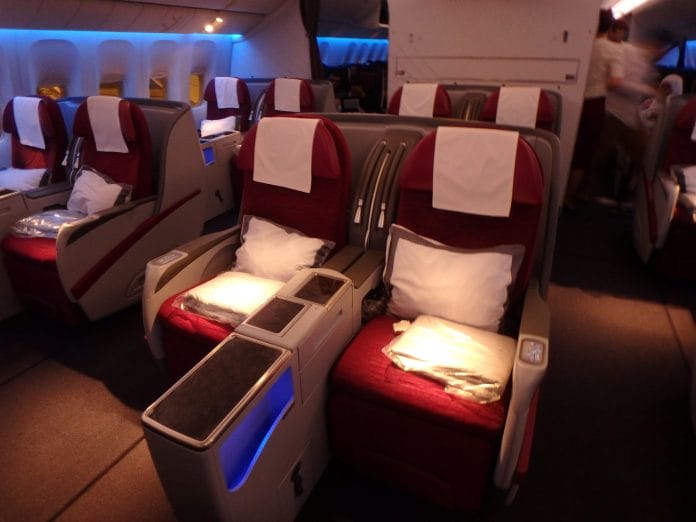 First impressions did not blow me away, but the 772s are among the oldest aircraft in Qatar's fleet with an average age of 7.6 years, second only to the A330s (which have received refurbished seats in recent years)
Now, these seats may look like angled flat ones, but they're not. I can attest that they are full flat seats. Not the best in the market, for sure, but certainly better than an angled flat seat.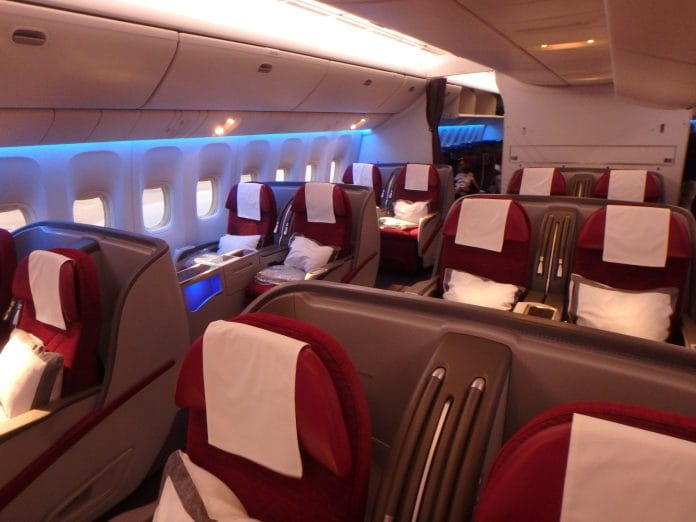 If you're traveling with a partner, you won't mind one of the two seats at the side which at least gives the window passenger more privacy.
But if you're traveling by yourself you might want to go for the 2 seats in the middle, which allows you to access the aisle without bothering your seatmate.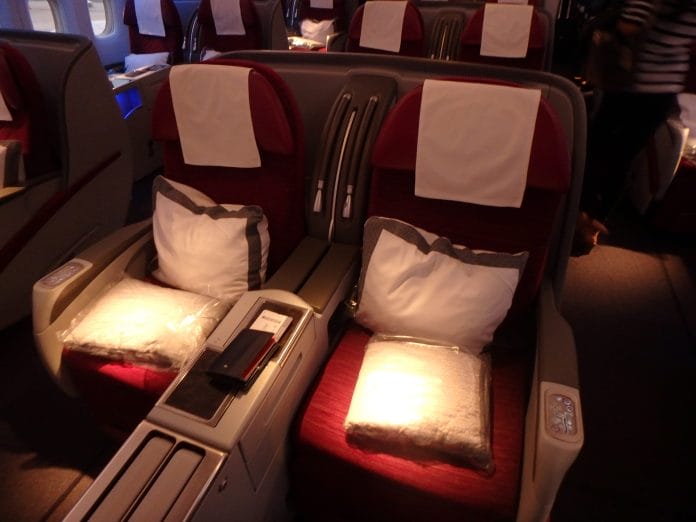 There is a whole lot of legroom inbetween seats, as this photo shows.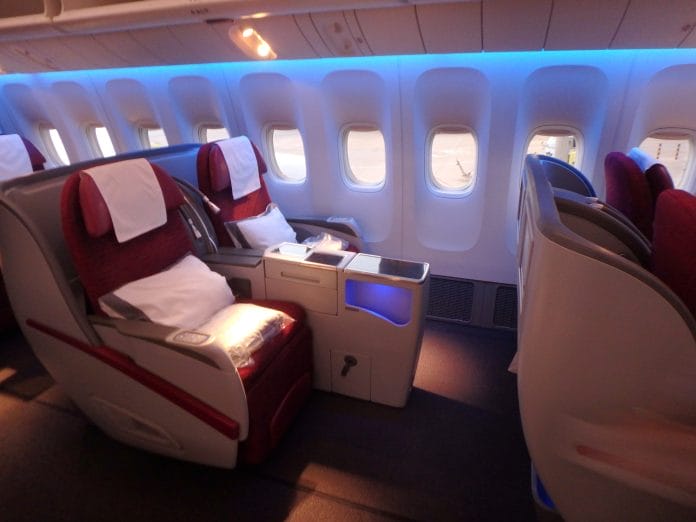 However, you can see some potential issues for someone  who needs to hop over you to get to the aisle when you're fully extended, especially in the bulkhead seats.
I was originally seated in 5E, the bulkhead near the front of the cabin. One super annoying thing about bulkhead centre seats in 2-2-2 configured J cabins is that fellow passengers seem to think it's ok to cut across infront of you instead of walking behind through the galley.
These seats in general don't have the best amount of privacy.  I mean, glance across and you'll see everyone else (the gold standard of business class, for me, is what I proudly call The Milelion's stand test. When I stand up, how many other people can I see in the cabin? SQ's 2006 and 2013 J seats pass this test with flying colors)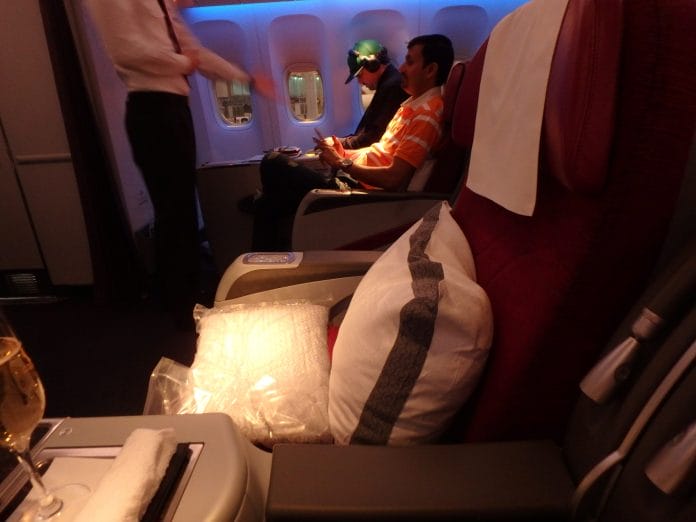 The middle privacy divider is pathetic. This is how far it extends. I don't even know why they bothered to build a privacy divider if the only thing it does is stop your elbows from touching your neighbour's.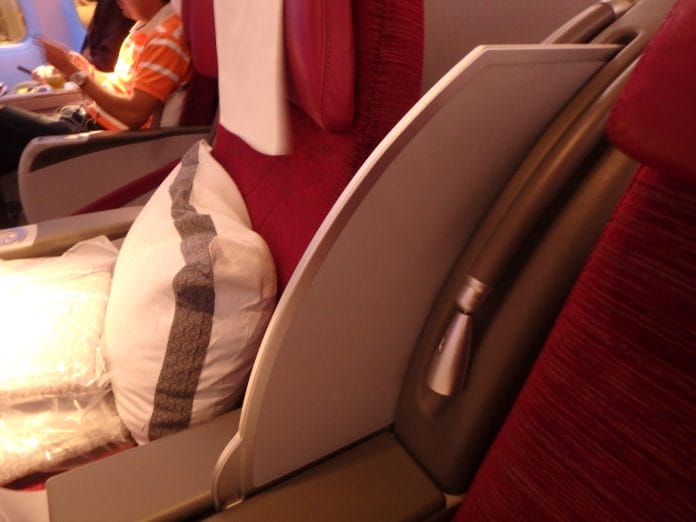 The Qatar Airways rule on alcohol during Ramadan is somewhat inconsistent. Some crews won't serve alcohol at all until after takeoff. Others will serve it when the doors close. Fortunately, the crew today believed in serving it straight from boarding. A full glass of Billecart Salmon brut was poured and appreciated. A hot towel was also given.
I was also given an amenities kit by the crew that had socks, an eye shade and lip balm.
I realise QR has two types of amenities kits- the small one they give on short/medium haul flights and the bigger, BRICS one on long haul flights.
The tray table had faux marble walnut in it and felt really solid.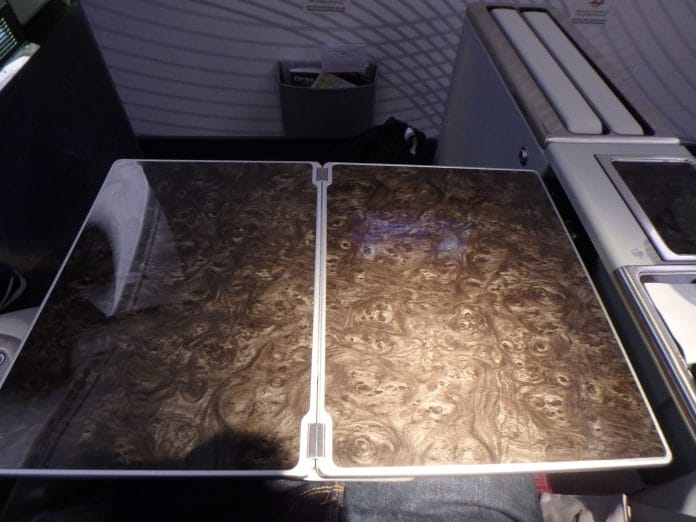 I also had a chance to fool around with the armrest seat controls. I believe the seat had a massage function but I was never able to get it working.
There were only four people in the entire rear business class cabin so I relocated to a pair of seats by the side as soon as the doors closed.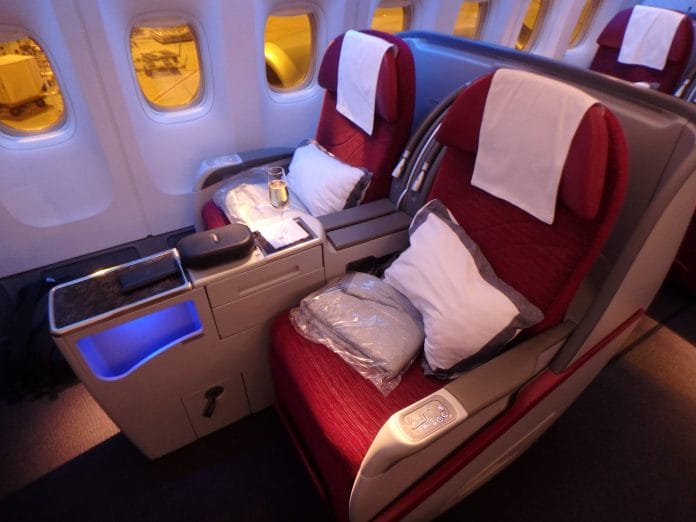 A 2-2-2 configuration is still bearable if you have an empty seat next to you. Trust me, it's not fun to be in such close proximity to a stranger on a sleeper flight.
Note the storage space around the front of the seat that the bulkhead seats don't have. You could put a pair of shoes in there.
The crew noticed I relocated and happily delivered another (full) glass of champagne.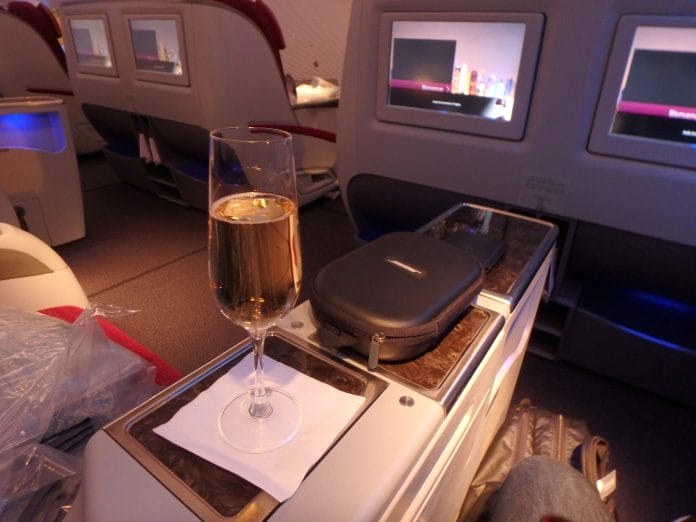 Each seat has USB charging and in-seat power (not pictured)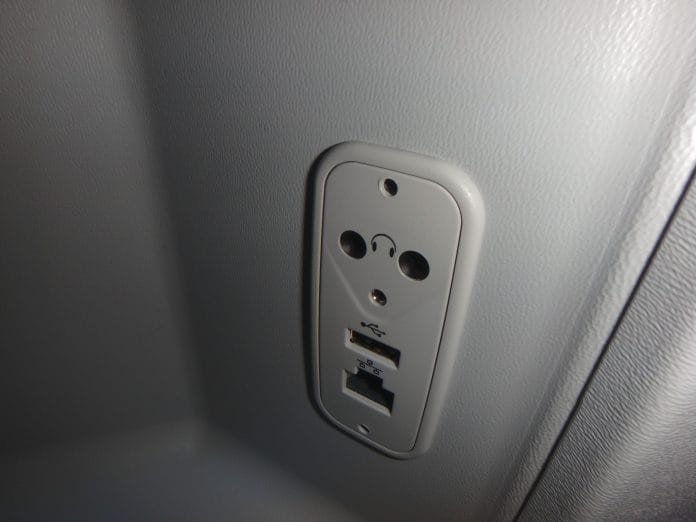 And a reading light near your shoulder. The whole set up really reminds me of SQ's Spacebed seats, just full flat…
After takeoff, the crew started drinks and nuts service. Another glass magically appeared in front of me and who was I to say no?
The IFE system on this place was as extensive as on all other Qatar flights, but I had work to do (writing reports is so much easier after a few glasses of champagne, I assure you)  so I didn't have a chance to browse.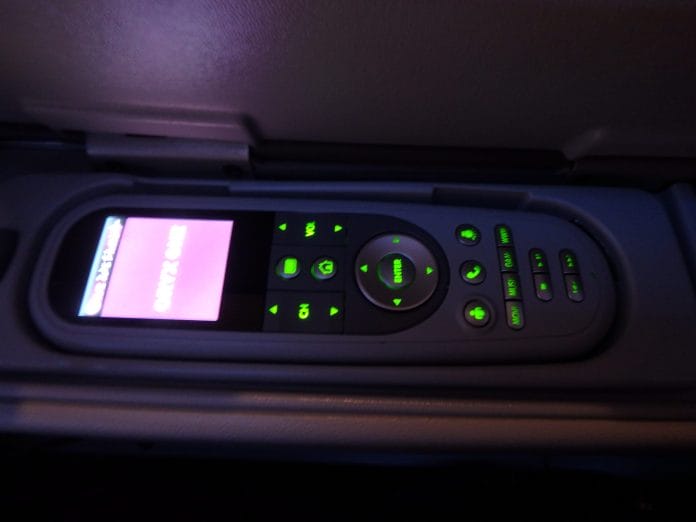 The crew distributed menus after post takeoff drinks were done. I love the subtle texture that QR has on its menus. Simple, elegant, classy.
The drinks list was exactly the same as what I had on my QR flight from DAR, which you can refer to here. So I'm just going to show you the most important page and move on.
I'm actually quite surprised they had both Rose and Brut available. Most airlines don't stock Rose.
Here's the menu for our evening flight to Bangalore. Nothing really caught my eye from the menu.
The table was set and a warm bread basket placed on the table. I love the dinner rolls that QR serves and it's a pity they can't give you three of the same thing.
The first course was cream of broccoli soup. At least I think it was. It was euphemistically labelled "soup of the day" in the menu and I realise was never properly introduced to me.
After the soup came the Arabic mezze. Look, I'll be the first to say I'm not big on Middle Eastern food, so I couldn't tell if this was good or not. I did enjoy the warmed flatbread with butter though.
For the main I had the paprika marinated chicken breast with herbs and cheese. Didn't care for the cheese, but the most awesome thing was the crew came around with condiments of spring onions and green chili. I love green chili and kept asking them for more until my eyes started watering and my nasal cavities started…well anyway the chicken was much improved by the garnish.
Hazelnut and caramel tart sounded like a winner combination, but turned out to be a sticky mess.

A visit to the loo confirmed a very no frills layout. I think bathrooms are an area where we've not seen as much innovation from airlines as we should. It strikes me as a missed opportunity- not everyone needs to do what Eithad and Emirates have done on their A380s, but surely a bigger bathroom that feels less sterile can't be far away?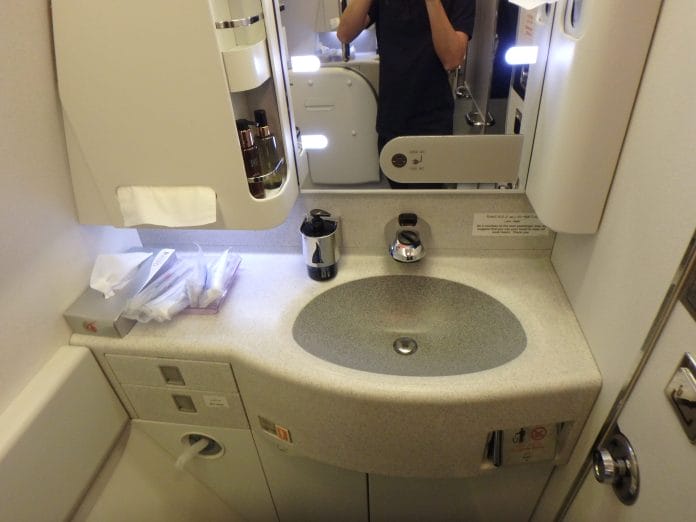 There were a few toothbrushes and a box of Kleenex that seemed haphazardly scattered on the counter.
The toiletries on offer were by Rituals.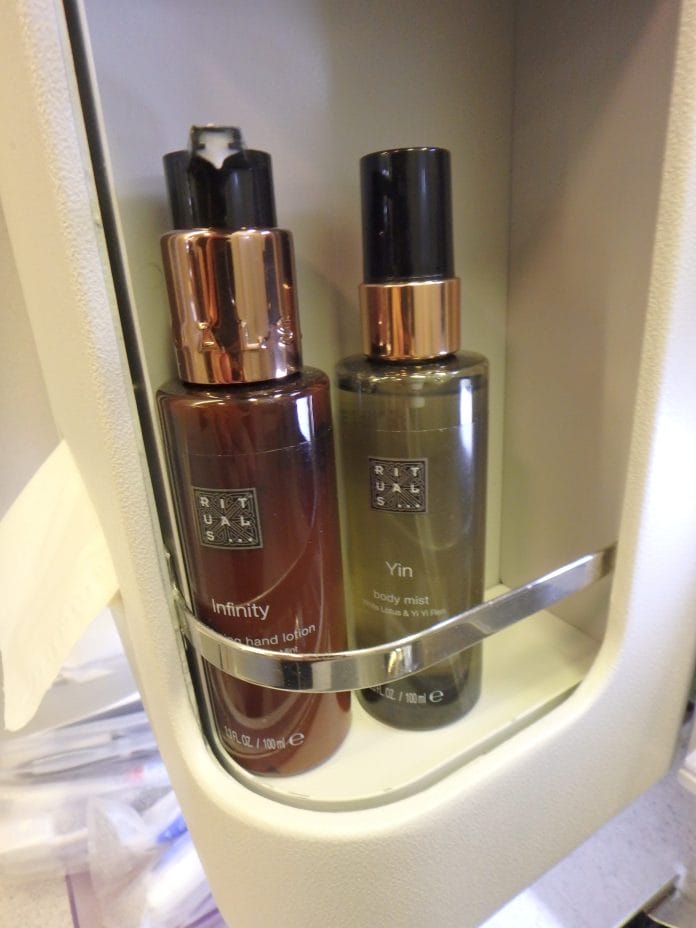 After finishing my work I tried to catch a few winks, knowing it would be well past 3am before we got to our hotel in Bangalore. The bed, as I mentioned, goes full flat, but padding leaves a lot to be desired. QR doesn't provide any additional mattress pad, or at least they didn't on this 4.5 hour flight.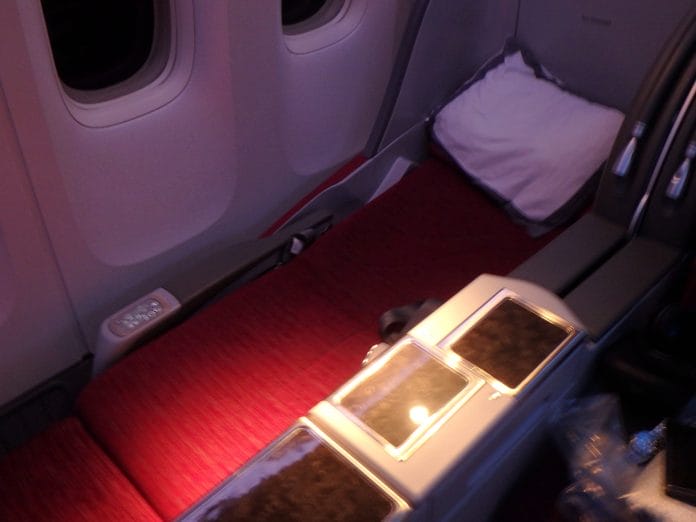 Sleep was fitful though, because of the lack of proper cushioning in the seat. Fortunately by this point we were barely 90 minutes out from BLR.
I was now at that awful state of barely awake but couldn't fall asleep, which made the preparation for descent and subsequent taxiing all the more tiring. Fortunately there were no lines at immigration and our bags came fairly quickly. Before long we were being whisked away to the Ritz Carlton Bangalore.