A Very Asian Christmas: Trip Planning
Cathay Pacific The Pier Business Class Lounge (HKG)
Cathay Pacific B777 Business Class HKG-HND / HND-HKG
Conrad Tokyo
Cathay Pacific Tokyo Haneda Lounge (HND)
Conrad Macao
Conrad Hong Kong
Cathay Pacific The Pier First Class Lounge (HKG)
---
[We reached out to CX prior to the trip to request the opportunity to tour their First Class lounge facility in HKG. The following review is Louis's personal experience]
Access
Cathay Pacific's lounge admittance policy states that departure first class lounge access is available to the following:
Cathay Pacific / Cathay Dragon / oneworld first class passengers
(with allowance for one guest)
Marco Polo Diamond members flying on Cathay/oneworld (two guests)
oneworld Emerald members flying on Cathay/oneworld (one guest)
Considering that the latter two categories are essentially top-tier frequent flyer statuses, redeeming a first class flight might actually be the most accessible option for the casual travel hacker – Alaska Mileage Plan seems like one of the likeliest options for getting there.
Having already made use of the free in-town check in service earlier,  I didn't actually need to check in at the airport – I did, however, need to swing by the first class counters to pick up my lounge invitation.
A few minutes later, I was in possession of a very valuable piece of paper.
Getting there
The lounge is located near Gate 63 of the North West concourse – that's some distance away from the check in counter. There's actually a train that gets you closer to the lounge right after clearing immigration; of course, we totally missed it and ended up walking the entire way.
That took us… some time. Unless you actually want to see more of the airport, I recommend taking the train.
Eventually, we got to the entrance to The Pier. You get a choice of taking the lift or the escalator.
If you don't have that much luggage on you, the escalator is a perfectly decent option.
Once you get to the lounge entrance, a couple of lounge attendants at the door will check your boarding pass / lounge invitation.
Just to the right of the main entrance is a reception counter, which I'd thought to be rather odd since you don't actually need to go there after entering the lounge. I suppose you can go there if you have any queries.
Queues
As true-blue Singaporeans, the first thing we did upon entering the lounge was to make a beeline for The Retreat to register for massage services. The lounge offers 10-minute massages (more on that later) and the wait time for it can be extremely long; I highly recommend making this your first step as well, if you hope to enjoy the massage services.
We'd reached the lounge around 1pm and the next available slot was estimated to be around 2.5h later (3.30pm). This wasn't good news, since our flight was scheduled to depart HKG at 3.15pm.
Somewhat crestfallen, we explained the situation to the attendants at The Retreat – they said they'd try to accommodate us, but no promises. We decided to try our luck with the wait anyway.
The other thing that takes some time (about 10-15min) is ordering food at the Dining Room. Since the food items are made-to-order, I made my requests for food (similarly, more on that later) before proceeding to explore the lounge while waiting for the food to be prepared.
Hallways
Even walking down the hallways of the lounge you get a sense of its unique aesthetic – honed green onyx, anchored with a long sofa, solid walnut tables, and statement chandeliers.
Seating
The lounge has a maximum seating capacity of about 230 – it seemed pretty empty when I was there, with plenty of seats to choose from.
I really enjoyed the scattered placement of furniture around the lounge. Unlike the many a lounge that essentially house multiple rows of identical seats (efficient, but soulless), The Pier's furniture is widely varied and set up in more natural clusters that would not look out of place in a swish apartment setup.
I also like how their side tables are designed, with power and USB sockets hidden away in a faux drawer.

Bureau
The work area of the lounge is equipped with six iMac stations – the desk setup makes it feel rather like a home office.
Library
This oversized corridor is essentially the equivalent of the newspaper and magazine rack you might find elsewhere, with the addition of a few books. Classy, if perhaps slightly impractical – I can't imagine many people opt to use the seating here when more comfortable options abound elsewhere in the lounge!
Bar
The bar is situated near a few clusters of seating as well, allowing you to choose between sitting on a bar stool or relocating to one of the sofa or armchairs to relax with a drink.
There is a fairly extensive beverage and wine list, and they were also serving mulled wine during the Christmas festive period.
Pantry
Self-service food options can be found in the pantry. I'd personally much rather stick to the Dining Room (perhaps even ordering multiple items), but I guess this option might appeal to those who just want a light snack.
You can also prepare coffee or tea in here, or grab a bottle or can from the fridge.
It's not that obvious from the picture, but you can help yourself to various dishes from the right hand side of the fridge, such as
Beet Root and Quinoa with Orange Salad
Marinated Black Fungus and Bean Curd
Sliced Cured Meat with Semi-dried Tomato
Caprese Salad with Pesto
Dining Room
The Dining Room is a large restaurant-like space that can seat 100. Assuming it doesn't get crowded very often, you can still enjoy a sense of privacy when dining there – there's plenty of space and it's relatively quiet.
As if having a bar in the seating area wasn't enough, there's one in the Dining Room as well.
I generally enjoyed the food that was served, although the portions were a little small (especially that salmon). All the better if you want to try multiple dishes, though!
I'm almost ashamed to admit that my favourite dish was the humble Dan Dan Mian – happily, it's also available from the noodle bars in CX business class lounges, so I managed to have it multiple times over the course of the trip.
Washrooms
I don't usually feature washrooms very much in my reviews, but I really like the design of the ones in the Cathay Pacific lounges. There's something about the marble and brass finishing that makes it classy without being gaudy.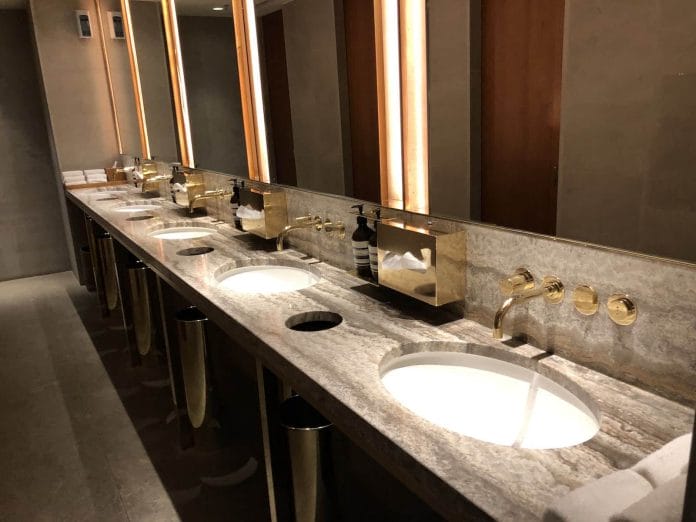 I think it's also because I really enjoyed the Aesop amenities – those things smell amazing!
I don't usually feature toilets, but I was pretty impressed that each stall came with its own private sink.
The Retreat
Day Suites
The lounge has a total of eight Day Suites, enclosed areas with a day bed to lounge on. I found it amusing that they had a sign reminding passengers that no wake-up service / flight information announcements.
You're supposed to be limited to 1.5h in the day suites, though I'm not sure that's enforced, especially if it's not busy.
The day suites offer a clear view of aircraft parked right outside – this is great if you're an aviation fan, but could possibly be an annoyance if you're trying to rest due to the (slight) noise generated.
Beside the day bed are power sockets and controls for the suite's lights and blinds.
The light from the outside world could be blocked out by lowering a blind.
I did think it was still rather bright even with the blind fully lowered – I suspect there's a heavier curtain that I hadn't discovered, though since I wanted the window open I wasn't really looking very hard for it.
All in all, a very comfortable place to rest in privacy.
Showers
I was planning to take a shower before boarding the plane, but surprise surprise, at around 2.25pm we were buzzed over to the massage counter. What I know is that there are 14 showers in the lounge, none of which I managed to step into, unfortunately.
Foot Massage
Foot massage services are provided by Gentlemen's Tonic – you actually get to choose between getting a foot massage, or a foot soak accompanied by either a neck/shoulder/scalp massage or a hand treatment.
I opted for the former, and was led into a massage room with three seats (presumably they could massage three guests at the same time).
I was asked to soak my feet for awhile before the masseuse came over to work his magic on them.
I'm not really a big fan of massages, so perhaps this was wasted on me. I did finish the session with cleaner feet, at least!
Conclusion
Personally, my first class lounge experience has previously been limited to The Private Room in Singapore, and so a comparison is inevitable – in my opinion, The Pier clearly takes the lead in providing a comfortable and enjoyable ground experience.
While I still think Singapore Airlines provides a superior product in the air, I find that the brilliant ground experience when transiting in Hong Kong makes up for it. Depending on the intended destination, I can actually imagine myself opting to fly CX primarily because of this difference.