A Very Asian Conrad Christmas: Trip Planning
Cathay Pacific The Pier Business Class Lounge (HKG)
Cathay Pacific B777 Business Class HKG-HND / HND-HKG
Conrad Tokyo
Cathay Pacific Tokyo Haneda Lounge (HND)
Conrad Macao
Conrad Hong Kong
Cathay Pacific The Pier First Class Lounge (HKG)
---
I got into Hong Kong via the A350 (previously reviewed by Aaron) from Singapore, which I'd thought was a great experience, but was really more excited to be checking out the ground experience. Aaron had also previously reviewed the other Cathay Pacific business class lounges in Hong Kong, and I was really curious if The Pier (reputedly the best of the lot) would exceed the others.
Access
Cathay Pacific's lounge admittance policy states that departure business class lounge access is available to the following:
Cathay Pacific / Cathay Dragon / oneworld first class passengers
(with allowance for one guest)
Cathay Pacific / Cathay Dragon / oneworld business class passengers
(no guest)
Marco Polo Diamond/Gold/Silver members flying on Cathay/oneworld
(two guests for Diamond, one for Gold, no guest for Silver)
oneworld Emerald/Sapphire members flying on Cathay/oneworld
(one guest)
Interestingly, lounge access is available to Marco Polo Silver members, as compared to KrisFlyer which only grants access to Gold (and in Singapore, only for the lower-end KrisFlyer Gold lounge as opposed to the SilverKris lounge that business class flyers get). If you fly a fair bit but not enough to qualify for Gold, this might be worth noting, if you value lounge access.
Getting there
The lounge is located near Gate 65 of the North West concourse – I passed by the entrance to the First Class lounge on the way there – if you're not paying attention you might mistakenly attempt to enter the wrong Pier lounge.
Once you get there, there's a choice of lift or escalator.
After verification of your boarding pass / lounge invitation, you're in!
Choose your path
This lounge is huge. That's not so obvious from the entrance – what's clear is that you are presented with a choice pretty early in the lounge journey; apparently a deliberate choice on the part of the lounge designers.
From LoungeBuddy:
Imagine the lounge space as a high-end version of the typical street in Hong Kong, albeit with a much more luxurious feel. There are distinct fast and slow lanes, enabling passengers to enjoy the lounge facilities at their own personally desired pace.
Do you proceed forward on the 'slow lane' and enter the quieter areas for rest and work?
Or do you turn left and enter the 'fast lane', exploring various rooms offering multiple F&B options, culminating with showers and relaxation room to recover from the exertion?
Fast Lane
As a (hungry) Singaporean, I naturally headed straight for the fast lane.
Food Hall
The first room, the food hall, offers probably the greatest variety of food in the lounge. It essentially offers a buffet spread for you to choose from, though I must say that I found the range rather impressive for an airline lounge.
Near the entrance, a coffee cart where you can get on-demand espresso drinks.
The buffet line isn't self-access; you'll need to request for servings which I guess helps to regulate the flow of the food. I didn't quite understand the layout – starting from the very left, there're desserts and cold cuts…
Hot foods like quiches, puffs, pizza, potato wedges; cauliflower polonaise, fish fillets, baby pork legs and soup…
Cuttlefish nuggets, bread and butter pudding, and a selection of bread…

Finally, more desserts (like macarons) and drinks at the very end.
Aside from the impressive range, I thought the quality of food was really good as well. I found that I wasn't dining there just to maximise the utility of the lounge (as I do relatively frequently, to be honest); I genuinely enjoyed the fare.
Bar
Next up on the 'fast lane' – the Bar.
I didn't stay here for too long since alcoholic drinks were also available in the other rooms and I didn't feel like unloading my sorrows on the bartender that day. That said, there's plenty of seating should you wish to sit further away from the bar proper.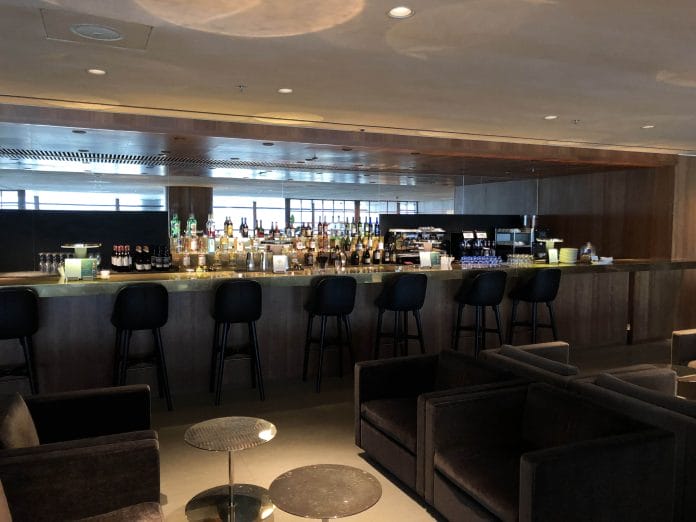 Noodle Bar
Further into the 'fast lane' you find the main source of on-demand food within the lounge.
Other than noodles (Dan Dan noodles are my favourite – happily they seem to be available in CX noodle bars worldwide), you can also order from a selection of dim sum.
The noodles are supplemented by a small selection of hot buffet items.
To the sides of the food are the hot drinks; dessert and cold drinks. The latter section is essentially a duplicate of what's available in the Food Hall.
Plenty of restaurant-style seating here.
Teahouse
As we enter the next F&B room the pace of the 'fast lane' seems to start slowing somewhat.
The furnishings in the room evoke a sense of Zen.
An extensive tea menu allows you to choose your preferred beverage to detox with.
The drinks and snacks available here all appear to be of the healthier variety.
This is probably my favourite room in the lounge, where environment is concerned – the food in the other areas are great, but if you want to unwind you should take a moment to sit here and enjoy a pot of hot tea.
Showers
Just beyond the Tea Room lies the shower area, housing a total of 13 showers. There was no wait required when I asked for shower room access – it might get busier at times, though.
The shower room was pretty much self-sufficient, with a sink (I really like those Aesop amenities), a toilet, and the actual shower area. Water pressure was pretty good.
Relaxation Rooms
At the very end of the 'fast lane' is a variety of seats for more relaxed lounging.
There are also full-length daybeds (with footstools), clearly optimised for napping.
Slow Lane
If food isn't really your thing (what are you, a monster?) or you're done stuffing your face (that's more like it) then you could head over to the 'slow lane' for a chiller / work-friendly experience.
Bureau
Equipped with iMac workstations, this area is like a fancy computer lab, complete with seats optimised for you to use your computing devices with some modicum of privacy.
Seating
The rest of the slow lane pretty much comprises of living room style seating areas, mostly with direct views of the planes on the tarmac.
Conclusion
Cathay Pacific's The Pier Business Class Lounge is enormous, and exploring it was an experience unto itself. The variety and quality of food is excellent, and the differentiated environments in the various rooms allow you to find what most appeals to you, or even switch locations if you want to experience something different.
In comparison, I find that SIA's own SilverKris lounge in SIN pales in comparison. I mean, it's pretty good in the grand scheme of things, but fails to truly excite or impress in the same way that CX manages to. Newer SQ lounges elsewhere in the world do manage to do that – here's hoping that our own home lounges will be updated accordingly soon!