A Very Asian Conrad Christmas: Trip Planning
Cathay Pacific The Pier Business Class Lounge (HKG)
Cathay Pacific B777 Business Class HKG-HND / HND-HKG
Conrad Tokyo
Cathay Pacific Tokyo Haneda Lounge (HND)
Conrad Macao
Conrad Hong Kong
Cathay Pacific The Pier First Class Lounge (HKG)
---
Getting there
Conrad Macao
is located on the
Cotai Strip
on the southern half of Macau – without going too much into detail, that positions it among the other Sands properties such as the Venetian and Parisian Macao.
For those of you interested in exploring the city, Macau Peninsula is still a short 30min drive away. It's not actually a big territory, so I wouldn't be too concerned about the hotel location; that said, I did enjoy being within walking distance of the other major properties in the area.
The Sands group also has a (paid) ferry service running between Hong Kong and the Cotai strip (with free shuttle buses going between the ferry terminal and the various hotels), with one of the routes directly linking HKG airport to Taipa ferry terminal. The airport route even offers seamless luggage transfer services for a number of airlines (including CX, of course), so we opted to utilise the service to get there from HKG in a relatively fuss-free manner.

Checking in
The word 'opulent' comes to mind when describing the Conrad Macao. And not necessarily in a good way – the phrase 'over the top' also pops up. But hey, it's a casino hotel, so abandon expectations of classiness and it can all actually be rather fun.
For the holiday season they did up a Christmas tree decked out with holiday ornaments and a number of their very own Conrad bears.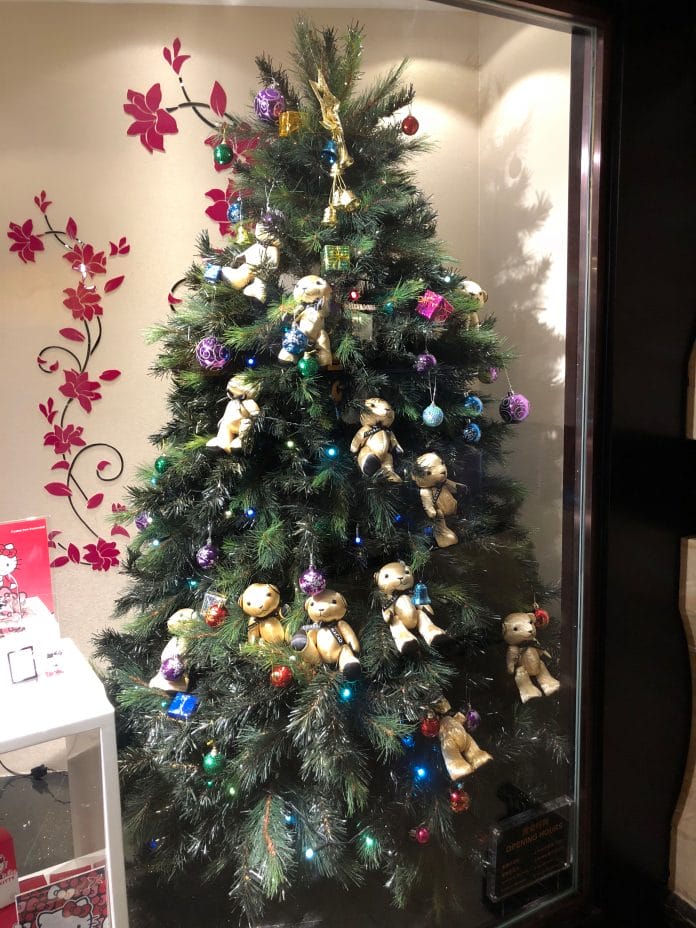 As a Diamond member (and, I assume, if you opted for lounge access) I was escorted to the executive lounge for check in.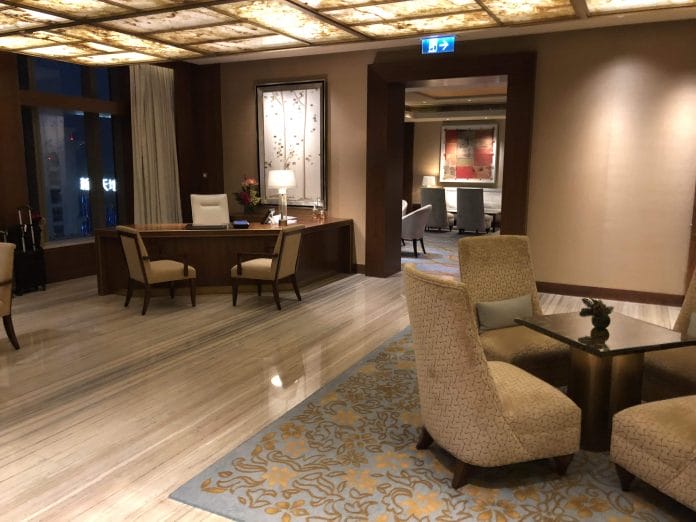 The property reportedly has a high percentage of suites and is more generous about upgrading guests – unfortunately, since it was fully occupied (I'd checked on the Hilton app) I didn't receive any upgrade. Looking through the list of benefits in my welcome letter, I doubt that I received anything more than a Hilton Gold member would have, other than guaranteed lounge access. And perhaps that complimentary hour's usage of the meeting room, which I did not utilise. That said, I definitely appreciated having access to the lounge during the stay.
The room
At 560 sq ft (52 sq m), the basic room is pretty roomy, with plenty of space to walk around and even a dedicated space for a sofa area.
Near the entrance is the mini-pantry area, with a kettle and Nespresso machine for all your all your complimentary beverage needs.
The mini-bar is just below, with the standard overpriced hotel items as well as a semi-threatening inventory checklist reminding guests what they shouldn't be taking home as free souvenirs.
Rather amusingly, the mini-bar price list includes a "Personal Item" available at MOP$75 (about S$12).
The Chinese text (安全套) is less coy about it and goes ahead to call a spade a spade – or in this case, condoms.
The traditional work desk remains – I find it odd that some properties are beginning to remove it entirely; isn't it common these days for people to (unfortunately) have to work on stuff even while on vacation?
It was useful to have a smart phone on hand you could use for free – I was on a data roaming plan, but this helped to reduce my data usage for this leg of the trip.
It's common for hotels to provide an armchair to sit on, so I liked having a full sofa to use instead.
The bathroom continues the gaudy luxurious design aesthetic with marble-style furnishings.
Bathroom amenities were tucked away in a shiny box, with glasses and more complimentary bottles of water nestled away.
There's a bathtub to one side of the bathroom, with a small TV to watch while you soak.
Of all the Conrad properties' bath toys, I particularly like the Conrad Macao rubber duck – the dice within the duck really makes sense for the casino property.
On the other end of the bathroom, you have the shower and toilet facilities.
Back outside, you could look out the window for a pretty enjoyable view. Technically the room is labelled 'City View' – I suppose a model of Paris counts as a city.
His & Her amenities
Something we found rather amusing was the provision of customised his & her amenities in the room, as with these slippers and bath robes.
The toothbrushes I still found rather amusing, but razors were where I thought they might have gone too far with this gimmick…
Breakfast (restaurant)
Complimentary buffet breakfast at the Orbit restaurant was available for Gold and Diamond members.
The restaurant is actually part of Sands Cotai Central, and is a rather long walk from the hotel. As the name suggests, it's indeed rather grand (and very large).
Near where we were seated, there was a stand-alone island offering bread, pastries and dessert items. I found the Portuguese egg tarts especially enjoyable.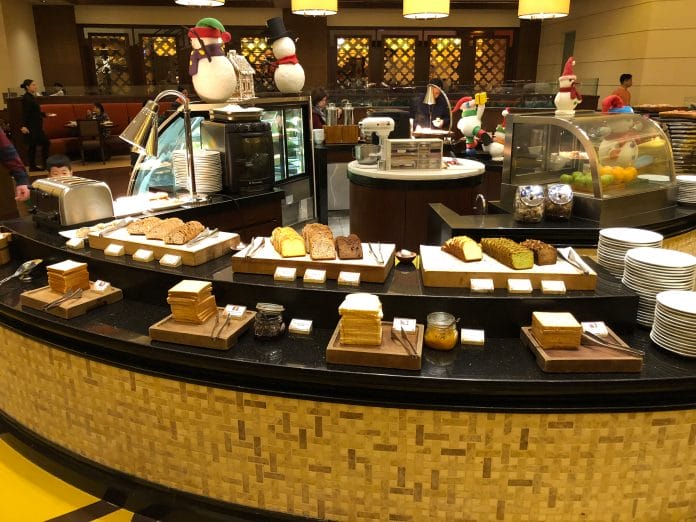 Looking at the rest of the restaurant, I was momentarily paralysed. This place was massive, with multiple stations to get food from. I'll let the pictures do the talking here.
I was really impressed by the visual presentation and the variety of food available, but unfortunately found the actual quality food to be rather mediocre and disappointing.
Thankfully, as a Diamond member I had another option for breakfast.
Executive lounge
The Conrad club lounge offers a small quiet area on the 39th floor for additional dining options. Unfortunately, it seems that you have to top up 600HKD (S$100) per night to access it.
Thankfully, based on recent reports on FlyerTalk, (if booking off-peak) complimentary lounge access shouldn't be out of reach for Gold members.
For the Christmas season they'd added some festive decorations – I imagine other ornamental items would take their place in other times of the year.
Breakfast
Very generally, although the variety of food was much smaller as compared to Grand Orbit restaurant, I thought the quality of offerings was superior. Again, I'll let the pictures do the talking.
Afternoon tea
Unfortunately, I didn't get to try out the afternoon tea experience during my stay there – it's usually served from 3-5pm daily.
Evening cocktail
5.30-8pm is evening cocktail time at the lounge. As with most evening lounge buffets, the food is meant to serve as light bites rather than a dinner substitute. It's probably possible to get full on this stuff, but it'll hardly be a wholesome meal.
The selection of hot food is rather limited, though enjoyable enough.
If you plan to have dinner elsewhere, the range of snacks might serve better as light bites.
The cold cuts, cheese, and snacks are similar enough to what is served at breakfast – I'm guessing that they're served at all three lounge meals.
I found the selection of alcoholic beverages to be pretty generous. This is probably the highlight of the lounge, if you drink.
Conclusion
About a year ago, while planning the trip, I'd managed to book the slightly pricier Deluxe City View room for the same number of points (40,000) as the basic Deluxe room. It seems like as of now, the Deluxe City View room is no longer priced as a standard redemption, and the price of the basic Deluxe room has risen to 50,000 points, unfortunately. Even so, I still think it's a pretty good use of points given that retail rates are currently around S$600, including taxes.
If you haven't been to Macau before, I think a 2-night stay at Conrad Macao is a good time to get a sense of the place while enjoying the property as well; perhaps even longer if you plan to spend some time in the casinos? The availability of easy connectivity from Hong Kong also makes it a viable option if you're flying through HKG.