26 Hours in Bangkok : Trip Planning
Singapore Airlines Boeing 787-10 New Regional Business Class SIN-BKK
Thai Airways Royal Orchid Lounge Bangkok Suvarnabhumi
Thai Airways Royal Silk Lounge Bangkok Suvarnabhumi
EVA Air Lounge Bangkok Suvarnabhumi
Singapore Airlines Boeing 777-200ER Business Class BKK-SIN
---
Singapore Airlines has taken delivery of their brand new Boeing 787-10 Dreamliner aircraft just last month. It is also the first airline in the world to operate the -10 variant of the Dreamliner. Woohoo bragging rights. *waves imaginary Singapore flag*
As you all also might already known for the longest of time, I'm being treated as a slave early stage investor (Milelion editor edit) here at MileLion HQ. To cement my position and climb up the ranks as I continue my quest in plotting to overthrow Aaron as the boss of the MileLion  in contributing to this awesome site which I have been graciously let into, I decided to take one for the team and am heading to Bangkok for 26 hours.
Booking & Trip Planning
Flights
Singapore Airlines releases its monthly discounted awards called Spontaneous Escapes to select cities where you can get award flights at a 30% discount. What a coincidence that Bangkok was on this list for the month of April 2018. As we already know, Bangkok is being used as a city for crew familiarization flights on the new Boeing 787-10. So it was a pleasant surprise that SQ was offering Spontaneous Escapes rates on 787 operated flights. As the actual flight time is about 2 hours, this would give me adequate time to do a review of the new regional business class product.
Also, this is my first time actually flying on SQ in business class. So do pardon me if the photos are shaky due to my excitement. Hopefully I don't spill champagne on my body.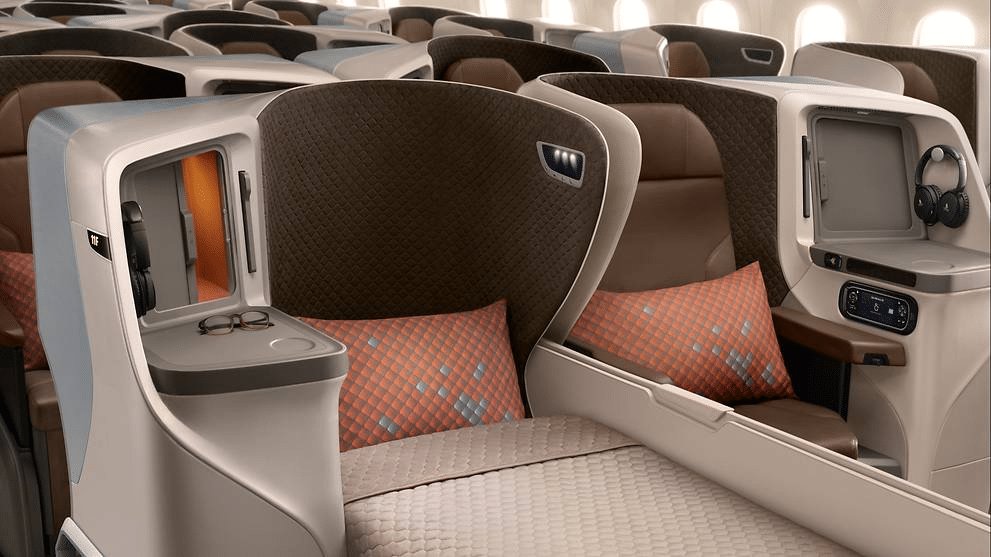 Normally, a one-way business class flight to Bangkok would set you back 20,000 KrisFlyer miles for the short 2 hour 20 minute flight. Hardly worth it in my opinion at those rates. But when the price dropped down to 14,000 KrisFlyer miles during the Spontaneous Escapes promotion, this made it much more palatable. Initially, only the morning flights were being operated by the Boeing 787-10. However, in the middle of April 2018, SQ982 would also be operating the 787-10 as SQ takes delivery of its second Boeing 787-10 aircraft (9V-SCB).
On the return leg, I'll be experiencing the 2006 business class cabin in the Boeing 777-200ER. That's something I've been wanting to try just to have a feel of how much space there is before all of those kind of seats are gone. Grand total for these business class flights? 28,000 KrisFlyer miles + SGD75 in taxes. A very good deal.
Paying for the taxes with my DBS Altitude Visa card earned me 3mpd on the taxes paid. (please don't berate me for not using the DBS WWMC)
Hotel
For the overnight stay in Bangkok, there was a plethora of options to choose from but sadly Hilton was out of my budget (reminder : poor uni student) even though I hold Gold status in the Hilton Honors and thus would receive complimentary breakfast which would cut off some of my expenses for meals. Marriott and most of the Starwood properties were also priced relatively high during the weekend so they were out too. In the end, I settled for the Aloft Bangkok Sukhumvit 11 which Aaron has previously reviewed. I paid 3,000 Starpoints for a one-night stay in their Chic room. If only I had a chick with me too. (Ha ha ha)
Lounge reviews
As Aaron has recently reviewed the new SilverKris lounge in Bangkok Suvarnabhumi airport and the SilverKris lounge in Changi, I will not be doing a formal review of those but I will definitely pop by for a meal! Instead, I'll be checking out the Thai Airways Royal Orchid lounge and the EVA Air lounge in Bangkok. These lounges are accessible if you're holding on to a same day departure business class boarding pass on a Star Alliance carrier.
Concluding Thoughts
This is a personal milestone for me in my miles collection journey as I finally will get the opportunity to experience business class on Singapore Airlines having previously only flown only on Garuda Indonesia Boeing 777-300ER and Malaysia Airlines Boeing 737-800 business class cabins. The icing on the cake is really being able to experience the new Boeing 787-10 on the cheap thanks to the Spontaneous Escapes promotion.
Stay tuned for the review coming up real soon after my trip!