We're always looking to introduce new voices on The Milelion, and we've got an aspiring guestwriter in Sam. Over the next few days and weeks, we'll be publishing Sam's flight reviews and adventures bit by bit. Please let us know what you think in the comments, especially if you'd like to read more! 
---
Singapore to South, East and West Africa: Trip Planning
Singapore Airlines A350 Business Class SIN-JNB
South African Airways Baobab Lounge JNB
South African Airways A320-200 Business Class JNB-EBB
Air France A330 Business Class ACC-CDG
Air France La Premiere Lounge CDG
Air France 777W First Class (La Premiere) CDG-SIN
---
I'd arrived the prior evening from SIN on SQ's A350 and had spent the night in the Protea (now Marriott) transit hotel inside JNB airport. I won't be giving the hotel a full review because, frankly, it doesn't warrant it. A transit hotel inside an airport terminal really only has to be better than sleeping on a bench to justify its existence and this one gave the bench a close run for its money.
The highlights: windowless rooms, sheets that didn't look clean and with holes, paper thin towels, some sort of furniture moving and tap dancing conference held on the floor above me, old TV, convoluted, multistage WiFi login process with limited devices and my pet peeve, phoning a few hours after check in to insincerely 'check if everything is alright'. It's a windowless room inside an airport terminal, plainly I'm not here for the ambiance, I just want to sleep, and the meaningless phone call that jars me awake hours after I've checked in doesn't help that cause.
My final point, the experience was worsened by their utterly useless response to my feedback form. Not only was it plainly a boilerplate, insincere apology, but I also got the impression that it was a letter they wrote often. It was made infinitely worse by the random capitalization of "GUEST" and "STAFF". Was I being shouted at? I'll never know.  So yeah, that's the non-review of the "Protea Hotel by Marriott Transit O.R. Thambo Airport".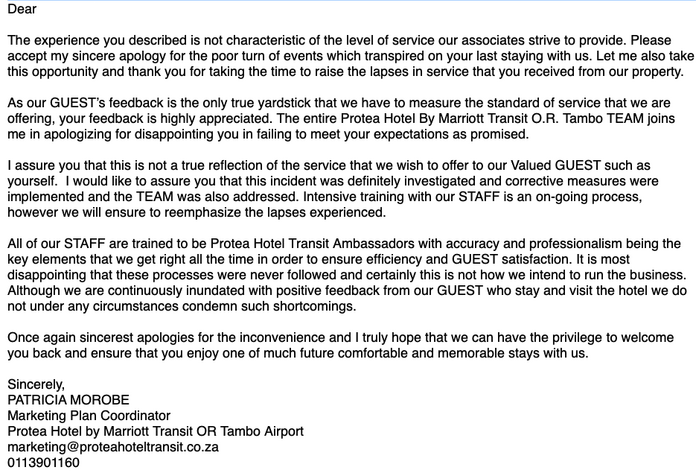 Aaron was not a fan of the SAA Baobab lounge in JNB, but I come from a different school of thought. One that has endured multiple 17+ hour delays on Lusaka Airport, for the privilege of being routed through the Democratic Republic of Congo en-route to our final destination. During one of the DRC's civil wars. One whose only alternative (for a while) to an 11+ hour drive was a scheduled DC3 flight. This isn't ancient history, I'm talking about within the last 5-6 years. A DC3. (As a plane nerd I was thrilled). To be clear, they've subsequently replaced it with a twice daily Cessna Caravan with the latest avionics (the one with 3 screens where all the dials should be).
This is mostly cherry picking outrageous, unrepresentative details about inter Africa travel for dramatic effect. The message that you should take away from this is not that travel in Africa is backward and antiquated and rickety and dangerous. It largely isn't. But I digress. The lounge:
The SAA Lounge is next to the Emirates one in JNB and split into two parts. The left side (Cycad) is mostly for SAA's highest tier FF passengers (Platinum and Lifetime Platinum), and for the few Star Alliance First Class passengers that go through JNB (LX, LH…that may be it. TG don't fly to JNB anymore). I was unclear of this distinction the first time I went to the lounge, and asked the lounge dragon which one was better. He tried to be diplomatic, but the fact that he was sugar coating it and avoiding the question meant that Cycad lounge (IE the one I wasn't headed to) was nicer. I believe a key difference is the option to order food off a menu in Cycad (vs buffet only in Baobab).
So, what is the inferior SAA lounge at JNB like? Fairly good.
As you enter there's a wet bar with a bartender who doubles up as a barista. More importantly, this bar has jellied sweets on it.
These things are my nemesis. Yes Dom and Krug make nice photos, but jellied treats in the lounge? That warms the soul.  I'm sold. The last place that pulled this off was the Skyteam Lounge in HKG. I (clearly) have a soft spot for jellied sweets.
More practically, there is a wide variety of seating.
Including a dedicated working space. This might lead to dangerous levels of people doing that thing in lounges where they try and be more important than each other, either through vigorous typing and timed pensive looks, or high volume phone calls laden with ego massaging buzzwords in a desperate bid to sound important.
There are also coffee machines scattered throughout the lounge, should you find the barista otherwise occupied,
There's a reasonably wide variety of food on offer. I'm combining pics from multiple visits, to give an idea of the breakfast and lunch spreads.
More importantly, with decent coffee, and when it's not too busy, there are seats with great runway views:
JNB attracts a fairly eclectic array of carriers, and there's a healthy mix of A380s (BA, AF, sometimes EK), 747-8 (LH), A330's for days, and some fun carriers like Saudia and Austral Air. I've also taken CX J to HKG from here before (it was OK, in a robotic, CX sort of way).
Air China flies their 777W to PEK. While the fares are sometime attractive for JNB-SIN, 14 hours in CA and a long connection in PEK have deterred me thus far. Maybe later this year I'll brave it. Maybe.
There aren't a lot of airports where you can see Saudia, EK and QR alongside El Al.
Brief digression, what the  Baobab lounge does not have is 2 craft beers on tap. The Aspire lounge, however, does. Fun fact, SQ issues a lounge pass for the Aspire lounge in JNB (even though you can use the Baobab lounge). Use this information wisely.
And the crowd pleaser, SQ's A350 (SQ478). Twice daily when I took this pic. On some days.
While I don't have photos, there are also good showers, and the loos are always clean.
All in all, it's not a bad lounge, but is sometimes let down by overcrowding. It's not going to blow your socks off, but its reliably pleasant most times, and certainly one of the better lounges in the geographic neighbourhood.
Cover photo: LoungeBuddy