The Milelion's RTW Trip 2016: Trip Planning
Introduction: Around the world in 28 days
EVA Air B77W Business Class Singapore to Taipei
EVA Air B77W Business Class Taipei to Los Angeles
Silvercar LAX
Avenue of the Arts Costa Mesa
Sheraton Gateway Los Angeles
United A319 First Class Los Angeles to Mexico City
Le Meridien Mexico City
United A319 First Class Mexico City to Houston
United B767 Business Class Houston to Sao Paulo
Sheraton Sao Paulo WTC
South African Airways A330  Business Class Sao Paulo to Johannesburg
Hilton Sandton
Ten Bompas Johannesburg
Turkish Airlines A330 Business Class Johannesburg to Istanbul
Turkish Airlines A319 Business Class Istanbul to Zagreb
Westin Zagreb
Croatia Airlines A319 Business Class Zagreb to Frankfurt
Lufthansa First Class Terminal Frankfurt
Lufthansa A330 First Class Frankfurt to Riyadh
Four Points Riyadh
Air India B77W Business Class Riyadh to Mumbai
St Regis Mumbai
ANA B787 Business Class Mumbai to Tokyo
Asiana A330 Business Class Tokyo to Seoul
Westin Chosun Seoul
W Walkerhill Seoul
Asiana B744 Business Class Seoul to Tokyo
ANA B787 Business Class Tokyo to Singapore
---
Airplane food. You can install convection ovens and rice cookers in your galleys. You can get celebrity chefs to design your menus. You can try douching your nose with a nasal spray before eating to awaken the tastebuds. But it's still airplane food.
I don't think we'll ever go back to the 1960s where you had seatside carvings and people smoking stogies onboard
But could an onboard chef somehow take airplane food and turn it into acceptable food? I was excited to find out on my Turkish Airlines flight from JNB to IST.  Turkish Airlines has a chef from DO&CO onboard all its flights. These are the same guys who cater the Lufthansa FCT in Frankfurt, so expectations are high.
When I first heard about the concept I was skeptical because I'm a bit unclear as to what exactly a chef onboard the plane can do. Most of the food comes to the aircraft after six to seven hours of blast chilling and already partially or fully cooked, all that's left to do is warm it up and plate it. At best the chef can ensure that it looks pleasant. It's not like he's going to be chopping vegetables or sous vide-ing veal in the galley. Well, I'd find out sooner or later.
I caught an Uber from Ten Bompas to JNB. My driver was chatty and got very excited when he found out I was from Singapore. He started asking me about kung fu movies and I knew at once where this was heading. About 10 minutes into our conversation he popped the question.
"So, which part of China is Singapore?" he asked
"Oh, it's north, near the border with Mongolia" I replied authoritatively.
"Really? It must be very cold then!" he opined.
"No, not really. We get about four hours of moonlight a day so it's not that cold."
At this point the conversation went back to discussing whether Bruce Lee or Jackie Chan would win in a street fight. I sincerely hope this man does not rely on the information so imparted in any sort of cocktail party/game show situation. But in my defence, he started it.
We reached JNB airport in about 40 minutes with light traffic. It is interesting how JNB airport is Skytrax's 2nd best airport in Africa (after Cape Town) while only holding a  4/10 customer feedback rating. It's almost as if the Skytrax rankings are worthless. Fancy that.
JNB airport is investing heavily in self-service checkin counters. At least a dozen airlines use them. I'm not a fan of the tissue paper quality boarding passes they print, but decided to give it a try nonetheless.
The system worked great, up till the point where it told me "Please do not forget to collect your boarding passes".
Then didn't print anything.
This meant I had a chance to experience the much fabled "human interaction" at the check-in counter, which I am proud to report went smoothly with no authorities called.
Now, you'd think that Africa's second best airport would have good signage right? Well, after I checked in I wandered around for five minutes trying to find immigration. It turns out that immigration is behind the check-in counters. That's right, behind where the guy in the white shirt and black shorts in the photo above is- that passageway leads to immigration. That's great for convenience, provided you haven't spent time wandering elsewhere looking for it. You'd think some signs would be in order.
Turkish Airlines uses the SAA lounge in Johannesburg. The lounge is located on the mezzanine level, up a flight of stairs.  It is really nothing special so we'll do a quick photo tour and never speak of it again.
The lounge is split into the Platinum section and Premium section. I had access to the Premium section, on the right after you enter.
Apparently there is a special Platinum section of the lounge for VVIPs. I believe this is the same thing as the "Cycad First Class Lounge" that SAA mentions on its website, in which case access is granted to
SAA Voyager Lifetime Platinum or Platinum Card holders
Lufthansa Hon members
Lufthansa First Class passengers
Thai Airways First Class passengers.
It's curious that SAA operates a first class lounge given that it doesn't actually have first class. This leads me to believe that they had to carve out a special section and spruce it up to cater to their top tier elites as well as Star Alliance partners airlines who do offer first class. Why exactly became more clear when I saw the Premium section of the lounge.
The lounge was really crowded for our 6pm departure slot. It was almost impossible to find a seat.
I eventually found an isolated corner that everyone was avoiding because, well, everyone else was avoiding. After I took a seat there, the section filled up within 15 minutes, confirming the lemming effect. Or simply my raw inspiration.
The buffet spread was underwhelming to say the least, but fortunately I was saving space anyway to test this onboard chef concept. Don't come to this lounge hungry.
There was also a bar area which served my favourite South African sparkling wine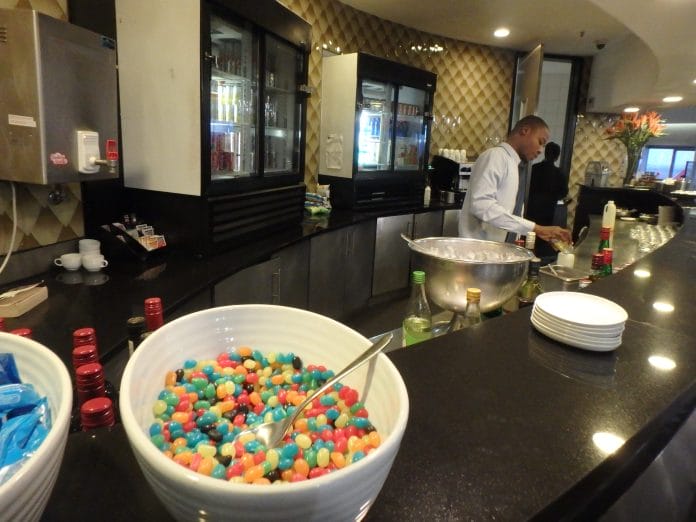 I believe the lounge had some sort of tie-up with Samsung because there were Samsung devices scattered around in demo mode
There was also a display case highlighting the many amazing ways you could waste money onboard. Has anyone ever seen something cheaper in the in-flight duty free catalog than on Amazon?
WiFi in the lounge was slow and required a code
Fortunately, I didn't have long to wait before the flight started boarding. We were at a remote gate so it was a long escalator down to the tarmac level.
There was priority boarding for business class passengers but it didn't make sense. You boarded first, then waited on the bus for the first tranche of economy passengers to board. There was no separate bus. This would have bothered me, but for the fact that I am a man of the people.
We had a quick drive to the A330 that would take us to IST. TK39, ~9 hours.
Turkish Airlines operates a 2-2-2 full flat configuration in business class on the A330. That's not the industry gold standard for business class by any means, but fortunately on this flight there were many empty seats.
The seats have plenty of legroom but not a lot of privacy between seats. There is no privacy divider. You turn your head to the side and you can see everything your seatmate is doing
Storage space is generally good- in addition to a slot under the armrest there is a cubby hole in the seat and an ottoman with space below.
The seat controls were straightforward, but there was quite a bit of wear on some of the buttons.
The amenities kit was by Cerruti 1881. Turkish has announced a collaboration with Porsche Design to produce a hard case amenities kit that looks much better but unfortunately that wasn't available on my flight
Turkish has a great selection of IFE. This month's big movie was Batman v Superman, in which Turkish airlines has a gratuitous product placement scene.
As if Wonder Woman would ever fly commercial. She's supposed to pilot an invisible jet. Is nothing sacred?
Here's a rundown of the movies
The seat controller was last gen, not the touch screen type that more airlines are progressively introducing. But that was just fine because the full touch screen types are prone to hanging.
And there were noise cancelling earphones that didn't hold up too well. The audio would cut in and out from one side, a problem resolved by changing the headset.
Slippers were also provided
There were 2 chefs serving the business class cabin and they were already at work when I boarded, preparing drinks for the cabin. I had mint lemonade, which Turkish does really well.
After takeoff the crew came around to serve everyone turkish delight.
Menus were distributed along with a pen, to allow you to pre-select your breakfast options.
The menu read-
Assorted Canapes

Selection from our trolley:

Marinated prawn, avocado salad, smoked salmon and chive creme fraiche, marinated seafood salad, spicy red pepper paste with walnut/white cheese, roasted eggplant salad, fried mozzarella, iceberg salad with cherry tomatoes, "haydari" fresh herbed youghurt

Zucchini Soup

Grilled Yellow Tail, sauteed vegetables, potatoes, lemon herb butter

Grilled Rosemary Chicken Breast, grilled asparagus and red pepper, saffron risotto

Rigatoni with creamy tomato sauce, Parmesan, fresh arugula

From our trolley:

Potpourri of traditional Turkish deserts, chocolate fondant, panna cotta, chocolate ice cream
I really wanted to get the pasta, but I didn't fancy going veg on this flight. Besides, the chicken breast sounded nice. Then I remembered- there was a chef on board. Surely he could use his chef-ly powers to combine the two items. I requested it and he said "no problem". Having an onboard chef was already starting to pay off.
The attendants came to dress the table. They brought flameless LED battery-powered candles and then dimmed the lights. I was getting excited.
The meal started with smoked salmon on cucumber, a prawn on guacamole and a spring roll. Spring rolls (or anything crispy for that matter) aren't a great idea to do on planes because they always end up oily soggy abominations. Could this one be different?
No. It was an oily soggy abomination. It left a noticeable grease puddle on the leaf below it.
Swing and a miss for the canapes. But perhaps the appetizer would be better?
The appetizer featured the same item again from the canapes- the smoked salmon on cucumber. Then there was fried cheese. And what I can only assume is a white sauce covered tomato (read the menu for the proper description).
I passed on everything but the salmon and tried to warm my cold bread on the LED candle, marveling at how far we had advanced as a species.
Soup came next.
"What sort of soup is this?" I enquired of the chef
He fished the menu out of his pocket to check, always a good sign.
"Zucchini", he said, without much conviction
It was like someone had melted an entire lump of butter in the soup. I was devastated. The meal had been abjectly bad up to this point in time. If an onboard chef could not save airline food, what could?
Then the main course arrived. And everything changed.
I thought that this was one of the best meals I ever had onboard a plane. The chicken breast was actually moist. That's right. Airline chicken breast was moist. It's already hard enough to do it on the ground, but in the air? Look at the second photo- you can see the moistness. And the pasta wasn't nuked. I will even hesitantly say it approached al dente. I'm not a big fan of cheese but it was simple enough to remove. All in all, it was an amazing main.
Desert was served from a cart and I took my pick- panna cotta, fruit, chocolate ice cream. Decent enough. Fancy chocolates were also distributed
Was I sold on the concept of an onboard chef? I'm not sure if it's worth paying a premium for. But based on that excellent main course, I'm a bit less skeptical than when I first started. Maybe this is the future. Maybe 50 years from now travelers of tomorrow will look back on us with abject pity as to how we survived in the days before onboard cooking.
Or maybe they'll be crammed 15 to a row and envy us. Either way.
After dinner and it was the customary trip to the loo. Turkish Airlines carries amenities from Eyup Sabri Tuncer. Try saying that after a few glasses of champagne.
I asked for turn down service. Turkish provides every passenger with a sleeping set, which includes a duvet, a sleeping pillow, a back support pillow and a big blanket.
Water bottles were brought around. The attendants turned off the lights and placed the dinner candles on the top of the seats. The candles flicker by design, and if you lay down it was almost like watching the stars in the night sky.
The bed was one of the best I've had in business class so far. It's sufficiently long and you don't need to sleep at an angle that the reverse herringbone type seats make you do (or SQ's bed for that matter). I slept for five hours straight and woke up for breakfast.
Breakfast was a much simpler affair compared to dinner, which suited me just fine because it maximized sleep.
I challenge anyone to show me where you can get eggs like this on a plane (although again, they were really over buttered)
We landed at IST just as dawn was breaking
I had heard great things about Turkish Airlines and the flight certainly didn't disappoint.  The hard product is good (even if it is 2-2-2, I imagine on a full flight the experience would have been much less pleasant) and the service was above average. The only thing I'd say is that their cabin crew really need to work on their English- for an international-focused airline that needs to be down pat. A lot of the time they had difficulties understanding simple requests for refills and extra blankets.
It was now time to explore what many have called "the best business class lounge in the world"…