Introduction: It's the most wonderful time of the year
A Tale of Two Lounges: SATS Premier T2 and the Qantas SIN Lounge
Malaysia Airlines B737 Business Class SIN-KUL
Malaysia Airlines Business Class Golden Lounge KUL
Malaysia Airlines A330  Business Class KUL-NRT
Japan Airlines Business Class Sakura Lounge NRT
Japan Airlines B77W Business Class NRT-LAX
The Westin LAX
The Westin Westminster
Aloft Boston Seaport
The Consolidated AA Domestic First Class Experience
American Airlines Flagship Lounge JFK
American Airlines B772 Business Class JFK-LHR
American Airlines Arrivals Lounge LHR
The Great Northern Hotel, London
Sheraton Grand Park Lane, London
Westin Paris Vendome
Courtyard by Marriott Madrid Princesa
Four Points by Sheraton Barcelona Diagonal
The Consolidated Intra-Europe Business Class Experience
Sheraton Casablanca
Royal Air Maroc Business Class Lounge CMN
Royal Air Maroc B737 Business Class CMN-ACC
Ethiopian Airlines B787 Business Class ACC-ADD
Ethiopian Airlines Cloud 9 Business Class Lounge ADD
Ethiopian Airlines Q400 Business Class ADD-DAR
Protea Hotel by Marriott Dar Es Salaam Courtyard
Qatar Airways A320 Business Class DAR-DOH
Qatar Airways Al Safwa First Class Lounge DOH
Qatar Airways A330 "First" Class DOH-MCT
Oman Air Business Class Lounge, MCT
Oman Air E175 Business Class MCT-DXB
The Grosvenor House Dubai
W Doha
Qatar Airways Business Class Lounge DOH
Qatar Airways B772 Business Class DOH-BLR
The Ritz Carlton Bangalore
Vistara A320 Business Class BLR-DEL
Cathay Pacific A330 Business Class DEL-HKG
Cathay Pacific Arrivals Lounge HKG
W Hong Kong
Touring Cathay Pacific's HKG Lounges
Cathay Pacific A350 Business Class HKG-SIN
---
The Al Safwa lounge experienced gave me mixed feelings, but I was hoping that the "First Class" experience from DOH-MCT would be a bit better. I'm calling this "First Class" because Qatar markets inter-Gulf business class as First Class, despite the fact that the hard product is the same as what you'll find on long haul business. The only true First Class hard product that QR has to offer is on its A380, and that's another review for another time.
Now that Doha is cut off from Dubai, the "easiest" way of getting to Dubai is to…fly past Dubai to Oman, and then double back via Oman Air. Yeah, try to wrap your head around that. This made what should be a 1 hour flight last about 6 hours, including transit.
The boarding gate was a good distance away from the lounge, maybe about a 10 minute walk through an increasingly busy Doha airport.
It was now well past sunrise and the blazing summer desert heat and light was flooding through the windows.
Apparently the crew needed to rebalance the aircraft, because at the gate my boarding pass caused the computer to beep angrily. A new boarding pass was issued that put me on the other side of the aircraft, but it was printed out on economy class cardstock.
That meant that as I exited the terminal to board the bus to the remote stand, the ground staff glanced at my pass and started to direct me towards the economy class bus, but fortunately a second look at the seat number got me on the smaller, more private first class one.
I don't know if Qatar usually operates a widebody aircraft to Muscat, but with the reroutings that are happening it's not surprising there was a surge in demand for that route, and maybe that's why I ended up on a A330 this morning.
This aircraft had Qatar's newer business class seat. I say "newer" because it's by no means industry leading, in a 2-2-2 full flat configuration.
Here's what the old seat used to look like, for comparison's sake. I believe the old seat was also lie flat, but less private because the smaller privacy divider.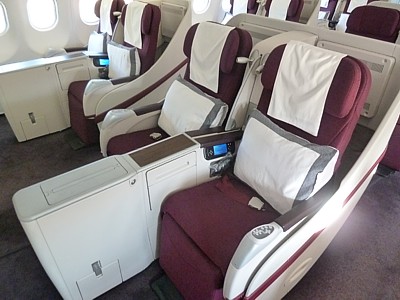 I much prefer the darker tones of the newer business class seat, which has noticeably more storage space around the head too.
The downside of the newer seat is that your feet go into a cramped nook infront. It's equally bad if you have the aisle…
Or the window
Not all the seats are the same, though. You can see that seats in row 1 don't have any footspace restrictions, and I'd highly recommend these seats if you have big feet.
Where privacy is concerned, each seat has a retractable privacy divider. Here's the view when it's pulled back
And when it's extended.
The seat controls are found in your armrest and are simple enough to figure out.
Also in your armrest is the IFE controller, a USB charging outlet and your headphone jack.
The crew came around with much-needed cold towels and water
And then the safety video was screened. Qatar sponsors Barcelona FC, and they've produced a special safety video with the team. Which is more than a little self-indulgent (what, Barcelona, self-indulgent? No way!)
I mean, it is hardly believable that women would need oxygen upon seeing Pique. It is Pique, right?
The menus for the flight were distributed before takeoff. Given that the flight is slightly under 2 hours, as much as possible needs to be done on the ground.
The beverage list was pretty much the same as on my other Qatar flights. The main difference was that they didn't distribute the menu that had pictures of the wine labels.
For this short flight, a quick breakfast platter would be served.
The platter was delivered shortly after takeoff. It wasn't fancy by any means, but was still a pretty economical way of serving all the courses at once. You had fruit, bread, some canapes and some cheese with grapes.
The food quality was average (although the warmed Arabic bread, with some liberally applied butter, was always going to be a crowd pleaser) and I'm starting to wonder if it's just me or whether Qatar's catering isn't all that.
For drinks I went with both  champagne and a So Jennie. So Jennie is an interesting one- it's a non-alcoholic sparkling wine, and no it's not like that $3.95 Dom Remy crap you buy at NTUC. This is real, proper sparkling grape juice made from good quality grapes and retailing at about $40 a bottle.
I mean it's even got a fancy website with a hipster photo of the creator infront of the Eiffel Tower. What more could you want?
Well, I wanted orange juice and water, so that's how I ended up with 4 glasses on my tray table and lots of trips to the loo.
The loos on the A330 are decidedly last gen, with no automatic hand sensor. It was also interesting that Qatar didn't stock the loo with any fancy amenities as you might expect for First Class.
As I mentioned, the flight is really short so there isn't much time to explore the IFE or anything. But the selection is the same as what you'd find on any long-haul flight, with a mix of recent movies and classics.
A final word about the service- the flight is marketed as first class, but I think no one in the right mind expects that level of service in a business class cabin which seats many more passengers than what you'd have in regular first class. The crew were completely pleasant, but there was no addressing of passengers by name or any particularly outstanding moments of service. Again, it's hard to do too much on a short flight, but the level of service is definitely more in line with business than first class.
Before I knew it we were descending into Muscat. I now  along time to kill before heading on to Dubai, so it was off to the Oman Air lounge to see what their flagship lounge had to offer.
And this is where my delightful adventure with Oman Air began.