The UOB Reserve Visa Infinite occupies the so-called "S$500K credit card segment"– a bit of a misnomer, given that some of these cards (e.g the AMEX Centurion) don't actually have published income requirements.
As you may have guessed, these ultra-exclusive cards epitomize the spirit of "if you have to ask…" Cardholders pay eye-watering annual fees, but can expect some pretty snazzy benefits like free hotel nights, beck-and-call concierge services, and invitations to exclusive events where monocle-clad gentlemen nibble canapes and complain about the price of manservants.
I originally reviewed the UOB Reserve back in 2018, but recently received an updated benefits brochure from Milelion reader Dean. There have been some product changes since the last review, so here's my revised take.
tl;dr

Despite its top-of-the-line positioning, the benefits of the UOB Reserve are decidedly middle-of-the-road. For the annual fee you pay, you'd expect it to deliver way more.

The good

The bad

Unlimited miles purchase facility

IAC membership can be useful for globetrotters

Book 2 hotel nights, get 2 nights free 

Underpowered dining, lounge and airport limo benefits

Weaker than the UOB PRVI Miles/Visa Infinite Metal card in some areas

Not worth spending S$1M to get the Diamond version
As with every super premium card, there are bound to be some unpublished and ad-hoc benefits. If you're familiar with these, do share them in the comments below.
Which UOB Reserve card are we talking about?
First things first: there are two UOB Reserve cards. The regular, plebian UOB Reserve, and the so-exclusive-I-can't-find-card-art-for-it UOB Reserve Diamond. Yes, the extinguished one.
There are four ways to qualify for a UOB Reserve card:
Have a private banking relationship with UOB or any other private bank
Earn a minimum annual income of S$500,000
Spend more than S$200,000 on personal credit cards over the last 12 months
Have a high social/business profile
To qualify for a UOB Reserve Diamond card, you need to charge at least S$1,000,000 to your UOB Reserve in a 12-month membership year. This excludes the usual suspects like insurance, charitable donations, government payments, and prepaid cards. And yes, GrabPay top-ups are excluded, so let's not even ask.
Upon meeting the threshold, you'll receive one Diamond-embellished card, which De Beers informs me will compensate for all your emotional and aesthetic deficiencies. You can request up to two more additional supplementary cards (also Diamond!) for S$1,070 each.
Fortunately, the Diamond card is more than just cosmetic- it comes with some unique benefits of its own, which we'll cover later.
UOB Reserve Basics
| | | | |
| --- | --- | --- | --- |
| Income Req. | Annual Fee | Miles from Annual Fee | FCY Transaction Fee |
| S$500,000 | S$3,852 | 100,000 | 3.25% |
| Local Earn | FCY Earn | Special Earn | Points Validity |
| 1.6 mpd | 2.4  mpd | 2 mpd on luxury spending  | 2 years |
The UOB Reserve is made of Alpaca Silver, and carries a non-waivable annual fee of S$3,852. The first supplementary card is free, but the 2nd card will cost you S$642. Additional plastic cards can be requested at S$374.50 each.
You receive 50,000 UNI$ (100,000 miles) for paying the annual fee each year, and an additional 50,000 UNI$ when you spend at least S$250,000 within a 12-month membership year. 100,000 miles are, conservatively valued, worth about S$1,800.
Cardholders earn 1.6/2.4 mpd on local/overseas spend. In 2018, the rate was 2.0 mpd on overseas spend, so it's good to see that UOB has enhanced this. It never made sense to me that the Reserve's overseas earn rate was lower than the entry-level PRVI Miles card.
A special earn rate of 2 mpd is available for the first S$20,000 spent on "luxury merchants", mostly watch and jewelry shops.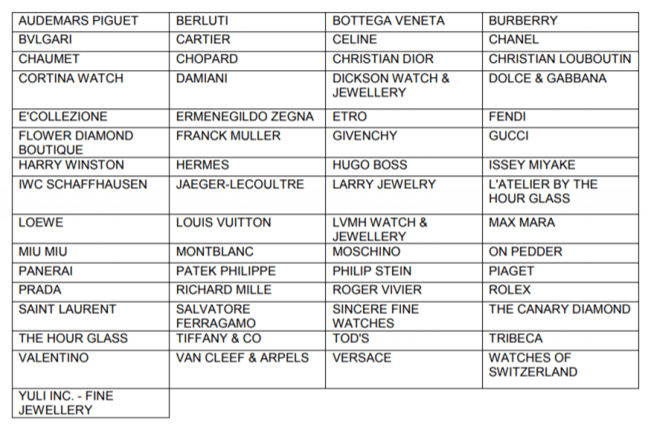 Frankly, you could do a lot better with other cards. For example, the AMEX Platinum Charge offers 7.81 mpd on the first S$16,000 spent on Platinum EXTRA partners, which include high-end boutiques like Breitling, IWC, Lee Hwa, Montblanc, The Hour Glass, and Watches of Switzerland.
Surprisingly, UNI$ earned on the UOB Reserve card expire in 2 years, the same as any other UOB card. That's a bit of an oversight, given that points on the DBS Insignia, Citi ULTIMA and AMEX Centurion never expire. On the plus side, you won't pay any conversion fees when transferring points to KrisFlyer or Asia Miles.
Four complimentary airport limo rides

When I last reviewed the UOB Reserve, one major shortcoming was its airport limo benefit. When S$120K cards like the HSBC Visa Infinite or OCBC VOYAGE offer up to 24 limo transfers each year, you'd surely expect a super premium offering like the UOB Reserve to beat that, right?
Not quite. Cardholders had to spend at least S$5,000 on packages with UOB Travel before they qualified for a free one-way transfer. Considering the fact that DBS offers unlimited airport transfers for its Asia Treasures members, this was simply not good enough.
UOB has improved this benefit, but it's still inadequate. Cardholders who spend at least S$2,000 on airline or hotel bookings will qualify for a complimentary one-way limo transfer to Changi Airport. This is capped at four bookings per calendar year.
That kind of feels like giving with one hand, because the limo benefit is even less generous than the entry-level UOB PRVI Miles, where spending S$1,000 overseas earns you two limo rides, capped at eight per calendar year.
Unlimited lounge access (but no guests)
The UOB Reserve's lounge privileges are surprisingly underpowered compared to other premium cards. The principal cardholder receives an unlimited-visit Priority Pass, but with no guesting benefits. Supplementary cardholders don't get anything.
In contrast, the much-cheaper AMEX Platinum Charge (you know a card is expensive when the AMEX Platinum Charge is cheaper by comparison!) offers cardholders an unlimited-visit Priority Pass with one guest, plus access to Plaza Premium, American Express, Centurion, and Delta Sky Club lounges. Supplementary cardholders enjoy the same benefits (only the first supplementary cardholder gets a Priority Pass), and the first two supplementary cards are free.
Even the much-much-cheaper Citi Prestige offers the principal cardholder an unlimited-visit Priority Pass with one guest, so lounge access definitely isn't a strong point of the UOB Reserve.
Buy all the miles you want for 1.9 cents each
UOB Reserve cardholders can purchase as many miles as they want for 1.9 cents each through the UOB Reserve Payment Facility. This works the same as the UOB PRVI Pay Facility, and is one of the cheapest "no-questions-asked" miles purchase facilities.
Yes, you could buy miles for less through CardUp, RentHero, Citi PayAll or income tax payment facilities, but all these require you to have an actual bill to pay, and cap the number of miles you can purchase at the bill amount.
Being able to buy unlimited miles at 1.9 cents each is a very useful option (we've even seen it cut to 1.7 cents in the past), and sure beats paying Singapore Airlines US$40 per 1,000 miles. Assuming you can find instantly-confirmable Saver space, this can save a lot of money on premium cabin travel.
Do note that transactions incurred under this payment facility do not count towards the S$250,000 spending required to get the bonus 50,000 UNI$ in a membership year.
Book 2 hotel nights, get 2 nights free
Until 30 June 2020, UOB Reserve cardholders enjoy 2 free nights when booking 2 paid nights through the Inspired Lifestyles portal. This is the same provider that powers the generic Visa Infinite 4th night free benefit, the main difference being you get 2 free nights instead of 1 with 4 nights booked.
Based on my searches, your savings will be hit and miss. Hotel rates on the Inspired Lifestyles portal can be higher than competing OTAs, but you may occasionally stumble upon some very good deals, as the screenshot below shows:
You're allowed to stack free nights, which means that if you book 8 consecutive nights, you'll receive 4 free nights and so on.
One major caveat here: any rooms booked through the Inspired Lifestyles portal are strictly non-refundable and non-changeable. Your card will be charged in full at the time of booking, and all stays must be booked at least 48 hours in advance.
Complimentary hotel status
The UOB Reserve used to give GHA Platinum status, which while better than nothing, isn't the highest tier in the program.
Cardholders now get instant GHA Black status, which offers a double room upgrade, late check-out until 6 p.m, and early check-in from 9 a.m (all subject to availability).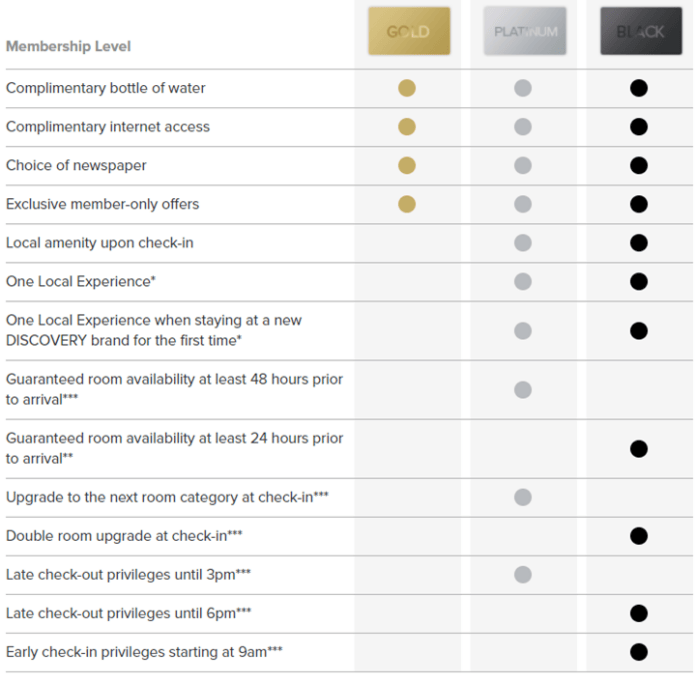 Do note that the UOB brochure refers to this as "Pan Pacific DISCOVERY Black", but it's really the same thing as GHA Black
Cardholders also get an upgrade to Kempinski Discovery Black status upon their first stay at any Kempinski hotel worldwide. Although Kempinski is part of GHA, Kempinski Discovery Black is actually slightly different, offering additional rewards like a free third night and complimentary garment  pressing.
One stay also gets you a complimentary upgrade to the "Elite" tier of the I Prefer loyalty program, although this is more of a marketing alliance than a hotel chain per se, so you shouldn't expect consistent elite recognition.
Access to Sentosa Golf Club, plus an IAC membership
The UOB Reserve no longer enjoys access to the Tower Club or China Club, but cardholders can still access the Sentosa Golf Club in Singapore.
They'll also continue to receive an IAC membership. The IAC is a grouping of more than 100 city, golf and country clubs around the world. Although you pay for all the services and F&B you consume at the club, it's a lot better than paying membership fees for sure. This benefit can be especially useful if you need a nice meeting place when you're overseas, or want to access facilities like a gym or tennis court.
By the way, you're only allowed to visit clubs at least 200 km from your residence, which rules out those in Singapore.
Up to 50% off dining at Grand Hyatt
UOB Reserve cardholders receive up to 50% off weekday lunch at the Grand Hyatt.
It should be noted, however, that you can also enjoy this exact same benefit with the cheaper UOB Visa Infinite Metal Card.
Cardholders will also receive complimentary aperitifs for up to four diners at the following restaurants:
Alma by Juan Amador

ART

Basque Kitchen by Aitor

Braci

Buona Terra

Garibaldi Italian Restaurant & Bar

Iggy's

JAAN by Kirk Westaway

Labyrinth

Shinji by Kanesaka @ Carlton

Shinji by Kanesaka @ St Regis

Shisen Hanten by Chen Kentaro

Table65

The Song of India
This offer is available for dinner only, and not valid on the eve of public holidays or public holidays.
UOB Reserve cardholders receive priority booking and certain privileges (like complimentary wine or kitchen tours) at selected Michelin-starred/celebrity chef restaurants overseas, although it's unclear exactly what sort of priority access the UOB concierge has. American Express, for example, is known to buy tables at certain popular restaurants to ensure it can always offer its Centurion cardholders access.
The UOB Reserve certainly can't compare to the AMEX Centurion's (or even the AMEX Platinum Charge for that matter) many dining vouchers and the Love Dining program. It's arguably even weaker than the UOB Visa Infinite Metal Card, which has a Gourmet Collection membership offering 25% off dining at selected IHG hotels in Singapore.
Miscellaneous benefits
UOB Reserve cardholders receive discounted consultation rates on WhiteCoat, a telemedicine provider- S$15 per hour (UP: S$25) during office hours and S$30 after (UP:S$50). However, that same rate is accessible by any DBS/POSB cardholder– even the auntie with a POSB Everyday card.
Special health screening packages are available at Fusion Medical, but it's a far cry from the old days where cardholders used to receive a free annual medical check-up.
There's an interesting home assistance benefit for electrical, plumbing and sanitary assistance, which covers two incidents per year of up to S$100 each. Emergency vehicle assistance is provided up to two times a year as well, for towing and roadside repair.
Additional UOB Reserve Diamond benefits
The UOB Reserve Diamond enjoys a couple of additional perks over the vanilla Reserve card, but remember you'll need to spend S$1M to qualify for the card in the first place.
Even after you've qualified, you'll need to spend a further S$1M each year(!) to enjoy the benefits subsequently.
Complimentary 2nd night hotel stay
UOB Reserve Diamond cardholders receive a complimentary 2nd night on hotel stays, which sounds attractive until you read the fine print.
This benefit is usable once per quarter and capped at S$400 per night- to add insult to injury, "resort fees" (charged by many Las Vegas properties or beach properties in the US) aren't covered.
It's way inferior to the complimentary 2nd night offered by the Citi ULTIMA, which has no cap on price, and allows two complimentary nights per outward journey. You could easily get many more free nights out of the ULTIMA, and there'd be no need to spend S$1M to qualify for the privilege.
Complimentary quarterly meal + birthday treat
Every quarter, UOB Reserve Diamond cardholders receive a complimentary meal for two people at a restaurant selected by UOB. I assume these must be fairly high-end places, although the question once again is whether it's worth spending S$1M to get a free meal worth a few hundred dollars.
They'll also receive a gift on their birthday. If anyone's received one, please chime in with the details.
How does the UOB Reserve compare to other S$500K cards?
It's probably harsh to compare the UOB Reserve to the AMEX Centurion, given the latter's S$7,490 annual fee (plus S$7,490 one-time joining fee). However, I'd argue that the AMEX Platinum Charge (S$1,712 annual fee) has the beating of the UOB Reserve in many areas- better lounge and dining benefits, travel and hotel credit, wider hotel elite status and numerous dining and hotel vouchers.
Alternatively, the DBS Insignia has a slightly lower annual fee (S$3,210) than the UOB Reserve, but comes with a yearly benefit of 100,000 miles plus two free nights at selected premium hotel properties such as Anantara Hotels & Resorts, Six Senses Resorts, and Banyan Tree Hotels & Resorts. It also packs an unlimited Priority Pass, and a Club at the Hyatt membership– this gives 50% off for lunch and dinner, all days of the week (versus just 50% off for weekday lunch on the UOB Reserve).
Finally, the Citi ULTIMA has a higher annual fee (S$4,160), but comes with three unlimited Priority Pass cards, and one free hotel night with every two nights booked. Used judiciously, you could earn back a significant chunk of your annual fee.
Conclusion
The UOB Reserve is not without its highlights, but I just don't see any true killer feature.
Although the miles purchase facility is useful (especially if it drops to 1.7 cents again), its lounge, dining, and travel benefits feel underpowered compared to the competition. Heck, its benefits even feel underpowered compared to lower-tier UOB cards. The UOB PRVI Miles has a better limo benefit, the UOB Visa Infinite Metal Card has a Gourmet Club membership and complimentary Singtel Data Roam plans, and the UOB Lady's Cards would earn more miles on luxury shopping.
If you qualified for a UOB Reserve, I'd wager you'd be better off getting another card in the S$500K segment instead.