The following impressions are based on a media stay
The Banyan Tree Samui opened in July 2010, marking the brand's third property in Thailand. With 88 villas spread across 38 acres of cliffs and jungle, it offers a unique atmosphere of seclusion and tranquility amidst the busy (well, before COVID at least) Lamai Bay area. 
All guests enjoy their own plunge pools, access to a private beach, as well as beautiful sunrise views over the Gulf of Thailand. Spa treatments and a focus on wellness are de rigueur, as at all Banyan Tree properties. 
Advance purchase rates for the Banyan Tree Samui start from S$648++ per night, although AMEX Platinum Charge and Centurion cardholders can also book through the American Express Fine Hotels & Resorts programme to enjoy additional benefits such as a US$100 F&B credit, room upgrade, daily breakfast and guaranteed 4 p.m late check-out. 
Alternatively, those interested in a longer stay can save more by buying a Banyan Tree Habitat Pass. A 7-night pass (which includes daily breakfast and hotel credits) would set you back US$1,750, which works out to just S$336 per night, taxes included!
As an aside, the Banyan Tree Samui does not participate in Accor Live Limitless, which means you can be channel-agnostic when booking your stay here.
I did a 2-night media stay at the Banyan Tree Samui during my recent Koh Samui Sandbox trip, and here's how it went. 
🏨 tl;dr: Banyan Tree Samui

The Banyan Tree Samui's picturesque location and excellent spa facilities make it a wellness retreat unlike any other- albeit slightly rough around the edges.

👍 The Good

👎 The Bad

Incredible views of the Lamai Bay and Gulf of Thailand

Spa experience like none other

Villas in good condition even after 10+ years

A wide range of activities to keep both adults and children occupied

Sub-par gym with rusting equipment

F&B quality not up to scratch

Mosquitoes are a problem at some places in the resort
Banyan Tree Samui: Arrival
The Banyan Tree Samui is located in the Lamai area, about a 30-minute drive from Koh Samui airport. It's easy to miss the turn-off for the resort since the sign is relatively small- look out for the much more prominent Renaissance or Silavadee signage.
The Banyan Tree's facade reminded me of embassy walls at first, tall and nondescript. But we were greeted warmly by the security at the gate and directed to drive up to reception.
A valet took over the car and our bags were unloaded before we were escorted into the lobby area. 
Don't be in a rush to check-in; the lobby is a destination in itself, with some pretty awesome views of the bay and private beach. 
Check-in formalities were settled in the (air-conditioned, thankfully!) lobby lounge, where welcome drinks, cookies and wet towels were served.
After completing the paperwork, we hopped into a buggy to be driven to our villa. The resort is so large and hilly that walking isn't really a practical means of getting around, though there's nothing stopping you if you want the exercise. 
Banyan Tree Samui: Horizon Hillcrest Villa
The 88 villas at the Banyan Tree Samui are broken down into the following categories:
| | | | |
| --- | --- | --- | --- |
| Category | Size | Cap. | No. of Rooms |
| Deluxe Pool Villa | 130 sqm | 3 | 20 |
| Partial Ocean View Pool Villa | 130 sqm | 3 | 13 |
| Ocean View Pool Villa | 130 sqm | 3 | 13 |
| Horizon Hillcrest Pool Villa | 130 sqm | 3 | 10 |
| Royal Banyan Ocean Pool Villa | 155 sqm | 3 | 9 |
| Wellbeing Sanctuary Pool Villa (Partial Ocean View) | 155 sqm | 3 | 3 |
| Wellbeing Sanctuary Pool Villa | 155 sqm | 3 | 5 |
| Family Deluxe Pool Villa | 169 sqm | 5 | 3 |
| Family Ocean Pool Villa | 169 sqm | 5 | 11 |
| Presidential Pool Villa  | 316 sqm | 6 | 1 |
The map below should give you an idea of the lay of the land; the white and orange coloured villas have the highest elevation, while the yellow, blue and pink ones are the lowest. 
Our villa was I05, a Horizon Hillcrest Pool Villa at the summit of the resort. They're not kidding about the hillcrest part- even after you get to the door, there's further steps to climb before you reach the room!
Going up takes some effort (thankfully someone else carries the luggage), but you'll find it all worthwhile once you get to the top and see the views. 
The villa is in the shape of one long rectangle, with the living room near the entrance, the bedroom in the middle, and the bathroom on the far end. Staring down from the entrance makes the space feel narrow, but high ceilings help to offset the effect. 
An extra-wide sofa ran the length of the living room, providing plenty of space to stretch out. Opposite the sofa was the room's mini-bar, with bottled water, a Nespresso capsule machine, and teabags. 
The bedroom was connected directly to the pool via a sliding glass door, tempting you to go for a dip first thing in the morning.
The bed was flanked by pendant lighting and two long side tables. I found the mattress to be pleasantly firm, while guests can request for alternative pillows (non-allergenic fiber ball, medium soft foam, double curved foam, neck foam, hard foam) should the default ones be unsatisfactory.
Two long bedside tables ran to the corners of the room, holding a phone, an incense diffuser, plus a hygiene kit.
A universal power outlet and two USB charging ports were available on one bedside, though the peeling stickers felt a little out of place in a luxury resort. 
While this isn't a place you come to work, there's a small wooden desk in the corner of the bedroom that can serve as a makeshift office desk.
If work should nonetheless creep up on you, you'll be well-prepared with a lightning fast connection at your disposal: 75 Mbps down and 94 Mbps up is not to be sniffed at.
A generous wardrobe space was provided just next to the bathroom, with bathrobes, extra bath towels and pool towels inside, plus the room's digital safe. 
The bathroom featured a freestanding soaking tub, deep-bottomed his and hers sinks on a glass tabletop, and paper-wrapped amenities inside a wooden box. 
The bathtub had a pillow affixed to one end, providing extra comfort while soaking. The tub is certainly generously-sized, but do note that shorter people may have issues because the walls are relatively steep, and your feet may not be long enough to prop yourself up against the other end. 
Surprisingly, it wasn't the bathtub but the shower that was the highlight of the bathroom. Four square rain shower heads were combined into one long rectangular one, and an extra-wide deluge is the result. It's a luxurious experience that's best enjoyed as a couple. 
Banyan Tree produces its own bath amenities, dispensed in reusable containers per its sustainability commitments. These contain no parabens, SLS, SLES, artificial colourings or fragrances, and can be purchased online if you want to use them at home.
The toilet had a bidet hose, but was otherwise unspectacular. 
On the wooden deck area outside the villa was a small dining table for those who wished to take their meals al fresco, shaded by a parasol. 
For stargazing, a sunken lounge area provided just the right spot. Koh Samui isn't exactly a dark sky preserve since there's a fair bit of light pollution, but it still beats Singapore. 
The private pool was definitely on the small side, with a footprint of just 35 square metres.  But serious lap swimming can be done in the main pool; this one's about soaking in the views. 
One thing I didn't like was the immovable safety notice affixed to the edge, which made it look like someone left a table standee lying around. I wonder why they couldn't have at least placed it flat down, so as to minimise interference with the view.
A couple of bean bags were on the wooden deck outside the toilet. However, we avoided this area since it had a major red ant infestation (which was dealt with the following morning once reported).
As lovely as the outdoor area was, we didn't end up spending a lot of time here because of the mosquito situation. While I understand it's just part and parcel of being close to nature, those buggers do have a way of ruining your plans to sip wine and watch day turn to night. The hotel does provide repellent and mosquito coils, but there's only so much that can be done. 
Although it seems like the Banyan Tree Samui has a lot of different room categories, in reality there's really only three types of villas (plus the Presidential suite).
In terms of hardware, the 130 sqm Horizon Hillcrest Pool Villa we stayed in is identical in every way to the Deluxe Pool Villa, Partial Ocean Pool Villa, and Ocean Pool Villa. The only difference is the view.
One step above that are the 155 sqm Royal Banyan Ocean Pool Villa and Wellbeing Sanctuary Pool Villa, which are the same as the 130sqm villas but with a heated outdoor jacuzzi and extended seating area.
Wellbeing Sanctuary guests have access to additional wellness activities, special meals, and discounts on spa treatments as part of their stay. Think of it like Banyan Tree's version of an executive floor, only you get evening yoga instead of cocktails.
The 169 sqm Family Deluxe Pool Villa and Family Ocean Pool Villa have a separate "outhouse" for the children to sleep in, which boosts their capacity to five instead of three. Interestingly enough, these were originally conceptualised as spa villas, with the kids' room used as a personal treatment space.
Extra bedroom
Do note that villas are built rather close to each other, and some of them don't have great privacy. While walking through the resort, I noticed there were several units where I could look directly into the plunge pool from the pathway. 
If privacy is important, I'd advise you to reach out to the hotel before arrival and see if you can request for a villa on higher elevation.
Banyan Tree Samui: Beach
The Banyan Tree Samui has a horseshoe-shaped private beach (no touting here) that provides a serene spot to unwind. It's so quiet and tranquil that during the first COVID-19 lockdown in 2020, a rare giant sea turtle came up to shore to lay her eggs on this very stretch of sand. 
Scattered around the beach are lounge chairs; as soon as we picked one, a diligent staff member hurried over with some cold water and a towel to drape over the cushion.
Guests could borrow a kayak (with thoughtfully-included backrests) to explore the bay, or a stand-up paddle board. Lifejackets, sandshoes and flippers were also available.
Near the beach area was a pool and table tennis table. The equipment was in reasonably good condition, considering how exposed to the elements it was. 
There was even a mini-football pitch, for anyone who needed to burn off more energy. 
Banyan Tree Samui: Facilities
Swimming pool
The Banyan Tree Samui's semi-circle shaped swimming pool is open from 8 a.m to 6.30 p.m daily. It's 1.3m deep, so most people should be able to stand up comfortably.
There's a good number of deck chairs lined up around the edge. Unfortunately, the pool is close enough to the garden that mosquitoes do become a problem, and that's why we didn't spend any significant amount of time here.
Near the main pool was a separate wading pool (0.5m) for little ones. 
Gym
The gym at Banyan Tree Samui was probably one of the weakest aspects of the whole experience. It's not much to look at; in fact, it reminds me of one of those gyms you might find at an old condo, complete with unattractive carpet. Equipment is basic; don't expect entertainment systems or any frills. 
If you're planning to visit the gym, do note that advance bookings are required; you can't just show up and use it. That's what The MileLioness discovered when she showed up in the morning and found it locked. It took about 20 minutes to find the right person to open it up, after which the gym was still too hot to use for an extended period of time (the air conditioning is switched off when not in use, and is rather weak).
The gym equipment has certainly seen better days. Machines were rusty and handles were sticky- not because they hadn't been cleaned, but because of polymer degradation, the result of prolonged exposure to sunlight and heat. The decision to leave the air conditioning off might be a case of penny wise and pound foolish, as that humid sea air will make fast work of metal. 
Banyan Tree Samui: Activities
The Banyan Tree Samui offers a range of activities, including boxing, yoga, stretching, meditation, even sailing and snorkeling. Most activities are free of charge, though some (like mocktail making or meditation sessions) require a fee. As mentioned earlier, Wellbeing Sanctuary guests have access to a wider selection of complimentary activities.
We fell in love with snorkeling in the Maldives and wanted to try it out here, but I can tell you that Koh Samui in general doesn't even come close. The house reef at Banyan Tree Samui didn't have much marine life, and the corals had mostly been bleached.
Banyan Tree Samui house reef
Banyan Tree Samui: Spa
The Banyan Tree Samui spa is open from 10 a.m to 7 p.m daily, and one of the signature experiences at any Banyan Tree property. In fact, this particular spa won the Harpers Bazaar Spa Award for Best Rainforest Spa Experience on 2020- you'll see why in a bit.
At the spa reception, we were offered welcome drinks while the staff noted our treatment preferences. They were also kind enough not to laugh (unlike the MileLioness) when I requested the gentle touch massage, which is typically chosen by expectant mothers.
Guests can use the sauna and steam room before treatments, which are located in a nearby facility called "The Rainforest". 
The best way I can describe The Rainforest is an indoor water park with wellness treatments instead of waterslides. However, to enjoy the full range of facilities, you'll need to book a separate Rainforest Experience package- a shame, because I think every spa guest should have the opportunity to enjoy this amazing place. 
Guests are greeted by a rain walk, where they pass through a greenery-lined corridor while being showered by gentle water. 
Further inside is a heated hydropool, meant to loosen up tight muscles and promote circulation.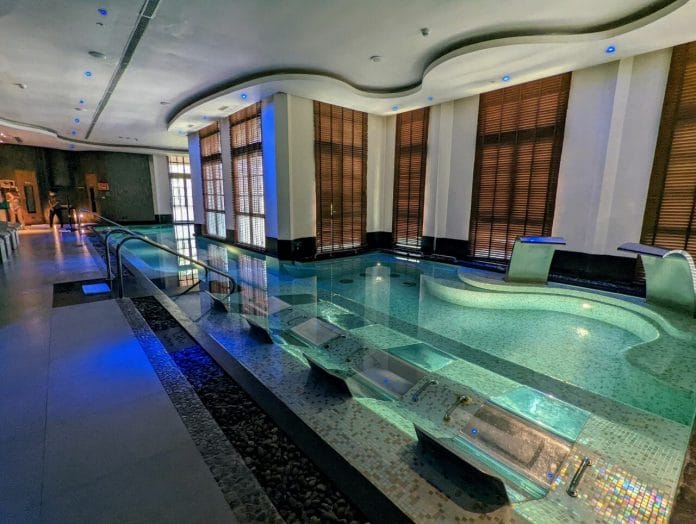 There's also something called a Swiss Shower, which features overhead and vertical shower heads that alternate warm and cold water. 
If you've not booked a Rainforest Experience package, you're limited to the sauna and steam room. 
After using either, you're encouraged to dunk yourself with a bucket of cold water. It's invigorating, to say the least. 
The Rainforest has locker rooms of its own, but what was a bit strange was that after using the facilities, we were instructed to bring all our stuff with us over to the treatment room. The staff belatedly realised that we'd need something to carry our wet clothes in, but could only find cloth bags which got soaked through in no time. They also only provided us with one bag each, when it would have been more logical to provide one bag for wet and the other for dry. The guest experience when transferring from Rainforest to treatment room should probably have been thought through better.
All treatments take place in one of 10 spa pavilions, styled like mini-villas. Our therapists were excellent, creating a relaxing environment and constantly checking that we were comfortable. 
Banyan Tree Samui: Kids' Club
Couples who want some me time can leave their kids at the Octopus Club, which operates from 8 a.m to 5 p.m daily with a one-hour break for lunch. Kids aged 4-12 are welcome. 
Inside you'll find every manner of age-appropriate distractions to keep the younglings entertained, such as toys, books, playpens, puzzles, arts & crafts, even a TV room. 
In addition to this, kids can enjoy Thai cooking lessons and dance classes, while learning about environmental conservation and taking part in the resort's "coral regeneration" project. 
Here's a sample of what was going on when we visited. 
Banyan Tree Samui: Breakfast
Breakfast is served at Edge restaurant, next to the reception area. It's blessed with some excellent views of the surrounding resort and beach, providing a picturesque place to start the day. 
Both indoor and outdoor seating areas were available. The outdoor area gets plenty of morning sun, which is either a feature or a bug depending how you look at it.
Indoor seating
Breakfast was served buffet style, with guests donning gloves and masks to serve themselves directly from the line- just like the good old days, sort of!
The bakery section had various breads and pastries, together with a toaster and preserves. 
Cold options consisted of cereal, smoked salmon, cheese, cold cuts, salad and fruits. 
Hot items ran the gamut of Western and Asian options, with an egg station, a carving station, dim sum, soups, waffles and pancakes, as well as other cooked items that rotated daily. 
I wouldn't rate any of the food items as stand outs, and what surprised me, given the Banyan Tree's wellness focus, was the amount of processed meat and refined carbs on offer. I would also have loved to see more chef-driven creations than paint-by-numbers stuff.
In terms of drinks, I've come to appreciate that champagne breakfasts aren't really a thing in Thailand, even at upmarket hotels (Thailand's exorbitant wine tax probably has something to do with that). But Banyan Tree Samui adds some holiday cheer by throwing a couple of bottles of sparkling wine (a brut and a rose) into the mix.
Let's be frank, this isn't Dom Perignon stuff (the retail price per bottle is less than $10 online). But you have to appreciate the gesture, if nothing else. 
There's also San Pellegrino sparkling water for those who want the bubbles without the buzz.
The staff were happy to prepare some fresh green apple juice on request, which is always awesome.
Banyan Tree Samui: Other Dining
Banyan Tree Samui's signature restaurant Saffron was closed during our visit, so the only dining option available was Sands (Edge closes after breakfast).
The menu is a hodgepodge of Thai and Western cuisine. We had dinner here on the first night, ordering off the Thai menu. 
The dishes were serviceable, although you could easily find much better Thai food for less outside the resort. Expect to pay THB490++ for Tom Yam Goong and THB420++ for Thai-style Sea bass.
Banyan Tree Samui: Odds and Ends
I'm just going to run through some random odds and ends regarding service and the overall experience. 
On the way to breakfast, the buggy driver asked how our night was. When we reported the issues with mosquitoes and red ants, he was quick to arrange remedial action, which was finished by the time we returned to our villa
Despite the large size of the resort, buggy service was prompt- we waited no more than 5-7 minutes each time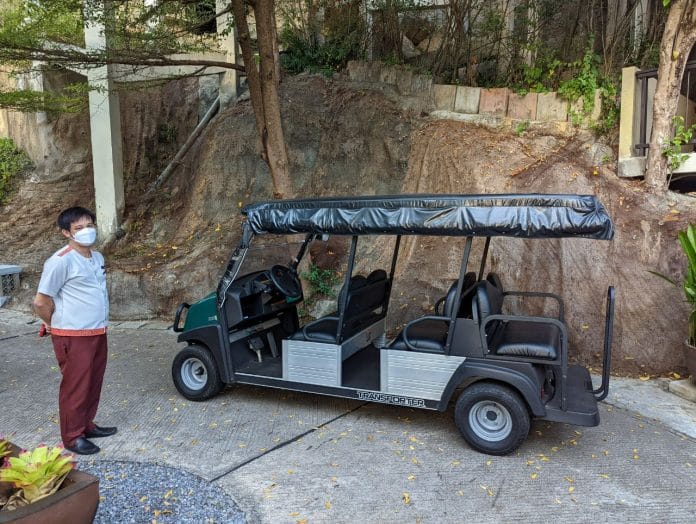 Although the resort is over a decade old, there were very few signs of wear and tear in the villa we stayed in
A large corporate group was staying at the same time we were there, but the staff handled the situation well. At breakfast, they seated us away from the main group and gave us more attention, knowing it might be hard to approach the buffet line to get things
That said, I did feel the resort was missing that extra bit of polish that sets great experiences apart from good ones. I've mentioned the issues with the gym equipment and breakfast selection; here's a few more:
The villa host got in touch before the stay to request our pillow preferences and choice of sleep essential oil, telling us the items would be waiting in the villa upon arrival. However, both were forgotten
When the essential oil did come, the bottle had clearly been used before. I'd have expected them to provide a new bottle for each guest, especially given the pervasive hypochondria in the post-COVID era
Villa host communication was only available through Line. I understand that's a popular app in Thailand, but most international visitors would be on WhatsApp, and it would have been nice if an alternative option was offered
Every time we returned to the hotel, we were instructed to park at the carpark below and call for a buggy to go up. The carpark area was poorly lit with lots of mosquitoes, and I wondered why we couldn't just drop off the car at the much-nicer reception area and have someone handle it from there
I'd have loved to see some more sophistication in terms of the F&B and cocktail offerings (especially after coming from Conrad Koh Samui, which does a brilliant job of this). The latter looked…well, it looked like something you'd find in a beachside bar in Phuket rather than a 5-Star resort, with plastic glasses and garish colours
Conclusion
For those seeking a wellness retreat, the Banyan Tree Samui offers seclusion, tranquility, and some of the best views of any resort on the island. Its private beach and litany of activities will keep adults and children occupied, while The Rainforest offers one of the most unique spa experiences I've ever had. 
Key weaknesses include the gym, the quality of F&B, and perhaps that last 5% of polish and attention to detail which would elevate the experience even higher. The mosquito issue was also annoying, though the hotel took steps to mitigate it and it sort of comes with the territory. 
But if being one with nature is your thing, I can think of few places that bring you closer.