It was 15 March 2020, and I was three days away from flying to Koh Samui.
The flights were confirmed, the hotel booked, the rental car waiting. Yes, there was some concern about that strange new coronavirus going round, but Koh Samui had zero reported cases at the time- certainly fewer than Singapore, anyway.
Later that night however, MOH announced a mandatory SHN for anyone entering Singapore from an ASEAN country, effective 17 March 2020. The measures were supposed to last 30 days, and already I was looking to rebook for May. "It'll all be over in a few weeks", I confidently told The MileLioness as we headed home from the airport after an aborted trip to Kuala Lumpur.
Shows what I know, because I'm finally taking that trip, 678 days later.
Overview: Koh Samui Sandbox
Koh Samui recently reopened under the Sandbox programme, after a brief stint with the now-suspended Test & Go scheme. While not nearly as unrestricted as Test & Go, Sandbox visitors still enjoy quarantine-free movement as soon as they clear an on-arrival PCR test.
As a reminder, here's the prerequisites for Sandbox travel.
🏖️ Sandbox Requirements
Fully vaccinated with approved vaccine (age 17 and below exempt)

Purchase travel insurance with min. US$50K COVID-19 medical coverage (foreigners only)

Book AQ/SHA Extra Plus hotel and pre-pay for 2x RT-PCR tests
Apply for Thailand Pass

Take pre-departure PCR test 72h before flight (age 5 and below exempt)

Take PCR test on arrival and approved transport to hotel; isolate until result is out

Stay within Sandbox for first 7 days before travelling elsewhere in Thailand

If staying <7 days, must leave Thailand immediately from Sandbox
TAT: Sandbox
Of these, you should reserve the most time for the Thailand Pass application. This should be submitted a minimum of seven days before your trip begins, and you'll need to have the following documents ready at the time of application:
Vaccination certificate
Hotel booking
Payment slip for 2x RT-PCR tests (issued by the hotel- get in touch with them once you've booked your room)
Travel insurance certificate
In other words, this isn't the kind of trip you can do at the spur of the moment. My first Thailand Pass application was rejected after 48 hours, and it took a further 48 hours for my second to be approved- buffer time for things like this!
Now, regarding trip duration- unlike what many media outlets are reporting, you can do a trip of less than seven nights, provided you leave Thailand immediately after you check-out. If you want to travel elsewhere in Thailand after Koh Samui, then yes, you must stay at least seven nights.
Here's the thing though: if you're a traveller from Singapore who wishes to return on the VTL, then you'll still have to do seven nights in Koh Samui.
That's because:
There's no VTL flight from Samui to Singapore
Anyone who stays in Koh Samui for less than seven nights can only take "sealed route" flights on Bangkok Airways from Samui to Bangkok
The earliest sealed route flight arrives at the same time the last VTL flight from Bangkok to Singapore departs
For more information about sealed route flights and other Sandbox quirks, refer to the FAQs article below:
Flights
✈ Sandbox Game: Flights
To Koh Samui
To Singapore
SQ706
Depart: 0715
Arrive: 0840

PG132




Depart:

1155




Arrive:

1310

PG5125




Depart:

1200




Arrive:

1330



SQ709

(VTL)


Depart: 1540
Arrive: 1915
Cost: S$677 per pax
Prior to COVID, flying to Koh Samui was rather straightforward. Both Bangkok Airways and SilkAir offered daily flights from Singapore, and while cash rates were expensive (given Koh Samui's more luxury-oriented appeal and Bangkok Airways' stranglehold over the airport), you could circumvent this by redeeming Etihad Guest or KrisFlyer miles.
But SilkAir was merged into Singapore Airlines and its A319s transferred to Scoot, which has shown no interest in deploying them so far. That leaves Bangkok Airways as the sole international air link to Samui, and their flight timings are…not ideal.
The outbound flight puts you in Koh Samui at 8.35 p.m (although I suppose you could argue that might work out nicely since you might as well catch up on sleep while waiting for the on-arrival PCR test result to come back), and the return flight isn't a VTL service.
I also really wanted to visit the new SilverKris Lounge again, even if it meant waking up before 5 and dragging The MileLioness along (she's understanding that way), so I decided on a SIN-BKK-USM itinerary, with SIN-BKK on Singapore Airlines and BKK-USM on a Bangkok Airways sealed route flight.
As a reminder, Koh Samui Sandbox travellers who transit in Bangkok are only allowed to take the two sealed route flights shown below:
Days
PG5125

S
M
T
W
T
F
S
BKK


1200

➞

USM


1330

✔
✔
✔
✔
✔
✔
✔
PG5171

S
M
T
W
T
F
S
BKK


1710

➞

USM


1840

✔
✔
✔
✔
✔
✔
✔
It means a 3-hour transit in Bangkok (and I doubt they'll let us use the lounge), but allows you to be in Koh Samui by 1.30 p.m. A villa at the Conrad Koh Samui is hardly the worst place to isolate, and with any luck we'll be free by dinner.
By the time I fly back to Singapore, I'll have stayed seven nights in Koh Samui. This means I'm "clean" and no longer need to take sealed route flights between Koh Samui and Bangkok. The main objective is to get on a VTL flight from Bangkok, and PG132/SQ709 is the only combination that works.
FYI: the entire journey must be on a single itinerary. It means you can't redeem KrisFlyer miles for the SIN-BKK leg, then add on a separate BKK-USM sealed route ticket. The Singapore Airlines website allows you to book a joint SQ/PG ticket, however, and I paid S$677 per person for Economy Class.
I was offered the opportunity to bid for an upgrade to Business Class on the inbound and outbound SIN-BKK legs, but a minimum bid of S$300 per person for a flight that's <2 hours seemed a bit dear. I'd rather save that money for the spa.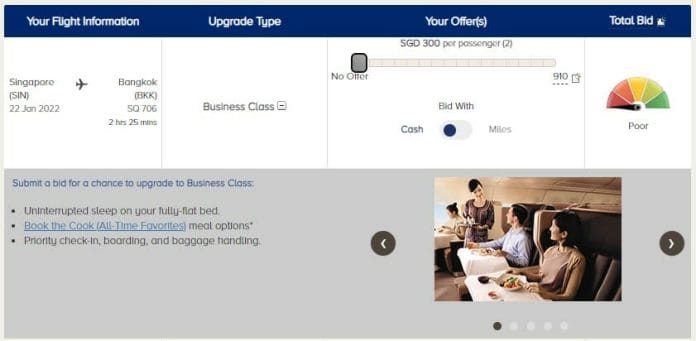 Hotels
🏨 Sandbox Game: Hotels

Night
Hotel
Cost
1-5

Conrad Koh Samui

376,000 points

6-7

Banyan Tree Samui

–
There was never any doubt in my mind about returning to the Conrad Koh Samui, which I hold to be one of the most amazing hotels in the world. This all-villa resort gives every guest a private pool, panoramic views of the Five Islands (well, some with better views than others), and a sense of tranquility and isolation few places can match.
I've been there twice already, but I'm nonetheless planning to do a fresh review- I'm sure there'll be those who want to know what it's like post COVID, and this time I actually have a camera that isn't a potato.
While cash rates at the Conrad Koh Samui have nosedived from the usual ~S$1,000+ to about S$560 a night, it's still worth it in my opinion to redeem points. I booked a 5-night stay at 94,000 points per night, with the 5th night free (376,000 total). That worked out to a value of 0.55 US cents per point- good enough for me!
As a Hilton Diamond, I'll enjoy free breakfast and hopefully an elevated villa with a better view. In fact, I can already see online that my lead-in Tropical Pool Villa has been upgraded to one with a Five Islands view.
For the last two nights, I'll be doing a media stay at the Banyan Tree Samui. This resort is located near Lamai beach, so if nothing else there'll certainly be more life nearby than at the Conrad.
Like the Conrad, the Banyan Tree Samui is also an all-villa property, with its own private beach and oceanfront views. It's garnered rave reviews online (ranked even higher than the Conrad on TripAdvisor, for whatever that's worth), and I'm keen to see how the experiences measure up.
Lounges
New SilverKris Lounge Changi Airport
Singapore Airlines opened its new SilverKris Business Class Lounge in November 2021, and I was among the first to visit en route to Sydney.
Review: Singapore Airlines' new SilverKris Lounge at Changi Airport Terminal 3
The new lounge may not break any paradigms, but it's still a significant improvement from the previous facility, which opened in 2008 and was way overdue for a refresh. It's beautifully designed, there's individual shower suites (with fancy bidet seats), and champagne is back on the menu.
While the hardware is certainly there, the service was rather chaotic on opening day with the staff struggling to handle the new F&B ordering system. I figure it's worth a revisit two months later to see if they've managed to find their feet.
Singapore Airlines isn't the only one who's been busy with renovations. THAI Airways opened their new Royal Orchid Prestige Lounge (near the D gates) in late 2019, and it doesn't look half bad- certainly a lot better than the incumbent facilities.
The lounge is modelled on an ecological green mood concept, ensuring a tranquil setting away from the bustle of a busy airport terminal.

Experience traditional Thai hospitality during a short transit or before your next international flight within this oasis of relaxation. The layout, although spacious, provides many quiet nooks for a read or rest with shower facilities available to freshen up between or before your flight. Work stations are available if required with charging points available throughout the lounge. Indulge in specially created hot and cold Thai signature dishes, order a freshly-cooked dish from the open kitchen or visit the cocktail bar for a made-to-order beverage of choice. Self-service coffee machines and ice-cream/gelato bars are also available.
It all sounds very promising, and since the SilverKris Lounge Bangkok remains closed, this is the only option short of a Priority Pass lounge anyway.
COVID-19 Testing
Thailand requires a negative pre-departure PCR test taken within 72 hours of departure. For this, I booked a home-based swab with DA that cost S$218 for 2 people. I brought the price down by a further S$20 with the code MC20, so I'm paying just S$99 per person, with the convenience of home swabbing.
The two mandated tests in Thailand are a standard THB2,200 per test (~S$90) per person, and what I'll be trying to find out is whether the Day 5-6 test can be used for pre-departure testing to Singapore. So long as you get a certificate with the following information, you should be good:
Full name
Date of birth or passport number
Negative COVID-19 test result
Date and time the test was taken
Name of testing institution
Waiting for me on return to Singapore is a battery of COVID testing, starting with the usual on-arrival test at Changi Airport (S$125 per person). Then it's six days of daily ART swabbing, four of which are unsupervised, two of which require third-party verification.
I wasn't particularly looking forward to travelling down to a QTC/CTC during the Chinese New Year period, but thanks to DA's Tele-ART service, I won't have to. For S$17.84 (the cost of consultation plus my own self-test kit), I can do the Day 3 and 7 tests from home, over video call.
DA Tele-ART: Do your pre-departure and VTL Day 3 & 7 ART testing from home
Assuming I can combine the Day 5-6 test with the pre-departure test required for travel to Singapore, I'm looking at S$460 in testing costs per person.
⚕️ Sandbox Game: Testing Regime

Location

Remarks

Price

🇸🇬 Singapore

72h before departure (PCR)

S$99

🇹🇭 Thailand

On arrival (PCR)

THB2,200
(~S$90)

🇹🇭 Thailand

Day 5-6
(TBC: Combine with PDT)

THB2,200
(~S$90)


🇸🇬 Singapore

On arrival at Changi (PCR)

S$125

🇸🇬 Singapore

Day 2 (ART)

S$5

🇸🇬 Singapore

Day 3 (Tele-ART)

S$17.84

🇸🇬 Singapore

Day 4 (ART)

S$5

🇸🇬 Singapore

Day 5 (ART)

S$5

🇸🇬 Singapore

Day 6 (ART)

S$5

🇸🇬 Singapore

Day 7 (Tele-ART)

S$17.84

Total Cost

S$460 per pax
Odds and Ends
A few other logistical matters which didn't fit into any of the other sections:
For SIM cards, I paid S$6.50 for an ICC Thailand SIM card with 15GB valid for 8 days
To get around Samui, I hired a rental car from samuirentcars.com, paying 5400 THB for 6 days in a Honda City. They'll deliver it to your hotel, and you can drop it off at the airport
Assuming the Day 5-6 PCR test can't be used for travel, it costs ~1,400 THB to do a pre-departure ART test
Conclusion
While I would have liked to travel somewhere further afield, Europe and Australia's case numbers look frightening at the moment. Keep in mind, the concern isn't so much my own health (triple jabbed, after all), but with Chinese New Year happening the week after, the last thing I'd want is to be stuck overseas or potentially infectious on return.
Koh Samui presents a nice alternative, especially since we'll be in an isolated resort most of the time. Seven nights is a bit longer than what I'd usually spend, but after a frenetic end of year, it'd be nice to unwind with a proper vacation.
Questions about the Koh Samui Sandbox experience? Leave them here.