If you've just got your AMEX Platinum Charge card, congratulations! Welcome to the "1712 Club"- which I suppose will become the 1728 and 1744 Club in 2023 and 2024.
There's a lot to look forward to with your new AMEX Platinum Charge, from the moment you unbox it till the inevitable renewal question. In that spirit, here's a starter guide to things you should get done as soon as possible.
Apply for supplementary cards
AMEX Platinum Charge members are entitled to two complimentary supplementary cards (a S$160.50 fee applies for the third card onwards), a benefit you should absolutely max out.
All supplementary cardholders enjoy the following benefits:
AMEX Fine Hotels & Resorts (room upgrades, US$100 credit, free breakfast)
Airport lounge access:

Unlimited-visit Priority Pass (only for the first supplementary cardholder)
Centurion Lounges
International American Express Lounges
Delta SkyClub
Plaza Premium Lounges

Tower Club access
Elite status with various hotel chains and rental car companies
It's basically a way of giving a family member free lounge access, elite status, as well as up to 50% off dining and drinks at participating Love Dining and Chillax venues in Singapore.
Apply for Priority Pass
AMEX Platinum Charge principal cardholders (and the first supplementary cardholder) enjoy an unlimited-visit Priority Pass that comes with one free guest.
You'll need to register by filling in the form enclosed with your welcome pack, and emailing the scanned copy to [email protected] It may take up to three weeks to receive your physical card, but you'll get a membership number and code via email that allows you to enter lounges via the Priority Pass app in the interim.
Don't throw away your other Priority Pass cards though! Back in 2019, American Express nerfed its Priority Pass memberships by excluding so called "non-lounge experiences". This means that restaurants, spas and sleep pods (with limited exceptions) are now off the menu, a shame given that they're some of the more unique features of a Priority Pass membership.
Priority Pass memberships issued by Citibank, DBS, Standard Chartered and other Singapore banks are unaffected (for now), which means you may still have a use for the two-visit Priority Pass that comes with the DBS Altitude and Citi PremierMiles cards.
All other airport lounges (e.g. Centurion Lounges, Plaza Premium Lounges) can be accessed by showing the physical AMEX Platinum Charge card. Digital cards may not be accepted, so use it at your own risk.
Apply for an AMEX Platinum Reserve
Note: From 1 November 2022, new AMEX Platinum Reserve cardholders will no longer receive an annual fee waiver, even if they hold an AMEX Platinum Charge.
If your AMEX Platinum Reserve was approved before this date, you will continue to enjoy a perpetual annual fee waiver so long as you hold an AMEX Platinum Charge
One of the lesser-known perks of the AMEX Platinum cards is their "one annual fee" policy, which means that if you hold multiple Platinum cards, you only pay the annual fee of the highest-tier one.
In other words, AMEX Platinum Charge cardholders can add on an AMEX Platinum Reserve at no extra cost.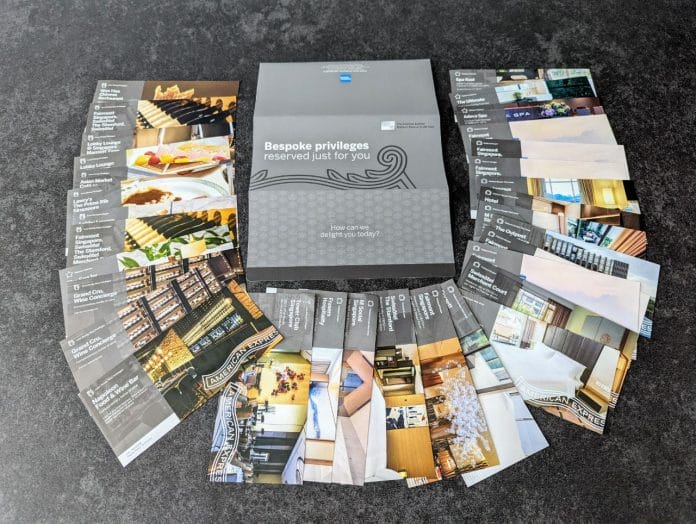 Why would you want an AMEX Platinum Reserve? Because it comes with the following additional benefits:
Frasers Hospitality
Tower Club
Grand Cru

1x free bottle of wine (x2)

Napoleon Food & Wine Bar
Wan Hao Chinese Restaurant

S$50 off min. S$100 spend
You'll also enjoy vouchers for discounted spa treatments, staycations and dining (find the full list here).
One commonly-asked question is whether those who have received an AMEX Platinum Reserve fee waiver will still enjoy the sign-up bonus of 50,000 MR points for S$5,000 spend in the first six months of approval. The official position is no. However, and this is is a classic case of YMMV, some applicants (myself included) received the bonus points nonetheless.
Register for elite status
AMEX Platinum Charge cardholders enjoy elite status with the following programmes:
Avis Preferred (which is really free for anyone to join)
Hertz Gold Plus Rewards Five Star
Hilton Honors Gold
Marriott Bonvoy Gold
Radisson Rewards Gold
There's one more programme that's not listed in the portal: Pan Pacific DISCOVERY Platinum status. You can register for that via this link.
Of the above, Hilton Gold is arguably the most useful because it comes with free breakfast for two guests. At a high-cost location like the Maldives, free breakfast can save hundreds of dollars each day. The other programmes give you some vague shot at an upgrade and late check-out, but nothing's guaranteed.
Register for Paragon Club Prestige
AMEX Platinum Charge cardholders are eligible for instant Paragon Club Prestige membership, which normally requires S$15,000 of spending in a 12-month period.
This grants access to the Paragon Club Members' Lounge, dedicated concierge services, birthday treats, and exclusive in-store offers.
The Paragon Club lounge occupies the footprint of the former Citigold lounge, and can be used as a makeshift working space thanks to its complimentary Wi-Fi, power points and a meeting room. Complimentary coffee, tea and bottled water are available, and you can order takeaway food from Paragon's restaurants and dine in the lounge.
It's no replacement for Nook, but still…
Opt in for marketing communications
Trust me, no one hate spam as much as I do. But you'll definitely want to opt-in for AMEX Platinum Charge marketing communications. If you don't, you're liable to miss out on some great deals, not to mention limited-capacity events.
In the pre-COVID days I've attended free watch showcases and other fun activities with good food and champagne. We got complimentary flower bouquets. A poet-in-residence (you know it's a fancy event when there's a poet-in-residence) wrote a poem about my dog.
To opt-in for marketing communications, login to your AMEX account and click on Account Management > Marketing Preferences.
You'll be redirected to a page that lets you toggle your communication preferences. Make sure to opt-in to all marketing communications (you can leave market research and insurance unchecked, if that doesn't interest you).
Plot your path to S$20,000
Of the 175,000 MR points sign-up offer, 100,000 MR points will be granted for paying the S$1,712 annual fee. The remaining 75,000 MR points requires you to spend S$20,000 in the first six months of approval.
That's a high threshold no doubt, though it ties in with the card's premium positioning. American Express has a list of excluded spending categories here, but the key ones to note are:
GrabPay top-ups
Insurance
Singapore Petroleum Company (SPC)
Utilities
For avoidance of doubt, CardUp, hospital transactions, donations, and anything else not explicitly stated in the exclusion list will count as eligible spend. You could also buy grocery vouchers from NTUC or Cold Storage/Giant.
Conclusion
One final thing that I wasn't shameless enough to put as a separate to-do item: Join the AMEX Platinum Charge chat. This community of 2,322 members (and counting) will help unlock some of the best value of your card by keeping you abreast of all the new offers, events and lobangs (there is also a disconcerting level of watch fetish, but you can safely ignore that).
If you're contemplating jumping on board, remember that the 175,000 MR points offer is valid for applications till 19 June 2022, so there's still time.
Have fun!