Another year gone, and it's time to face the S$1,712 question once again: keep or cancel the AMEX Platinum Charge?
This, after all, is the most expensive piece of plastic metal I've ever owned. To put it another way, I'm paying nearly S$5 every day for the privilege of membership (or technically 266 miles, since I renewed my membership with points last year). 
My cycle starts in October and ends in September, which meant that my 2019/20 membership year was a mix of "normal" and "new normal". On the other hand, my 2020/21 membership year has been all "new normal", and nothing takes a bite out of the AMEX Platinum Charge's value proposition like dine-in restrictions, bans on events and border closures. 
So just how much value did I get out of the card this year, and where do I see this going? 
Summary of Benefits
Here's a quick and dirty summary of my most recent membership year. 
AMEX Platinum Charge: 2020/21 Analysis

Perk

Value

Hotel & Airline Travel Credit

S$600

Love Dining & Chillax

S$550

More Value From Platinum- Dining

S$350

More Value From Platinum 

S$300

Dining Vouchers

S$280

2-nights Frasers Hospitality voucher

S$250

1-Night Hotel Stay

S$200

3x wine vouchers

S$88

Total
S$2,618
I'm going to throw in the usual disclaimer that value is inherently subjective. For example, someone with a steel liver would value Chillax much more than a teetotaller, and someone who thinks staycations are a waste of money wouldn't give the free hotel nights much weightage.
Therefore, each cardholder needs to do his/her own calculations based on his/her lifestyle.
Hotel & Airline Travel Credit: S$600
AMEX Platinum Charge cardholders receive a S$400 hotel and S$400 airline credit each year.
I have no complaints about the hotel credit, especially since American Express now allows stacking with FHR and THC rates. I'm planning to use the 2020/21 credit for my next trip to Germany at the end of October, and the 2021/22 credit should come in time for that as well (too bad I can't use two credits on one stay). 
However, I've decided I can no longer take the airline credit at face value, because it's proven to be such a pain to use. Case in point: I got my AMEX Platinum Charge in 2018 and I've yet to spend any of my 3 x S$400 airline credits.
This isn't entirely AMEX's fault. I used the 2018/19 credit to book a trip in 2020, running right smack into COVID. 2019/20 and 2020/21's credits also suffered the same fate, and while extensions were granted, all my credits are now tied up in speculative bookings to Bangkok, set for mid-2022. 
❓ Why Bangkok? Since I'm flush with miles, I'm loathe to incur out-of-pocket expenses on air tickets. Bangkok is the kind of destination where I can get 2x Economy Class return tickets at just around the S$400 mark.
It does mean that they have me by the short hairs in a way, since cancelling the card could lead to the forfeiture of S$1,200 of credits should I ultimately need to cancel these flights. 
Hasn't American Express offered alternative uses for travel credits? Yes, and they're awful. In December 2020, cardholders were told that travel credits would no longer be extended. Instead, they were expected to spend them on one of the alternative packages that AMEX had come up with.
Update: AMEX has added alternative options for spending the S$400 air credit, including spa packages, Mandarin Oriental gift cards, and a discount off the latest iPhone 13
These were derisory, to say the least. The $400 hotel credit could be spent at the Fullerton Hotel, Fullerton Bay Hotel or Ritz-Carlton Millenia Singapore, at inflated rates well above what the public would pay. The S$400 airline credit could be spent at Harvey Norman with a minimum spend of S$3,000 and tons of other silly restrictions like:
Only valid for electrical, computers, furniture and bedding categories (no cameras)
Minimum spend must be accumulated within one department category (e.g. you can't spend S$1,500 on computers and a further S$1,500 on furniture)
Not valid in conjunction with other promotions, privileges, offer, clearance, limited quantity models or display sets
What a load of nonsense. I ignored these alternatives and stuck to using my airline credit for airfares. Given the trouble I've had in spending it though, I'm applying a 50% haircut (don't ask me why 50%; it's arbitrary), yielding a value of S$200.
Love Dining & Chillax: S$550
While you can enjoy Love Dining and Chillax with an AMEX Platinum Credit Card or AMEX Platinum Reserve, you'll still have to pay an annual fee either way, and that's why I've factored the value into my calculations. 
2021 saw a slew of new hotels joining Love Dining, namely Regent Singapore (Basilico), Fullerton Hotel (Jade, Courtyard, Town) and Fullerton Bay Hotel (La Brasserie, Lantern, Landing Point). Sadly, we lost The Capitol Kempinski and its five excellent outlets. Several non-hotel restaurants were added too, though I've yet to try any of them. 
Based on my statements, I've saved about S$550 through dining discounts and complimentary drinks over the past 12 months. 
More Value From Platinum- Dining: S$350
Not to be confused with the offer in the following section, the More Value From Platinum-Dining offer launched in September 2021, giving Platinum Charge members S$350 to spend at over 1,000 restaurants in Singapore and 15 other countries until the end of the year.
🍽️ Participating Restaurants in Singapore

1-Altitude

1-V:U

Basilico

Basque Kitchen by Aitor

Bee's Knees

Botanico

Chef Kang's

FIRE Restaurant at 1-Altico

Golden Peony

Hush by Mimi

JAAN by Kirk Westaway

Jade

Lawry's The Prime Rib

Les Amis

Marriott Hotel Lobby Lounge

Mikuni*

Mimi Restaurant at The Riverhouse

Monti at 1-Pavilion

Odette

Sen of Japan

Si Chuan Dou Hua (all 3 locations)

SKIRT Restaurant

Stellar at 1-Altitude

The Alkaff Mansion

The Summerhouse

TXA Gastrobar

Una

Violet Oon (all 4 locations)

Wildseed Bar

Wildseed Cafe

Wooloomooloo Steakhouse

Yan Ting

Yin Bar at The Riverhouse

Zen

Zorba at The Riverhouse
With an impressive number of participating outlets, this marks the perfect opportunity to tick off one of those bucket list restaurants. Even better, the credit can be stacked with other AMEX promotions like Love Dining and dining vouchers where applicable. 
I'll take this at its full S$350 face value. 
More Value From Platinum: S$300
In January 2021, American Express gave all AMEX Platinum Charge members a S$300 statement credit on "everyday essentials" such as supermarkets, pharmacies and food delivery, effectively a S$300 discount on the annual fee.
This wasn't as generous as the S$500 received in May 2020, but much appreciated still.
Dining vouchers: S$280
While AMEX Platinum Charge members used to receive 4x S$50 St. Regis dining vouchers, these were replaced by 2x S$50 Jaan and 2x S$50 Violet Oon vouchers last year. Even though the face value was the same, it was nerfed by new conditions like a minimum of two diners, and a cap of one voucher per visit. 
I obviously wasn't thrilled about this, and was prepared to assign a value of zero to both. Then I took a closer look at Violet Oon, and discovered that it's possible for two people to have a decent lunch with minimal out-of-pocket spend (the voucher can be used for set lunch). The Milelioness and I visited the outlet at ION and had a delicious pasta, a not bad nasi goreng and a glass of wine, paying S$20 in total. 
The food and service were good enough that I could see myself returning again, so I'm happy to take both the S$50 vouchers at face value. 
However, S$50 won't even make a dent in a meal at Jaan, and for that reason I'm going to disregard them in my valuation. 
The good news is that the 2x S$100 Tower Club vouchers (one from Platinum Charge, one from Platinum Reserve) are intact, and come with no such shenanigans. My advice is to book dim sum at Ba Xian (Saturdays only), or oyster night at Straits Bar (Fridays from 5 p.m). Non-members need to pay a 10% surcharge, so I've adjusted the value accordingly to S$180. 
Included with each year's renewal is a S$50 dining voucher for Marriott Tang Plaza, valid with a minimum spend of S$100. This cannot be stacked with Love Dining, but can be useful for solo diners or groups of three (since S$50 off S$100 is better than the 15%/35% you'd save in those scenarios). I didn't get around to using this voucher, but you can add it into your calculation if you did. 
This gives me a total value of S$280 (S$100 Violet Oon, S$180 Tower Club). 
2-night Fraser Hospitality voucher: S$250
A 2-night Fraser Hospitality voucher is included with the AMEX Platinum Reserve, which AMEX Platinum Charge members can get for free. This can be redeemed at more than 40 properties worldwide, and as luck would have it, Frankfurt is on the list.
For my Germany trip in October, I'll start in Frankfurt and end up in Munich. The going rate for a room at the Capri by Fraser Frankfurt is about S$125 per night, so I've given this a S$250 value.
1-Night Hotel Stay: S$200
AMEX Platinum Charge members receive a voucher for a complimentary hotel night each year (inclusive of breakfast), currently valid for stays at 21 different properties worldwide. 
Unfortunately, there's none in Germany, so the only realistic options are:
Ritz-Carlton Millenia Singapore (closed for SHNs)
Ritz-Carlton was the one I really wanted, having reviewed all the others already. Unfortunately, my voucher expires on 31 October 2021, and the Ritz-Carlton is closed to leisure bookings till 10 November 2021. Barring an unlikely extension, I'll have to revisit one of my previous haunts- St. Regis is the front runner, ahead of the Mandarin Oriental (old rooms) and Fullerton Hotel (weak breakfast). 
The retail price of a booking is certainly much higher, but I'm going to take a conservative valuation of S$200 since I might not have stayed if not for the voucher. 
Wine Vouchers: S$88
A fairly small thing, but the AMEX Platinum Reserve comes with three wine vouchers: two for Grand Cru, and one for Napoleon Wine Bar. No minimum spend is required; you can just go down and collect your bottles. All three are worth roughly S$88 at retail value.
Other perks
I've not given a value to any of the perks below, but thought I'd mention them for completeness' sake. 
Platinum af'FAIR 2020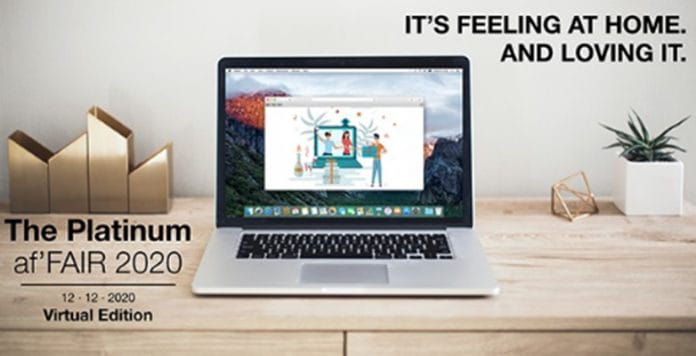 With the ban on large gatherings, I thought that 2020 would be the year without Platinum af'FAIR, American Express' signature annual blowout for Platinum Charge and Centurion members.
That's why I was so surprised to receive an invitation to a virtual Platinum af'FAIR back in November 2020. For 20,000 MR points, cardholders could redeem a package that included tickets, special mementos, a meal set from Chef Kang, Little Farms, Uncle Leong Seafood, Lush Platters or Fine Palate, and two bottles of Ruinart champagne.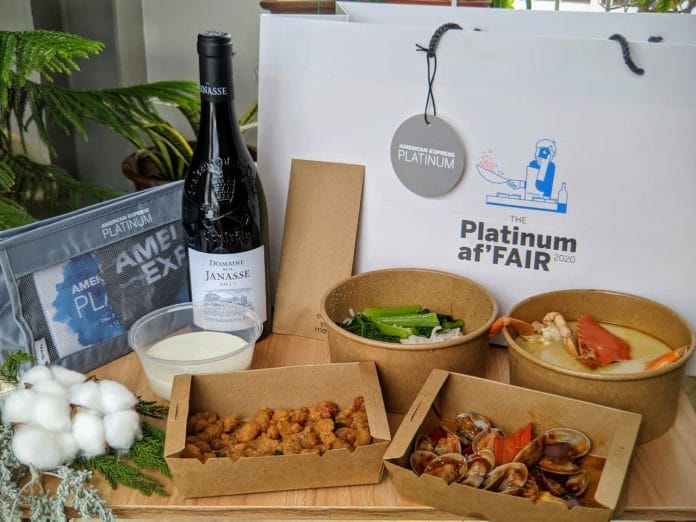 While the execution on the day left something to be desired (food came late, the virtual platform lagged like mad and I couldn't watch any of the entertainment), I still have to applaud the effort behind it. 
Spa vouchers
While AMEX Platinum Charge cardholders used to receive vouchers for three complimentary spa treatments at Adeva Spa, Spa Rael, and The Ultimate Spa, these were nerfed last year and replaced with:
S$100 credit at Aveda Spa (min. S$180 spend)
S$100 credit at Spa Rael (min. S$180 spend)
S$130 credit at The Ultimate Spa (min. S$180 spend)
I didn't use any of these vouchers, and no longer assign them a value. 
Platinum at Basque Kitchen
The much-loved Nook finished its 15 Stamford lease at the end of 2020, and cardholders were looking forward to news on AMEX's next pop-up club. This was announced as Platinum at Basque Kitchen in April 2021, but it'd be more accurate to call it a restaurant tie-up rather than a Nook replacement. 
AMEX Platinum Charge members enjoy a complimentary glass of champagne, provided they incur a minimum spend of S$30. This is a major change from the erstwhile Nook, where guests got a free glass of wine every visit, no questions asked. 
Those in the dining area will need to spend at least S$158++ (i.e. the lunch menu) each. If you're at Pintxos Bar, there's a minimum spend of S$30 each. For what it's worth, this minimum spend applies to all customers, so it's more a 
byproduct of the location than a specific policy targeting Platinum Charge/Centurion members.
I've visited Basque Kitchen and can say that the food is absolutely superb, every bit deserving of its Michelin star. But it's also got price tags to match, and won't be a pop-in-pop-out place the way Nook was. 
As I said in my review:
Look, I'm fully aware all this gnashing of teeth over the absence of free booze is quite possibly the zenith of first world problems, but at the end of the day, cardholders paying S$1,712 a year (or more, for Centurions) will be looking for every opportunity to justify the expense to themselves (or their spouses). This doesn't really help.
It's for that reason I'm not assigning it a value in my analysis. 
Lounge access
The AMEX Platinum Charge comes with an unlimited-visit Priority Pass, and it's something of a minor miracle I actually had an opportunity to use it this year. When flying from Singapore to Germany for my VTL trip, I popped my head into the SATS Premier Lounge, the only Priority Pass facility open in Terminal 3. 
It was a surprisingly pleasant place, with modern furniture, productivity pods, three shower rooms, and a small selection of alcoholic drinks plus one bento set per guest. If you're flying on a ticket without lounge access, I can think of far worse places to be (especially given how Changi is so dead at the moment). 
I hope that the upcoming year will present more opportunities to use this perk, but in the meantime, I can't assign it any value. 
Raffles Prestige membership
AMEX Platinum Charge members were invited to register for a complimentary one-year Raffles Prestige membership back in July 2021, the key perk of which is two hours of free parking per day and 2X STAR$. 
Useful for those who drive, I suppose. 
DISCOVERY Platinum
Shangri-La Golden Circle Jade status ceased to be a perk of the AMEX Platinum Charge in April 2021, replaced by DISCOVERY Platinum status. The main benefits are 3 p.m late check-out and a single category room upgrade (subject to availability).
Jade was arguably more useful in the sense that members receive free breakfast, an invaluable perk at high-cost destinations. However, DISCOVERY's network of hotels is much wider, so it's win some, lose some. 
Summing it up
While 2020/21 presented limited opportunities for the AMEX Platinum Charge to play to its strengths, I still got about 50-60% more from the card than I put in. 
I'm also encouraged by the steps American Express is taking to cushion the impact of the lost benefits, such as the S$650 in dining and supermarket credits, a virtual Platinum af'FAIR and various staycation offers (which to be fair, aren't exclusive to the Platinum Charge). 
Of course, I'm also locked in to a certain extent, with S$1,200 of airline credits tied up in bookings, plus a good-sized balance of MR points. Ideally there'll be opportunities to burn them in 2022 assuming things open up further (jinxed it), especially since I'll be among the first to review any new VTL arrangement. 
Therefore I'm in for another year, and for the record: while I earn some MR points when people sign up through my link, I don't earn anything from people retaining their cards- so if anything my incentive should be to tell everyone to cancel and come back in 12 months' time 😉.
My situation won't be applicable to everyone of course, and if the math just doesn't work out, there's no shame in calling it quits. The Germany VTL has showed us that even when things "open up", it's not going to be for everyone. ICA's 21-day no-return policy in the event of a positive COVID-19 result, the substantial cost of testing, and the fact that numerous HR departments are taking the passive aggressive "do you really need to go" track mean that it could be some time before cardholders can fully appreciate the travel benefits of the AMEX Platinum Charge. 
For those who have decided to renew, here's two further points to note of. 
No enhanced rate for renewing with points
Last year, American Express allowed Platinum Charge members to offset their annual fee with points at a rate of S$11= 1,000 points, a dramatic enhancement over the usual S$4.80=1,000 points. There's no such offer this year, which means that if you plan to renew, you have to do so with cash.
Ask for your retention offer
If you're planning to renew, don't forget to call up and ask for your retention offer.
American Express typically offers some bonus Membership Rewards points upon renewal, but  they're not automatic- ask and ye shall receive. In previous years, I've received 20,000 MR points (12,500 miles) for renewing, based on ~S$20-25K annual spend. This year I spent slightly less at S$16K, but I'm expecting the same offer nonetheless. 
Bigger spenders have reported receiving up to 40,000 MR points (25,000 miles) for renewal, so it's really a YMMV situation.
Conclusion
I want to believe that the previous membership year will go down as an aberration, and 2021/22 will present more opportunities to enjoy the full benefits of the AMEX Platinum Charge. I mean, we haven't heard anything about Platinum af'FAIR 2021 yet; perhaps the team has something up their sleeves for the end of the year? 
But I'll also be the first to admit that my profile is rather unusual, and I'll certainly be back on the road sooner than those with family and work commitments. S$1,712 is no small amount of money- make sure you're in it for the benefits rather than the ego boost from plonking down a metal card everywhere (if that's what you like, I know of a metal card that keeps waiving its annual fee!)
Any other noteworthy AMEX Platinum Charge developments in the past 12 months?