The Mileymoon: Introduction
Singapore Airlines B787-10 Business Class SIN-DPS
St Regis Bali
Banyan Tree Ungasan Bali
JetQuay CIP Terminal Changi
Cathay Dragon A321 Business Class HAN-HKG
Cathay Pacific The Pier First Class Lounge HKG
Cathay Pacific B77W First Class HKG-SFO
Post Ranch Inn: History & Arrivals Experience
Post Ranch Inn: Tree House Room
Post Ranch Inn: Dining and Ranch Tour
Cathay Pacific Lounge SFO
Cathay Pacific B77W First Class SFO-HKG
Cathay Pacific The Wing First Class Lounge HKG
Cathay Dragon A330 Business Class HKG-HAN
Singapore Airlines A330 Business Class HAN-SIN
Planning a Maldives trip
W Maldives Transfer Experience
W Maldives Villa
W Maldives Dining
W Maldives Activities
---
I've already reviewed Cathay's First Class product in detail on the leg from Hong Kong to San Francisco, so do refer to that post if you want a play-by-play rundown of every last feature. In this post I'll focus mostly on the highlights. 
Boarding for CX873 to Hong Kong started promptly at 11.55 p.m, 30 minutes before the scheduled 12.25 a.m departure. This flight was operated by a B77W,
As I mentioned in my previous trip report, Cathay adopts a 1-1-1 layout in First Class on its B77Ws with a total cabin size of six seats.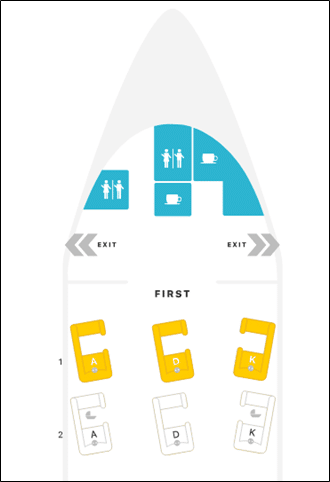 The 1-1-1 layout is achieved by the use of a central divider in the middle of the cabin that partitions the A seats into one segment and the D&K seats into another. The A seats are obviously the ones to go for solo travelers, given that you have an entire aisle just to yourself.
On the flight to San Francisco, the Milelioness and I took the A seats. This time round we decided to try the centre D seats instead.
If you don't mind the lack of a window, there's really nothing wrong with sitting here. There's a high wall on your left that insulates you from activity on the port side, and you're also angled away from the starboard aisle for greater privacy.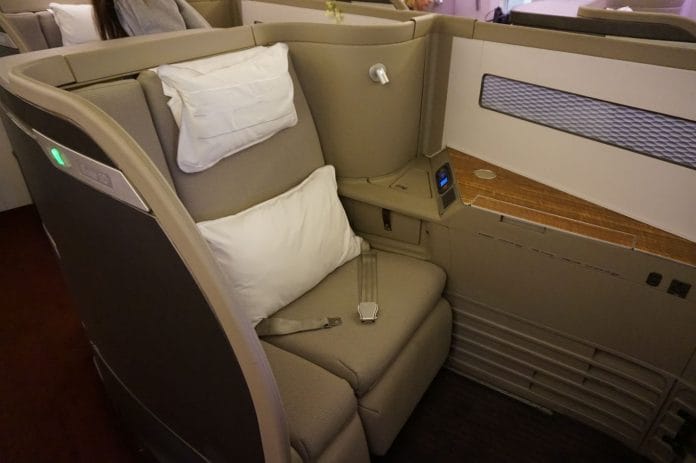 Your ottoman doubles up as a legrest, or a seat for your companion to use during couple dining. There's a little bit of storage space for a small bag underneath it, but larger items will need to be stored in the cupboard next to the IFE screen.
The crew served champagne (Piper Heidsieck Rare Millesime 2002) and nuts as we waited for pushback, and distributed amenities kits and sleeper suits.
Cathay Pacific's sleeper suits are made by PYE, an upmarket Hong Kong tailor.
Here's how the website describes it:
The sleep top features a double-sided collar based on the Zhongshan Zhuang, the mandarin collar suit popularized by Sun Yat-Sen. The sleep top can be worn either up in the Chinese mandarin collar fashion, or down in a classic Western pyjama style — an east-meets-west twist. Made in a 100% organic cotton, the sleep suit comes in a range of contemporary combinations in both solid colours and heathers that change with the season, forming parts of a collectible set comprised of six variations a year. Contrasting trims along the inner collar, the cuffs, and the pant pockets add a refined touch to the garment, and a single button sewn with a bright red thread is the subtle signature for this special co-branded garment.
The amenities kit featured Aesop moisturizing products, mouthwash, a dental kit, earplugs and a wooden comb.
The Milelioness also received her own set of PJs and a female amenities kit, in beige tones.
The menus for today's flight were also distributed. There would be a supper and breakfast served on this ~14 hour flight. Cathay offers First Class customers the option of dine on demand, so you can take your meals whenever you want.
Takeoff was smooth and uneventful, and the crew started preparing the supper service immediately after the seatbelt sign was turned off.
I'd already taken some food in the lounge and didn't fancy tackling an entire meal before sleeping, so I asked the crew to prepare a cheeseburger from the snack menu instead.
I was prepared to be underwhelmed by what I thought would be a standard airline burger- stale bread, dry patty and soggy fries. Instead, I was pleasantly surprised to receive what I dare say was the best burger I ever had in the skies: the bread was moist, the patty juicy and the fries were crisp. Of all the technologies we have yet to master, crispy inflight fries probably rank right up there alongside hoverboards, so this was an all-round winner.
After a quick meal, I requested the crew to turn down the bed, which involved adding a mattress pad, an extra pillow and a silky smooth blanket to the setup. I'd rank Cathay's B77W First Class bed just above Singapore Airlines' B77W equivalent in terms of sleep experience (although SQ's Suites still take the cake for overall best airline bed). It's the kind of thing that has to be experienced firsthand to be appreciated.
The bed was so comfortable that I committed the cardinal sin of sleeping seven hours on a First Class flight (most people would prefer to be conscious to enjoy the entirety of the experience!), waking somewhere over the Pacific Ocean.
The Milelioness and I requested the table be set up for couple dining, which opened with a caviar course, served with the usual fixtures of blinis, chives, creme fraiche and chopped eggs.
A hearty mushroom soup followed, served piping hot with warm bread (cold bread is a pet peeve of mine).
The salad course consisted of a poached lobster served with quinoa, cherry tomatoes and buttermilk dressing. This was pretty good, with the lobster still retaining its characteristic sweetness.
My choice for the main was a grilled USDA Prime beef tenderloin with rosemary jus, yukon mashed potatoes and ratatouille (the alternative was a vegetarian linguine).
It wasn't the worst steak I ever had (that honor is reserved, sadly, for an SQ First Class 8 oz Ribeye out of Singapore which came concrete grey in the middle), but neither did it change my ideal of what airplane beef could aspire to be. Although it was had just the slightest bit of red inside, the beef was bland and needed a liberal sprinkling of salt.
Fresh seasonal berries and rose syrup was my choice for dessert, if only to alleviate some guilt of pigging out for the past two weeks.
After the meal, I spent some time going through the Studio CX IFE system. Entertainment is highly subjective, of course, but I just don't find the selection of movies quite as good as some of the leading IFE systems out there (eg Emirates I.C.E, KrisWorld). There were some recent big name movies like A Star is Born, Bumblebee and A Private War, but otherwise most of the movies seemed to be much older.
Breakfast was served about 90 minutes before landing. I opted for the English breakfast, with freshly scrambled eggs, pork sausage, back bacon, roasted portabello mushroom and roma tomato. I really appreciate that Cathay does fresh eggs on board. I can't imagine what it takes to do this, but they taste so much better than the usual powered eggs that are made en masse at catering facilities on the ground.
This was served with a side of seasonal fruit.
After breakfast the crew prepared the cabin for landing, came around to offer sweets and thanked us for flying with Cathay. We touched down in Hong Kong right on schedule.
Conclusion
In my previous review of Cathay Pacific's First Class, I concluded that the product was compelling but not nearly as good as Singapore Airlines'. Nothing I encountered on this flight did anything to change that conclusion.
To be clear, Cathay Pacific's First Class is a very good product. It's just that when you compete at this end of the market, the margins are extremely fine. For example, the Cathay First Class cabin crew were friendly and efficient, but Singapore's First Class service still blows the competition out of the water. There are certain small things the SQ crew do (e.g. making your bed automatically when you go to the bathroom, obsessively clearing trash from your seat, remembering your favourite drink) that you don't really find elsewhere, and that for me puts them in a league of their own.
The one area where Cathay does have the beating of SQ is the ground experience in Hong Kong, where its lounges are light years ahead of what Singapore Airlines has to offer in Singapore. We'll look at that a bit more in the next report on Cathay's other First Class lounge in HKG, The Wing.