The Mileymoon: Introduction
Singapore Airlines B787-10 Business Class SIN-DPS
St Regis Bali
Banyan Tree Ungasan Bali
JetQuay CIP Terminal Changi
Cathay Dragon A321 Business Class HAN-HKG
Cathay Pacific The Pier First Class Lounge HKG
Cathay Pacific B77W First Class HKG-SFO
Post Ranch Inn: History & Arrivals Experience
Post Ranch Inn: Tree House Room
Post Ranch Inn: Dining and Ranch Tour
Cathay Pacific Lounge SFO
Cathay Pacific B77W First Class SFO-HKG
Cathay Pacific The Wing First Class Lounge HKG
Cathay Dragon A330 Business Class HKG-HAN
Singapore Airlines A330 Business Class HAN-SIN
Planning a Maldives trip
W Maldives Transfer Experience
W Maldives Villa
W Maldives Dining
W Maldives Activities
---
Now that I've covered the Post Ranch Inn arrivals experience and room review, it's time to take a look at the other facilities available at the resort.
Here's the overview of the property once more: there's a spa, two outdoor hot tubs, a fitness corner with a gym, swimming pool and yoga yurt, and numerous hiking trails to tackle across the 100 acre property.
Let's start off with the dining options (or should I say, option).
Sierra Mar
Sierra Mar is Post Ranch Inn's one and only restaurant. It's probably good, therefore, that it gathers pretty rave reviews from all who dine there.
The restaurant boasts stunning views of the Pacific Ocean, and on a clear day you can even spot the telltale spouts of migrating whales and their calves. Many people brought the binoculars from their room to breakfast to do just that.
The natural light makes the cozy restaurant feel larger than it is, but also plays havoc with photos. Suffice to say, it's a place that's better photographed in your head.

Breakfast is complimentary for all guests at the Post Ranch Inn, and is served from 8 a.m to 10.30 a.m daily. The spread isn't going to rival that which you'd find at an Asian 5-star hotel, but instead of taking a kitchen sink approach, the breakfast buffet is focused on local produce and in-house baked goods.
There was a make your own bagel section, with the usual assortment of smoked salmon, capers, cream cheese, red onion and other condiments.

Several hot food items were also available and rotated daily. Given the Post Ranch Inn's focus on "wellness", I was surprised at the presence of processed meat. I suppose some breakfast staples are immutable.


The pastries are baked in-house at the Sierra Mar bakery, the same bakery responsible for those addictive chocolate chip cookies found in every room.


A chef is on hand to make eggs and french toast to order. He's also in charge of avocado control, but will happily ladle on a huge dollop on your plate if you ask for it.


We thoroughly enjoyed breakfast on both the days of our stay. Sure, it wasn't lavish (no St Regis Bali lobster omelettes with caviar, for example), and there was nary a glass of bubbles in sight. And yet, it was a classic case of how less can be more. We never went away from breakfast hungry, nor did we stuff ourselves so much to induce a post-breakfast coma. It gave us just the right amount of fuel to feel like heading out and exploring immediately after.

Sierra Mar is also open to the public for lunch and dinner. If you're driving through the Big Sur area and want to try the restaurant, you need to make an advance booking to get your name on the list at the guardhouse. A $75++ set lunch is available, as well as a $125++ set dinner. In-house guests can order items ala carte if they so wish.
On the day we arrived, we had lunch at Sierra Mar which started off with the most amazing house-baked bread accompanied with goat's milk butter. The inside of the bread was piping hot and moist, and the butter melted instantly upon contact. I'm a big critic of expensive restaurants who can't be bothered to serve hot bread, so I'm glad this detail didn't go unnoticed.

The roasted heirloom carrots with white bean hummus, cilantro pesto, tumeric and pine nuts were exquisite. It featured carrots done three ways- fried, grilled and steamed, and made me rethink what carrots could be.

The Milelioness had the golden miso soup with dungeness crab, tofu, green onion and kale. It sounds boring on the menu, but was a warm and hearty antidote to a cold day.
We each had fish for the main- she had the black cod with celery, blackberry and tarragon, and I had the fish of the day, which turned out to be a roasted trout on vegetables from the Post Ranch Inn's own garden. The fish was cooked to perfection, although I wish I had gone for a less hamster-esque option.
For dessert I had the goat cheese espresso beignet, which consisted of spiced hot chocolate, toasted marshmallow and caramalized banana. The Milelioness had citrus & meringue, which featured basil cake, blood orange meringue, candied buddha's hand, and yuzu-buttermilk ice cream. Both had intricate flavors and reminded me why I fell in love with so-called new American cuisine in the first place.
Facilities: Outdoor hot tubs
The Pacific Coast is, generally speaking, a cold and windy place. That's why there are few things more satisfying than jumping out of your clothes and into a hot tub kept at a comfortable 39°C year round, all while enjoying views of the ocean as far as the eye can see.
There are two hot tubs. The first one is called the Meditation Pool and is located at the far end of the guestrooms, on a stone patio.
Unfortunately, due to the orientation of the resort you don't get sunset views from this pool. If you crane your necks to the right you might catch a bit of it, but the trees prevent you from seeing the sun disappear beneath the horizon.
If you fancy doing some stargazing at night, it's actually not a bad idea to sit in the hot tub while you do. Sure, getting out is going to be a problem, but as long as you're inside it's a pretty otherworldly experience to lie back and stare at an ocean of stars as far as the eye can see.
The second is called the Jade Pool, located just next to Sierra Mar. This was the bigger of the two tubs and also more popular so I couldn't really get photos of it when empty. We'll have to settle for some stock imagery instead: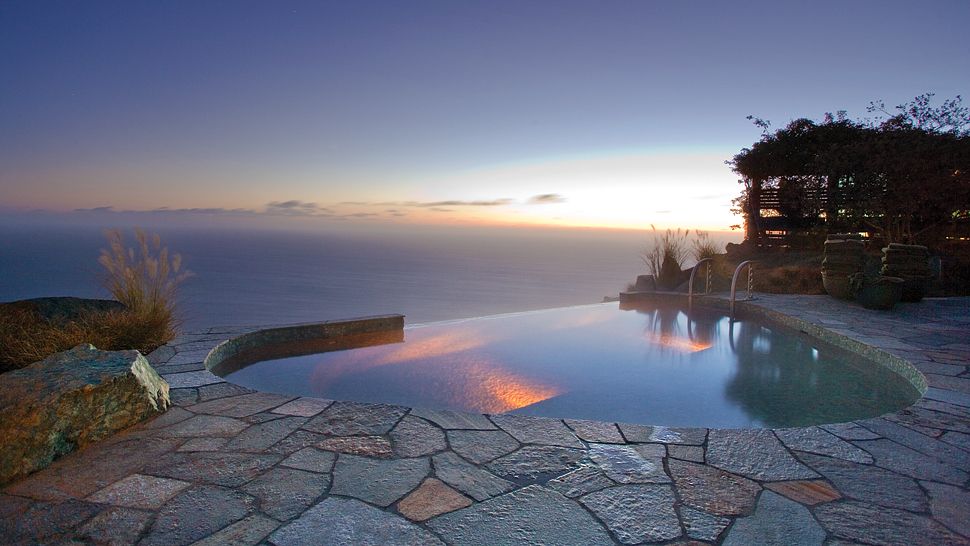 Some may prefer this tub as it's made of stone (the Meditation Pool is metal), which means it retains heat better.
Facilities: Gym & Swimming Pool
The fitness area is about a 10 minute hike from the guest rooms, down a moderate slope. I imagine it's more popular in summer, because it would take a brave man to enter the swimming pool when it's 15 degrees out and windy. Although the pool is slightly heated, it was nowhere as warm as the hot tubs.
The gym is located in a small cabin near the pool and had a good selection of work out equipment. The machines don't have the usual entertainment devices you find at most high-end gyms that let you stream movies and such, but that's perhaps in line with the Inn's detox philosophy.
Facilities: Mercantile
The Post Ranch mercantile is a gift shop of sorts, but unlike your traditional highway-side souvenir outpost, this one features high-end artwork, jewelry from the local artist community and all manner of organic cosmetics and clothes.
Items from your room can be purchased in the Mercantile, such as lavender bar soap (US$2), organic cotton bath towels (US$10), and 8 oz versions of the body wash, body lotion and conditioner (US$26 each).
Facilities: Spa
The Post Ranch Inn spa is located near the guest rooms, on the lower level of what's called the Butterfly House. As you can imagine, treatments aren't cheap, and even our US$100 spa credit from AMEX Fine Hotels and Resorts was not enough for a single treatment. The cheapest treatment available started at US$185 for a one hour session, before tip and tax.
By the way, this being California you can expect some very out there therapies, including Shaman sessions, Fire Ceremonies and Drum Journeys. They're exactly what they sound like.
We decided to spend our spa credit on spa products instead.
Walking the grounds
The Post Ranch Inn grounds are just under 100 acres of mostly undeveloped land, and perfect for exploring by foot. The resort thoughtfully provides a pair of hiking poles in each room (along with a note on how to scare off mountain lions). Even if you're not in the best shape, the trails are mostly flat (once you've come down from the reception area) and don't require special shoes to traverse.
Trekking through the grounds brings you to all sorts of interesting sites. We stumbled upon the chef's garden where all the produce for the ranch is grown.
Given we were in California, I was wondering if I'd stumble upon some other herbs being grown, but no luck 😉
The deer which I mentioned in the arrivals experience post can also be found grazing throughout the resort. They're perfectly content to let you get sort of close, but will start to trot away once you come within a few feet.
There's random art installations scattered throughout the grounds, like the Spirit Nest. There were a couple of pillows inside and I think the idea was to lie there and reflect on the nature of existence, but it was wet and the pillows were soaked through. I suppose that could also be the artist's way of summing up the human spirit, but I've never claimed to understand modern art.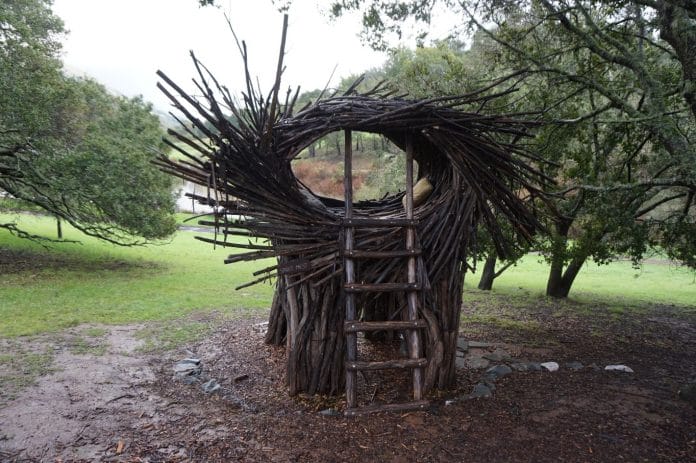 There are a total of three different trials you can do- the Boundary Trail, Billy's Trail and the Luci Loop. So vast are the grounds and so quiet are the surroundings that you can really feel like you're the only person for miles.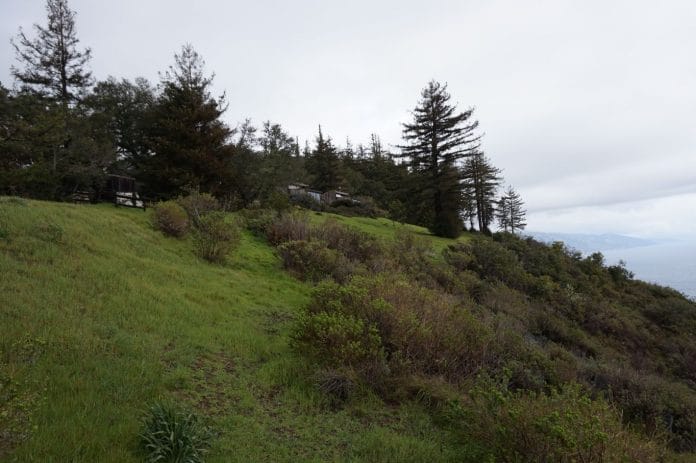 Lexus Car Rental Program
One last random fun thing to note: the Post Ranch Inn offers the Lexus Experience Amazing Drive Opportunity. It's a tie-up where Lexus owners get special benefits at participating hotels, and the property receives a selection of Lexus vehicles for complimentary guest rental. Think of it as a test-drive opportunity, targeted at guests at high-end resorts.
After filling out some boring looking paperwork (overseas licenses are a-ok), I got to choose from five different vehicles. I don't think Post Ranch has the entire selection, but the RX 450H F Sport, GS 450H RWD F Sport and LC 500H were definitely available.
On the first day, we rented the RX 450H because we needed something taller to get over a flooded section of road leading to Pfeiffer beach.
After hauling around a BMW 128i with extremely heavy steering, it was such a pleasure to enjoy the easy handling of the RX. The car came with all the latest tech gadgets- blind spot warning, reversing cameras, adaptive headlights, automatic highbeam, lane departure warning (delivered by a reassuring shake of the steering wheel), satellite radio, you name it. It also served as a great platform for The Milelioness to go on deer spotting safari.
On the second day, we decided to live a little and rented the LC 500. This is a beast of a car, and retails for more than S$500,000 in Singapore. Good thing the Lexus Drive program comes with free insurance.
This was an absolute joy to drive. The car emitted a bestial roar every time you tapped the accelerator, and cornered like it was glued to the ground. It complained loudly when you tried to adopt a Sunday Drive pace, and sounded an orgasmic release when you unleashed its power on the few straight sections of the Pacific Coast Highway. I finally understood why less well-endowed men feel the need to compensate with a noisy car, I really do.
Conclusion
That wraps up my review of the Post Ranch Inn. Although my stay was by no means flawless (I still can't wrap my head around a few of the service issues we encountered), the resort is blessed with so much natural beauty and charm that it's hard to dwell on the negatives.
Would I recommend the property to a friend? Yes, with the caveat that if you come here expecting over-the-top levels of service you're going to be disappointed. However, if you want to experience a closeness to nature that city-folk can only dream of, if you want to wake up to endless views of the Pacific Ocean, and if you're looking for a special place to form the backdrop of a honeymoon, the Post Ranch Inn might just be the one for you.