The Mileymoon: Introduction
Singapore Airlines B787-10 Business Class SIN-DPS
St Regis Bali
Banyan Tree Ungasan Bali
JetQuay CIP Terminal Changi
Cathay Dragon A321 Business Class HAN-HKG
Cathay Pacific The Pier First Class Lounge HKG
Cathay Pacific B77W First Class HKG-SFO
Post Ranch Inn: History & Arrivals Experience
Post Ranch Inn: Tree House Room
Post Ranch Inn: Dining and Ranch Tour
Cathay Pacific Lounge SFO
Cathay Pacific B77W First Class SFO-HKG
Cathay Pacific The Wing First Class Lounge HKG
Cathay Dragon A330 Business Class HKG-HAN
Singapore Airlines A330 Business Class HAN-SIN
Planning a Maldives trip
W Maldives Transfer Experience
W Maldives Villa
W Maldives Dining
W Maldives Activities
---
People sometimes ask "apart from the beach and ocean, what's there to do in the Maldives?"
Well, that's kind of like asking "what's there to do at Six Flags apart from roller coasters?" I mean, you could eat yourself into a coma or get massaged into a pulp at the spa, but if you're the sort who doesn't like sun and sand, you're really going to get bored in the Maldives. 
After all, the Maldives is a place for snorkeling with the sharks, diving to explore wrecks, and soaking in the sunset on a yacht. It's where you form the kind of memories that will stick with you long after the trip's conclusion.
Your activities budget and experience will obviously differ depending on the resort you're at, but here's what we did at the W Maldives.
What activities are available?
The W Maldives has a handful of free activities open to all guests.
Daily fitness classes are held before breakfast, where you can do yoga, boxing, pilates and the like with the in-house instructor. These were sparsely attended, and very often became private sessions. In the evenings, you can also do sunset yoga or play beach volleyball. 
Snorkeling is free, and you can get masks, flippers and lifevests from the resort. Only traditional snorkel masks are available, so if you want the full face type you'll have to bring your own.  You can also rent kayaks and stand up paddle boards for free at the beachfront.
Unfortunately, everything else will cost you. Activities can be as "cheap" as a US$50 (remember to add 10% GST and 12% service charge to everything) one-hour marine biology presentation, to a US$5,000 full day whale shark trip. Never let it be said there isn't something for every budget.
Each of the activities is described in greater detail in this attachment.
There's no discount for pre-booking activities, and there's no bulk buy discount either. This is the sort of thing where the price is the price- steep, no doubt, but the cost of entry to a place like the W Maldives.
How do you book activities?
A few weeks before your stay, the concierge will reach out to you and ask if you'd like to pre-book any activities. We were put in touch with Karen Owens, who oversees activities at the W Maldives:
A must is to experience the glittering underwater world of the Maldives. The house reef is fabulous, very healthy, colorful and with a various abundance of life, the  reefs we visit either by snorkeling or diving are amongst the most pristine and sparkling in the country. We offer different snorkeling activities, from discover snorkeling for beginners to snorkel excursions by speedboat or even night snorkeling for the bravest.

We are also a registered PADI Dive center and offer introductory programs for beginners and dive excursions for certified divers to some of the most famous dive sites in the Maldives.

We have specific snorkel channels on the island, different access points designed to give to our guest the easiest way of snorkeling and swimming around W Maldives. The snorkeling set is complimentary and you can pick it up upon arrival,  keep it with you during all your stay and return it the day before your departure.

In regards to watersports, you can be agent 007 by trying the legendary Seabob, a submersible motorized torpedo, go jetskis on Wave Runner,  go parasailing and have a bird-eye view of the island and surrounding reefs, go catamaran sailing, and so much more.

We also offer a range of activities where you do not get wet at all, like the Glass Bottom boat, which enables to discover the underwater world from the comfort of its roofed seats.

We also have speedboats you can charter by the hour, go Big Game Fishing on "Cast Away", our luxury fishing limousine, enjoy our amazing sunset or private dinner onboard of our luxurious motorized sailing yacht Escape, or snorkel with the Whale Shark on board of Silver Rider, our Princess 42 speedboat. It's also possible to do Dolphin Encounters with this boat: a combined dolphin watching and sunset experience.

I have attached our price list and activity menu for your convenience, and if you have not done yet so, don't hesitate to visit us at www.downunderandwave.com
You can also book activities when you're there at Down Under. The regular schedule is subject to change, so it's always best to confirm with the staff what activities are running the particular week you're there.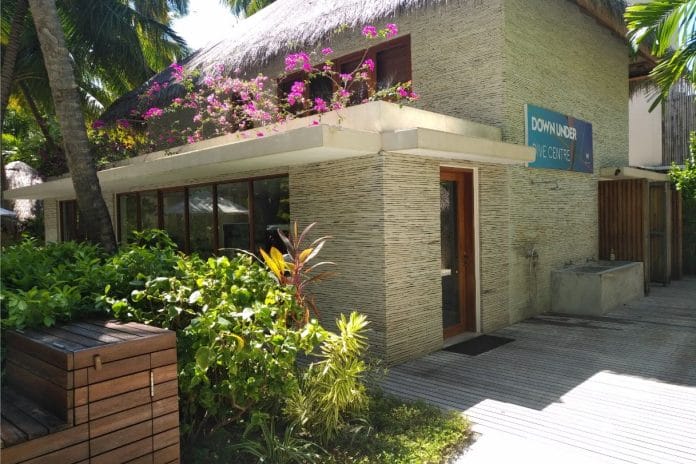 We figured there was little point doing things like parasailing or jet skiing, because we could do those for much less at any other beach destination. Similarly, we weren't about to blow a few thousand on a boat rental, and neither of us felt like learning how to scuba.
What we came to the Maldives to do was snorkel, and a lot of it. So we looked for activities that would let us visit different spots and see different things. Here's what we ended up doing:
Snorkeling trip by speedboat (US$100 per person)
Night snorkeling (US$90 per person)
Marine Bio Adventure on Escape (US$170 per person, replaced by Sea Bob, see below)
Kayaking (Free)
Photo shoot (US$200)
Snorkeling trip by speedboat/ night snorkeling
Although the W has an amazing house reef, the speedboat snorkeling trip can bring you to more remote locations (I realise how weird that sounds when talking about the Maldives)  to see wildlife you wouldn't find near the resort.
If you're thinking of doing this, be careful which day you choose. Depending on the day, the activity can take place from 2-4pm (murderous sun) or 10am- 12pm (hot, but not as bad). Remember, the seawater acts like a magnifying glass so even if you're submerged in the water, your back is going to bare the brunt of UV exposure. Getting a long-sleeved rash guard is highly advisable. The Milelioness didn't, and looked like a lobster for the rest of the month.
We went out on a small speedboat with another couple, and there was plenty of time to fully explore both sites we visited. That said, the ride out was very uncomfortable- a speedboat cutting through the waves at full blast is like riding a bus with very bad suspension. The bumps are hard, and it's not something those with sea sickness (or a bad back) will want to go through. 
The night snorkeling adventure was much more comfortable, as it starts at duskfall, so there's no sun to scorch you. You'll explore the house reef with a guide, and the wildlife that emerges at night is very different from that during the day. We saw many rays, a giant turtle that swam just feet from our face, unique fish and even a couple of reef sharks up close and personal. We were given underwater torches to use, and the guide really did most of the work- we just clung to her and floated along.
For an additional US$35, you can get a fluo light visor which lets you see bioluminescence, but you'll have to wear the traditional snorkel mask for that. The Milelioness and I prefer full face masks because they're easier to breathe plus they let you talk normally, so we passed.
Marine biology adventure
The marine biology adventure sounded exciting on paper- a cruise on the W's private yacht Escape, where we'd listen to an onboard presentation by the resident marine biologist. After that, we'd get a chance to snorkel and see some of the flora and fauna he'd been describing.

If nothing else, it seemed like the cheapest way to get to ride on Escape, so we signed up and thought we hit the jackpot when it was just the two of us. US$170 for a private yacht experience? Yes please.
Unfortunately, we had just boarded the Escape when we were told that the generator was down, and there was no cabin power available- this meant no air conditioning, and given the intense March heat, didn't sound particularly appealing. They still gave us the option of going ahead with the tour, but we decided against it.
In the end, we went back to shore and the marine biologist gave us a very interesting presentation on the native wildlife. He'd been in the Maldives for a very long time and clearly loved his work, and it was fun to chat with him.
Karen was extremely apologetic about what happened, and insisted on comping us an alternate activity. She recommended the Sea Bob- think of it like a jetski, but one where you're in the water.
The Sea Bob goes as fast as 22 km/h, which may not sound very fast to those of us on land, but believe me you feel it when you're in the water. All in all, great fun. We each had one, and they weren't strict on the time limits.
If you're visiting the W Maldives, I'd still recommend trying to do the marine biology adventure. Apparently, it's not very well-attended so your odds of getting the whole boat to yourself are fairly high. I imagine that when things run properly, it's a nice way of spending 3 hours on a yacht without paying through the nose.
Kayaking
There were complimentary kayaks available for rental, and glass-bottomed kayaks can be rented for US$55. Although it sounded tempting to get one so we could see the fish and coral beneath us, we were glad we didn't.
That's because despite the clear water, the glass bottom of the kayak is scuffed after years of use, which obscures the view beneath it.  Moreover, the fish tend to cluster around the coral, and that's where you wouldn't be able to kayak near in the first place (it would damage the kayak)
We took a regular kayak out and the experience was just fine.
Photo shoot
This was completely unplanned, but on hindsight we're glad we did it.
All guests on the island are entitled to a complimentary photoshoot. The catch is: you only get one 4×6 printed photo for free. You'll need to pay for the rest.
The Milelioness and I booked our slot fully intending to only go with the one free photo. But we really liked the results of the shoot and didn't want them to go to waste. We were told that the full shoot usually cost US$400, but they'd give it to us for US$200.
Now, I know that's a fake discount- in all likelihood the real cost is US$200 and they just mark it up to give the illusion of a deal. But objectively speaking, we liked the 70 images and wanted a souvenir of our travels. So after a lot of thinking, we decided to just spend the money and show these photos at our 50th wedding anniversary.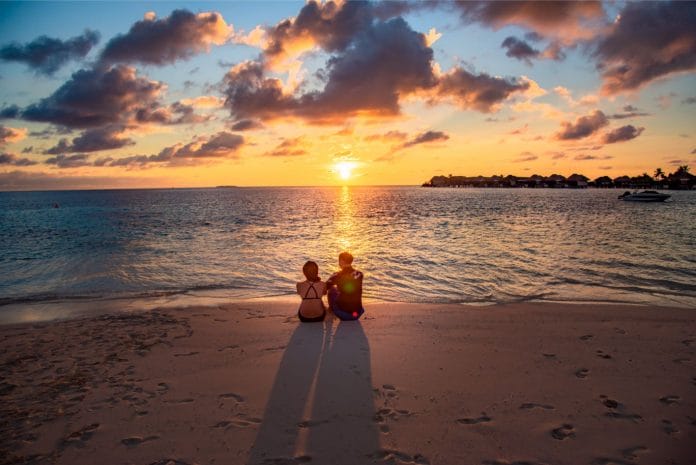 Say what you will about us getting upsold, but I still think we got off easier than my friend at the St Regis Maldives who paid US$75 for 5 photos.
Summary: W Maldives Activities
If you come to the Maldives expecting Phuket/Bali pricing for watersports, you're in for a rude shock. This definitely isn't the place to have your virgin parasailing experience; save it for a cheaper spot.
On the other hand, the snorkeling activities are reasonably priced, relatively speaking. There are also more sedate pursuits like a glass bottom boat tour (US$80/guest), or a sunset cruise (US$80/guest). Our total outlay on activities was US$714, although to be fair it would have been higher had the marine biology adventure gone ahead.
I know it's painful to see the bill, but put it this way: if you're paying for your hotel and flight with miles and points, see this as another place to redeploy the capital you'd otherwise have spent.
Conclusion
And so, six months after the Mileymoon was completed, I've finally finished all the trip reports! Thank you to everyone who has been so patient while waiting for the next installment.
If you're looking to do the W Maldives, I'm sure you may have questions that I didn't address. No worries- just shoot a comment here or via the contact us section and I'll shed light on whatever I can.
I'd heartily recommend the W Maldives for anyone's first visit to the Maldives, although the equation obviously changes if you don't have Marriott points and elite status. Be sure to have a read of my Maldives planning post, where I detail some ways to save money on the notoriously expensive accommodations.
Look out for a new and exciting trip report next week!