The Mileymoon: Introduction
Singapore Airlines B787-10 Business Class SIN-DPS
St Regis Bali
Banyan Tree Ungasan Bali
JetQuay CIP Terminal Changi
Cathay Dragon A321 Business Class HAN-HKG
Cathay Pacific The Pier First Class Lounge HKG
Cathay Pacific B77W First Class HKG-SFO
Post Ranch Inn: History & Arrivals Experience
Post Ranch Inn: Tree House Room
Post Ranch Inn: Dining and Ranch Tour
Cathay Pacific Lounge SFO
Cathay Pacific B77W First Class SFO-HKG
Cathay Pacific The Wing First Class Lounge HKG
Cathay Dragon A330 Business Class HKG-HAN
Singapore Airlines A330 Business Class HAN-SIN
Planning a Maldives trip
W Maldives Transfer Experience
W Maldives Villa
W Maldives Dining
W Maldives Activities
---
One thing you'll soon learn about the Maldives is that food isn't cheap. You're a captive audience, there's a 10% service charge and 12% GST on everything, and it's not exactly economical to ship supplies to the middle of nowhere. All this means that a decent lunch for two will run you about US$80-100, and a dinner with wine about US$180-300, depending on how expensive your tastes are. 
That's why it's so important to come to the Maldives with a food strategy in mind. You can pay for your flight with miles and redeem your hotel with points, but when it comes to meals, you're going to have to rely on good old fashioned budgeting.
Here's the dining options available at the W Maldives, which ones we liked, and how much damage you can expect.
Budgeting for food
We spent a total of US$850 across five days on F&B at the W Maldives, but your figure will vary dramatically depending on your tastes, and whether you're a Marriott elite member.
That's because Marriott elites get F&B discounts under the Members Dine More program. As a Platinum member, I got 20% off all F&B (which basically offset the service charge and GST), including alcohol. I also received free breakfast for two people every day of our stay.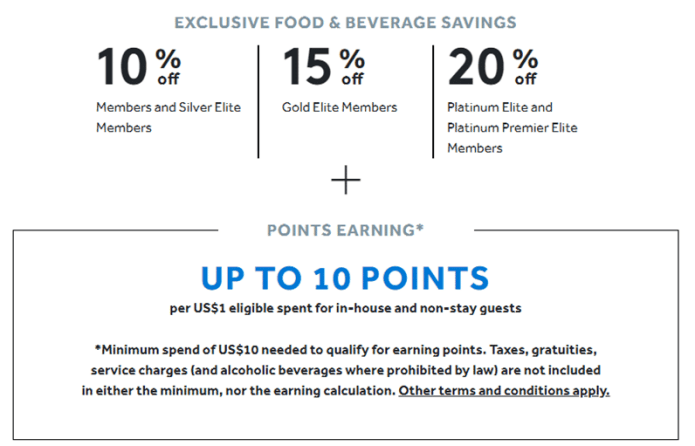 Our strategy then was to eat a big breakfast later in the morning, share a pizza for a lunch if we got hungry (US$32-37), then pig out at dinner. This helped us keep our average per meal cost at a very reasonable US$28 per person, which is pretty incredible, considering where we were.
As Platinum members, we were also invited to an evening reception where champagne and canapes were served. You can expect these receptions on average once a week.
My favourite canape was the squid ink crackers served with tuna tartare. It's not quite a dinner-replacement for those with large appetites, but it definitely can fill up those with smaller ones.
Long story short, if you've got Platinum or higher status with Marriott Bonvoy, it's perfectly possible to keep a reasonable lid on F&B expenses while not going hungry. If you're a Gold member, you won't get free breakfast, but you'll at least save 15% on F&B. Gold status comes free with the AMEX Platinum Charge, so be sure to upgrade your Marriott Bonvoy account as soon as you get your card.
If you don't hold any status with Marriott, then you may be considering half or full board packages:
Half board (breakfast & dinner): US$216 per person per day, including taxes
Full board (breakfast, lunch and dinner): US$290 per person per day, including taxes
These packages cover food only, not beverages, and can be used for a daily three-course meal from the a la carte menu at Kitchen, Fish, and FIRE, when it's open. Chef's specials and premium food like wagyu, kobe, tomahawk, oysters, lobster, foie gras, caviar and tiger prawns are explicitly excluded from the half/full board plans, and themed evenings and in-room dining aren't covered either.
I get that half/full board plans provide some certainty around F&B expenditures, but really, even without status you're much better off paying a la carte prices. The breakfast buffet alone costs US$44, so you'd have to eat a US$172 dinner (half board) or spend US$246 on lunch and dinner combined (full board) to get your money's worth.
All guests at the W Maldives regardless of status will enjoy the following freebies.
Popsicles and ice cream
The swimming pool offers free popsicles (1 p.m) and homemade magnum ice cream (4 p.m) during the day, which can tide you over till the next meal. The homemade magnums are a particular highlight, and you owe it to yourself to have more than one.
Help yourself mini-fridges
Scattered around the resort you'll also find fridges stocked with apples, parfaits and Twisst non-alcoholic "gin and tonic". Help yourself to as many of these as you like.
Housekeeping treats
You can expect housekeeping to drop by your room with various freebies through the stay, like coconuts and pastries. There seems to be no discernible pattern to this, but you should get at least one every two days.
Ladies night
Alcohol in the Maldives is expensive, but there are ladies nights at the resort. The Milelioness got two complimentary drinks coupons slipped under the door of our villa for use at SIP.
W Maldives Restaurant Options
The W Maldives has a total of three restaurants and two bars.
Restaurants (menus in links)
Kitchen: the all-day dining venue, where breakfast, lunch, and dinner are served. Both ala carte dining and a buffet option are available
Fish: one of two specialty restaurants, which specializes in, you guessed it, locally caught and imported seafood. Open for lunch and dinner.
FIRE: the other specialty restaurant, which specializes in meats. Open for dinner only.
Bars
WET: the poolside bar, which serves a selection of light bites from Kitchen
SIP: a more glamorous bar with a great view of the sunset. Light bites include sushi and sashimi, served from Fish
All restaurants have a smart casual dress code, but this is the Maldives so there's really no need to worry about packing your Sunday finest. People were sauntering into Fish and FIRE wearing shorts and sandals, and no one said a word.
Kitchen
The breakfast buffet is served at Kitchen from 7 am to 10.30 am each morning. Kitchen has both indoor and outdoor seating, but the Maldives sun gets very fierce from 9 a.m onwards so you may want to keep that in mind.
The spread at Kitchen features a little bit of everything. It's not quite the crazy variety you'd find at a typical Asian five star hotel, but it's pretty commendable for a place where everything needs to be hauled in by plane or boat.
The selection rotated daily- on some days, there was pork bacon, on other days, they brought our turkey. On some days, they did passion fruit french toast, on others, blueberry. If you really liked something you saw yesterday which wasn't available today, the staff were only too happy to prepare a special order just for you.
You can expect standard fixtures like an egg station, made-to-order noodles (with chicken or beef soup), homemade breads and pastries, waffles and french toast, four Asian and four Western hot items that rotated daily, a meat carving station (which had amazing char siew on the final morning, I'm not even kidding), Indian food items, dim sum (best avoided), fruits, cereal, salad, yogurt, and fondue. There were always freshly squeezed juices, and some interesting mixes.
In addition to the buffet there is a small a la carte menu to choose from. If you really don't see anything you like, don't be afraid to ask. The staff can and do make special orders for picky eaters.
There's also a few nods to the whole W "five o'clock somewhere" vibe, with sparkling wine and other eye openers available at a push cart bar.
The cava sparkling wine isn't going to win any awards from Robert Parker anytime soon, but given how expensive alcohol is in general in the Maldives, it's great that you can frontload your drinking for free in the morning.
Breakfast at Kitchen won't be all out luxury (my friend was staying at the St Regis Maldives at the same time and made it a point to send across photos of lobster omelettes decorated with caviar), but it'll be very good still. It says a lot that we had five breakfasts at the W Maldives, and I always looked forward to it each time.
Fish
Fish was a story of two dinners. The first time we visited, we were thoroughly disappointed.
We chose the Ocean to Table menu, which cost US$320 for two people (note how you'll need to pay an upcharge if you're a half or full board customer, which only further reiterates how bad a deal it is).
The menu was entirely underwhelming. The raw and cured starter consisted of oysters, tiger prawns, yellowfin tuna tartare and assorted nigiri. I didn't expect it to taste like it was flown in fresh each day from Tsukiji market, but I didn't expect it to taste like convenience store sushi either.
The rice (which any chef will tell you is at the heart of nigiri) was bland and hard, the fish wasn't particularly fresh, and the wasabi was the imitation play dough kind, not the pungent fresh ground root that finer establishments use. The oysters were served warm, and in retrospect we were fortunate not to get food poisoning.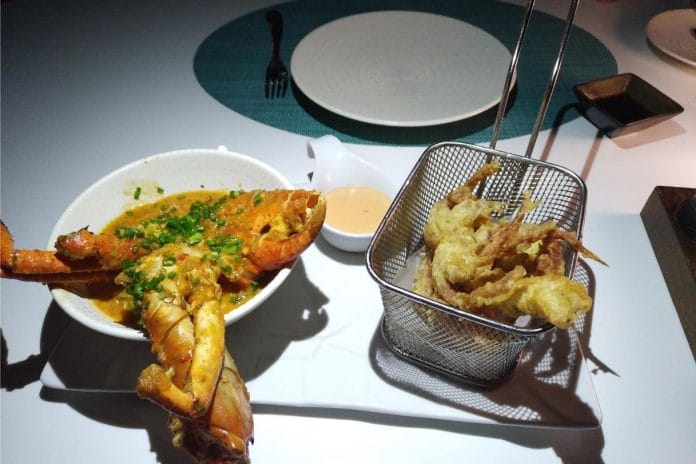 The other starter was a mix of soft shell crab tempura and chilli crab. The soft shell crab was pleasant enough, but let's face it- any chili crab outside of Singapore is always going to be disappointing.
The main attraction was a table top grill of Maldivian lobster, reef fish, calamari, tiger prawn and vegetables. I thought this might be a good sampler of local seafood, but it probably wasn't a good sign when the whole thing came piled up like a messy car crash. Despite the local sourcing, the lobster had the unmistakable mushy taste of a crustacean that had been dead for too long. The reef fish was tough and overcooked, and the only saving grace were the prawns which had a delightful sweetness to the flesh.
We went away feeling completely short-changed, but decided to give it one more shot and were so glad we did.
The second time we went back, Fish was doing a themed night called "Serve Me Lobster".
Compared to our previous visit, this menu blew us away.
The amuse bouche was lobster ceviche and lime foam. The raw lobster flesh had an amazing natural sweetness that was complemented spectacularly by the lime foam.
A poached chilled lobster was then served as an appetizer, with tomato and strawberry confit. It's one of those things that sounds like it shouldn't work, but it did. A tiny amount of caviar and a dollop of squid ink gave the dish a startling black hue.
The menu then went from cold to hot, as an Asian lobster bisque was served. Ginger and coconut (two flavors I really dislike) were featured strongly in the broth, so it says a lot that I drank it all and licked the bowl clean.
The main course came in three parts. A lobster tortellini began proceedings…
…followed by a steamed lobster with bok choy…
…and finished with a traditional butter poached lobster tail. Each dish was excellent, and again, there wasn't a hint of mushy lobster here. I really wondered where they'd been keeping this lobster the last time we visited.
You know a menu is trying hard when they serve a "pre-dessert" before dessert. Pecan tart with pear and goats cheese was brought out and duly finished.
By this time we were stuffed, but there was still one more course to go: mochi ice cream, yoghurt jelly, and meringue.
And after the bill was paid, they brought even more sweets, just because.
I'm glad we gave Fish a second chance- if you're planning a splurge night, save it for the lobster menu.
FIRE
FIRE is only open for dinner, and only on certain days, so be sure to check with the concierge when you first arrive to plan your visit accordingly.
As a concept, FIRE serves as an interesting counterpoint to Fish. Fish focuses on the sea, FIRE on the land. Fish is about local produce, FIRE is about flying in the best cuts of meat from around the globe. Fish is built on stilts rising out of the water, FIRE is a beachfront restaurant with tiki torches, fairy lights hanging from the trees and shoeless dining. 
For our one dinner at FIRE, we ordered a Riverine 250 gm Rib-eye (US$84) and BBQ style pork spare ribs (US$46). This came with complimentary sides of mashed potato with black truffle, sauteed broccoli, a garden salad and asparagus.
The ribeye steak was pretty good, considering where we were. I would have preferred a bit more color on it, but taste-wise it was spot on.
The pork ribs were another matter altogether. You know how good pork ribs should just fall off the bone with the slightest provocation? Well, these ribs were really, really dry and bland.
We mentioned this to our server, and he brought out the chef who was super apologetic and insisted on comping us another item, a beef rib with chimichurri sauce. This was much better than the ribs, and I think you're going to want to stick with the beef options at FIRE.
Overall thoughts on service
Service is incredible throughout the property, and the restaurants are no exception. However, take note that although you have free filtered water in the room, you won't get any at the restaurants (and you're not allowed to bring it from your room). Either you drink up before dining, or you pay US$10 for a glass bottle of Evian.
We really appreciated the staff going out of their way to make each meal special, whether it was service recovery or making adjustments to dishes. The only negative service encounter that comes to mind was at Kitchen.
One afternoon we were at the pool and ordered our usual late lunch of a pizza. Because it was roasting hot, we decided to flee to the air conditioned comfort of Kitchen instead, and asked the pool staff to send it there. When we entered Kitchen and sat down, a waiter tried to take our order. When we explained that we already ordered at the pool and they were sending the food here, he made a sour face and said that if we ordered at the pool we would need to eat at the pool, because it counted towards WET's revenue and not Kitchen's.
I was pretty taken aback, not in the least because I don't think it's the customer's concern how a property allocates its P&L! I told him I didn't understand because WET got all its food from Kitchen anyway, but the more we spoke the more upset he got.
Eventually we just stood up and left Kitchen, and headed back to the pool where the staff were incredibly apologetic. They poured some complimentary drinks for us and promised to get the F&B manager to speak to us later.
He met up with us, apologized about the whole incident, and sent a bottle of champagne to our room. It was a nice gesture, although it arrived on the morning of the last day and we couldn't take it off the resort, so we just returned it.
Conclusion
All things considered, our Maldives F&B expense wasn't as bad as I feared. I had heard horror stories about couples who just signed everything to the room and got bill shock upon checkout, but fortunately that didn't happen to us. Don't get me wrong- US$850 on five day's worth of meals is still a lot of money, and I wouldn't dream of spending that in Singapore. But you need to adjust your perspectives a bit for a place like the Maldives, where a simple meal will cost you the equivalent of a fancy meal back home.
In the final W Maldives post, I'll talk about resort activities, both paid and free.