The Mileymoon: Introduction
Singapore Airlines B787-10 Business Class SIN-DPS
St Regis Bali
Banyan Tree Ungasan Bali
JetQuay CIP Terminal Changi
Cathay Dragon A321 Business Class HAN-HKG
Cathay Pacific The Pier First Class Lounge HKG
Cathay Pacific B77W First Class HKG-SFO
Post Ranch Inn: History & Arrivals Experience
Post Ranch Inn: Tree House Room
Post Ranch Inn: Dining and Ranch Tour
Cathay Pacific Lounge SFO
Cathay Pacific B77W First Class SFO-HKG
Cathay Pacific The Wing First Class Lounge HKG
Cathay Dragon A330 Business Class HKG-HAN
Singapore Airlines A330 Business Class HAN-SIN
Planning a Maldives trip
W Maldives Transfer Experience
W Maldives Villa
W Maldives Dining
W Maldives Activities
---
After two wonderful weeks in the US where we sampled wines in Napa, savored the majestic beauty of the Pacific Coast, and went theme park hopping in Anaheim, it was time to head over to the Maldives for Part 2 of the Mileymoon (or Bunnymoon, as I sometimes call it given the carrot-shaped route).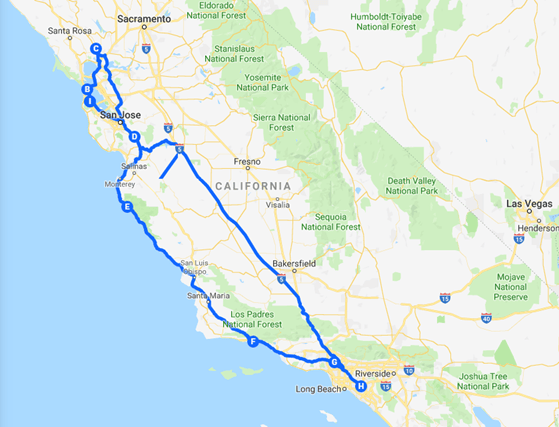 The plan was to fly SFO-HKG-HAN-SIN-MLE, not a simple routing by any means, but necessary due to the nature of the Cathay mistake fare. We'd be flying 11,000 miles across four flights in a 24 hour period, but hey, at least we wouldn't be at the back of the plane.
I've flown out of SFO countless times, and find it to be one of the most stress-free US airports to depart from. There were no problems checking our bags through to Singapore (I wanted to offload some things at Changi, otherwise I think I might have been able to check them through to Male even) once we gave the staff our connecting flight info.
We then went through a painless security screening (having PreCheck really helps), and just like that, we were in the departure area. The Milelioness was shocked that the US didn't have exit immigration, and she's not alone apparently. There's legislation afoot to add exit tracking, but there's a ton of logistical and infrastructure issues to consider before it can be implemented so I wouldn't count on seeing it anytime soon.
Cathay operates a joint First and Business Class lounge at SFO. The facility received a makeover in 2015, which expanded its footprint from 5,500 square feet to 9,200, and increased its capacity to 175 guests. Since the lounge was relatively new (it originally opened in 2011), Cathay opted not to give it the same Studiollse makeover that The Pier in HKG and other lounges in Bangkok, Manila and Haneda have had.
Cathay's lounge is located in International Terminal A, and is easy enough to find, located down a corridor with some vintage Cathay photos lining the wall. The lounge is open from 9am to 1am daily. Unfortunately, it's not possible to hop over to the AMEX Centurion Lounge in Terminal 3.
The lounge is a combined facility, and it's a bit of a shame that Cathay hasn't set aside a special corner just for First Class passengers (like what Qantas does at its lounge in Changi Terminal 1). Your lounge experience as a First Class passenger will be no different from that of a Business Class one, and while it's a pleasant place to pass time, it's not the sort of lounge that warrants getting to the airport early for.
The good news was that seating was in abundance, with Cathay's distinctive semicircle cubicles for working, recliner chairs for catching up on some rest and regular armchairs for reading and socializing. The lounge has good views of the tarmac, but you won't see too much at night.
There's a large dining area in the middle of the lounge with both communal and individual tables. If you're the kind who absolutely needs a seat with a back, you might not like this area because the majority of the chairs were the bar stool kind.
Rounding out the lounge is a business centre with seven computer terminals and on-demand printing.
The buffet was serving dinner when we arrived, with a selection of cold cuts, salads, sandwiches, as well as five hot dishes. If you're arriving early at the lounge, be advised that they only put out the "real" food a few hours before Cathay Pacific flights depart, so you can expect to see food at around 8 pm.
A small self-serve bar had a mixture of hard liquor and wines on ice. There was a small selection of juices as well.
No champagne here, but a choice of Jean-Charles Boisset No. 21 or Mirabelle Brut Rose. The JCB is from France and the Mirabelle is from Northern California.
You'll also have the usual assortment of soft drinks, chips and fruit.
Although I wouldn't call any of the options gourmet cuisine, it was a relief to get Chinese food after two weeks of abstinence.
Cathay also has its signature noodle bar in this lounge, with a choice of wanton noodles or dan dan noodles. The wanton noodles were very disappointing, as the noodles were cooked to death and the broth was tasteless, like drinking hot water. I even gave them two tries- the second time round, I asked the lady if she could cook the noodles for a shorter period of time. She looked super confused at this request, and I think it didn't get through because the noodles were just as limp the second time round.
The dan dan noodles weren't much better. Despite the broth's fiery appearance, it was likewise bland with an overpowering taste of peanut. While I appreciate the option for made to order food, this noodle bar just didn't do it for me.
Although the food may not be great, it's hard to argue with the condition of the shower rooms. They were immaculately clean, very spacious and had great water pressure.
While the Aesop bath products flow freely at Cathay's home lounges, this lounge only had nondescript amenities in stainless steel pump dispensers.
Conclusion
Cathay's SFO outpost obviously can't hold a candle to its lounges in HKG, but it's a comfortable enough place to wait for a flight. One hopes that Cathay takes a look at the quality of the noodle bar, because what was served really didn't do credit to Hong Kong cuisine.