If there's one thing I wish we had in Singapore, it's more disaggregated credit card points information. As it is, most banks only provide a card-level points figure, and some only show the consolidated balance across all cards!

This becomes a major problem when you want to reconcile bonus points. How do you know which transactions did and did not earn a bonus? Without a transaction-level points breakdown, you're going to have to trust that the bank's systems are properly capturing and crediting bonus transactions, or call them up and spend a lot of time manually going through transactions with the CSO.
I dream for the day when we'll have something like this…

…but until then, here's the banks which make it slightly easier to track points without getting on the phone.
American Express
Login to your AMEX account
Click on "Use Points"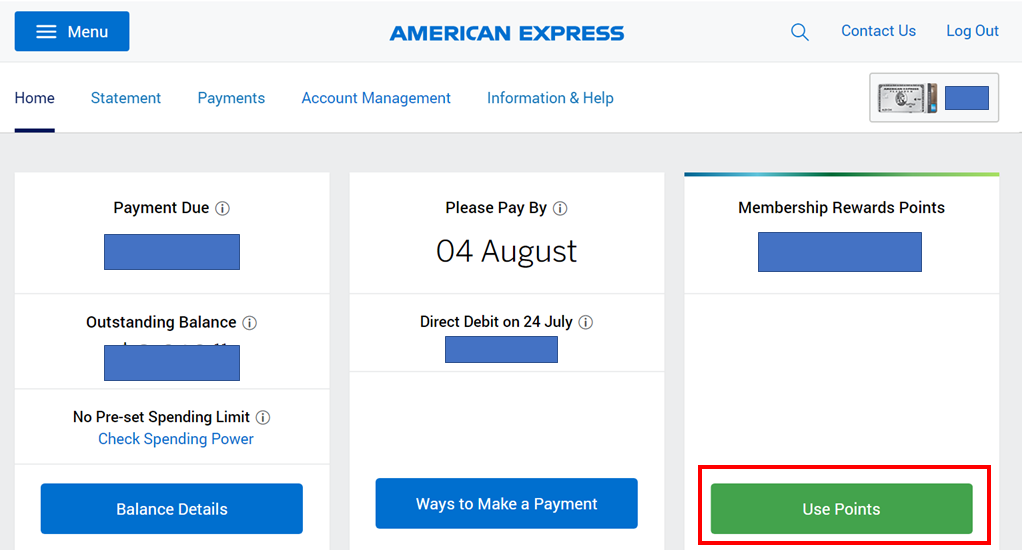 3. Click on "My Points"
4. Use the drop down menu on the left to see points breakdowns for different AMEX cards. Only past 90 days is available.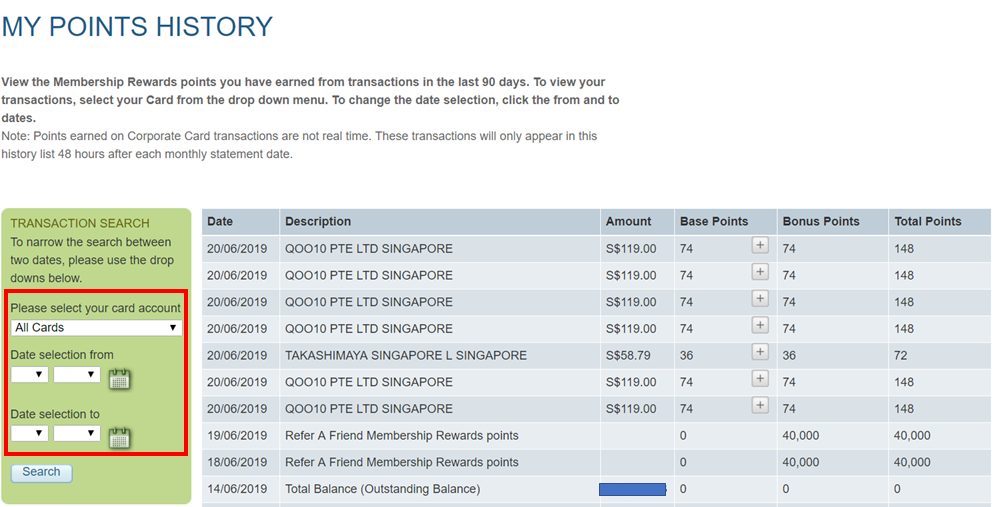 Citibank
Login to your Citibank account
Click on "Review rewards balance now"
3. Click on "Rewards Redemption" next to the card account you wish to view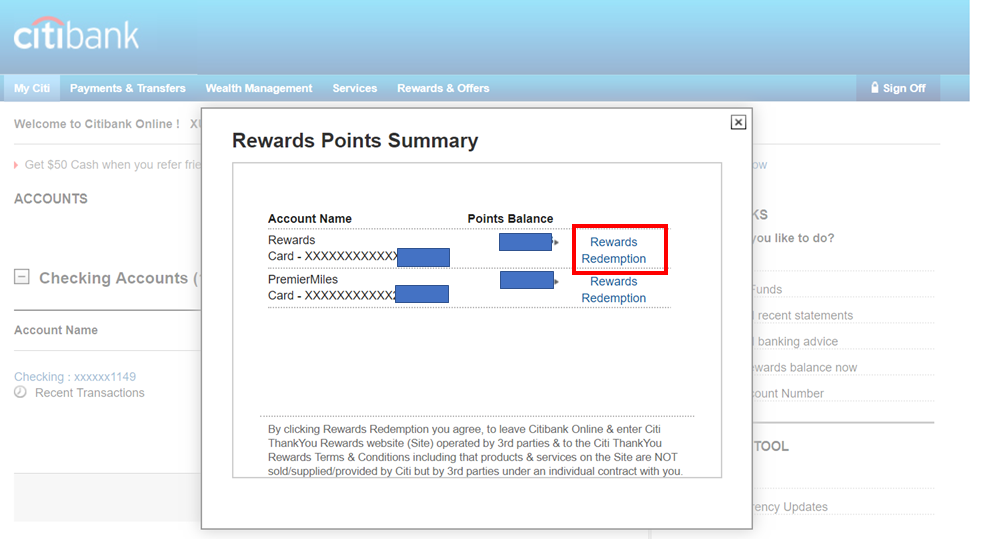 4. Hover the mouse over your name and points balance on the top right hand corner. Click on "My Points Summary"

5. You can view your points breakdown all the way back till the date you opened your account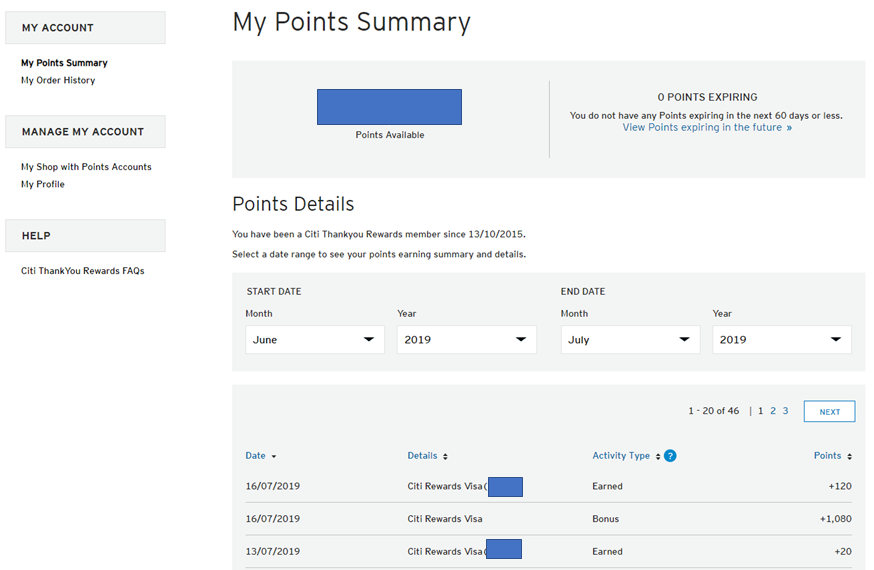 Reminder: For 10X points on the Citi Rewards Visa/Citi Rewards Mastercard, both the base 1X and the bonus 9X will post together with the transaction
Note: While Citibank offers a more detailed points breakdown than other banks, it's still far from ideal. That's because they consolidate all transactions that post on the same day- meaning that unless you obsessively use your card for one thing and one thing only, it may be difficult to distinguish which transaction specifically earned 10X
DBS
Login to your DBS account
Click on the Virtual Assistant icon at the bottom right hand corner
3. Type "rewards enquiry" and click "view rewards"
4. Click "Points By Card"
5. Select the card in question
6. Select "Yes"
7. You will now see the points awarded per transaction. Click on "see more" to populate additional entries
Reminder: 
For 10X points on the DBS WWMC, 1X (or 3X, for foreign currency transactions) is posted with the transaction, and the remaining 9X (or 7X, for foreign currency) is posted the following month. For 3 mpd on the DBS Altitude AMEX/Visa, 1.2 mpd is posted with the transaction, and the remaining 1.8 mpd is posted by the 16th day of the following calendar month
Note: For the bonus points component, you're going to want to look for a consolidated entry labelled "Ecom" (e-commerce). Unfortunately, it's not disaggreagated, but it still helps in the sense that you can match it to the bonus you expect to see. If it matches, great! If not, you'll have to figure out what went wrong by guess and check or calling up the CSO.
OCBC
Login to your OCBC account
Hover your mouse over "Rewards", then click "Rewards"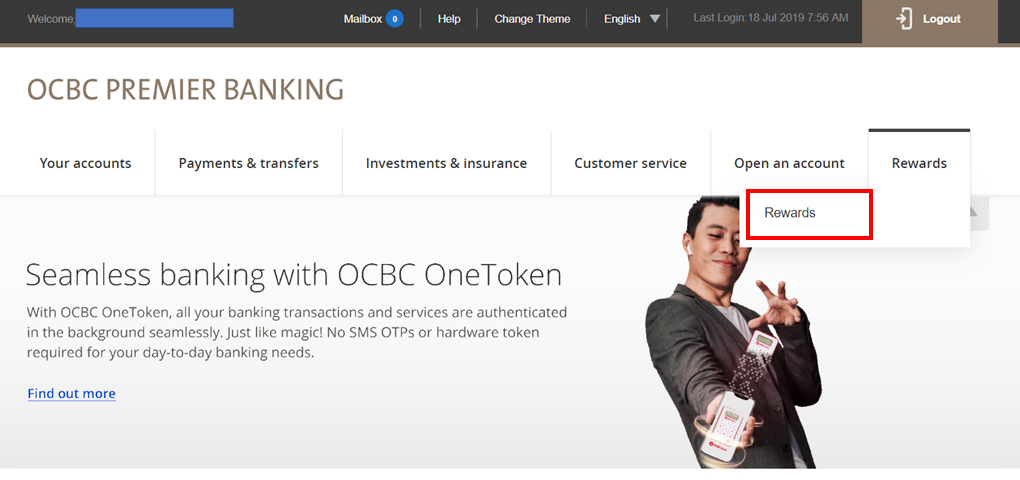 3. Click on "Transaction history"
4. Click on the reference number of the transaction you want to investigate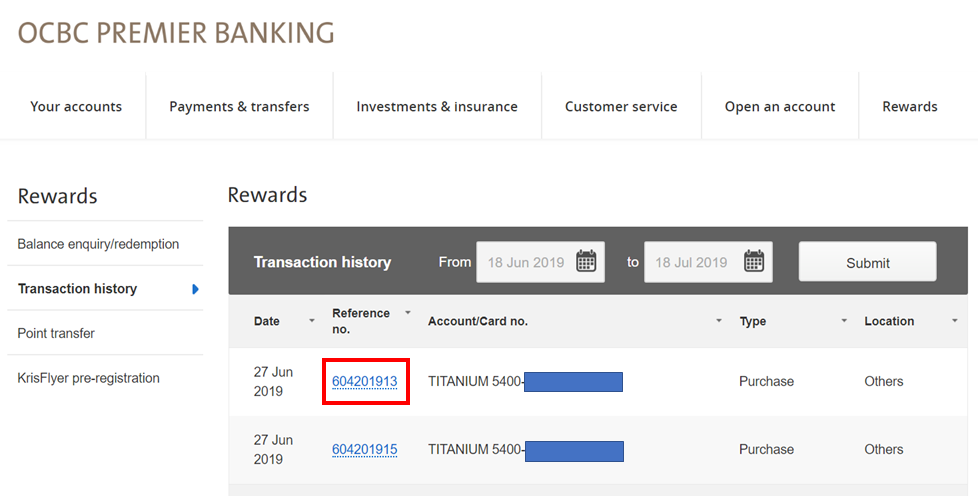 5. Scroll down and see the points awarded on this transaction
Reminder: For 10X points earned on the OCBC Titanium Rewards card, 1X is posted immediately with the transaction, and 9X posted by the end of the next calendar month
Standard Chartered
Login to your Standard Chartered account
Click on "View Points History"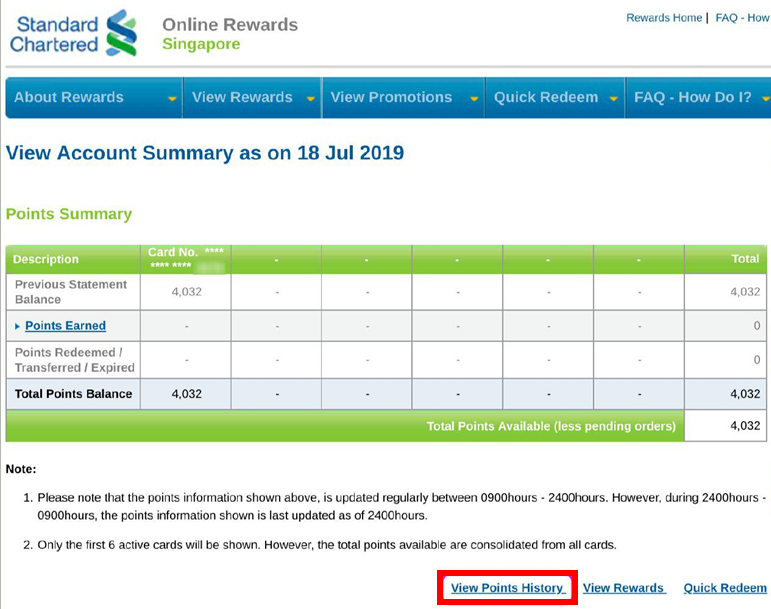 3. Rewards points can be viewed for the past two months
Reminder: The SCB Visa Infinite earns 1 mpd on local and overseas spending. A bonus 0.4/2 mpd for local/overseas spending is awarded if the cardholder spends at least $2K in a statement cycle. This bonus will be credited within 5 days after the end of the statement cycle
Conclusion
You'll notice I've not mentioned Maybank, HSBC, UOB, or Bank of China. That's because these banks don't provide any points breakdown online- you'll have to call them up if you want to check your bonus points.
I realise it's probably not a high-priority focus area for banks, but I do hope that we get greater transparency in points breakdowns in the near future. If nothing else, it'll save the banks a lot of CSO man hours.