After months of deliberation, I finally decided to pull the trigger and get the Citi Prestige card in May last year.
The $535 annual fee stung, and in fact was the first time I'd ever paid so much for a card (well, until a certain AMEX came along…), but I reasoned I'd earn it back through the card benefits. Besides, I was about to change careers and take a pay cut, and figured I should get whatever high SES cards I could while it was still possible.
Barely 12 months later, I've decided to cancel it. Here's my thought process.
Complimentary airport limo transfers got nerfed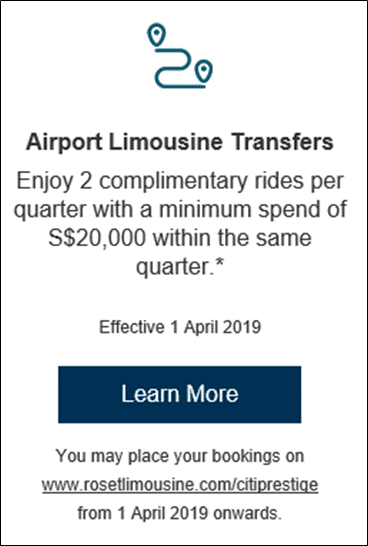 In April this year, Citi changed the T&Cs of its limo benefit dramatically. In the past, spending S$1.5K per quarter in foreign currency unlocked four complimentary trips. With the change, you now need to spend S$20K quarterly to unlock two complimentary rides. That's right, the allowance was cut in half, and the spending requirement raised 13X.
This change led me to conclude that for all intents and purposes, the Citi Prestige doesn't have a limo benefit anymore. If I need one, I'll use my UOB PRVI Miles AMEX, which allows me to unlock two rides with S$1K foreign currency spending in a quarter.
Which credit cards offer complimentary airport limo transfers? Read the analysis here
Unlimited lounge access is covered by another card
The Citi Prestige comes with a Priority Pass that gives unlimited visits for the principal cardholder and one guest, but I already have this benefit covered through the AMEX Platinum Charge. What's more, the AMEX Platinum Charge also gives my supplementary cardholder an unlimited visit Priority Pass with one guest benefit.
In addition to Priority Pass lounges, the AMEX Platinum Charge also gives me access to the Centurion Lounges and Delta Sky Clubs, and because of that, there's really no reason to keep the Citi Prestige for lounge access.
25,000 miles per year are useful, but I don't need to buy miles at the moment
Paying the annual fee on the Citi Prestige gives 62,500 ThankYou points per year, or the equivalent of 25,000 miles. At a 2 cent valuation, this is worth approximately $500.
Some may argue that the recent KrisFlyer devaluations mean miles shouldn't be valued at the traditional 2 cent mark anymore, but that's forgetting Citi has the widest variety of  transfer partners among all the banks in Singapore.
Not only do you get the usual KrisFlyer and Asia Miles, you also get access to programs like British Airways Avios, Turkish Airlines Miles & Smiles and Etihad Guest. That's why I'm perfectly willing to maintain my valuation at 2 cents where Citi cards are concerned.
The thing is, I'm currently at a point where I don't feel the need to pay out of pocket for miles. Now that I run my own business, I can generate a healthy flow of miles each month through business expenses. That's why I've not jumped on any of the great miles buying opportunities that currently exist in the market.
Best opportunities to buy miles in Singapore
If I need to earn "exotic" points currencies, I'll just use my Citi Rewards Visa or Citi Rewards Mastercard (especially now that it gives 10X on all online purchases).
I never used the Fourth Night Free benefit
When I first got the Citi Prestige card, I reckoned that I'd easily earn back the annual fee by using the fourth night free benefit (4NF).
It sounds great on the surface: book any hotel in the world for a minimum of four consecutive nights, and get the average nightly pretax rate refunded. What's more, the refund is on the back end, so you still earn elite night credits and points for four nights.
But in my 12 months of membership, I've used the 4NF benefit exactly 0 times.
It wasn't meant to be like this. When I got the card, I figured I'd use it for business travel. Then I switched careers, which marked the end of traveling on someone else's dime. For personal travel, I'm more inclined to use some of the hotel points I accumulated during the incredible AMEX-Hilton transfer bonus we saw last year, or my leftover Marriott stash from consulting days.
Come to think of it, if points burning opportunities are not available, I'm more likely to look for an AirBnB or try my luck with a Hotwire/Priceline reservation. I did consider using the fourth night free benefit at the Post Ranch Inn, but it was already painful to pay for two nights, and I just couldn't bring myself to pay for a third, even if it meant a free night.
It's also worth nothing that the 4NF benefit has been capped to two uses per year for Citi Prestige cardholders in the US, and although the Singapore benefit remains uncapped for now, you have to consider the possibility it may happen here.
Complimentary CDW coverage is no longer offered
When I was reviewing the complimentary travel insurance policies offered by different credit cards, I realised that the Citi Prestige had one great benefit- Collision Damage Waiver (CDW).
For the uninitiated, CDW is basically rental car insurance. In the US, buying CDW can cost you US$15-25 additional per day, which can really add up on long trips (your regular travel insurance may cover rental car damage, but most likely up to $2 or 3K maximum).
The CDW coverage wasn't a benefit from Citi Prestige per se. Rather, it was from Mastercard and available to all World Elite Mastercards. This contract gets renewed every year, and the latest version (effective 1 April 2019) does not have CDW anymore.
It's not Citi's fault this happened, obviously, but it is one less thing going for the card. If you're looking to get additional rental car coverage, try third party providers– it's much cheaper than buying from the car company itself.
Conclusion
In a big way, part of the reason why I'm not renewing the Citi Prestige has to do with my recent acquisition of an AMEX Platinum Charge, which benefits I feel either overlap with or supersede those of the Prestige.
Yes, I know it's not an apples to apples comparison- the AMEX Platinum Charge's annual fee is more than 3X that of the Prestige. It's just that if you've decided to pay the $1,712 Platinum Charge fee, there's very little reason to pay for the Citi Prestige too.
This isn't a rage quit because of what happened with the limo benefit. I'm cheesed off with what happened there (and the way the news was broken- "enhancement", really?), but in the cold light of day, even without a limo benefit the Citi Prestige remains a compelling offering at its price point.
My decision not to renew is born more of a realisation that I wasn't getting my money's worth. Don't get me wrong- if you find the AMEX Platinum Charge's fee too expensive, regularly use the 4NF benefit, love the 1 for 1 gourmet dining offers and use the golfing benefits, the Citi Prestige card can still work for you.
As for me, I only have the appetite for one high-end card, and that role is currently filled.