If you've ever installed new software on old hardware, you'll know firsthand the challenges inherent in the process. 
The software is chock-full of ideas, concepts and potential. It's raring to push the boundaries of what's achievable. But it makes these demands of a system that was built before such things were even conceived, and sooner or later you'll find that though the spirit is willing, the CPU is weak. 
I think that's an apt analogy for the Oasia Resort Sentosa, which has just opened its doors to the public. 
This property was built in the mid-1990s as the Sijori Resort Sentosa, a hotel-cum-members club. It was then redeveloped into the Treasure Resort Hotel in 2007, before Swiss hospitality firm Movenpick took over management in 2011 and redubbed it the Movenpick Heritage Hotel. Marriott International then assumed operations in 2016 through its Le Meridien brand all the way till October 2020.
Oasia is the fourth name on the masthead in 14 years, and the constant turnover begs the question: is this hotel simply the hospitality equivalent of the drummer from Spinal Tap? Or can Far East Hospitality finally stick the landing with their attempt at a wellness resort? 
🏨 tl;dr: Oasia Resort Sentosa

While it has the potential to be a refreshing, exciting take on a wellness hotel, the Oasia Resort Sentosa is regrettably held back by its tired and dated rooms.

👍 The Good

👎 The Bad

Fun, varied activities that fit well with the resort's theme

Bedrock Origins is excellent

Competitive opening packages

Solid spa experience

Tired and unexciting rooms which have seen better days 

Small gym in need of upgrading
Booking an Oasia Resort Sentosa Staycation
To mark the hotel's soft opening, Oasia Resort Sentosa is offering American Express Platinum cardholders a S$688 nett (weekdays)/ S$788 nett (weekends) rate for two nights in a Junior Suite, inclusive of:
Daily breakfast for 2 adults
Choice of 1 Oasia Spa treatment per stay (worth S$300):

60-minute Oasia Signature Massage for 2 
60-minute Spa Ritual Scalp Massage and Foot Massage for 2
30-minute Jojoba & Bamboo Scrub for 2     
Kotoshina Facial with Cryro Facial Add-on for 1   
Kotoshina Facial and 60-minute Massage for 1

Personalised wellness amenities including Oasia Herbal tea, choice of 5 items for Wellness Minibar, natural handmade scented balm by Oasia Spa, and Oasia Wellness Journal
One-way arrival limousine transfer
S$100 off your next stay at Oasia Resort Sentosa, The Barracks Hotel, The Outpost Hotel or Village Hotel Sentosa 
Up to 25% off participating F&B outlets, Sentosa attractions & Oasia Spa
This is the package I ended up booking. 
If you don't have an AMEX Platinum card, you can book the Oasia Escape package at S$688 nett (weekday)/ S$788 nett (weekend) for two nights in a Premier Room, with the same inclusions as above. It's basically the same package, only now you get a Premier Room instead of a Junior Suite. 
Both packages are available for bookings and stays up till 30 November 2021. 
Oasia Resort Sentosa: Arrival and Check-in
The Oasia Resort Sentosa is located at 23 Beach View on Sentosa Island, part of Far East Hospitality's mega-cluster featuring The Barracks Hotel, Outpost Hotel, and Village Hotel. The properties are so close that my computer kept auto-selecting the Outpost and Barracks Wi-Fi networks. 
Admission to Sentosa has always been free for hotel guests, and in any case, all admission fees for general visitors have been waived till 30 September 2021. If you're taking a Grab, the code SentosaFun will knock S$4 off your fare.
Hotel guests enjoy complimentary parking. If you're taking the Sentosa Express, the nearest station is Imbiah, directly opposite the hotel's entrance.
My package included a free one-way limo transfer. We'd spent the previous night at Fullerton Bay Hotel (review to follow), and I arranged for a 1.30 p.m pick-up. The limo showed up right on time, a jet black Mercedes with an Oasia sticker on the side. 
In the car were two bottles of Evian, a nice little touch. 
Sentosa isn't all that far from Fullerton Bay, and the drive barely took 10 minutes. I told The Milelioness we should have staycationed in Tuas the night before (hey, it's possible).
If you had stayed at the former Le Meridien Sentosa, you'll know that arriving guests didn't enter via the front driveway; instead, they were dropped off at a separate area down the hill.
Oasia has switched up the arrivals experience. Guests are now received at the sheltered area in front of the heritage Imbiah Wing, which makes for a more picturesque welcome. 
We visited on the hotel's opening day, and staff were out in full force to greet arriving guests (I took the photo below later on, obviously). 
Enter the lobby, and you get a further sense of how Oasia has changed things. At the former Le Meridien, the lobby was located one floor below. It was a much more chaotic arrivals experience, with tour groups, families and couples all processed in the same area. 
Oasia has taken what used to be a seating area and transformed it into the new lobby (or at least, one of two lobbies- the plan is to utilise the original lobby for tour groups once the Palawan Wing opens). 
It's a much more serene environment. Guests are greeted by the hotel's curated scent called "The Recharge", a mix of orange peel, lemongrass, pepper, ginger and hinoki. Soothing music by Re:WellRebels lingers in the air. After a brief walk down a dark and tranquil passageway  flanked by high walls on both sides, guests emerge into the light once more at the check-in area. If the idea is to convey a sense of transition, it certainly works. 
There was no queue at check-in, and we were attended to immediately. 
Before arrival, guests are asked which of the following wellness goals best describes them:
Refresh: You're looking to be more mindful of your mental and physical well-being
Recharge: You'd like to learn more about fitness and to participate in physical exercises
Refuel: You'd like to find out more about food nutrition tips to improve your diet and well-being
I picked recharge without reading the descriptions properly, assuming it would mean plenty of lazing around and general indolence. While fortunately I wasn't roped into a HIIT session, it did affect the choice of welcome drink on arrival. 
We were served a cold blend of Recharge tea, featuring organic South African rooibos paired with Thai lemongrass, galangal ginger and French lavender. It was brewed with sparkling water, providing a hit of zest. A box of Recharge teabags was also waiting in the room, in case you preferred brewing a hot version. 
Check-in was fast and efficient, and my room was ready when we arrived at 2 p.m (although given it was the first day, it should be!). 
Oasia has replaced the traditional plastic room keys with wooden ones, which makes for a cute souvenir. We didn't need to recode our keys during the stay, so they work as good as they look. 
Elsewhere in the lobby is the hotel's wellness lounge, where guests can enjoy welcome drinks or participate in various programmes like tea appreciation or cocktail making.
Here's also where you'll find the hotel's indoor garden, a Grobrix aeroponic system that produces some of the vegetables served at Bedrock Origins. 
Oasia Resort Sentosa: Junior Suite
The 191 rooms and suites at Oasia Resort Sentosa are split into the following categories:
Type

Size

Wing

No. of Rooms

Deluxe Room*

30 sqm

Palawan

105

Premier Room

40 sqm

Imbiah

 14

Junior Suite

48 sqm

Imbiah

48

Suite*

61 sqm

Palawan

 3

Spa Suite*

63 sqm

Palawan

 19

Duplex Suite*

170 sqm

Palawan

 2

*Available for booking from Nov 2021
Let's start with a brief lay of the land. All rooms and suites are spread across two wings: the three-storey Imbiah Wing (a conserved heritage building) and the six-storey Palawan Wing (a new-build annex).
Currently, only the Imbiah Wing is open. This houses Premier and Junior Suite guests, with inwards facing corridors.
Oasia intends to open the Palawan Wing in November, adding Deluxe Rooms (the lead-in category), Suites, Spa Suites and Duplex Suites to inventory. These have outwards-facing corridors. 
I'm the first person to opt for contemporary styling over colonial chic, but compared to its surroundings, the Palawan Wing stands out like a sore thumb. Its gaudy color scheme reminds me more of a chalet or a prefabricated school building. 
This isn't Oasia's fault of course; it's more of a sins of the father issue. The decision to build the annex was made more than 10 years ago, when Movenpick first took over hotel operations. At the time, the contemporary wing was described as "modern architecture providing an upscale experience to discerning travellers". You don't say.
The presence of two visually distinct buildings raises the possibility of running a dual-branded hotel, kind of like the Mercure and Novotel Singapore on Stevens. From what I understand, Oasia Resort Sentosa will target the mass market crowd with its Deluxe Rooms, while reserving the Premier Rooms and above for the upmarket wellness-seeking guest. 
Of course, the concept gets a little hazy given that both sets of guests will still share the pool, gym, and breakfast area, not to mention that three of the four suite categories reside in the Palawan Wing. It'll certainly be interesting to see how they pull this off. 
In any case, it was the Imbiah Wing for me, as I headed up to room 253 on the second floor.
I was rather concerned when I first saw the publicity photos for rooms at Oasia Resort Sentosa, given that they looked almost the same as the erstwhile Le Meridien and you'd be hard-pressed to spot any differences.
Unfortunately, it seems like that first impression was correct. Oasia has focused its refurbishment efforts elsewhere, with rooms receiving minor touch ups instead of wholesale renovations. I'll talk about some of those issues in a while, but let's first talk about the room itself.
Guests enter via the Junior Suite's dimly-lit living room. Whether that's a feature or a bug depends on your preference- it's certainly calming, but perhaps not the best environment for reading. 
Above the sofa are two wreath-like mirrors with live moss growing on them. I didn't even know it was live until a fellow guest remarked she'd smelled a funny scent coming from them; fortunately mine had no such issue.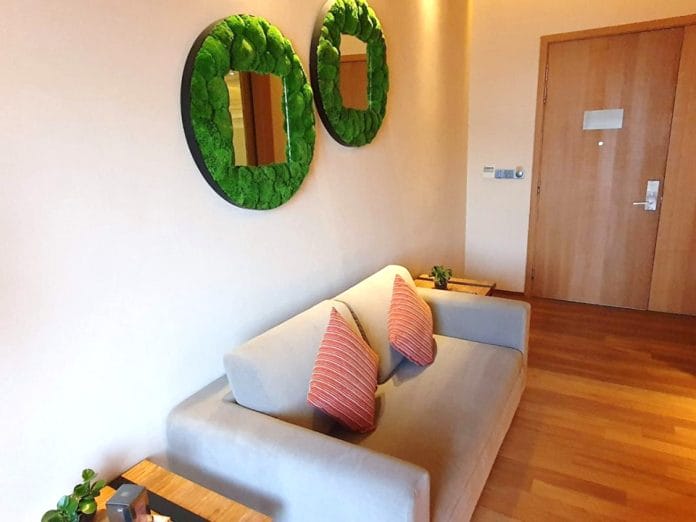 A welcome gift of Recharge tea was on the table next to the sofa. 
Opposite the sofa is the mini-bar area, featuring a complimentary selection of wellness snacks. Note the word "wellness"; don't expect beer and chips here. 
Junior Suites guests are supposedly offered a choice of five items for the wellness mini-bar, but unlike Clan or Outpost where you can pick your items before/on arrival, these were already pre-selected. 
Going forward, guests will be able to choose from the following:
Oasia Homemade dehydrated fruits (seasonal fruits)
Whole Kitchen Laksa Leaf Nut Mix
Whole Kitchen Rosemary Salted Nut Mix
Whole Kitchen Raw Nut Mix
Bedrock Origin Homemade Granola
Asmara Prebiotic Drink – Astri Herbal 33
Asmara Prebiotic Drink – Ashta Berries 8
Asmara Prebiotic Drink – Asana Zen 6
Amazin' Grace Blueberry Goji Coconut Granola (upcoming)
Amazin' Grace Chocolate Hazelnut (upcoming)
Lavazza coffee capsules and Pryce tea (a signature of Far East hotels) were available, as were a coffee machine and kettle. 
Far East no longer offers bottled water. Guests instead enjoy Nordaq water, which proudly markets the fact it's served by various Michelin star restaurants in Singapore. It even ran a taste test where it came out on top of Fiji and Acqua Panna. I'm undecided, but to me, all cold water is good (no grandma, it doesn't cause impotence).
Removing the caps takes a bit of getting used to. I ended up wasting a couple of bottles, all because I couldn't figure out the pull tab. 
The living room leads into the bedroom, which used to have a much better view back when the 37-metre tall Sentosa Merlion statue was still standing. Floor-to-ceiling windows allow plenty of natural light into the room, but also makes it a bit of a greenhouse during the day. You can lower the electrically-controlled blinds for some respite. 
Speaking of views, our odd-numbered room looked out to the hotel entrance. While this is undoubtedly the choice view, it came with its own set of problems. 
Noise pollution is the obvious one. While Sentosa roads aren't exactly bustling, you will feel the vibrations every time a heavy vehicle rolls by. Light pollution is a bigger issue. Since the curtains have a small gap in the middle and at the ends, light is able to creep in and when you're on the same side as the hotel's façade, it's very, very strong. 
The lights were eventually dimmed after midnight, but all the same I wouldn't recommend an odd-numbered room if you're a sensitive sleeper. 
If you have an even-numbered room, you'll be facing the hotel's back side. This is far from scenic, but oh, the tranquility at night. This is where we switched to for the second night, which I'll address in the next section. 
Light and noise issues aside, the Simmons mattress was comfortable, though the sheets weren't the high thread count variety and didn't have that velvety softness you might find at other hotels.
Another telltale sign you're staying in an older room is the distinct lack of modern conveniences. Neither bedside features USB charging, and only a single power outlet is available. This could be easily resolved by adding a clock radio with USB ports or a wireless charging pad. 
While there's two sets of double doors leading to the living room and wardrobe/bathroom, the latter can't actually be closed. 
That's because the bedside table blocks the right door from moving- who on earth designed this?
The room doesn't have a work desk as such, so the TV console is used for the same purpose. The wooden chair isn't very comfortable, but the hotel doesn't have many public areas for working either. If you're trying to catch up with work, you're probably at the wrong property. 
Two universal power outlets and USB charging ports are located beneath the TV. 
Wi-Fi speeds were fast, more than sufficient for HD Netflix and videoconferencing. 
🌐Hotel Wi-Fi Speeds
Hotel
🔽Down
🔼 Up

Mandarin Orchard

273 Mbps

294 Mbps

Sofitel City Centre

95 Mbps

92

Mbps

Villa Samadhi

62 Mbps

53 Mbps

M Social Singapore

46 Mbps

49 Mbps

Conrad Centennial

40 Mbps

44 Mbps

YOTELAir Changi

29 Mbps

49 Mbps

W Sentosa Cove

34 Mbps

34 Mbps

Ascott Orchard

29 Mbps

29 Mbps

Duxton Reserve

28 Mbps

29 Mbps

PARKROYAL Beach Road

28 Mbps

29 Mbps

Mandarin Oriental

28 Mbps

28 Mbps

Oasia Resort Sentosa

28 Mbps

25 Mbps

The Fullerton Hotel

23 Mbps

24 Mbps

PARKROYAL Pickering

24 Mbps

23 Mbps

Oakwood Premier AMTD

20 Mbps

20 Mbps

Shangri-La Singapore

19 Mbps

18 Mbps

Pan Pacific Singapore

19 Mbps

19 Mbps

Dusit Thani Laguna Singapore

19 Mbps

19 Mbps

InterContinental Bugis

15 Mbps

15 Mbps

The Capitol Kempinski Hotel

16 Mbps

13 Mbps

PARKROYAL COLLECTION Marina Bay

9.4 Mbps

18 Mbps

Grand Hyatt Singapore

14 Mbps

13 Mbps

Hilton Singapore

13 Mbps

14 Mbps

One Farrer Hotel

11 Mbps

21 Mbps

Marina Bay Sands

11 Mbps

11 Mbps

The Clan Hotel

9.6 Mbps

9.6 Mbps

Andaz Singapore

8.0 Mbps

9.5 Mbps

Four Seasons Singapore

6.7 Mbps

9.8 Mbps

Goodwood

Park Hotel

7.8 Mbps

7.

5 Mbps

The Barracks Hotel

7.3 Mbps

7.7 Mbps

Hotel 81 Tristar

7.0 Mbps

6.8 Mbps

Raffles Hotel

6.9 Mbps

6.8 Mbps

Hotel Soloha

4.7 Mbps

5.1 Mbps

Hotel G Singapore

4.4 Mbps

4.8 Mbps

Internet speeds based on Speedtest.net scores
The Junior Suite has two TVs; a 43-inch model in the living room and a 50-inch model in the bedroom. Both are small by modern standards, and to give you an idea, here's what the picture looks like from the bed (I realise the camera exaggerates the effect, but still).
In addition to the regular mix of sports, news and entertainment channels, guests can opt to watch wellness-focused content like guided workout videos. 
TVs have built-in AirPlay and Chromecast functionality, which worked seamlessly. 
A walk-in wardrobe separates the bedroom from the bathroom. Inside is an ironing board, slippers and two bathrobes. The bathrobes weren't particularly plush, and the lack of an inner lining made them feel scratchy. 
Opposite the wardrobe is a luggage rack that can fit one large bag.
Just like the rest of the room, there's been minimal visible work done to the bathroom area which looks virtually identical as before. 
The dual vanity has coathanger-shaped sinks, which unfortunately don't leave much in the way of counter-top space. 
The rectangular shower cubicle is spacious, with a hand shower and rain shower head. Water pressure was strong, surprising for a hotel in a heritage building. 
A large, free-standing bathtub is the highlight of the bathroom (and a standard feature across all Junior Suites and selected Premier Rooms). This easily fits two people, and the tap is placed at an angle that allows for lying at either side. The tub in my suite was in good condition too, with no stains or chips.
Toiletries are by Biology, a natural range of Australia-made hair and body care products. 
Disappointingly, there was no bidet available in the toilet, not even a handheld one. Since the hotel installed wonderful heated TOTO bidets in its spa toilets, I can only surmise they're not ideologically opposed to the idea, just budgetarily. The other odd thing is that the bathroom's only bin is in the toilet cubicle (and our second suite didn't have a bin at all). 
I also disliked the "sanitised for you" seal over the toilet seat. I get why it's there, but perhaps it's the font, or the color, or just the very concept which came off as cheap, reminiscent of something you'd see in a roadside motel overseas.
In fact, Oasia decided to plaster a few more signs around the bathroom, which reminded me of PSAs in public restrooms. Couldn't these be printed on a small standee card instead?
Now let's talk wear and tear. While I understand the hotel did some restoration work in the rooms, they're still far from factory fresh. For example, I found peeling and stained wallpaper in several places…
…stains on the floor, long seeped into the wood…
…and scuffing on the wooden furniture. Other guests noted similar issues too.
For what it's worth, these are cosmetic defects and don't affect functionality per se. All the same, they're visceral reminders that this is an old hotel with new branding, and may be more difficult to swallow when the hotel ends its soft opening discounts. 
Oasia informs me that there is a "phase 2" planned which involves doing up the rooms, although the timeline has yet to be firmed up. 
Junior Suite variations
While we were originally assigned to room 253, we had a rather wretched time trying to fall asleep on the first night. It wasn't just the light coming in through the gaps in the curtains, there was also an irregular noise which sounded like one of the double doors in nearby room rattling around. 
We finally requested for a new room, and were placed in 266. This was facing the other side of the hotel and was much quieter; our second night of sleep was flawless. 
Thanks to the relocation, I learned that not all Junior Suites are built the same. The second suite we stayed in had a wider living room which ditched the mini-bar area altogether. 
The mini-bar was instead located in the bedroom, which was wide enough to allow both sets of double doors to close without issue. 
The connectivity options in the TV console were different too. While the previous suite only had two power outlets and a USB port, this offered connectivity for HDMI, VGA as well as other since-obsolete formats. 
Similarly, only one bedside in the previous suite had a power plug; here both sides did. 
Over in the bathroom, the shower and toilet had swapped locations. 
In contrast to the previous suite, both the bathtub and the sinks had waterfall taps, and one long trough replaced the double vanity. A waterfall tap was a big improvement in the case of the bathtub, the higher flow rate allowing for faster filling. 
If you're a light sleeper, I'd heartily recommend requesting an even-numbered room in the Imbiah Wing. 
Oasia Resort Sentosa: Facilities
Pool

Gym

Spa

Yes: 8 a.m to 8 p.m

Yes: 24 hours

Yes: 11.30 a.m to 8.30 p.m


Kids' Club

Business Centre

Others

N/A*

N/A

N/A

*While the hotel has no kids' club, I've been told the plan is to allow families to access the kids' facilities at Village Hotel Sentosa, when its stint as a GQF finishes.
Swimming Pool
Oasia Resort's 22.5-metre pool is open from 8 a.m to 8 p.m daily, with guests able to book a one hour slot via a link in their pre-arrival email (4-5 p.m is only available on Sat/Sun, because that's when the pool is used for Aqua Zumba). A maximum of 16 people can use the pool at any one time.
While it's billed as an infinity pool, there isn't much of a view. The pool is below ground level, sandwiched between the Imbiah and Palawan wings. Lounge chairs get sun in the morning and shade in the afternoon, while the pool is the other way round. Time your visit accordingly, depending on which you crave. 
The pool measures a uniform 1 metre deep throughout, making it suitable for children. However, those with kids may prefer to use the thematic pools at Village Hotel, which are open to to guests from Oasia. Likewise, couples (without children) who have booked Premier Rooms, Junior Suites, Spa Suites and Duplex Suites will have access to the rooftop pool at The Outpost Hotel. 
Gym
Oasia Resort Sentosa's gym is open 24 hours a day, and guests can likewise make hour-long bookings via the link in the pre-arrival email. A maximum of five people can occupy the gym at any one time. 
It's a small-sized facility with basic equipment, adequate for a brief work out.  Remember, guests can also participate in outdoors fitness activities like a bootcamp by UFIT or sunset yoga classes. 
While exploring the gym, I noticed something had fallen from the ceiling, leaving debris on the floor. Hopefully they'll get that looked at. 
Spa
Fun fact: Oasia (and Far East Hospitality for that matter) has never operated a spa before. I found it hard to believe given they operate 16 properties in Singapore, but the Oasia Spa is indeed their first stab at the concept- even guests at the luxurious Barracks Hotel have had to go without. 
Oasia Spa is the first in Southeast Asia and Oceania to carry KOTOSHINA products (a luxury skincare brand from Kyoto), and offers treatments like cryotherapy facial and bamboo scrubs. The meditation lounge within the spa uses Medklinn Cerafusion Technology to recreate forest bathing therapy, inspired by the Japanese practice of Shinrin-yoku.
The spa is open from 11 a.m to 8.30 p.m daily. After registration, guests are ushered to a small waiting area that's (somewhat) acoustically separated from the rest of the hotel. Health forms are filled up, while cold towels and tea are served. 
After that, guests are ushered into the darkened corridors of the spa proper. 
Guests have access to a personal locker in the changing room, complete with robe, disposable underwear, slippers and a set of Biology toiletries. 
Each changing room also has a sauna with a digital thermostat. It was raining most of the time we were there, so this was a lovely place to warm up. 
Zero-gravity loungers in the meditation room are available for use before or after treatment. These loungers take the weight off your lower back, a godsend for those with back issues. 
Oasia Spa has a total of seven treatment rooms, but only one of them can accommodate couples so be sure to book in advance. I had a chat with Far East's SVP of Operations on the first day, who told me they were going for a "high-end, not luxury" spa. After seeing the treatment room, I sort of understood that comment.
It's far from run down, but the décor certainty doesn't feel like the most luxurious of spas- the rooms lack outside views, and I'm not a fan of the drab colour scheme. In fact, I'd go so far as to say it looks more mid-range, something you might see in a 4-Star Bangkok hotel. 
Thankfully that had no bearing on the treatment, which was excellent. As part of our package, The Milelioness and I enjoyed a 60-minute Oasia Signature Massage. The therapists were very accommodating and even conducted an AAR afterwards, telling us which areas were particularly tight and what to do to alleviate them.
Spa treatments start from S$150++ for a 60-minute body treatment. 
Oasia Resort Sentosa: Activities
One unique feature about Oasia Resort Sentosa are its complimentary wellness activities, which guests can enjoy throughout their stay. This includes fitness classes, yoga sessions, wellness consultations and scrub/balm-making. 
On the day of arrival an Aqua Zumba class was taking place. It looked like fun but I decided to limit the number of people I scar with my half-naked body. 
Instead, we opted for more sedentary (but no less enjoyable) pursuits: scrub-making and balm-making. Heads up: these only take place from Friday to Sunday; we were invited to a preview by the hotel. 
Scrub making is a relatively short class, about 15-20 minutes tops. Sabrina, our awesome host, patiently took us through the various steps of making your own scrub. 
First, choose an abrasive material like salt, sugar, coffee grinds, or your mother-in-law. Then mix in oil and your choice of fragrance, and you have a nice, exfoliating scrub. 
No prizes for guessing which one I made. 
The balm-making class (30-40 minutes) was even more fun, since we got to play around with beakers, scales and good ol' fire. 
To make balm, mix beeswax, shea butter and oil over a candle, while trying not to burn down Far East Hospitality's latest property. 
Add essential oils of your choice, let the mixture settle, and you have your very own balm to take home. 
I'd highly recommend both these activities for anyone who wants a no-sweat wellness experience. 
Oasia Resort Sentosa: Breakfast
Served at

Cost

Style

Bedrock Origin

S$32++ (Adults)
S$16++ (Child aged 6-12)

Set menu

Hours

Sparkling Wine?

Discounts?

7 a.m to 11 a.m

No

No
Breakfast is served at Bedrock Origin from 7 a.m to 11 a.m daily. If breakfast is not included in your rate, it's chargeable at S$32++ per adult. 
I was keen to see how Bedrock would handle the breakfast experience, and the good news is they aren't playing it safe. While traditional options like fry-ups and nasi lemak are offered, so too are more adventurous creations. Guests can choose one item from either the continental, local comforts or western menu. 
On the first day, we had the Barramundi Mixed Oat Congee, served with whole grain oat congee, locally-farmed Kuhlbarra barramundi belly, egg floss and you tiao.
I do think the presentation could have been nicer (perhaps wipe the side of the bowl before sending it out), and I prefer you tiao to be served separately so they remain crispy until dunked, but the taste was superb. It's a very large portion too, and could easily be split among two people. 
We also had the Morning Booster, comprising of smoked salmon, smashed avocado, cherry tomatoes, poached eggs and a side of greens from the hotel's own urban farm. 
It's hard to go wrong with smashed avocado and salmon, although the poached eggs had been overcooked. They were more soft boiled than anything else, and didn't run when I sliced into them. 
On the second day we tried Bedrock Origin's Nasi Lemak. In a valiant attempt at creating a healthier version of the dish, grilled chicken satay is substituted for fried chicken. Some will call it sacrilege; I thought it was delicious. Special mention to the house-made sambal as well, which expertly toed the line between sweet and spicy. The rice may look familiar to those who have ordered this dish at The Clan Hotel; butterfly pea is used to give it a natural blue hue.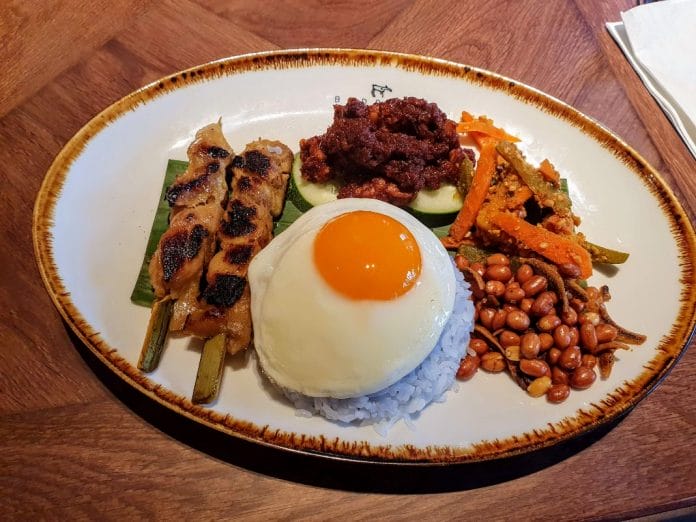 I also had the Hearty western option, basically a re-imagined fry-up. The parsley potatoes were bland, but the mix of sausage and chickpeas was inspired. 
The staff also brought a tasting portion of the housemade granola, tropical breeze bircher muesli and chia yoghurt power bowl. None of these are items I'd normally order, but The Milelioness said the yoghurt was good. 
All local comforts are served with buttered bread sticks and soft boiled eggs. It's meant to be a nod to a traditional Hainanese breakfast, but without the kaya it's more like a play on British toast soldiers. These eggs were cooked perfectly. 
All in all, Bedrock Origins serves up a high-quality breakfast, and certainly more exciting than your standard hotel fare. I'd love to see them adopt a small plates approach so people can try different items without wastage.
One last thing to highlight about Bedrock Origins. Their air conditioning periodically goes from zero to full blast, and the latter is difficult to take even for me (regular sleeping temperature: 22°C, fan at setting 3 out of 4). I'm told they're working on addressing this, but until then, a cardigan at breakfast wouldn't go amiss. 
Oasia Resort Sentosa: Other dining
I dined at Bedrock Origins twice during my stay. The first was a dinner on opening night (disclaimer: comped by the hotel), the second was lunch (on my own dime). 
Proceedings began, as they always do at Bedrock, with their amazing flatbread and oven roasted garlic. It's transcendent stuff, as you plunge your knife into the garlic bulb and smear its creamy goodness all over the warm bread. Don't ignore the butter by the way; it's good stuff and not just there to look pretty.
We took the server's recommendation and ordered the Kingfish Sashimi (S$32++). As far as raw fish goes, it was an absolute triumph. The sashimi served as an excellent canvas for the tangy ceviche soy dressing, with brown rice puffs adding an intriguing crunch to every other bite.  
Who goes to a steakhouse and orders fish, right? But with Oasia Resort's focus on lighter cuisine, fish is no longer just a obligatory menu option for your pescatarian friend. Bedrock Origin isn't scared to put fish at the front and centre of its menu (heck, it's on the very first page), and the Kuhlbarra Barramundi fillet (S$42++) was sublime. The skin was crispy, and the glistening flesh fell apart the moment you sliced into it. Macerated tomatoes and some light watercress served as the perfect compliments. 
But of course we weren't going to ignore the beef altogether. An order of Aged Keisan Wagyu Striploin (S$138++ for 250g) hit the spot with its buttery texture and fat that dissolved away as you held it in your mouth. Bedrock Origin says they're trying to serve less fatty cuts of meat, I say with striploin this good, who needs ribeye. 
For sides, we ordered a serving of Bedrock Mac 'N' Cheese (S$22++). It's one of their classics and I can easily understand why. Though I'm not much of a cheese person (I'm the Philistine who scrapes 50% of it off pizza), you'd need to be dead inside not to appreciate the caramelised crust made with four different cheeses. 
We also had the spicy brussel sprouts (S$16++) with toasted quinoa and chili oil. It looked innocuous but the chili oil really packed a punch. 
In case you didn't know, Bedrock and Fat Cow have the same owner, and one of my guilty pleasures is Fat Cow's Fat Rice, beef fat drippings over premium Japanese short-grain rice. I can just imagine the conversation between Bedrock and Oasia: hey, we want to serve carbs coated with beef fat / well you'll have to make it healthy / OK what if we drizzle it on brown rice and barley instead?
The result is Beef Fat Fried Rice (S$16++), with enough of a health halo you can sleep at night.
If there's one thing that didn't quite impress me, it was the dessert. We were stuffed at this point in time, but made room for a Waffle Ice Cream Sandwich (S$20++), served with hokey pokey ice cream (two scoops, we asked for one to be changed to vanilla) and chocolate sauce. 
The waffle was far too dense and cakey, lacking the crispiness that could have made this dish a home run. Perhaps try one of the other concoctions like the Bombe Alaska (baked alaska but on a whole new level) or Bedrock Crumble (apple slices, walnut streusel, vanilla ice cream).  
The following day I returned to try the set lunch menu. Diners can choose from a 2-course or 3-course set, but confusingly, the choice of mains is different for both. 
Those who take the 3-course can choose from some of Bedrock's more famous dishes, like a woodfire-grilled steak or the black pepper steak rice bowl. 
If you want a 2-course, however, you're restricted to more elementary stuff like a cheeseburger, fish and chips, a pasta dish or a chicken rice bowl. 
In general, lunch didn't hit the same highs as dinner. The truffle mushroom soup was forgettable, with way too much cream and not nearly enough mushroom flavor. 
The beef in the black pepper steak rice bowl was slightly chewy, although it's probably unfair to be comparing it to what we had the night before. 
The Rosemary chicken rice bowl was nice enough, with strips of very tender chicken thigh. The onions could stand with a little more grilling. 
Beer battered fish and chips were probably the best of the lot, with a moist barramundi fillet, tangy apple tartare sauce and crispy fries. 
The total damage for a party of four was S$212. 
Guests who prefer to dine in their room can choose from the following options.
Oasia Resort Sentosa: Service
Service throughout the stay was of a very high standard, though you'd expect it to be on opening day with so many media people around. The real test will be in the months to come, as the hotel ramps up and starts filling more rooms. 
During our stay, service requests were handled quickly, with barely two minutes passing from the time an iPhone charger was requested to it showing up at the door. Turndown service was provided each night, with guests receiving Refresh tea and homemade Oasia balm in Refresh, Rejuvenate and Recharge varieties. Housekeeping also nipped into rooms to tidy up when guests were at breakfast.
Loose wires were secured neatly with special Oasia cable ties- the only other place I've been that's bothered to do this is the Ritz-Carlton Tokyo. 
I also appreciated that staff took their cue from guests when deciding whether to enter the room with shoes on or off. That's a level of attention to detail that didn't even happen at the Raffles. 
One hiccup was how our room switch went down. I mentioned earlier that we had to switch rooms owing to the light pollution and noise. I called the front desk around 11 p.m, told them about the issue and asked them to look into it. I didn't hear back for 40 minutes, after which I called again and more explicitly requested a room change.
From what I gather, they investigated, couldn't hear the noise/find its source, but didn't know whether they should call back given the lateness of the hour. They should have, in my opinion, to close the loop on the issue. Eventually a room change was arranged past midnight, and the new room was perfectly quiet. 
Another incident that's more funny than anything else: we were told at check-in that guests could request a bath to be drawn, and I took them up on the offer later that evening. Someone arrived at the room shortly after, and roughly 25 minutes later told me the tub was ready.
I went to the bathroom, and saw only this. 
I'm not sure whether we're aligned on what drawing a bath is, but he'd basically turned on the tap, waited almost half an hour, then sprinkled in some bath salts at the end. I could see the funny side of it, feeling a bit embarrassed even because if I were him I'd be thinking "wah these people can't even turn on their own tap". 
So it's no St. Regis bubble bath with rose petals, and you're probably better off doing it yourself. 
Verdict
I'm fully aware it may not be fair to rate a hotel based on its opening night, when other hotels I've reviewed have been in operation for many years.
However, that would be more of an issue had I encountered problems with the soft product. I had no issues with that at Oasia; in fact, it's arguably their strong suit. The true Achilles heel is the hardware, namely the tired and unexciting rooms inherited from the Le Meridien. That's an issue which will persist indefinitely, until the hotel sees fit to spruce them up. 
Oasia clearly delivers on the wellness proposition (as well they should, with "wellness" appearing no fewer than 27 times in their press release) and has exciting synergy potential with the rest of the Far East cluster once the Outpost and Village Hotels cease their GQF stints. Bedrock Origin proves that award-winning restaurants need not suffer second season (or rather location) syndrome. 
At the same time, it's a bit of a downer to walk into a beautiful lobby with its manicured green wall, pretty restaurant and inviting lounge, only to end the night in a room with stained wallpaper and scuffed furniture. 
The Oasia Resort Sentosa is hovering between a 3.5 and 4-Star rating, but on the balance, I'd say it's closer to a 3.5. Giving a 4-Star rating would mean I believe it to be on the same level as The Clan, which it's not (if anything, with the benefit of hindsight I think I should have given The Clan a 4.5). 
As it is, it's a strange confluence of old and new, a reminder of the perils of installing new software on old hardware. Give the rooms a makeover, and we might have something special on our hands. 
🏨 In Summary
While it has the potential to be a refreshing, exciting take on a wellness hotel, the Oasia Resort Sentosa is regrettably held back by its tired and dated rooms.
Do say: The Oasia Resort Sentosa provides a cure for wellness

Don't say: I was promised a Merlion view

Milelion Staycation Ratings