If you're playing the miles and points game, chances are you have more than one credit card from a given bank.
In that case, points pooling is a big convenience, allowing you to save on conversion fees and making card cancellations more straightforward. 
In this post we'll take a closer look at which banks pool credit card points, and some of the finer details you should know. 
Why does points pooling matter?
Save on conversion fees
Points pooling allows you to save money on conversion fees, when transferring credit card points to airline miles. 
For example, I may use the UOB Preferred Platinum Visa to earn 4 mpd on mobile payments, and the UOB Visa Signature to earn 4 mpd on foreign currency spending. When the time comes to convert my UNI$ into miles, I only need to pay one conversion fee because UOB pools my points across cards. 
Contrast this to Citibank, which doesn't. If I hold a Citi Prestige Card and a Citi Rewards Card, my ThankYou points need to be redeemed separately, and I'll pay as many conversion fees as I have cards.
Easier cancellation
Points pooling also matters when it comes to cancelling cards.
Since Citibank points do not pool, I'll need to cash out all my points on a given card before I cancel it, or otherwise forfeit them. Since UOB points pool, cancelling a given card has no impact on my total points balance, assuming it's not my last points-earning card with the bank.
All things equal, it's much better to earn points with a bank that pools. So which do, and which don't?
Which banks pool points?
Here's a high-level summary of which banks do and don't pool points.
| | |
| --- | --- |
| Bank | Pools Credit Card Points? |
| | ✔️ Yes |
| | ❌ No |
| | ❌ No |
| | ✔️ Yes |
| | ❌ No |
| | ✔️ Yes |
| | ✔️ Yes |
| | ✔️ Yes |
| | ✔️ Yes |
There is some nuance to this, so be sure to read the details below.
American Express
The points pooling concept is irrelevant for the American Express KrisFlyer cobrand cards, because miles are automatically credited to the linked KrisFlyer account with no transfer fees (plus, you can't own more than one KrisFlyer cobrand card anyway). 
Membership Rewards points are pooled, but it's slightly complicated. 
First of all, recall that AMEX Platinum Charge cardholders can convert Membership Rewards points to miles at a 400:250 ratio, versus 450:250 for other AMEX cardholders.
If you hold an AMEX Platinum Charge and an AMEX Platinum Reserve/AMEX Platinum Credit Card, there are two possibilities.
(1) Some people will see their points pooled automatically on the back end, all convertible at the more advantageous 400:250 rate. If you're in this situation, the drop down menu for "Your Points Account" will look like this.
(2) Some people will not see their points pooled on the back end. Instead, they'll have one points account for their AMEX Platinum Charge, and another points account for their AMEX Platinum Reserve/Platinum Credit Card. If you're in this situation, the drop down menu for "Your Points Account" will have a "Switch Account" button to toggle between points balances.
In this case, you can call up customer service to get your points manually combined and transferred at the more advantageous 400:250 rate. 
Bank of China
Although Bank of China only has one miles card on offer, you may still end up paying multiple conversion fees.
That's because back in March 2019, BOC capped the maximum number of points that can be converted in a single transaction at 10 blocks. This works out to 60,000 Asia Miles, or 100,000 KrisFlyer miles, and means that if you want to convert, say, 250,000 KrisFlyer miles, you'd pay $30 x 3 =$90 of conversion fees.
It's a very silly and arbitrary rule, but it wouldn't be BOC if it wasn't. 
DBS Bank
DBS is a unique case, because points are kept separate on the back end, but pooled together at the point of redemption.
For example, note how the DBS Rewards portal shows that I have 4,971 DBS points on my card ending 4921, and 2,121 DBS points on my card ending 6440.
Although each card's individual balance is less than 5,000, I'm still able to redeem a block of 5,000 DBS Points because the points are pooled together for redemption. The system will prompt me to select a credit card number to "deduct" the points from, but it doesn't matter which card I pick.
When redeeming points, the DBS system will deduct those with the earliest expiry first– since DBS Woman's World Card points expire after one year and DBS Altitude/Treasures AMEX/Insignia points never expire, the former will always be redeemed before the latter.
However, outside of redemptions, DBS points are kept separate. This means that if you cancel a given DBS card, you'll forfeit all points earned on that card. Cash them out before cancelling! 
OCBC Bank
While OCBC pools points, it has three different points currencies which complicate the matter. 

OCBC$ earned through cards like the OCBC Titanium Rewards (both Blue and Pink) and the OCBC Premier Visa Infinite will be pooled together.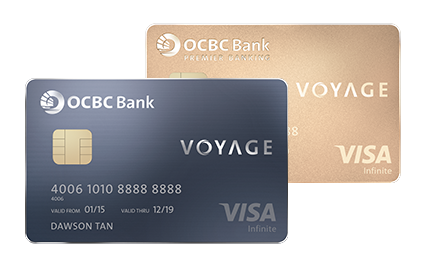 VOYAGE Miles earned by the OCBC VOYAGE cards can't be pooled with OCBC$.
Travel$ earned by the OCBC 90N Mastercard and OCBC 90N Visa will be pooled together, but can't be pooled with OCBC$ or VOYAGE Miles.
Standard Chartered Bank
Standard Chartered 360 Rewards Points pool across cards, which is good news for those with a SCB Visa Infinite or SCB X Card. 
SCB Visa Infinite or SCB X Card members enjoy an enhanced conversion rate of 2,500 points = 1,000 miles. This rate applies to all their points, regardless of which card they were earned on. 
All other cardholders redeem KrisFlyer miles at a rate of 3,500 points= 1,015 miles.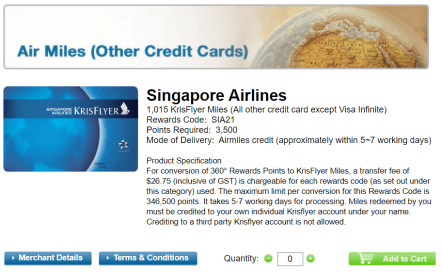 UOB
UNI$ pool across all UOB cards, with the exception of the KrisFlyer UOB Credit Card. This is a cobrand card, so miles earned are deposited directly into your KrisFlyer account. 
Conclusion
Not pooling points is a very customer-unfriendly decision, but my guess is that banks which don't allow it aren't doing so deliberately. More likely than not, it's a hangover from an outdated IT system where points were kept in silos, which no one dares to touch.
That said, it may not necessarily be a dealbreaker. I'd argue that it's still worth earning Citi points, for example, thanks to the sheer variety of transfer partners.