The following impressions are based on a media stay
St. Regis dubs itself the "House of Astor", tracing its roots to a Manhattan hotel opened in 1904 by John Jacob Astor- the richest man onboard the Titanic, who also perished in its sinking. 
Having helped his wife into a lifeboat before himself getting rejected on the grounds of women and children only, he was last seen on the starboard bridge wing smoking a cigarette (or cigar, depending on which version you believe) with mystery author Jacques Futrelle. The story goes that when the ship hit the iceberg, he quipped "I asked for ice, but this is ridiculous."
While that's a fascinating (and probably apocryphal) yarn, it's nothing compared to the exploits of his mother, Caroline Astor. The Mrs. Astor, as she was known, was the foremost socialite and gatekeeper of New York high society. Her parties were as legendary as they were exclusive, with admittance restricted to the upper crust of old money elites known colloquially as  "The Four Hundred".
Yet it was a position that always invited challenge, and having failed to usurp his aunt's preeminence in New York society, William Waldorf Astor decided the next best thing would be to build a hotel so tall it'd overshadow her mansion next door. The result was the Waldorf Hotel in 1893, a sort of high SES "up yours". 
Not one to shy away from brinksmanship, Mrs. Astor summarily tore down her mansion and completed the Astoria Hotel four years later, ensuring it was a full 43 feet taller than the Waldorf. This was arguably a better outcome than her original idea, mind you, which was to replace the mansion with horse stables and perfume the neighbouring hotel with the resulting odors. 
In what I suppose amounts to a happy ending, peace was eventually made and the two hotels were united under a single banner: the Waldorf-Astoria. Hilton would go on to purchase the property in 1972 and develop it into a full-fledged luxury brand in 2006. 
Despite her unwitting hand in creating one of the chain's largest rivals, Caroline Astor's name remains celebrated across St. Regis lore, gracing suites, villas, estates and ballrooms at properties the world over. 
I was recently given an opportunity to review one of her namesake suites at the St. Regis Singapore, and figured no one could really say no to an invitation from Mrs. Astor. 
🏨 tl;dr: St. Regis Singapore

With ornate suites and high-end gastronomy, the St. Regis Singapore delivers a posh staycation experience indeed- though a facelift wouldn't go amiss.

👍 The Good

👎 The Bad

Ornate, spacious suites

Incredible wet lounge spa facilities

Excellent dining options, with big savings for AMEX Platinum cardholders

Butler service for all guests

Starting to show its age in places

Asian breakfast items need work
Booking a St. Regis Singapore staycation
The St. Regis Singapore is currently offering a Distinctive Luxury package with the following inclusions, valid for stays up till 29 December 2021: 
Daily breakfast for two adults
S$100 hotel credit
10% discount on spa treatments
This starts from S$438++ (S$516 nett) for a Penthouse Room, with a Caroline Astor Suite starting from S$603++ (S$710 nett). 
Alternatively, you can consider booking a Marriott STARS rate through a luxury privileges agent like HoteLux. These price the same as the hotel's best flexible rate, and include:
Room upgrade (subject to availability)
Early check-in/late check-out (subject to availability)
Daily breakfast for two adults
US$100 hotel credit
For those interested in a longer staycation, the Marriott STARS rate at St. Regis has a Stay 3 Pay 2 offer, which can bring the nightly rate to as low as S$246++ (S$290 nett).
St. Regis Singapore: Arrival & Check-in
The St. Regis Singapore is located at 29 Tanglin Road, near the start of the bustling Orchard Road district. It's not particularly close to any MRT station; the nearest one is at Orchard and requires a 12-minute unsheltered walk. A better public transport option would be to take the bus, which drops you off opposite the hotel.
Complimentary parking is provided for all guests in the hotel's underground carpark, with a single coupon per night (i.e. no in-out privileges). 
I arrived at the St. Regis Singapore just before 12 p.m on a Tuesday. The hotel's driveway is perhaps the best indication of its target clientele; a parade of Ferraris, Bentleys, and even a couple of Rolls Royces. It makes the regular BMWs and Porsches seem pedestrian by comparison. 
A doorman approached the car to help us with our bags, and ushered us into the lobby. 
As befits a St. Regis, a large, ornate chandelier greets guests the moment they step into the lobby. 
The interior design at the St. Regis Singapore was overseen by Wilson Associates, the now-defunct firm that was also behind the Sofitel Singapore City Centre, Conrad Koh Samui and Four Seasons Hong Kong
Artwork is littered throughout the lobby, with the total collection boasting more than 100 original paintings and sculptures by artists such as French painter Marc Chagall, American architect Frank Gehry, Chinese Modernist pioneer Gu Gan and as well as Singaporean pioneer artists Chen Wen Hsi and Georgette Chen. Pre-COVID, there was a daily 30-minute tour of the art collection, something I hope resumes again soon. 
The St. Regis continues to flex its collection at the check-in area, where a 17th century Chinese mural called "Gathering of the Immortals" forms the backdrop- somewhat hubristic, but perhaps apt given its alumni include Hillary Clinton, Prince Harry, and of course the Great Successor Kim Jong-un. 
Unlike most hotels where check-in is done at standing counters, guests are invited to take a seat while formalities are handled. The process was fast, and we were soon on our way to the room.
St. Regis Singapore: Caroline Astor Suite
The 299 rooms and suites at St. Regis Singapore are split into the following categories:
| | | |
| --- | --- | --- |
| Type | Size | No. of Rooms |
| Executive Deluxe King | 50-52 sqm | 93 |
| Grand Deluxe King | 50-52 sqm | 68 |
| Grand Deluxe Double | 50-52 sqm | 54 |
| Lady Astor Double | 56 sqm | 34 |
| Penthouse King | 50-52 sqm | 13 |
| St. Regis Suite | 70-80 sqm | 10 |
| Caroline Astor Suite | 80-90 sqm | 21 |
| Specialty Suite | 90 sqm | 3 |
| Premier Specialty Suite | 135 sqm | 2 |
| Presidential Suite | 335 sqm | 1 |
For this media stay, I was booked into a Caroline Astor Suite for two nights.
Guests who book the Specialty Suites (Manhattan, Metropolitan, Knickerbocker) or Premier Specialty Suites (Astoria, King Cole) enjoy additional dining and lifestyle privileges, including a complimentary afternoon tea and 60-minutes spa treatment per stay, daily breakfast and evening refreshment hour. 
I was assigned to suite 1301, which is located at the corner of the floor. This can be combined with room 1302 to form a two-bedroom suite, separated from the corridor by another door. 
Caroline Astor suites measure in at 80-90 sqm, outfitted with plush interiors and old world chic. Take away the modern electronics and it would feel like something straight out of Downton Abbey. 
The living room's wrap-around windows let in abundant natural light, while affording guests a view of the Singapore Botanic Gardens. Furniture and drapes are a vivid mix of red and gold, and the chandelier completes the look of a regal tea parlour. 
A welcome amenity of fruits and sweet treats was waiting on the oval coffee table. 
You might want to inspect your fruit basket before tucking in though- two of our strawberries had sprouted mould. 
The suite did not have a stand-alone desk; instead, the leather-bound console area beneath the TV served as a work area. I was able to pull out the TV and plug in a HDMI cable, giving me an oversized work monitor (albeit at an uncomfortably close viewing distance). The office chair was comfortable enough for short periods of sitting, though it's no Herman Miller that's for sure. 
Built into the desk were two universal power plugs and some old-style RCA connection ports. Heads up: there aren't any USB ports to be found here, or anywhere in the room for that matter. And before you say "there weren't any USB ports in Downton Abbey", well, they didn't have RCA connections either. 
Wi-Fi speeds clocked in at ~29 Mbps up and down, good enough for 4K Netflix if you were so inclined. 
🌐Hotel Wi-Fi Speeds
Hotel
🔽Down
🔼 Up

Mandarin Orchard

273 Mbps

294 Mbps

Sofitel City Centre

95 Mbps

92

Mbps

Villa Samadhi

62 Mbps

53 Mbps

M Social Singapore

46 Mbps

49 Mbps

Conrad Centennial

40 Mbps

44 Mbps

YOTELAir Changi

29 Mbps

49 Mbps

W Sentosa Cove

34 Mbps

34 Mbps

Ascott Orchard

29 Mbps

29 Mbps

St. Regis Singapore

29 Mbps

29 Mbps

Duxton Reserve

28 Mbps

29 Mbps

PARKROYAL Beach Road

28 Mbps

29 Mbps

Mandarin Oriental

28 Mbps

28 Mbps

Oasia Resort Sentosa

28 Mbps

25

Mbps

The Fullerton Bay Hotel

24 Mbps

24 Mbps

The Fullerton Hotel

23 Mbps

24 Mbps

PARKROYAL Pickering

24 Mbps

23 Mbps

Oakwood Premier AMTD

20 Mbps

20 Mbps

Shangri-La Singapore

19 Mbps

18 Mbps

Pan Pacific Singapore

19 Mbps

19 Mbps

Dusit Thani Laguna Singapore

19 Mbps

19 Mbps

InterContinental Bugis

15 Mbps

15 Mbps

The Capitol Kempinski Hotel

16 Mbps

13 Mbps

PARKROYAL COLLECTION Marina Bay

9.4 Mbps

18 Mbps

Grand Hyatt Singapore

14 Mbps

13 Mbps

Hilton Singapore

13 Mbps

14 Mbps

One Farrer Hotel

11 Mbps

21 Mbps

Marina Bay Sands

11 Mbps

11 Mbps

The Clan Hotel

9.6 Mbps

9.6 Mbps

Andaz Singapore

8.0 Mbps

9.5 Mbps

Four Seasons Singapore

6.7 Mbps

9.8 Mbps

Goodwood

Park Hotel

7.8 Mbps

7.

5 Mbps

The Barracks Hotel

7.3 Mbps

7.7 Mbps

Hotel 81 Tristar

7.0 Mbps

6.8 Mbps

Raffles Hotel

6.9 Mbps

6.8 Mbps

Hotel Soloha

4.7 Mbps

5.1 Mbps

Hotel G Singapore

4.4 Mbps

4.8 Mbps

Internet speeds based on Speedtest.net scores
Elsewhere on the desk were a couple of masks and a small bottle of hand sanitiser. 
While the hotel's website lists its in-room TVs at a puny 42-inches, I was pleasantly surprised to find that mine (both in the living room and bedroom) were much larger 55-inch models. The hotel is in the midst of upgrading all its TVs, so if this is important to you, be sure to specifically request it at check-in. 
The TV has a movie selection, but at S$18++ per pop you'd be better off subscribing to Netflix on the spot. Do note that streaming from smart devices was not supported. 
The remote had also seen better days, with a sticky plastic back caused by polymer degradation and faded volume/channel control buttons. 
In the foyer between the living room and bedroom was the Suite's bar area, featuring a coffee machine, kettle, and Nespresso capsules/TWG tea bags. 
Inside the cabinet was an empty mini-fridge for you to store your personal items. All other mini-bar items had been removed on account of COVID-19.  
Like the living room, the bed room struck a similar ornate tone. Lacquered dark wood bedside tables, a leather-bound headboard and a Chinoiserie silk-panelled wall completed the stately look. 
The bed was on the medium-soft side, but still made for a very comfortable sleep thanks to its 600 thread-count bed linens. A pillow menu was available from the Butler Service, though I only learned this after check-out. 
While both bedsides had controls for the lights and drapes, neither had a power outlet nor USB charging. If your cable is long enough you might be able to run it to the bedside table from a wall socket, but it's another reminder this hotel was built before such things were standard. 
Update: A reader has pointed out that there indeed are charging outlets at the bedside area, albeit hard to find.
The only nod to modernity came in the form of an all-white Geneva bluetooth speaker, which is set to play classical music come turn-down service. 
A dedicated vanity table in the corner of the room afforded opportunities for preening. 
A walk-in wardrobe held the room's bathrobes, luggage rack and digital safe. 
The opulent-looking bathroom came clad in French Breche de Benou marble, with dual vanities and a free-standing bathtub. Floors tend to get cold in the morning, but it's nothing a pair of fuzzy bathroom slippers won't solve. 
His and her sinks provided plenty of counter-top storage space. The mirrors were apparently self-defogging too, though I didn't have an opportunity to test this. 
A Tefal hairdryer was in the vanity drawer, amusingly placed in a bag labelled "shoes".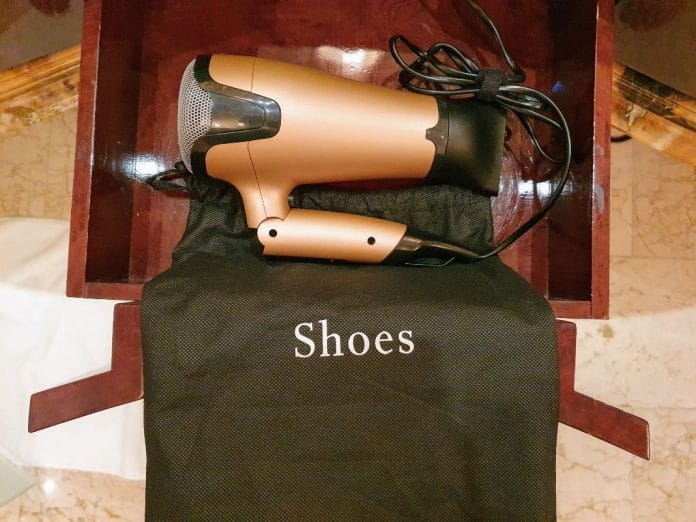 Bathroom amenities are from Laboratoire Remède, the St. Regis' own house spa brand. According to Loyalty Lobby, St. Regis was supposed to replace this line with another brand in early 2021, but I've not heard any developments on this front yet. I also noticed Pharmacopia branded body wash was provided instead of Laboratoire Remède, suggesting that the hotel is indeed running down its stocks. 
Surprisingly for a suite this size, there's no separate guest toilet. Instead, the single toilet is accessible both from the master bathroom as well as the entrance corridor. Disappointingly, there's no bidet seat or even a hose. 
The highlight of the bathroom was of course the free-standing tub, although its size and the positioning of the tap means it's single occupancy only. A bath pillow would have been a wonderful addition; a place to rest your head while watching the in-mirror TV.
The shower had a jet massage function, with very good water pressure. I can't tell if this is accident or design, but I noticed the ceiling lights in the shower area were giving off a lot of heat. It actually helped keep you warm in that awkward period after bathing and before towelling off. 
In terms of room condition, there's definitely some wear and tear with chipped laminates and damaged blinds, but these are aesthetic deficiencies rather than functional ones. 
While it's lacking some modern conveniences, the Caroline Astor Suite makes for a very comfortable stay. The two-room layout lets you keep your hosting and resting areas separate, although the single bathroom means some intrusion is inevitable.
St. Regis Singapore: Facilities
| | | |
| --- | --- | --- |
| Pool | Gym | Spa |
| Yes: 7 a.m to 7 p.m | Yes: 7 a.m to 7 p.m | Yes: 10 a.m to 7 p.m |
| Kids' Club | Business Centre | Others |
| N/A | N/A | N/A |
Swimming Pool
The St. Regis Singapore's swimming pool is open from 7 a.m to 7 p.m daily, and guests can book a one-hour time slot upon arrival (with 30-minute gaps in between, presumably to facilitate cleaning). A maximum of 18 people can use the pool at any one time.
While the pool doesn't have the best of views owing to its relatively low elevation, there's a lovely tropical vibe created by the lush greenery surrounding it.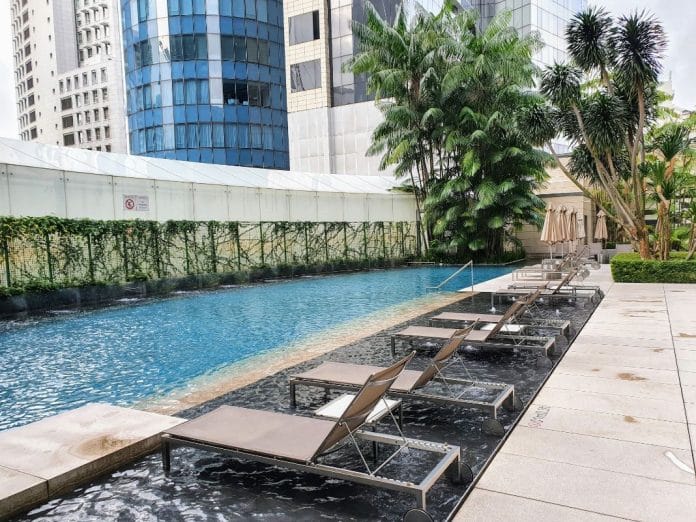 The pool depth measures 1.2m throughout, and its fairly regular shape makes it suitable for lap swimming. However, the water can be quite frigid, because the surrounding buildings tend to block the sun for most of the day. 
Getting a pool chair shouldn't be a problem, with at least one dozen scattered throughout the area (complete with unfurling umbrella). 
Amusingly enough, the hotel saw fit to stencil the depth of the water in which the pool chairs lie. Short people, take note.
Gym
The St. Regis Singapore's gym is open from 7 a.m to 7 p.m daily, and guests can make 75-minute bookings upon arrival. A maximum of five people can use the gym at any one time. 
Inside you'll find TechnoGym equipment, including treadmills, elliptical and weights machines, plus free weights. A personal fitness trainer can be arranged for a fee. 
Spa
The on-site Remède Spa is open from 10 a.m to 7 p.m daily. While I didn't do a treatment here, I did manage to try out the wet lounge spa facilities, and they're incredible. 
Access to the wet lounge is complimentary for Marriott Bonvoy Platinum, Titanium and Ambassador members (45 mins per day); all other in-house guests will pay S$30++ for a 2-hour slot.  Those who book a spa treatment can enjoy a free 30-minute slot before or after their appointment.
The wet lounge is a paradise for those who love heated things. In fact, each feature has a little metal placard indicating its temperature. Guests can enjoy the indoor hydro-massage pool (36-38°C)…
…or the outdoor Hot Whirlpool (38°C), while also walking along the Aqua Reflex Path (16-20°C).
They can relax on a pair of marble Heated Wave Loungers (33-38°C)…
…retire to the steam chambers (45-50°C)…
…or enjoy some dry heat in the Finnish Sauna (60-110°C).
Finish off under the large rain shower (30-35°C).
It's just an amazing line-up of facilities, all in good condition, and something I'd happily pay to access the next time round. 
St. Regis Singapore: Breakfast
Served at

Cost

Style

Brasserie Les Saveurs

S$49++ (Adults)
S$24.50++ (Child 6-12)

A la carte buffet

Hours

Sparkling Wine?

Discounts?

6.30 a.m to 10.30 a.m

No

No
Breakfast is served at Brasserie Les Saveurs from 6.30 a.m to 10.30 a.m daily. Guests are required to book a slot upon arrival; each slot is 30-minutes long but that refers to your arrival time rather than how long you have to eat. I have seen photos of very long queues during weekends, so you definitely want to make a booking. 
The cost is S$49++ (S$58 nett) per adult if not included with your rate, making it one of the more expensive hotel breakfasts in Singapore.
Dishes are served a la carte buffet style, with guests allowed to order as many items as they wish from the menu. 
Update: As per a follow up visit on 13 October 2021, this has been reduced to two main courses per guest
Fresh fruits and a small pastry basket started proceedings, as well as juice and coffee. When we last stayed at the St. Regis Singapore, coffee was served from one of those horrible digital dispensers, and earned a two thumbs down rating from coffee connoisseur The Milelioness. Thankfully they've significantly improved the offering since then, garnering a "pass" this time round (high praise, considering the source). Freshly-squeezed watermelon juice was offered, but all other juices are bottled.
Breakfast was a tale of two halves. I'd say the strengths lie squarely in the Western items; the local selection was rather disappointing. 
Singapore Laksa had too much coconut milk and not a whole lot else going on. A single, bland frozen prawn didn't help things. 
Nasi Lemak came with two delicious pieces of fried chicken, but the rest of the dish was anonymous. I thought they could have stood to throw in a piece of fried fish, given the breakfast's price point. 
Avoid the dim sum basket. The har gow and siew mai were dried out and stuck to each other, with a very small meat to filling ratio. 
The Chinese Congee was completely forgettable, appearing and tasting equally bland. I was half expecting there'd be some meat inside, but nope- just porridge. 
And now the better items. 
The famous Epicurean Omelette has been somewhat nerfed from its former glory, with the lobster chunks replaced by tiger prawns, and the lobster bisque replaced with a layer of foam. It's also topped with Avruga caviar, which isn't actually fish roe and is marketed as a caviar substitute. 
Cutbacks aside, the omelette was fluffy in the middle and came with some delicious roast tomatoes. Even the accompanying salad was more than a mere decoration; it was pretty tasty on its own (except they forgot to add the vinaigrette dressing on the second day). 
While the plating could have been a whole lot better, the Brioche French Toast was superb. Moist on the inside, crispy on the outside, with a delicious roasted banana compote and a generous dusting of cinnamon sugar. 
Belgian Waffles were also perfectly executed, with a crispy exterior dusted with powdered sugar.
Finally, the pancakes were as good as any I've had in a hotel. Fluffy, not too dense, and delicious with syrup. 
There's clearly work to be done on the Asian items, but stick to the Western ones and you'll be fine. 
St. Regis Singapore: Other Dining
Brasserie Les Saveurs
Afternoon tea
Afternoon tea is served from 3 p.m to 5 p.m daily (except on Sundays, where it runs from 3.30 p.m to 5.30 p.m), and costs S$48++/S$55++ per person on weekdays/weekends. 
I should probably advise you at the onset that it's a sweets-heavy affair, with half a dozen items featuring chocolate in some form or other. That's either a bug or a feature, depending on your taste buds. 
The savoury items consisted of a foie gras mousse tartlet, truffle egg mayo sandwich, smoked salmon Caesar roll and beef pastrami sandwich. 
Sweet items were served on a three-tiered tray, with milk chocolate and sea salt caramel cake, Williams pear dark Namelaka chocolate, assorted macroons and pralines. 
Plain and raisin scones came with the usual clotted cream and strawberry jam. A nice twist was the option of a caramel Rehoboth Estate 70% dark chocolate spread. 
The sole hot item was a mushroom chawanmushi, topped with ricotta basil espuma and shaved honey orchid Dancong Hongcha tea chocolate. It's a unique combination for sure, but this mixture of umami, savory and sweet didn't work for me. 
To wrap up proceedings, a chocolate mousse was served. It isn't just any regular chocolate mousse, however. A trolley was wheeled to the table to top the mousse with shavings of St. Regis Tea Blend Fossa Chocolate. Exquisite stuff.
Guests have the option to add on a glass of Barons de Rothschild Brut champagne at S$25++ per glass. This, in my opinion, is a cut above the usual Moet or Veuve Clicquot champagne you might find at other high teas. It's a lovely crisp champagne, with aromas of pear and nuts. 
Dinner
From the a la carte menu, we tried the Salade de Crabe Royal (S$48++), a king crab salad with green apple espuma, avruga pearls and lime dust. The crab meat had a natural sweetness to it, with the small apple slices adding a refreshing crunch. 
The Bisque de Homard (S$32++) was a clear winner, a blissful combination of lobster and cognac. If they had thrown in a bit more meat, this could be my go-to dish every time.
While I normally find foie gras too cloy for my palate, the Foie Gras de Canard Poêlé (S$38++) expertly toed the line. The accompanying poached pear helped cut the richness of the foie gras, which had a wonderful char on the outside. 
For the mains, we had the Porc Iberic (S$48++), medallions of pork loin, accompanied by baby carrots, carrot puree, orange and honey apple jus. The pork could probably have been taken off the heat 60 seconds earlier, but the natural fat in Iberico pork was very forgiving.
We also tried the Barramundi a la Vapeur (S$42++), cooked to perfection with crispy skin and a moist interior. 
For dessert, the crème brûlée (S$18++) was a no-brainer. The caramalised top gave an oh-so-satisfying sound when you tapped it with a spoon, breaking apart to reveal the eggy goodness within.
For those who love chocolate, the Tarte au Chocolat (S$18++) provides it in spades. Guanaja 70% dark chocolate, chocolate almond sponge and chocolate coulis- what's there not to like?
Prices are steep to be sure, but remember: American Express Platinum cardholders can enjoy up to 50% off the bill. With the Love Dining discount, these three appetizers, two mains and two desserts would cost S$122 before taxes and service charge- none too shabby, given the quality. 
Yan Ting
Yan Ting is the St. Regis Singapore's signature Chinese restaurant, serving Cantonese cuisine for lunch and dinner seven days a week. 
We tried the Indulgent Set Menu (S$128++ per pax), a six-course dinner with the following dishes:
The trio of appetisers were delicious: crispy roast pork belly that could go toe-to-toe with any roast meat purveyor out there, a wasabi-coated deep-fried prawn, and chicken in aromatic ginger and scallion oil.
We were then served sea whelk (a type of sea snail) consommé in a tea pot. The clear broth was refreshingly light. 
Oven-baked Sea Perch Fillet with Miso was an intriguing combination of sweet and savory, with the fish presented on a bed of blueberries. The cook on the fish was perfect, and the natural saltiness of the miso was balanced well by the sweetness of the fruit. 
Kai Lan was served before the carbs course, acting almost like a palate cleanser after the richness of the preceding dish it. I do love my green veggies, and they did a good job masking the natural bitterness of kai lan. 
My favourite dish of all was the Braised Angel Hair Pasta with Crispy Sakura Shrimps. It's fusion done right, sort of a hae bee hiam pasta.  
Ending the meal was Sweet Mung Bean Soup with Deep-fried Dough Fritters. 
A word about the service. While proceedings started well, the sequence hit a snag after the fish course, where we waited 40 minutes for the next dish to arrive. By this time we were famished, and asked them to just bring the rest of the dishes together. 
AMEX Platinum cardholders can enjoy up to 50% off at Yan Ting via the Love Dining programme.
Violet Hour
Pre-COVID, guests could enjoy the St. Regis' evening ritual at the Astor Bar, known as Violet Hour. In the words of the hotel:
Inspired by American Essayist Bernard Devoto- author of "The Hour: A Cocktail Manifesto" in 1948, Astor Bar's evening ritual marks the distinguished time between day and dusk, and celebrates the twilight shift between the stresses of work to the boundless possibilities of night. The violet Hour welcomes the evening with the world's most iconic cocktail- The Martini, to bring glamour, sophistication and discernment into the guest's evening.
Since Astor Bar is temporarily closed, the hotel arranged for Violet Hour to be done in-room, expertly overseen by head bartender Yvonne Tay (definitely one to watch, from what I read online). 
To make a Violet Hour Martini, mix gin, lillet, orange bitters and creme de violette. Shake with ice and strain. Drink. Repeat.
I'm hardly the foremost authority on cocktails (though I can make an excellent whiskey on the rocks), but I'd say the Violet Hour Martini is tantalisingly subtle and easy to drink. I could imagine knocking back a few of these. 
With any luck, the doors to Astor Bar will reopen soon. When that happens, I really should see about trying a Chili Padi Mary, the St. Regis Singapore's signature drink. 
St. Regis Singapore: Service
One of the hallmarks of a St. Regis stay is butler service, which is available to all guests regardless of room type (not a given- at the St. Regis Florence, it was restricted to certain room types only).
Butlers will deliver complimentary coffee, tea or hot chocolate any hour of the day, assist with packing and unpacking, and press two pieces of garments per day. They can also run a bubble bath if you wish. 
Response times were generally good; we waited no more than 15 minutes for any request to be fulfilled. 
With the exception of the hiccup at Yan Ting (which could be kitchen-related more than anything), service at the restaurants was very good. The staff had mastered the art of being always there when you needed them, invisible otherwise. 
Turndown service was provided each evening, with bottled water, coffee and tea restocked, the bathroom getting touched up and rubbish emptied. 
There were a couple of small things that kept the service from reaching Raffles/Kempinski levels. For example, I asked the butler line for an ice bucket and a champagne stopper, only to be told they didn't have the latter. That seemed hard to believe for a hotel with a bar, so I asked the butler who brought the ice bucket, and to her credit she managed to find a Vacu Vin wine stopper; not exactly the same thing, but it got the job done. What would separate good service from great is if the person who picked up the phone had at least attempted to find a solution, instead of delivering the simple "no we don't have that" answer. 
I was also observing if the staff would pay attention to minor details like taking their shoes off when entering a room, if they observed the occupants doing likewise. That wasn't the case here, but to be fair, even Raffles didn't get that right; the only one who has so far is Oasia Resort Sentosa.
Verdict
The St. Regis continues to provide one of the poshest hotel stays in Singapore, though it will need to take a serious look at renovations in the near future if it's to continue holding court at the upper echelons of the luxury segment.
Wear and tear, for now, remains mostly around the edges- a missing button on a seat cushion, a damaged welcome sign at the entrance. As time goes by, these issues will invariably come to the forefront more and more, and guests' tolerance for it less and less. 
Otherwise, the Caroline Astor suites are spacious and comfortable, the wet lounge facilities can't be beat, and dining (save a few missteps with the Asian breakfast items) is a high-quality experience; even better if you hold an AMEX Platinum card. 
Mrs. Astor would approve.
🏨 In Summary
With ornate suites and high-end gastronomy, the St. Regis Singapore delivers a posh staycation experience indeed- though a facelift wouldn't go amiss.
Do say: St. Regis, Singapore's finest address

Don't say: Orchard Towers, 350m away

Milelion Staycation Ratings

St. Regis Singapore (Media Stay)