Back in November 2021, Singapore Airlines opened its brand new SilverKris Business Class Lounge at Changi Airport Terminal 3, the first of four lounges to complete a S$50 million overhaul spearheaded by hospitality designers Hirsch Bedner Associates (HBA).
This, quite frankly, was long overdue. The original lounges had opened alongside Terminal 3 back in 2008, and were woefully outdated even before COVID broke out. The new lounges, on the other hand, were an opportunity for Singapore Airlines to make a statement, to rectify a ground experience that was out of step with the sublime standards set in the air.
Did they succeed? That really boils down to who you ask. Some say the new lounges are a breath of fresh air, shunning insecure gimmicks in favour of a quiet, dignified elegance that is quintessentially SIA. Others believe that the lounges have played it too conservative and lack a true X factor, a missed opportunity that now can't be rectified until Terminal 5 opens in the mid-2030s. 
As for me, I fall somewhere in the middle. I personally think the new lounges are a big step forward, even if they're not market-leading. Yet I can't help but feel that SIA was constrained by the footprint of Terminal 3, and that this lounge doesn't represent everything they wanted to do. 
So, all that having been said, how does  Singapore Airlines' flagship Business Class lounge hold up, two years after opening?
✈️  tl;dr: SilverKris Business Class Lounge, Terminal 3

SIA's flagship Business Class lounge fixes a lot of its predecessor's shortcomings, even if it errs on the side of safety rather than showstopper.

👍 The Good
👎 The Bad

Beautifully-designed interiors, with separate areas for dining, working, relaxing and sleeping

Oversized dining hall with live cooking stations and a wide selection of F&B

Private shower suites with electric bidet seats

Despite its larger capacity, still gets very packed during peak departure times

No USB-C charging ports and u

nimpressive Wi-Fi speeds

Limited operating hours for bartender and barista service
🆕 Something Old, Something New
Access and Operating Hours
The SilverKris Business Class Lounge at Changi Terminal 3 is open 24 hours daily.
Access is available to passengers departing on a Singapore Airlines flight in:
First Class (+1 guest)
Business Class
Premium Economy or Economy Class, with Solitaire PPS Club or PPS Club status (+1 guest)
Access is also available to passengers departing on a Star Alliance flight in:
First Class (+1 guest)
Business Class
All guests must be travelling on the same flight as the eligible passenger, per Star Alliance policy.
First Class passengers and Solitaire PPS Club members arriving in Singapore on a Singapore Airlines flight may also visit the lounge, together with one guest on the same flight- though they'll obviously want to visit The Private Room (First Class) or First Class Lounge (Solitaire PPS Club) instead. 
Do note that KrisFlyer Elite Gold and Star Gold members flying in Premium Economy or Economy Class do not get access to the SilverKris Lounge in Singapore. They'll instead be directed to the KrisFlyer Gold Lounge.
Getting to the SilverKris Business Class Lounge
The SilverKris Business Class Lounge is located on Level 3 of Terminal 3, just one floor up from the main departures concourse. 
After immigration, turn left at the giant Louis Vuitton store and walk towards the A gates. Skip the first escalator you see on the right and keep walking.
Before long, you'll see the "billboard" for the SilverKris Lounge: 105 hand-crafted glass pieces forming SIA's signature batik motif, a 12-metre wide art installation designed by glass artist B. Jane Cowie. You can find her other works at the Enchanted Garden in Terminal 2.
At the top of the escalator is The Oval, the unofficial name of the unified entrance for all three SilverKris Lounges (the KrisFlyer Gold Lounge is down the corridor in a separate area, further affirming its outcast status).
The Oval is designed to engage your senses from the moment you enter: a curved, custom-made 8K Sony Crystal LED wall flashes an animation of SIA's batik motif, SIA's sonic signature "The Sound of Singapore Airlines" plays softly in the background, while SIA's bespoke Batik Flora scent (created by Singapore artisan perfumer Scent by Six) lingers in the air. 
The staff will check your boarding pass and point you to the correct lounge. 
❓ What about the other escalator?
Had you taken the first escalator after clearing immigration (after the first Cosmetics & Perfumes by Shilla store), you'll see the entrance to the KrisFlyer Gold Lounge instead.
You can still access the SilverKris Lounge by simply heading straight down the corridor. En route, you'll pass what used to be the entrance to the SilverKris Lounge during its soft-opening stage.  This has since been sealed up by a feature wall with subtle batik patterns and twinkling LED lights. 
Lounge Overview & Seating 
The Oval deposits you at the centre of the SilverKris Business Class Lounge, which compared to the previous iteration has 36% more floor area and 18% more guest capacity.
| | | |
| --- | --- | --- |
|   | Old SilverKris Business Class Lounge | New SilverKris Business Class Lounge |
| Floor Area | 2,155 sq m | 2,925 sq m (+36%) |
| Guest Capacity | 488 | 575 (+18%) |
The first thing you'll notice is how bright the space is. The old lounge was dark and solemn, but the current facility makes full use of the natural light afforded by its new location (for context, this lounge sits in the footprint of the former First Class Lounge and The Private Room). 
Turning left from the entrance will take you to the customer service desks, dining hall, showers and sleeping area.
Turning right will take you to the bar and café. 
Let's turn right first, where you'll see what's meant to be the social epicentre of the lounge: the bar. This attractively-lit area features eight bar seats, two TVs playing news and sports, and all the libations you could care for. 
In the mornings, the bar becomes a barista station, with coffee served from 6 a.m to 10 a.m. In the evenings, bartender service operates from 5.30 p.m to 1 a.m. Given the hodgepodge of time zones that transit passengers will no doubt be in, however, I do wish they'd extend the hours further. I mean, it's five o' clock somewhere right?
Beyond the bar, the lounge expands into an open-air concourse, taking full advantage of the sunlight afforded by Terminal 3's glass panel façade. This area is noticeably warmer than the rest of the lounge, which could either be a bug or a feature depending on your thermostat preferences. You'll also get more noise from the terminal. 
Here's where you'll find the café, a space for passengers on a short transit to grab a quick bite (I'll talk more about the food options in the next section). High chairs and communal tables reinforce the idea of grab-and-go, rather than sit-and-linger.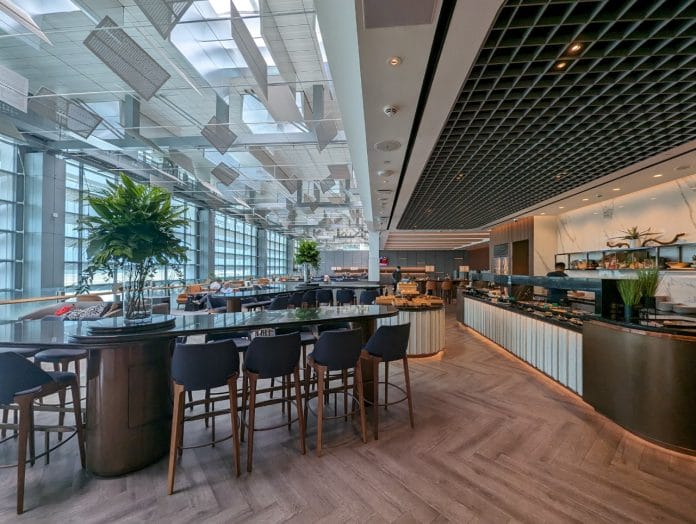 For those intending to stay longer, there's plenty of armchair seating towards the end of the lounge, a nice place to allow the sunlight to adjust your circadian rhythm.
I'm definitely a fan of the colour palette HBA has chosen. Unlike some lounges which are row upon row of cut-and-paste furniture, the designers have bothered to provide visual heterogeneity, with shades of burnt orange and deep blue providing a striking contrast to the muted tan leather and white marble table tops. Furniture and fittings are contemporary, and it's a welcome update from the sometimes stodgy interiors of the previous lounge. 
Lined up along the wall are nine productivity pods, these are tastefully clad in blue leather, with a reading light and wraparound design that provides aural and visual isolation from the rest of the lounge. Each pod has a wireless charging pad, universal power outlet and 2x USB-A ports. 
💡 Fun Fact
The Oval was still under construction at the time of the SilverKris Lounge's soft opening, so a temporary entrance was carved out near the productivity pod area. 
This has since been covered with wooden panels and converted into an emergency exit. 
If you retrace your steps to the lounge entrance and turn left this time, you'll find the customer service desks, where the lounge staff can assist with reissuing boarding passes, or changing your seat selection/frequent flyer number (useful for those accessing the lounge via one programme, but wanting to credit the miles to another).
There's also a six-person meeting room, complete with whiteboard and TV screen, available on a first-come-first-serve basis. 
And as a reminder of the relentless march of commerce, there's a KrisShop pop-up display, showcasing the most exquisite ways of lightening your wallet. 
The main dining area is just up ahead, but before that is a small seating area with four rows of individual blue armchairs, separated by tables with wireless charging pads and power outlets. 
Those who visited the previous SilverKris Lounge will remember a dimly-lit buffet area, with solemn white and caramel marble island tables. 
That nightclub vibe never appealed to me, so I really like the redesigned version, which plays it like a fancy dining hall complete with open kitchens and live stations. Teardrop crystal chandeliers and warm lighting make it feel like an altogether more inviting space than its predecessor. 
Off the dining hall is a seating annex that served as a temporary First Class section back when the lounge first opened.
Review: First Class section at new Singapore Airlines Changi SilverKris Lounge
It was a strange arrangement to say the least, with lounge dragons keeping curious looky-loos away, and waiters rushing in and out to deliver made-to-order items not available to Business Class passengers. 
Now that the First Class lounge has reopened, this area is used for general seating. Expect more armchairs (including eight unique high-backed throne seats you won't find anywhere else in the lounge), sofas, and communal high tables.
A sound-proof children's play room with bean bags and Peppa Pig can be found here, as well as a phone booth. You know, the kind where you go to take phone calls, instead of broadcasting it to the entire lounge. 
Protip: if all the productivity pods elsewhere are occupied, you can find some additional ones tucked away here. These are even more quiet, since they're in an enclosed area.
Back to the dining hall, and at the very rear of the lounge are more dining tables, booth seats that offer tarmac views, and regular-height communal work desks. 
This lounge has some plane spotting potential, though Changi Airport uses special frosted glass to help reduce its cooling bill, so your photos may not turn out very well.
Food and Beverage
Guests who want to grab a bite have two main options to choose from.
Café
The café is located on the right side of the lounge (taking reference from the entry point at The Oval), and as the name suggests, is more of a place for light bites.
In the fridges are pre-packaged sandwiches suitable for grab-and-go, together with cut fruits. 
Soft drinks, fruit juice and cocktail mixers are available in the fridge, with TWG teas and coffee machines located nearby.
Dining hall
The dining hall is split into a cold and hot food section. 
In the cold area you'll find items like maki rolls, muffins, cakes and assorted breads with a toaster. 
Inside the open display cases are whole and cut fruits, a salad bar, soba noodles, sandwiches, cheese and more desserts. 
Over in the hot food area is a buffet spread with a rotating selection of six dishes, together with soups, dim sum, and an Indian food corner. Chicken nuggets and French fries are also available. If these have gone soggy, ask the kitchen to whip up a fresh batch and they'll gladly oblige.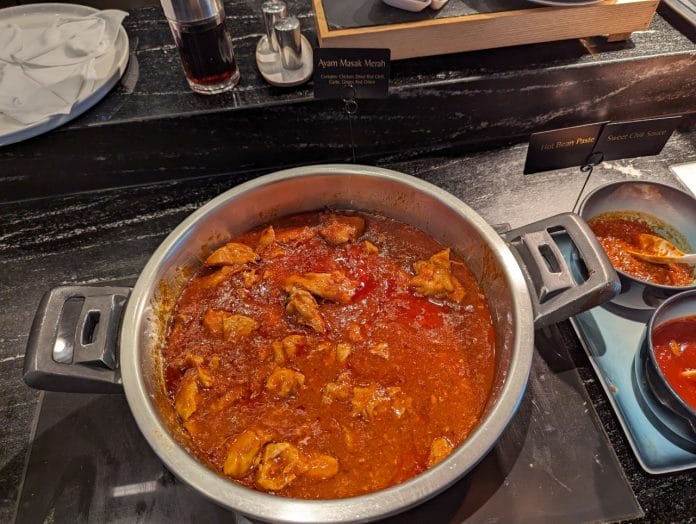 The dining hall also has two live stations, serving up a total of four different dishes. One had prawn noodles and laksa…
…the other offered pork chop fried rice and a mushroom fusilli pasta with white wine cream sauce (just don't call it carbonara!).
❓ Why no a la carte dining?
Let me pause for a minute to address a common criticism I've heard: "why doesn't the SilverKris Lounge have a la carte dining with table service? So many competitors offer it in Business Class".
Would I like to have that? Sure. But I also don't think it's a fair comparison.
The airlines which offer a la carte dining in Business Class Lounges (off the top of my head there's Air Canada, Gulf Air, Qatar Airways, United, Virgin Atlantic) are also the ones where Business Class is the highest cabin of service (Qatar Airways offers international First Class too, but it's limited to a very small number of routes; for all intents and purposes, Business Class is meant to be their flagship product). 
Moreover, Gulf Air and Virgin Atlantic are boutique carriers with relatively small networks. United's international travellers are spread across several gateway cities (and even then, Polaris Lounge access is restricted to long-haul international travellers- I don't see a practical way for SIA to segment access in that manner). Qatar Airways has acres of space in Doha, and can spread Business Class passengers over two huge lounges totalling 17,000 sqm.
Ultimately, with all its international departures focused in a single airport and with space already at a premium, it would be hard for SIA to offer a la carte dining in its Business Class lounge without disappointing a lot of passengers. I think the live cooking stations are as good a compromise as could be hoped for. 
In terms of drinks, an island table in the middle of the dining hall has TWG teas and several bean-to-cup coffee machines (using Boncafe beans). Remember that you can get barista-made coffee at the bar during the morning periods.
Towards the end of the hall is the refreshments counter, with soft drinks and beer in the fridge and not-so-soft drinks on the counter. 
In terms of wines, the lounge serves up a very nice Piper-Heidsieck Essentiel Extra Brut champagne, a multi-vintage blend of Pinot Noir, Pinot Meunier and Chardonnay. 
This is the same champagne you'll find onboard in Business Class.
Founded in 1785, Piper-Heidsieck is one of the oldest and best-known Champagne Houses. In 2011 it was purchased by the Descours family and has been on an impressive quality trajectory ever since.

Today the winemaking is overseen by young and dynamic "chef de cave" Emilien Boutillat. Essentiel is a classic multi-vintage blend of Pinot Noir, Pinot Meunier and Chardonnay, almost 20% of the Essentiel blend is made up of older reserve wines which give the wine more complexity, richness and maturity yet still remaining fresh and bright.

A famous Champagne House in full Renaissance mode.
Red and white wines are available from a digital wine dispenser (the screen uses resistive touch, so you need to press really hard for it to register your inputs). 
🍷 SilverKris Lounge Changi T3 Wine List

Wine

Type

Vivino Rating

🇫🇷 Piper-Heidsieck Essentiel Extra Brut NV

Champagne

4.0/5 ★

🇺🇸 Rodney Strong Chardonnay 2020

White

3.6/5 ★

🇳🇿 Craggy Range Sauvignon Blanc 2022

White

4.2/5 ★

🇫🇷 Chateau Amour Medoc 2015

Red

3.7/5 ★

🇦🇺 Dandelion "Lionheart of the Barossa" Shiraz 2020

Red

3.9/5 ★
For those who want beer, there's a choice of Tiger on tap (back at the bar), or a self-pouring Asahi machine.
There's also the usual assortment of spirits, together with cocktail accompaniments for those at the lounge during non-bartender hours. 
Sleeping area
At the rear of the lounge is a sleeping room with 14 Rolf Benz slumberettes. These are available on a first-come-first-serve basis, with reservations neither required nor possible. 
Each cubicle has its own adjustable reading light, plus 2x universal power plugs and 2x USB Type-A charging ports. However, wireless charging is not available here. 
Blankets and pillows are available on request.
Since the sleep pods are not fully enclosed, however, all it takes is one heavy snorer to keep the whole room awake- and believe me, it happens rather often. 
Wi-Fi & Productivity
In the press release for the new SilverKris Lounges, Singapore Airlines boasted of Wi-Fi with "enhanced speeds of up to 25 Mbps". 
Even if those figures were accurate, it still wouldn't be anything to shout about, not when larger lounges elsewhere (e.g. the Al Mourjan Garden Lounge) are offering triple-digit speeds.
In any case, I clocked the Wi-Fi network at 9.7 Mbps down and 10.2 Mbps up, though these speeds could vary depending on the network load at the time. For the sake of comparison, the public Changi Wi-Fi network was clocked at 29 Mbps down and 30 Mbps up. 
For those in need of power, universal power outlets, USB Type-A ports and wireless charging pads are abundant throughout the lounge. These can be found beneath tables, in between chairs, pretty much everywhere you might need one. I do think the designers missed a trick by neglecting to install USB-C outlets though.
Restrooms & Showers
There are two restrooms in the lounge, a smaller one located near the bar area, and a much larger one near the dining hall.
The larger one is a better choice if you ask me, because it has electric bidet seats (versus a bidet hose in the smaller one).
Showers have always been the Achilles heel of the Singapore Airlines lounges at Changi. It's incredible to think that prior to COVID, even First Class passengers had to make do with shower rooms located inside the main restroom, without an attached toilet. In a time where competitors are offering spa cabanas and all kinds of frills, that was simply not good enough.
Thankfully, this has now been rectified with 15 shower suites, each with its own ensuite toilet.
The new shower rooms are clad in a mix of white and grey marble, with luxuriously large rain shower heads. 
If there's one thing I dislike about the shower suites, it's that SIA has gone cheap on the toiletries. These generic green pump dispensers look out of place in the otherwise premium setting. Wouldn't this be a good opportunity for a collaboration with a local skincare brand?
All things considered, however, this is still a massive upgrade from the former SilverKris Lounge. 
Lounge crowding
When the SilverKris Business Class Lounge first opened in November 2021, renovations were still underway at the other three T3 lounges, and T2 had not yet reopened.
This meant the lounge had to host all eligible passengers: Solitaire PPS, PPS, First, Business, Star Golds, you name it. It should come as no surprise that overcrowding eventually reached critical levels, as travel volumes ramped up with the VTLs. The debut of the KrisFlyer Gold Lounge and SilverKris First Class Lounge & The Private Room in mid-2022 helped relieve the pressure somewhat, as did the reopening of T2 and its three lounges later that year. 
But air travel is practically back to pre-COVID volumes, so even though it's not the standing-room-only situation it was before, lounge crowding can get rather severe during peak periods (mornings and evenings). I purposely scheduled my visit during mid-day, when I knew lounge utilisation would be at its lowest.
During peak periods, expect waiting times for showers to be >1 hour, and empty seats to be few and far between. If you really can't deal with crowds, you might want to take a Skytrain over to T2 and use the SilverKris Lounges there- though be warned that the hardware will be much older. 
Review: Singapore Airlines SilverKris Business Class Lounge Changi Terminal 2
Conclusion
Singapore Airlines' flagship SilverKris Business Class Lounge fixes a lot of the shortcomings of its predecessor- abundant natural light, private shower rooms with ensuite toilets, a food hall with live cooking stations, and dedicated rest areas have all been on the wishlist for eons. The design is aesthetically pleasing, and even though it gets crowded during peak hours, it's nothing like the madhouse we saw in early 2022.
And yet, it's impossible to shake the feeling that the airline has been hamstrung by Terminal 3 itself. We know that SIA has outgrown this terminal — hence the need for two-terminal operations — but unfortunately there's no quick fix in sight.
For better or worse, this is the lounge that will carry the next 10 years until Terminal 5 opens, and in that sense, perhaps Terminal 5 is the real blank canvas (the home base lounges of Emirates, Qatar Airways and Turkish Airlines show what you can do when space is no constraint).
Are there other amenities I'd have liked to see? Sure. I mean, if you gave me a checklist with sit-down dining, spa, gym, movie theatre, A380 simulator, petting zoo, I'd tick every box. But lounge design is ultimately about trade-offs, and I think the final product threads the needle about as well as you could hope for.
This lounge is kind of like Singapore Airlines in a nutshell: excelling at the basics without any of the bling, and with an innate sense of conservatism. For what it's worth, I do think this is a pretty good Business Class lounge (crowding issues aside), and if nothing else, the gap between the on ground and onboard experience has been narrowed considerably.