Introduction: It's the most wonderful time of the year
A Tale of Two Lounges: SATS Premier T2 and the Qantas SIN Lounge
Malaysia Airlines B737 Business Class SIN-KUL
Malaysia Airlines Business Class Golden Lounge KUL
Malaysia Airlines A330  Business Class KUL-NRT
Japan Airlines Business Class Sakura Lounge NRT
Japan Airlines B77W Business Class NRT-LAX
The Westin LAX
The Westin Westminster
Aloft Boston Seaport
The Consolidated AA Domestic First Class Experience
American Airlines Flagship Lounge JFK
American Airlines B772 Business Class JFK-LHR
American Airlines Arrivals Lounge LHR
The Great Northern Hotel, London
Sheraton Grand Park Lane, London
Westin Paris Vendome
Courtyard by Marriott Madrid Princesa
Four Points by Sheraton Barcelona Diagonal
The Consolidated Intra-Europe Business Class Experience
Sheraton Casablanca
Royal Air Maroc Business Class Lounge CMN
Royal Air Maroc B737 Business Class CMN-ACC
Ethiopian Airlines B787 Business Class ACC-ADD
Ethiopian Airlines Cloud 9 Business Class Lounge ADD
Ethiopian Airlines Q400 Business Class ADD-DAR
Protea Hotel by Marriott Dar Es Salaam Courtyard
Qatar Airways A320 Business Class DAR-DOH
Qatar Airways Al Safwa First Class Lounge DOH
Qatar Airways A330 "First" Class DOH-MCT
Oman Air Business Class Lounge, MCT
Oman Air E175 Business Class MCT-DXB
The Grosvenor House Dubai
W Doha
Qatar Airways Business Class Lounge DOH
Qatar Airways B772 Business Class DOH-BLR
The Ritz Carlton Bangalore
Vistara A320 Business Class BLR-DEL
Cathay Pacific A330 Business Class DEL-HKG
Cathay Pacific Arrivals Lounge HKG
W Hong Kong
Touring Cathay Pacific's HKG Lounges
Cathay Pacific A350 Business Class HKG-SIN
---
Qatar Airway's Al Safwa First Class lounge in Doha was, all things considered, not the life-changing experience I'd hoped it would be. Perhaps my expectations were too high, but I came away wondering if Qatar Airways was really all that and a bag of chips.
The next challenge would be to see how its Al Mourjan Business Class lounge in Doha stacked up. Needless to say, the expectations of a Business Class lounge are quite different from those of a First Class one. In a First Class lounge, you'd be right to expect total luxury- spa treatments, big shower cabanas, getting driven to your gate, dine on demand instead of a buffet etc. In Business Class, you're more focused on productivity and therefore having quiet working spaces, fast internet, charging stations, quick service buffets and many smaller shower rooms to minimize waiting become more important.
Our RTW trip was now wrapping up but we had a whole week to spend in India before returning to Singapore via Hong Kong. We were now flying from DOH-BLR, a route I was relieved to see operated by Qatar's widebody 772 aircraft and not a narrowbody one.
Doha airport is undergoing some renovation work and you can see it at the entrance to the Qatar Premium Services area. It's not pretty, and detracts from the ambiance somewhat.
Making a left at the welcome area sends you to the Al Mourjan Business Class check in area, where there are numerous counters waiting to receive you. My luggage was checked through to Bangalore and we received our lounge invitations.
There's actually a good deal of seating around the Business Class area which I found confusing, given that this is really a transitory point more than anything and no one would stay longer than they had to. But it seems that Arab families travel with a lot of luggage (like, really a lot), and normally the man of the household will handle all the formalities while the women and children sit elsewhere and wait.
The Doha airport is gorgeously designed with high ceilings and a lot of natural light. It was very quiet when we checked in at around 4.30pm for our evening departure.
There is a special immigration booth and security after the Business Class check in, which opens out to the main terminal. I still think Doha airport has great facilities for premium cabin passengers, but if you're travelling at the back of the bus good luck. Queues for immigration and security are usually very long due to the high volume of migrant workers traveling in and out of Qatar.
The lounge wasn't too hard to find, with many signs pointing you in the right direction. We took an escalator upstairs and found the reception area.
Our boarding passes were scanned and we were admitted into the lounge, where the first thing you see is this…thing. Horrary for art.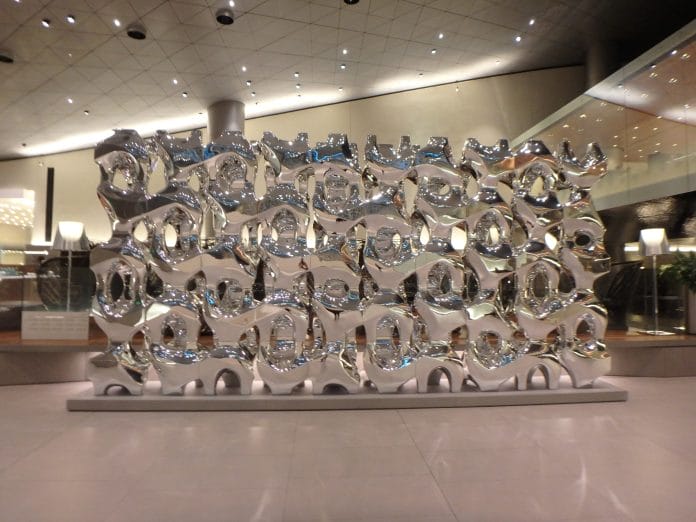 Perhaps more inspiring is this water feature to the right of the entrance area. This stretches across half the lounge, towards one of the work areas where we were headed.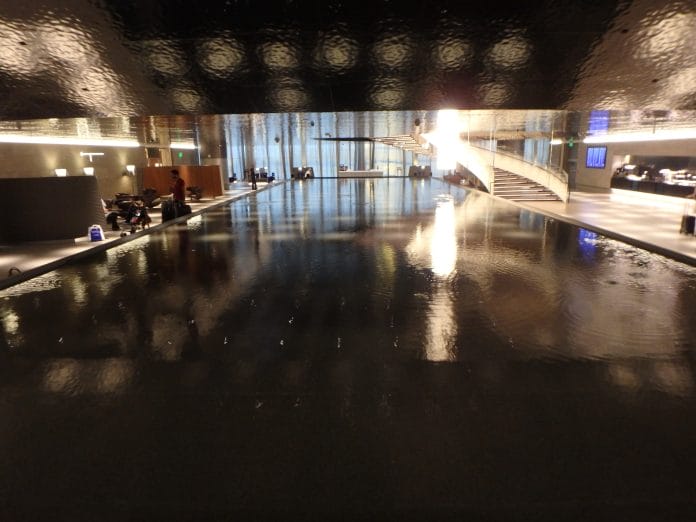 Yes, that's right, I said work. Believe it or not, my colleague and I actually had work to do on this trip, and finding a quiet space with power outlets where we could discuss things was important.
Fortunately we found this quiet corner with lots of blue chairs.
Each set of chairs had a tablet with Qatar flight information and newspapers, similar to the ones I saw in the Al Safwa lounge.
Each seat had USB charging and power outlets, so it was a good place to sit and have a discussion. Nearby were some light refreshments on a table.
You won't find substantive food on this floor; that's what the restaurant on the upper level is for. But if you just want drinks you'll be able to get coffee, soft drinks, juices and still and sparkling water from these refreshment counters.
There's also a few small plates of pastries and sweet things.
Here's a reverse angle of the water feature, looking back towards the entrance area of the lounge. Note the spiral staircase on the left. That was where I was now headed to get a bite.
There's a hanging chandelier almost reaching into the water from the ceiling as you go up the stairs.
Come up the stairs and you're in a different zone (this reminds me of what JAL did in their Sakura lounge where they clearly demarcated the eating spaces from the working and resting spaces. However, unlike JAL you can find food on the first floor of the Qatar lounge…read on).
Here they have a two buffet tables spread laid out over both sides of the floor, with different options at each. I understand that at one point in time there used to be dine on demand as well, but I didn't see any menus available. It might be that they cut back on staffing during Ramadan.
There's also plenty of seating and thankfully, none of those nonsense high tables that become really uncomfortable after a while (you do know that when lounges feature such tables it's part of a subtle nudge to stop people from staying too long right? Welcome to aggressive architecture)
There is also a bar counter, but since it's Ramadan you'll have no booze. The staff were happy to take orders for fresh fruit juice though.
Here's the buffet- for starters you have an assortment of small plates
None of which really appealed to me to be honest. Beet salad, Arabic mezze, tuna something or other.
The hot items weren't much better
As a general rule, if you can't identify what something is just by looking at a picture, it's probably not good. Such was my experience putting together a bit of everything- basmati rice, "Chinese Style" vegetables, white fish with cream sauce, roasted chicken and some lamb.
The desert section also…had room for improvement. I don't know why more lounges don't just get ice cream. It's cheap, it's a crowd pleaser and it's difficult to get wrong.
So that's two for two where Qatar has struck out on meals. Again, I wonder how much of this is just me not liking the style of cooking in the Middle East, but it's safe to say that they're not going to be challenging Lufthansa's DO&CO catering anytime soon.
After a very underwhelming meal I returned to the first floor to explore some more. Here's a view of the dining area from the first floor- it's that frosted glass section on top.
I returned back to the entrance area of the lounge where I noticed a map. It's always good when a lounge is large enough to require a map.
It was when looking at this map hat I realised there was a second dining area in the lounge on the first floor! It was tucked away at the other end of the lounge. I headed over to have a look.
En route, I passed through the raised wooden platform that, if you were to fold the lounge in half, would overlap with where the water feature is on the other side.  There are many chairs here for resting and having light snacks.
I reached the other side of the lounge and entered the second dining area.
This area is much nicer than the dining area upstairs. It certainly feels a lot more roomy given the higher ceiling, and it seems as if fewer people have found out about it given how quiet it was.
The downside is that they only did sandwiches here. The upside was that they were made to order with waiter service.
I ordered a smoked salmon sandwich on ciabatta bread instead of the whole wheat. I was sad to note that they did not have any avocado in the lounge.
The sandwich itself was passable, certainly not great. Limp iceberg lettuce and a few tomato slices rounded out the dish, which isn't going to be changing the world anytime soon.
You also had a small selection of deserts, cheese and coffee at self-serve stations.
I took a brief walk around the rest of the lounge before finding the showers. There are some sleep pods in the lounge with high walls for privacy. However they won't block out much noise from the terminal (or, if a fellow traveler decides this is the best place to watch a movie on his phone…without headphones. Ugh. People.)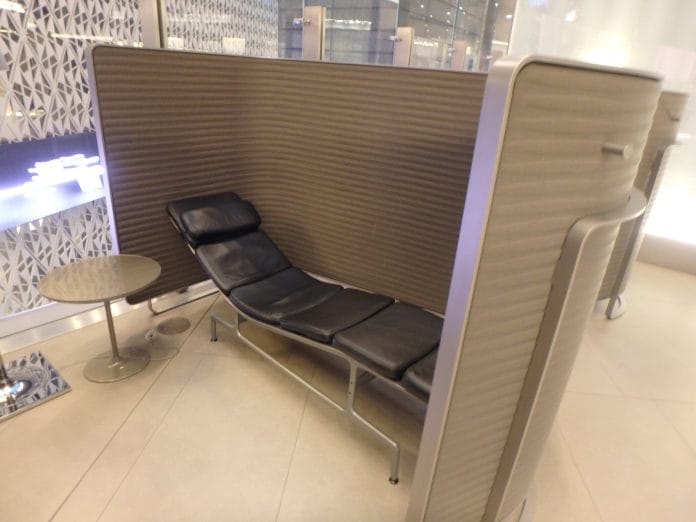 There's also the mandatory family room that you'll find everywhere in the Middle East. I wonder if these stencils are official Disney licensed…
Before boarding I grabbed a quick shower in one of the many cubicles they had available. An attendant showed me to a small but functional room which had an attached toilet.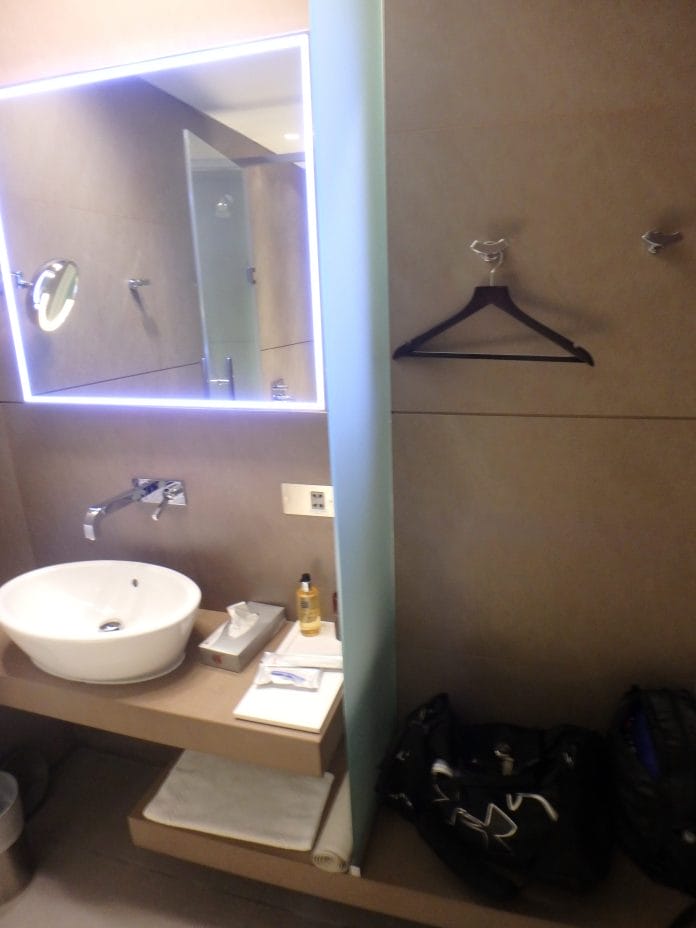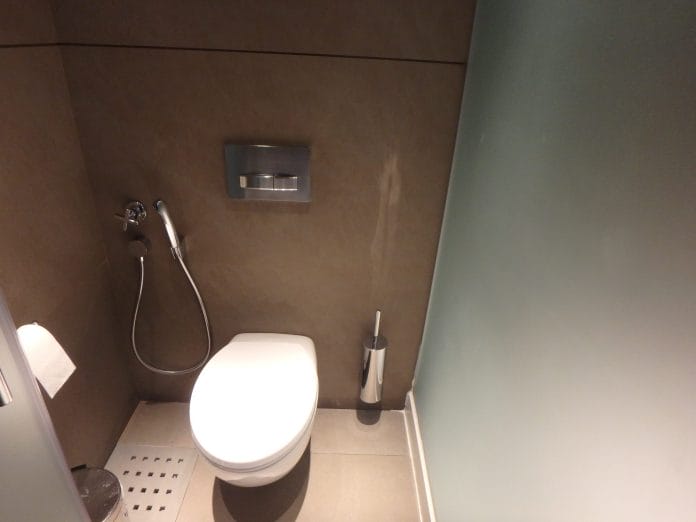 You had to request amenities like a shaving kit and toothbrush, which I thought was a shame (the gold standard is to have it all there waiting), and the bath products were wall-mounted push bottles for Rituals.
My overall thoughts are that Qatar's business class lounge is comfortable enough for getting work done. I didn't like the F&B options, but I realise that's highly subjective. The lounge is definitely more style over substance, in that it's really nice to look at but doesn't have any of the wow factors that a world-leading business class lounge like, say, Turkish Airlines in Istanbul has.
I'm starting to wonder if Qatar's ground services are overrated. Having read so much about it on other travel blogs, I really expected to be blown away. The experience wasn't bad by any means, but it certainly wasn't something that I'd go out of the way to extend my layover for.
I will have another opportunity to visit this lounge on my way back from Philadelphia thanks to the recent Qatar mistake totally intentional fare, so I'll do a follow up review to see whether the removal of Ramadan restrictions improve things.