If you managed to apply for the SCB X Card before its 100,000 miles sign up bonus got pulled on 1 August 2019 at 0000, your 60-day spending period is either over or going to end very soon (some customers received an additional 10 days in light of SCB's card fulfillment delays)

Hopefully you've hit the S$6,000 threshold by now. I did (after getting rejected four times, my RM managed to push my application through at the last minute), spending a total of S$6,060.74 on my X Card:
Using the X Card meant diverting spend away from other cards which may have earned more miles on that particular transaction, so there's an opportunity cost involved. I calculate that to be about 6,000 miles for me, so all in all, I'm paying S$695.50 for the privilege of earning 94,000 miles, or 0.74 cents per mile- a fairly decent figure.
The spending may be over but the anxiety has just begun. There are a ton of questions floating around about when the bonus miles will be credited, what transactions count, what transactions don't, etc etc. The T&C can answer some of these, but otherwise, only SCB knows.
I can't provide definitive answers on a lot of the outstanding questions, but what I can do is provide 3 Do's and Don'ts as we sit tight and wait for Godot.
Do: Check that your transactions have posted in time
If you left it till the last minute to complete your S$6,000 spend, you might want to check your e-statement to see if your transactions posted in time. Remember: the S$6,000 must be posted within the first 60 days of approval to be eligible for the bonus miles.
As per Clause 50 in the T&Cs:
50. To qualify for the X Card Sign Up Gift Promotion, the Eligible X Cardholder must, charge a
minimum of S$6,000 to his/her X Card on eligible retail transaction(s) within the first 60 days
from the card approval date of his/her X card (each such transaction fulfilling this Clause 50
shall be referred to as a "X Card Sign Up Gift Qualifying Transaction"). For the purposes of
this Clause 50, an eligible retail transaction excludes the transactions set out at Clause 56
and is one which:
a. has a transaction date falling within the first 60 days from the card approval date;
b. is successfully

posted

to the X Card account within the first 60 days from the card
approval date; and
c. after being successfully posted, cannot be reversed on or before the first 60 days
from the card approval date
Just because you transacted before the deadline doesn't necessarily mean it posted before the deadline. Take my statement below, for example. You can see that most transactions take 1-3 days to post.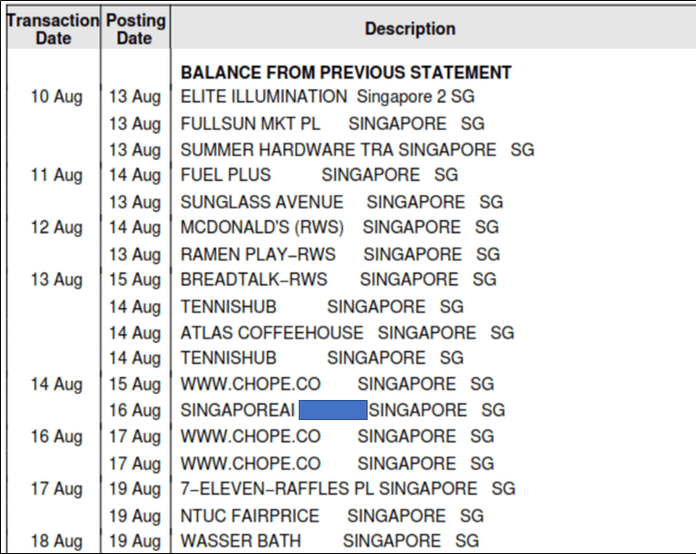 Long story short, it's not smart to leave things till the last minute.
But even if you made your transactions well before the 60 day period ended, you need to be careful if you spent at an e-commerce merchant. Most e-commerce merchants will take your card details at the time of purchase, but only charge your card once the item has shipped. Don't assume that giving your credit card details means everything is done and dusted; monitor your statement and make sure it posts!
How do I check my posting dates?
To see the posting dates of your transactions, hover your mouse over your name on the top right of the SCB i-banking screen and click on "eStatements & eAdvices". Download the PDF statement and you'll see transaction and posting dates listed separately.
Don't: Ask the CSO whether you've qualified for the bonus miles
Even after hitting S$6,000, some people will invariably have that nagging thought at the back of their minds: what if Merchant X doesn't count?
Now, there's absolutely no way of verifying if you've qualified for the gift. The qualification decision is made by a different team (supposedly at the end of October), and those who have tried asking via the phone or online chat have all been referred to Clause 52 and 53 of the T&C:
52. Each Eligible X Cardholder can only receive one (1) X Sign Up Gift under this X Card Sign
Up Gift Promotion as described in Clause 51. The relevant 360° Rewards Points he/she is
entitled to receive under this X Card Sign Up Gift Promotion will be credited to the Eligible
Cardholder's X Card account, subject to the X Card account being valid and in good standing.
This crediting will take place in the X Sign Up Gift Crediting Period, depending on the X Card
approval date and the date the X Card Sign Up Gift Qualifying Transactions are successfully
posted to X Card, as detailed in the table below:
| | | | |
| --- | --- | --- | --- |
| Application Submission | Approval Date | Qualifying Transactions post by | Sign up gift crediting period |
| By 31 July 2019 | By 31 Aug 2019 | By 31 Oct 2019 | By 30 Nov 2019 |
| From 1 Aug 2019 | By 30 Sep 2019 | By 30 Nov 2019 | By 31 Dec 2019 |
53. A SMS will be sent to Eligible X Cardholder's Bank Registered Mobile Number to inform him/her that he/she has qualified to receive the X Sign Up Gift and the X Sign Up Gift has been credited to his/her valid X Card account by the last day of the crediting period (as set out at Clause 52).
In other words, those who signed up by 31 July 2019 will need to sit tight until 30 Nov 2019, by which time they'll receive an SMS if they've qualified.
Now, you could try asking the CSOs about the eligibility of certain transactions you're worried about (e.g. PayPal), but more likely than not they're going to point you back to Clause 57:
57. The following transactions charged to a principal X Card or supplementary X card will not be considered as a X Card Sign Up Gift Qualifying Transaction for the purposes of the X Card Sign Up Gift Promotion:
(a) Insurance premiums, including premiums for investment-linked policies, charged to the X Card;
(b) Bill payments (Examples of bill payment merchants include but are not limited to
Telecommunications and utilities providers such as Starhub, Singtel and M1, Singapore
Power);
(c) Any payment via AXS network;
(d) Any payment via SAM network;
(e) Any bill payment made using SC EasyBill programme;
(f) Payments to government agencies which include but is not limited to Land Transport
Authority, Housing Development Board, Inland Revenue Authority of Singapore, Public Utilities Board, Immigration & Checkpoints Authority and the Ministry of Manpower,
educational institutions (primary/secondary/tertiary);
(g) Income tax payments;
(h) Tax refunds credited to the X Card;
(i) EZ-Link cards transactions;
(j) CardUp transactions;
(k) ipaymy transactions;
(l) RentHero transactions;
(m) Transit Link transactions;
(n) Any top-ups or payment of funds to any prepaid cards (with exception of EZ-Reload
charged to your X Card) and any prepaid accounts, payment platforms, digital wallets
including but not limited to Grab, Singtel, Dash, WorldRemit Singapore, YouTrip or any
other accounts as the Bank may specific from time to time, including without limitation to
the following accounts or any other accounts as we may specific from time to time;
(o) Any transactions pertaining to Merchant Category Codes 6211 (Security
Brokers/Dealers), 7995 (Gambling/Lotto), 4829, 6536, 6537, 6538 (Money Transfer) and
6050, 6051 (cryptocurrency/Quasi Cash);
(p) Credit Card Funds Transfers to the X Card, cash advances from the X Card, purchases
via NETS and ongoing instalment payments;
(q) Any fees and charges (including but not limited to annual fees, service fees, interest
charges, cheque processing fees, administrative fees, cash advance fees, finance
charges and/or late payment charges and other miscellaneous fees and charges) charged
to the X Card;
(r) Any amount charged to the X Card during the Promotion Period that is subsequently
cancelled, voided or reversed;
(s) Any charges incurred by the X Card but not submitted or posted to the X Card during the
X Card Sign Up Promotion Period;
(t) Any fraudulent transaction; and
(u) Balance owing on the X Card account from other months.
Besides, with different CSOs giving conflicting information about what does and doesn't count, I wouldn't put a whole lot of weight in their answers. It's frustrating to be sure, but beyond the T&Cs, your guess is as good as mine. The only people who know the answer sit elsewhere in SCB, and you'll only hear from them by 30 Nov 2019.
Do: Check that your annual fee has been billed properly
Oh SCB. What's the point of continually emphasizing that the annual fee is an integral part of the sign up bonus if you can't even charge it properly?
To start off, many cardholders reported that they were only billed S$650 at first, which is basically the annual fee less GST. I don't know how a goof like that happens, but fine, SCB sent out an SMS later to correct the matter:
Dear Client, please note that the annual fee of S$650 charged for your X Card reflected in your Aug 19 statement was not inclusive of GST. The GST amount of S$45.50 will be reflected in your upcoming credit card statement. We apologize for any inconvenience caused.
At least that's better than being charged two annual fees, which happened to a handful of people:
Then there's the third category of folks (including me) who haven't been charged any annual fee at all. And no, I'm not rejoicing for slipping through the cracks- Clause 42 makes it very clear that the annual fee needs to be paid in order to qualify for the sign up bonus.
42. Without prejudice to Clause 11 of the SCX Promotion Terms, the Bank reserves the right to
claw back the 360° Rewards Points credited to the X Card account under this X Card Upfront
Gift Promotion or to deduct the value of these 360° Rewards Points (or such other amount
as it deems fit) from the X Cardholder's card account(s) or X Card supplementary
cardholder's card(s)

if the X Cardholder fails to make the annual fee payment.
I've already asked SCB's customer service about this (how often does a bank get people calling up and begging to be charged an annual fee, I wonder?), but when SCB can't even get the annual fee correct in its own T&Cs, I'm not particularly optimistic of a quick resolution…
Don't: Refund any amount (or let it be refunded)
As per Clause 11, your sign up bonus can be subsequently clawed back if any of the transactions you used to meet the minimum spend are reversed.
11. In the event the Bank has determined (in the Bank's sole and absolute discretion) that a X Cardholder or X Card supplementary cardholder is not eligible to participate in this SCX Promotion or any of the promotions listed at Clauses 1.1 to 1.4; or is not eligible to or has irregularly or wrongly redeemed or received any 360° Rewards Points/gifts/vouchers cashback/rebates/privileges from the Bank; or where the Bank has knowledge of subsequent events which would mean that the X Cardholder or X Card supplementary cardholder would not have been entitled to redeem or receive the 360° Rewards Points/gifts/vouchers/cashback/rebates/privileges

(

including but not limited to where the charges used to meet the

minimum spend were reversed or refunded), the Bank reserves the right to claw back the 360° Rewards points

/ gifts/ vouchers/ cashback/ rebates/privileges or to deduct the value of the 360° Rewards Points/gifts/vouchers/cashback/rebates/privileges (or such other amount as it
deems fit) from the X Cardholder or X Card supplementary Card account(s) with the Bank
Now, I don't think anyone's dumb enough to do that deliberately, but there may be situations where this inadvertently happens.
Suppose you're like me, and used your X Card to pay for taxes on award tickets. When going through my spending, I realised that I'd made four transactions on Singapore Airlines award tickets, totaling S$305.20.
I'm not 100% certain I'll end up using all these tickets, which means I'll need to do some "insurance spending" (i.e backup spending, not spending on insurance, which doesn't count towards the X Card's sign up bonus).
Why? Remember what happens if you cancel an award ticket– the taxes and fees are refunded to the same credit card. The last thing I want is to have my points clawed back a few months down the road when I absentmindedly refund an award ticket. So yes, in retrospect it was a bad idea to use the X Card for this, but if you're within your 10 day extension there's still time to fix it.
Then there may be other cases where the merchant initiates a refund through no fault of yours. For example, you may have bought something online, but the item you ordered is no longer in production and your order is automatically cancelled a week later. If you haven't received your items yet, there's always a risk of this happening, so be alert!
Do: Look for opportunities to hit S$8,334
But wait, you say. I though the magic number was S$6,000.
Well, yes and no. Although you need to hit S$6,000 to unlock the 100,000 miles sign up bonus, you'll need to spend S$8,334 to truly optimize this promotion.
Here's why- SCB's reward catalog has five different KrisFlyer redemption options:
Rewards Code SIA 11:  2,500 points (1,000 miles)
Rewards Code SIA 12: 25,000 points (10,000 miles)
Rewards Code SIA 13: 75,000 points (30,000 miles)
Rewards Code SIA 14:125,000 points (50,000 miles)
Rewards Code SIA 15: 250,000 points (100,000 miles)
Each unique rewards code attracts a transfer fee of S$26.75. For example
if I transfer 20 x SIA 11 for a total of 20,000 miles, I'll only pay S$26.75
if I transfer 10 x SIA 11

and 1 x

SIA 12, 

I'll still have 20,000 miles, but I'll pay S$26.75 x 2= S$53.50.
See how that works? Every time I involve a different rewards code, I pay another transfer fee. It's a very silly system, but it means you need to strategize how you're going to cash out your sign up bonus miles.
Now, assuming you spent your S$6,000 locally, you'll have a total of 107,200 miles (100,000 sign up bonus + 6,000 @ 1.2 mpd), or 268,000 rewards points (250,000 sign up bonus + 6,000 @ 3 points per dollar).
You can transfer a maximum of 99 of each rewards code in a single transaction, so it's not possible to transfer 107 x SIA 11 and be done with it. In this case, your best option is…
1 x SIA 15 (250,000 points/ 100,000 miles)
7 x SIA 11 (17,500 points/ 7,000 miles)
…but you'll leave 200 miles behind and pay two conversion fees.
Here's a better idea: spend S$8,334 locally to get a total of 110,000 miles (100,000 sign up bonus + 8,334 @ 1.2 mpd) or 275,002 points (250,000 sign up bonus + 8,334 @ 3 points per dollar). This can be neatly cashed out as 11 x SIA 12, paying only one conversion fee of S$26.75 and leaving only 2 points behind. 
Although there are other possible permutations if you have foreign currency spending (which earns 2.0 mpd, or 5 points per S$1), you'll generally want to avoid doing so because of the high opportunity cost and fees. Remember, the SCB X Card only earns half of the OCBC 90N Card's 4 mpd on foreign currency, and has the highest FCY fees in the market at 3.5%.
Unlike the 60 day rush to hit S$6,000, you have until the start of your second membership year to spend a further S$2,334. This gives you time to look for places where you can minimize the opportunity cost of using your X Card, i.e not dining, online, shopping or places with Paywave terminals.
Don't: Cancel your card once the points come in
As I noted in the X Card review, there's currently no compelling reason to keep it beyond the first year. S$695.50 for a card with mediocre miles earning rates, only two lounge visits and no other benefits is simply a bad deal.
Some people, anxious to Marie Kondo their wallets, plan to jump the gun and cancel their X Card once the sign up bonus is in. That's a terrible idea, based on Clause 56:
56. In the event that the Eligible X Cardholder terminates his/her banking relationship with the Bank
within 6 months of the expiry of the Sign Up Gift Promotion Period, the Bank further reserves the
right to recover the whole or any part of the X Sign Up Gift given to him/her under this Promotion.
The sign up bonus will be credited by 30 November 2019, at which point you'll only be four months or so into your membership year. Look, you've already paid the first years' fee anyway. Might as well sit tight, set a calendar reminder and see if the X Card adds some goodies next year to incentivize retention.
Conclusion
SCB still hasn't reopened applications for the X Card after shutting them down on 19 August, which means that as of today, the X Card has been closed for applications (48 days) more days than it's been open (25 days). That really makes you think…
I've already gone on record as saying that SCB hasn't exactly covered themselves in glory with the way they've handled the X Card launch, but the tl;dr version is that there's very little customers can do now but sit tight and wait for 30 November 2019.
In the meantime, why not think of ways of spending your sign up bonus, or enjoying this delightful video of a clever shih tzu? Either way, it's better than worrying.