Here's the Milelion's review of the AMEX KrisFlyer Ascend Card, one of Singapore Airlines' five cobrand offerings.
With direct crediting of miles, lounge access and a free hotel night every year, there's certainly a few things going for it. On the other hand, it's got a steep annual fee, and miles earning rates that aren't exactly earth-shattering.
So is this the card for you?
💳 tl;dr: ★★★

1/2

The AMEX KrisFlyer Ascend packs a good sign-up bonus, free hotel night and lounge access, but its earn rates are surprisingly underwhelming for a cobrand card. It's an OK option for the first year, but you'll subsequently need to re-evaluate its worth

The good
The bad

One of the larger sign-up bonuses in the market

No transfer fees

Lounge access

Free Hilton hotel night & status

Fast-track to KrisFlyer Elite Gold

Bonus FCY rate only applies in Jun & Dec

Bonus for Singapore Airlines spending is weak

Hefty annual fee that generally can't be waived
This AMEX KrisFlyer Ascend review forms part of my collection of credit card reviews. I'm constantly adding new ones, and you can browse the entire collection here.
Overview: AMEX KrisFlyer Ascend Card
Let's start this review by looking at the key features of the AMEX KrisFlyer Ascend Card.
Apply Here
Income Req.

S$50,000 p.a

Points Validity

3 years

Annual Fee
S$337.50

Min.
Transfer

N/A

Miles with
Annual Fee

None

Transfer
Partners
FCY Fee

2.95%

Transfer Fee

None

Local Earn

1.2 mpd

Points Pool?

N/A

FCY Earn
2.0 mpd
(Jun & Dec)
Lounge Access?
Yes

Special Earn

2 mpd on SIA and KrisShop, 3.2 mpd for Grab

Airport Limo?
No


Cardholder Terms and Conditions
Remember that there are four other Singapore Airlines cobrand cards- we'll cover the others in separate articles:
How much must I earn to qualify for an AMEX KrisFlyer Ascend?

The AMEX KrisFlyer Ascend occupies a bit of a strange spot when it comes to income requirements. At S$50,000 per year, it's not exactly entry-level, nor is it within the ballpark of S$120,000 mass affluent cards.
I've made the point that any income requirement above S$30,000 is entirely arbitrary, but American Express does tend to be stricter with enforcement than other card issuers. I've heard of people getting approved with incomes S$3-4,000 shy of the mark, but otherwise you may have problems.
If you're dead set on getting this card but don't meet the income requirement, American Express offers an "upgrade path".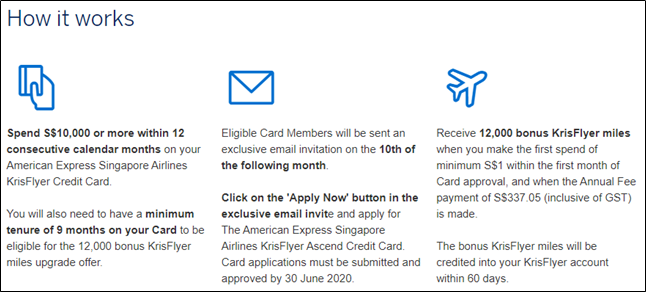 Holders of the entry-level AMEX KrisFlyer Credit Card who have held the card for at least 9 months and spend at least S$10,000 within 12 consecutive calendar months can opt to upgrade to an AMEX KrisFlyer Ascend. AMEX will throw in 12,000 bonus miles too, when the annual fee is paid.
How much is the AMEX KrisFlyer Ascend's annual fee?
| | | |
| --- | --- | --- |
| | Principal Card | Supp. Card |
| First Year | S$337.05 | Free |
| Subsequent | S$337.05 | S$80.25 |
The AMEX KrisFlyer Ascend has an annual fee of S$337.05 for the principal cardholder, and a S$80.25 fee per supplementary card. Although the first year's fee is waived for supplementary cards, there's no waiver for principal cardholders.
Unlike other card issuers, American Express is very strict about fee waivers. Unless you've spent a substantial amount over the past year, or hold a high-tier card like the AMEX Platinum Charge or AMEX Centurion, it's highly unlikely you can get the AMEX KrisFlyer Ascend's annual fee waived.
Should the fee be waived, however, you generally won't receive the free lounge vouchers or hotel night (see below).
What sign-up bonus or gifts are available?
American Express cards may not earn the most miles, but they do have some of the best sign-up bonuses on the market.
Here's what's currently on offer:
🎁 Current Sign-Up Bonuses/Gifts
Cardholders who spend S$10,000 in the first 3 months will receive a total of 40,500 miles:
5,000 bonus miles for their first-ever transaction on the card
16,000 bonus miles for meeting the bonus spend
7,500 bonus miles for applying through The Milelion's link
12,000 base miles for spending S$10,000 (@ 1.2 mpd)
Bonus miles will be credited within 8-10 weeks of meeting the spending threshold. The first year's fee of S$337.05 must be paid.
Offer Expires 30 June 2020
How many miles do I earn?
🇸🇬 SGD Spending
🌎 FCY Spending
➕ Bonus Spending

1.2

mpd

2 mpd
(Jun & Dec only,
otherwise 1.2 mpd )

2 mpd on SIA and KrisShop, 3.2 mpd for Grab
SGD/FCY Spending
AMEX KrisFlyer Ascend Card members earn 1.2 miles for every S$1 spent in Singapore Dollars, and 2.0 miles for every S$1 spent in foreign currency (FCY) in June and December only.
I've never been able to wrap my mind around the June and December restriction- I get that those are peak travel months for Singaporeans, but really, offering 1.2 mpd for 10 out of 12 months a year isn't good enough.
I'd have thought that cobrand cards would need to offer higher-than-average earn rates, because you're asking the holder to "pledge their loyalty". Miles earned with the AMEX KrisFlyer Ascend can only be transferred to Singapore Airlines, after all. If I could earn the same or better rates through a non-cobrand card that gives me a wider choice of partners, then what appeal is there?
Here's how this earn rate compares to other general spending cards at the S$30,000 income level:
All overseas transactions on the AMEX KrisFlyer Ascend are subject to a 2.95% fee. Surprisingly, this is one of the lowest FCY fees in the market (and before 1 March, was even lower at 2.5%).
Using your card overseas therefore means buying miles at 1.48 cents (not bad) or 2.46 cents (very bad), depending on time of year.
| | | |
| --- | --- | --- |
| When | Overseas MPD | Cost Per Mile |
| June & December | 2.0 | 1.48 |
| Other months | 1.2 | 2.46 |
Bonus Spending
AMEX KrisFlyer Ascend Card members will earn 2 mpd on all transactions made with Singapore Airlines, SilkAir, and KrisShop, without cap. Unfortunately, there's no bonus for Scoot transactions.
You could, however, earn 4 mpd by simply using the DBS Woman's World Card instead, or 3 mpd with the DBS Altitude, so this isn't a particularly attractive bonus rate.
AMEX KrisFlyer Ascend Card members receive a bonus 2 mpd on all Grab transactions, up to S$200 each calendar month. This means a total of 3.2 mpd on the first S$200 of spending. All Grab services are included, but GrabPay top-ups are excluded.
Your first GrabPay transaction using the AMEX KrisFlyer Ascend will receive 500 bonus KrisFlyer miles.
When are KrisFlyer Miles credited?
KrisFlyer miles are batched and credited to your account once a month. You can typically expect to see them credited around the end of your statement period.
How are KrisFlyer miles calculated?
Here's how KrisFlyer miles earned on the AMEX KrisFlyer Ascend are calculated:
| | |
| --- | --- |
| Local Spend | Multiply transaction by 1.2, then round to the nearest whole number |
| FCY Spend | Multiply transaction by 2 (in Jun/Dec) or 1.2 (otherwise), then round to the nearest whole number |
Notice how the transaction is not rounded down to the nearest S$1- instead, it's multiplied by 1.2/2 straight away. This means the minimum spend to earn points is S$0.42 (SGD) or S$0.25 (FCY).
This beneficial rounding policy allows the AMEX KrisFlyer Ascend to compete favorably with ostensibly higher-earning cards like the UOB PRVI Miles (1.4 mpd), at least where small transactions are concerned:
| | | |
| --- | --- | --- |
| | AMEX KrisFlyer Ascend | UOB PRVI Miles |
| $5 | 6 miles | 6 miles |
| $9.99 | 11 miles | 6 miles |
| $15 | 18 miles | 20 miles |
| $19.99 | 23 miles | 20 miles |
| $25 | 30 miles | 34 miles |
| $29.99 | 35 miles | 34 miles |
If you're an excel geek, here's the formulas you need to calculate miles:
Local Spend
=ROUND (X*1.2,0)
FCY Spend

=ROUND (X*2,0)

Where X= Amount Spent
For the full list of formulas that banks use to calculate credit card points, do refer to these articles:
What transactions aren't eligible for KrisFlyer Miles?
The good news is that American Express generally has the fewest rewards exclusions of any card issuer in Singapore. The following transactions will not earn miles with the AMEX KrisFlyer Ascend card:
a) Charges processed and billed prior to the Enrolment Date or charges prepaid on any Card
Account prior to the first billing statement for that Card Account following the Enrolment Date;
b) Cash Advance and other cash services;
c) Express Cash;
d) American Express Travellers Cheque purchases;
e) Charges for dishonoured cheques;
f) Finance charges – including Line of Credit charges and Credit Card interest charges;
g) Late Payment and collection charges;
h) Tax refunds from overseas purchases;
i) Balance Transfers;
j) Instalment plans;
k) Annual Card fees;
l) Amount billed for purchase of KrisFlyer miles to top-up your miles balance;
m) Purchase and top-up charges for EZ-Link Cards using American Express Cards;
n) Bill payments and all transactions via SingPost SAM kiosks and mobile app (with effect from 1 March 2020);
o) Payments to insurance companies (except payments made for insurance products purchased
through American Express authorized channels) (with effect from 1 March 2020);
p) Payments to Singapore Petroleum Company Limited (SPC) service stations (with effect from 1 March 2020);
q) Payments for the purpose of GrabPay top-ups (with effect from 1 March 2020);
r) Charges at merchants or establishments that are excluded by American Express at its sole
discretion and notified by American Express to you from time to time.
The key exclusions to note here are insurance payments, SPC transactions and GrabPay top-ups.
Apart from that, anything goes. You will earn miles for transactions which are commonly excluded by other banks, such as hospitals, utilities, government payments (if AMEX is even accepted), membership fees and even charitable donations, as the screenshot below shows:
CardUp and ipaymy transactions will earn points as per normal with the AMEX KrisFlyer Ascend, albeit with a higher-than-usual admin fee. If you're looking to pay income tax, however, CardUp is offering a discounted fee of 2.4% (normally 2.6%) for payments scheduled by 23 July with the code AMEXTAX24.
What do I need to know about KrisFlyer miles?
The AMEX KrisFlyer Ascend credits KrisFlyer miles directly to your account on a monthly basis, with no conversion fees.
This is a mixed blessing. On the one hand, you save on the usual ~S$25 conversion fee that most banks charge. On the other, direct crediting means the 3 year expiry countdown starts immediately. Contrast this to other cards where you enjoy "two validities"- one on the bank side, and one on the airline side.
In case you were worried, cancelling your AMEX KrisFlyer Ascend Card has no impact on KrisFlyer miles already in your account.
Other card perks
AMEX Offers
AMEX Offers are targeted deals pushed to your AMEX app, which can range from small savings like getting S$2 back on every S$10 spent at selected merchants, to much more substantial offers like S$75 off a S$300 Hilton transaction.
They can also take the form of bonus miles promotions, like the recent one for a bonus 2 mpd on Deliveroo and foodpanda.
Four free lounge visits
AMEX KrisFlyer Ascend Card members receive four complimentary airport lounge vouchers each year. Each voucher grants access to one person at participating SATS and Plaza Premium Lounges worldwide.
Four visits is more generous than what other general spending cards offer, although it should be noted that:
You'll still receive complimentary lounge visits with the Citi PremierMiles and DBS Altitude even with an annual fee waiver. In the rare case that you get a waiver for the AMEX KrisFlyer Ascend, you will not receive the lounge vouchers
Lounge access with the Citi PremierMiles and DBS Altitude is provided via Priority Pass, with more than 1,000 locations worldwide. AMEX KrisFlyer Ascend lounge vouchers can only be used at ~70 lounges worldwide
Free Hilton Night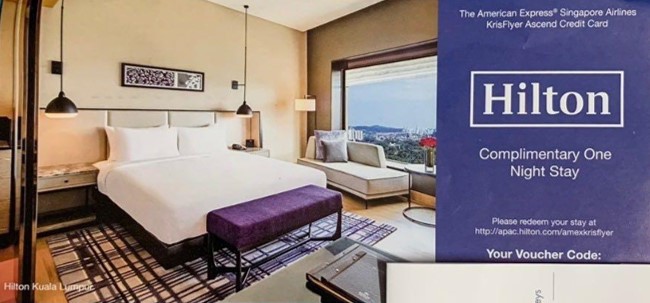 AMEX KrisFlyer Ascend Card members receive a free one-night stay at selected Hilton properties every year. This is a crucial benefit, because your ability to recover the annual fee depends on how smartly you use it.
There are currently 154 properties where this voucher is accepted, all within Asia Pacific. Almost 100 of those are in China, but there's also options in places like Bangkok, Bali, Hanoi, Melbourne, and Phuket too.
Obviously, not all hotels represent equal value so you'll want to choose wisely. As a general guideline, when it comes to brand positioning:
Conrad > Hilton > Doubletree > Hilton Garden Inn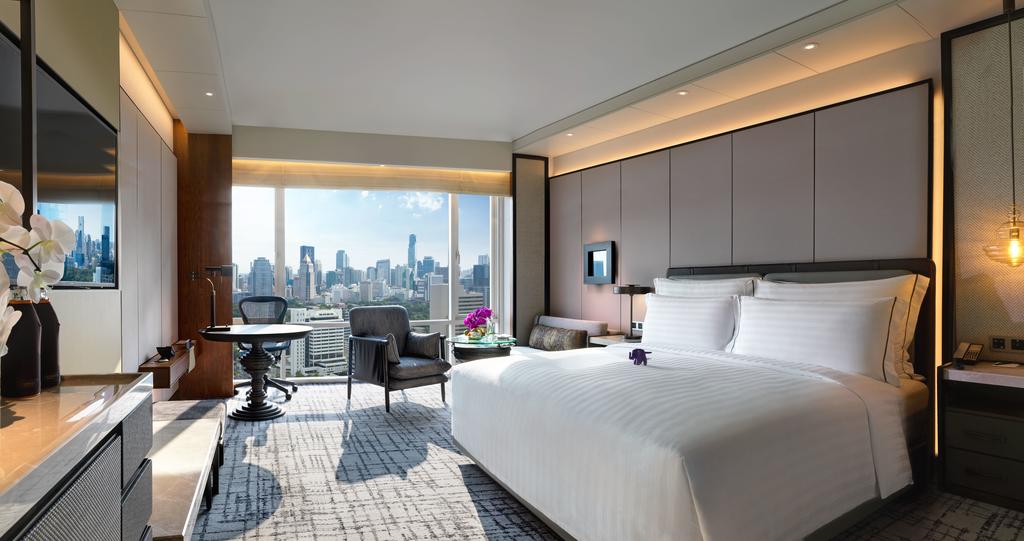 It doesn't necessarily mean that you'll always get the best value by redeeming your voucher at a Conrad though- dates and locations also play a big part.
Hilton Silver status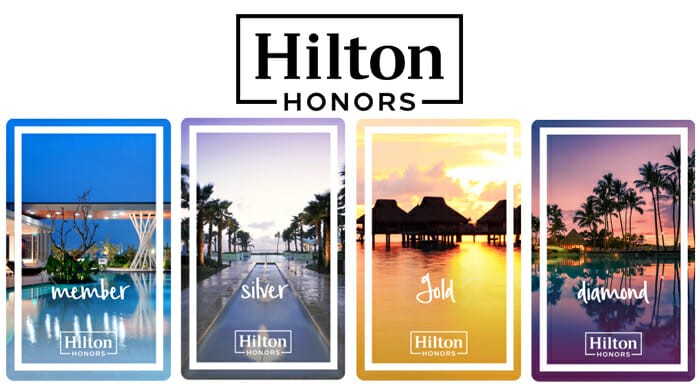 AMEX KrisFlyer Ascend Card members receive complimentary Hilton Silver status, which is valid until the end of the calendar year after it was received. For example, if I receive Silver status in 2020, it'll be valid until the end of 2021. Subsequently, I'll need to requalify via the usual criteria.
Now, Hilton Silver status, in and of itself, isn't fantastic. It's just one rung above the entry-level, with no free breakfast, lounge access or room upgrade perks.
But why it matters is because Silver members get the 5th night free on all award redemptions. Hilton sells points several times a year, with prices as low as 0.5 US cents each. You could buy points and redeem them for Hilton's top-tier properties, saving hundreds of dollars over retail value.
Take for example the Conrad Maldives, where rooms can cost upwards of US$1,000 a night. If you bought 95,000 points at 0.5 cents each, you'd pay just US$475, less than half the asking price.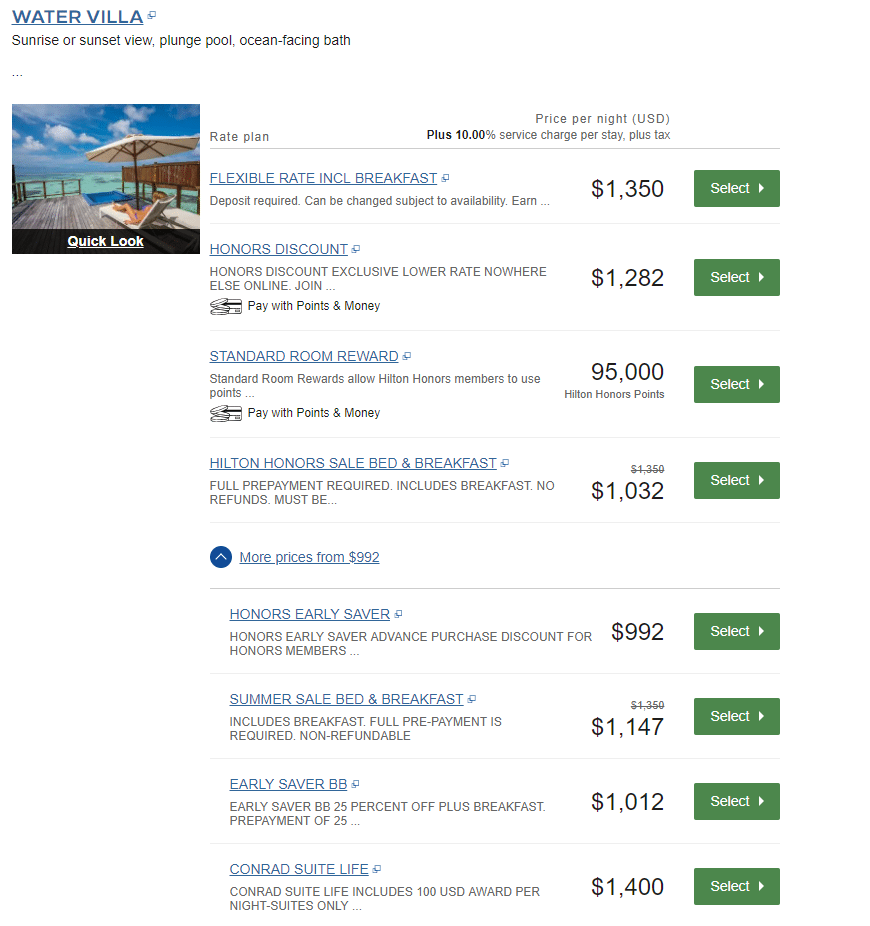 It gets better- if you're a Silver member and redeem 5 consecutive nights, you'd only need to pay 4 x 95,000= 380,000 points, or an average of just 76,000 points (US$380) per night!
Fast track to KrisFlyer Elite Gold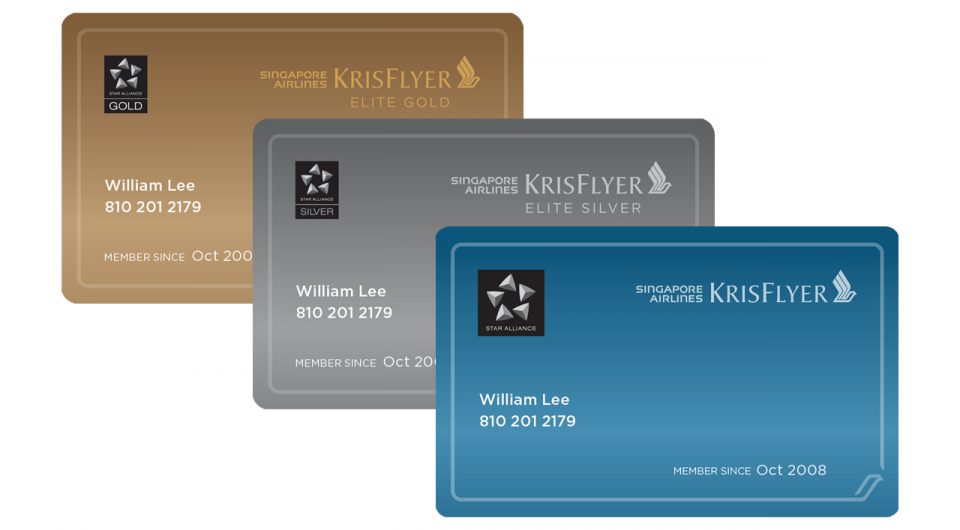 Cardholders who spend at least S$15,000 on Singaporeair.com purchases within the first 12 months of card approval will receive an automatic upgrade to KrisFlyer Elite Gold.
This benefit is only valid for the first year; subsequently, you'll have to requalify by flying at least 50,000 elite miles in a 12-month membership period.
KrisFlyer Elite Gold confers additional benefits when flying on Singapore Airlines or Star Alliance carriers, such as:
A 25% bonus on KrisFlyer miles
Lounge access
Priority check-in
Priority boarding
Priority luggage handling and additional 20kg allowance
S$15,000 is indeed a lot to spend, but think about the scenario of someone who often buys air tickets for his entire family. He can't accrue the elite miles on their tickets (only the person whose name is on the ticket can), but can nonetheless achieve KrisFlyer Elite Gold through his total card spending.
For what it's worth, in 2019 American Express ran a special fast track offer which cut the spending to S$12,000, of which only S$3,000 had to be with Singaporeair.com.
Double KrisFlyer miles accrual voucher
Cardholders who spend at least S$15,000 on Singaporeair.com purchases between 1 July and 30 June of the following year will receive a double KrisFlyer miles accural voucher.
As the name suggests, this allows you to earn double the miles normally accrued. This sounds great, but it's capped at a measly 5,000 miles. Here's an illustration of how it works:
Average complimentary travel insurance
Accidental Death
Medical Benefits
Travel Inconvenience

S$1,000,000

None

Missed connection: S$400
Baggage Delay: S$400
Extended Baggage Delay: S$1,000
Flight Delay: S$400
Many cards offer complimentary travel insurance, but not all policies are made equal. The Chubb coverage provided by the AMEX KrisFlyer Ascend ranks somewhere in the middle- not bare bones, but not comprehensive either.
Cardholders receive S$1,000,000 coverage for accidental death or permanent disability while traveling on a public conveyance. There's also coverage for travel inconveniences like missed connections and bag delays.
However, there is no coverage for medical expenses, nor medical evacuation. This is something you can't afford to miss, so a separate travel insurance policy is almost mandatory.
On the bright side, Chubb has confirmed that insurance coverage also applies to award tickets, so long as you use your AMEX credit card to pay the taxes and surcharges.
Summary Review: AMEX KrisFlyer Ascend Card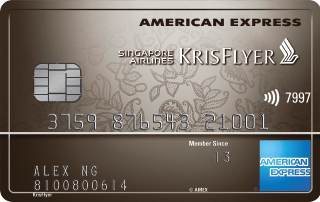 Apply Here
The AMEX KrisFlyer Ascend card can certainly pull its weight in the first year. Assuming you hit the sign-up bonus, you're looking at 28,500 additional miles (we count the bonus component only, not the base), conservatively worth about ~S$500. Add in the free Hilton night and lounge vouchers, and your card has basically paid for itself.
It's the second year on that the value proposition gets more dicey. With its underwhelming earn rates, you're not going to want to put too much overseas or Singapore Airlines spending on the AMEX KrisFlyer Ascend. The occasional AMEX offer may provide a temporary boost, but it won't be game-changing.
So if I had a big-ticket purchase coming up, I'd certainly look at the AMEX KrisFlyer Ascend for its meaty sign-up bonus. Otherwise, you might do better with other general spending cards.
So that's my review of the AMEX KrisFlyer Ascend. What do you think?
Overall Score
★★★

1/2

Ratings Guide
5 Stars
★★★★★


An essential card for miles chasers, with few viable alternatives

4 Stars
★★★★


A very good card, although other equally good alternatives may exist

3 Stars
★★★


A decent card to round out your collection, but not absolutely essential

2 Stars
★★


Very limited use cases, and outperformed by most other cards

1 Star
★


Paperweight. Use for picking teeth or ninja stars