Built at an eye-watering cost of S$8 billion (making it the most expensive building in the world at the time) and opened in 2010, Marina Bay Sands has for better or worse become one of Singapore's most iconic landmarks. 
The brainchild of Moshe Safdie (he of Changi Jewel fame), it's a place that dabbles in superlatives- 6 hectares large, 200 meters tall, 55 floors, 2,561 rooms and suites, and a rooftop park that's longer than the Eiffel Tower and large enough to park four and a half A380s. 
Is it successful? Yes, yes it is. In 2018, it generated more than US$2 billion in gaming revenues and a further US$393 million in rooms. A report from Deloitte cites that the hotel has historically enjoyed an occupancy rate of 99%. Instagram is chock full of carefully-curated infinity pool shots courtesy of sweet young things in swimsuits with hundreds of thousands of followers. 
I don't have hundreds of thousands of followers. But I do rock a good swimsuit. It was time to make my first-ever pilgrimage to Marina Bay Sands. 
Booking a Marina Bay Sands Staycation
Ever since Phase 2 staycations resumed, Marina Bay Sands has been offering a "Sands Staycation" package for S$339++ per night (S$399 nett). This is S$50 cheaper than the previous offer available before the Circuit Breaker, but they've removed the complimentary breakfast. 
🏨 Sands Staycation (S$399 nett)

1 night in Deluxe Room

Automatic upgrade to Premier Room upon reservation

$50 Sands Rewards credits

Free valet parking/self-parking (1 car per room per 24 hours)

12 p.m check-in (subject to availability)

Complimentary entry to Sands SkyPark Observation Deck & Infinity Pool

15% off ArtScience Museum tickets

10% off single treatments and 15% off couple treatments at Banyan Tree Spa till 31 Dec 2020

Book By

29 Sep 2020

Stay By

23 Dec 2020

Cancellation Policy

48 hours before arrival

Link
If you're willing to stay for two nights, however, you could get a slightly lower nightly rate with the "Stay Longer, Save More" package. This also comes with $60 in Sands Rewards credits per night (versus $50 with the Sands Staycation package). 
🏨 Stay Longer, Save More
(S$704 nett for 2 nights)

2 nights in Deluxe Room

Automatic upgrade to Premier Room upon reservation

$60 Sands Rewards credits per night

Free valet parking/self-parking (1 car per room per 24 hours)

12 p.m check-in (subject to availability)

Complimentary entry to Sands SkyPark Observation Deck & Infinity Pool

15% off ArtScience Museum tickets

10% off single treatments and 15% off couple treatments at Banyan Tree Spa till 31 Dec 2020

Book By

29 Sep 2020

Stay By

23 Dec 2020

Cancellation Policy

48 hours before arrival

Link
Finally, the casino at MBS often comps rooms to members of its Players Club, and many of these end up on Carousell. Be warned though: these rooms won't come with any additional staycation inclusions, and you always run the risk of being swindled. Moreover, my understanding is that these free rooms technically aren't transferable, so what happens is the seller checks in under his/her name and physically passes you the key.
Given all that's happening with COVID-19 and contact tracing requirements, that doesn't sound kosher to me. 
Marina Bay Sands Singapore: Pre-arrival
3 days before my staycation, I received an email from MBS with a pre-arrival form.
This asked for some basic information like arrival time, date of birth, and passport number. Complete it if you want, but I highly doubt it does anything to expedite your check-in process (there's no special line for those who filled out the form beforehand). 
Unlike some of the other hotels I've stayed at so far, MBS's pre-arrival form doesn't capture anything about guest preferences. Don't expect to be asked about activities of interest or dining reservations, much less pillow menus or still/sparkling water preferences. This is perhaps the first indication that you really shouldn't expect personalized attention at a place like MBS. 
But the most crucial thing about this pre-arrival form is that it prompts you to reserve a slot at the infinity pool. MBS knows its pool is the major draw, so much so that it allows you to cancel your booking without penalty if you're unable to secure a pool session beforehand. 
Keep in mind that policy only applies if you're not able to reserve any slot at all. Marina Bay Sand's pool is open from 6.30 a.m till midnight, and if there's even one slot available, that still counts. 
Each guest at MBS is entitled to a one-hour pool slot per day (i.e two slots over a one night stay). I'll talk more about the pool in the facilities section, but I want to first air some grievances about the booking system itself.  
To book a pool slot, you navigate to a dedicated website and select a timing.
Now in theory, your pool slot can only be reserved once you hold a confirmed hotel booking, because the system requests for a 7-digit hotel confirmation number. In reality, however, there's no input validation of the hotel confirmation number field, which means you could simply enter any random 7-digit sequence. 
That's just really poor system design, and leaves it vulnerable to mischief or human error. It's not hard to imagine a troll writing a script that automatically generates random hotel confirmation and mobile numbers to make all the slots disappear. 
It's also not hard to imagine someone making an innocuous typo in the mobile number field, and not receiving his/her confirmation SMS (which is needed to access the pool). If this happens, you're in trouble because the system won't let you go back and make another booking (at least not with your "proper" hotel confirmation number)- it'll think you're trying to make more than one booking for the same day, and reject you outright. 
A much better system would:
Begin by asking the guest to provide a mobile number, to which an OTP will be sent (this confirms that the guest has entered his/her correct mobile number)
Once the mobile number is confirmed, the guest can then proceed to book a time slot, provided the system confirms that his/her reservation number actually exists
Upon completion, the guest receives a pool session ID via SMS, which can be used to modify/cancel the booking online
To make matters worse, the system can also be buggy. I made two bookings, one on 9 September (day of check-in), and one on 10 September (day of check-out). Both bookings went through successfully online, but I only got a confirmation SMS for the 10 September slot.
When I tried to redo my booking for 9 September, I received an error message saying that I was already holding a booking for this date. OK then, I told myself. The lack of an SMS shouldn't be a problem if it's already in the system.
Not so. On the day of arrival I was told that the confirmation SMS with the pool session ID was required, and that there was no record of my 9 September pool booking. It was gently suggested that maybe I simply forgot to make a reservation, and perhaps I'd be willing to take a 8-9 p.m or 11 p.m to midnight slot? 
To say I got annoyed by this was an understatement, especially since I deliberately booked 6.30-7.30 p.m just to catch the sunset. Fortunately, I remember that I took a screenshot of the confirmation message on the website, which allowed me to prove I wasn't pulling a fast one on them. 
The gym doesn't need to be pre-booked (in fact, it can't). Instead, you'll send an SMS to a designated mobile number to request a queue number, and show your phone to the gym reception when it's your turn.
Again, this system suffers from the same flaw- there's no request for a hotel confirmation number, so anyone could spam the system with frivolous queue requests (hence I've redacted the number).
Marina Bay Sands Singapore: Arrival and Check-in
Marina Bay Sands is pretty much an unofficial national monument by now, so I shouldn't need to tell you how to get there. 
There are actually two drop-off points for the hotel, but most Grab drivers will default to the larger one near Tower 1 (you anyways won't know which tower you're staying in until you arrive). If you're driving, this is also the drop-off point for valet parking. 
We arrived around 10.15 a.m on a Wednesday. I had thought myself to be very clever by choosing a mid-week slot, thinking this would guarantee no crowds and abundant pool access. So naturally, I ended up booking a date right smack in the middle of the September school holidays. Ah, hubris. 
After the usual SafeEntry registration and temperature screening, we entered the hotel lobby, and as you'd expect, it's out to impress. I mean, it's a monument to Mammon of course, but what a monument. 
The ceiling stretches all the way up to the 22nd floor, narrowing ever so slightly as it goes higher, and reflecting the distinctive curve of the building.  Fun fact, the slope of Tower 1 measures 26 degrees, a figure chosen not for architectural soundness, but because the individual digits add up to 8, a lucky number in Chinese culture. 
The lobby itself serves as a pedestrian network, running perhaps 400 metres from one end to the other. There are restaurants, luxury boutiques and gift shops spanning the stretch, allowing you to pick up anything from an overpriced tchotchke to a Richard Mille watch ("what's the difference?" some wiseguy will no doubt say). 
There are two check-in areas in the lobby- one near Tower 1, and the other at Tower 3.
The check-in queues at Tower 1 weren't that long yet (they got much longer about an hour later), but by virtue of my Sands Rewards Lifestyle Elite membership (which you can get for free through an ICBC/UnionPay card), we were able to check-in at the Sands Lounge. 
Now, before you get excited, this isn't the hotel's club lounge (that's Club55). The Sands Lounge is a small facility near the Tower 1 reception that's reserved for Paiza, Club Room and Suites guests. Sands Rewards Lifestyle members aren't explicitly mentioned on the masthead, but access is a publicized benefit for the Elite tier. 
Despite ostensibly being an area for "premium" guests, the reception here was decidedly frosty. There's no one greeting guests upon arrival, and instead, you take a ticket from a machine and wait for your number to flash on the screen. In retrospect, though, it was a perfect microcosm of the MBS experience- unless you're a high roller or some sort of VVIP, you really feel like just another number to them. 
The Sands Lounge can accommodate 12 or so people, and although it's not meant for prolonged stays, there's a mini-fridge with soft drinks and bottled water, as well as a coffee machine (it would have been nice if guests were proactively offered a drink upon arrival). 
There was no one ahead of us in the queue, so an associate in the far corner raised her hand and called us over from across the room. 
With the exception of my complication with the pool booking (see previous section), check-in went smoothly. Sands Rewards Elite members are supposed to receive the following benefits when staying at MBS (subject to availability): 
Complimentary room upgrade
Early check-in
Late check-out
We did manage to secure an early check-in for our room (~10.30 a.m), but I can't be sure whether that was because of my Sands Rewards membership, or just a happy coincidence. What I do know for sure is beyond that, there were no other perks. We got exactly the same room we booked (Premier King, albeit with a "view upgrade" to a higher floor), and I was asked to check-out at 11 a.m. 
When I mentioned that I had a pool booking the following morning from 11 a.m to 12 p.m, I was offered 12 p.m check-out instead. I had visions of walking through the lobby in my trunks just to make a point, but eventually a 1 p.m departure was secured. Long story short: Don't expect much in the way of benefits or upgrades as a Sands Rewards Lifestyle Elite member. 
⚠️ Don't forget your Sands Rewards dollars!
Most staycation packages will come with some F&B credit in the form of Sand Rewards dollars. This isn't automatically processed at check-in; you'll need to visit a Sands Rewards counter to claim it. There's one just next to the concierge in the lobby.
We'd been assigned a room in Tower 2, so it was a brief walk down the lobby to the elevators in middle section. 
En route, we passed the VIP check-in, which ironically had longer queues than the general check-in area. It reminded me of that one time when I passed through immigration in Mumbai and the Business Class queue was longer than the general queue, yet eligible passengers were still gravitating to the "special" queue. There's some social commentary in that, I'm sure. 
Seriously though, if these were VIP guests, I wondered why they (especially the old folks) weren't just escorted to the Sands Lounge instead. It'd be much more comfortable for them there. 
Each lift lobby has staff standing guard, ostensibly to ensure that only keycard-holding guests use the lifts, but also as social distancing ambassadors. 
Marina Bay Sands Singapore: Premier Room
Marina Bay Sands has an astounding 2,561 rooms and suites, making it the largest hotel in Singapore by a long stretch. There are 152 suites, 132 Club and 59 Grand Club rooms, split across three towers (with a fourth one coming).
As you might expect, there's a veritable potpourri of room types, but the vast majority of guests will be housed in Deluxe or Premier rooms. 
| | |
| --- | --- |
| Room Type | Size |
| Deluxe Room | 30 sqm |
| Premier Room | 42 sqm |
| Family Room | 62 sqm |
| Club Room | 44 sqm |
| Grand Club Room | 62 sqm |
| Orchid Suite | 71 sqm |
| Sands Suite | 136 sqm |
| Bay Suite | 101 sqm |
| Harbour Suite | 71 sqm |
| Marina Suite | 139 sqm |
| Skyline Suite | 246 sqm |
| Merlion Suite | 387 sqm |
| Straits Suite | 330 sqm |
| Presidential Suite | 509 sqm |
| Chairman Suite | 600 sqm |
My staycation booking was for a Premier Room, room 3864 in Tower 2.
The room is…pretty underwhelming, for the price you pay. At 42 sqm the Premier Rooms are slightly larger than your average hotel room, but visually speaking it's practically identical. 
The interior decor isn't the most modern out there, with a heavy reliance on wood and grey tones. In fact, this room really had a thing for wood- wooden TV consoles, wooden bedside tables, even a little wood archway over the lounge chair area. 
Below the TV is a work desk cum vanity area, with a comfortable chair, two universal power sockets, and a HDMI input. 
I ran the usual Wi-Fi test here, and thought that with so many rooms, the hotel would invest in a blazing fast connection (like the Mandarin Orchard). Surprisingly, speeds were only average compared to other hotels I've reviewed so far. It's certainly fast enough for HD video streaming and most other applications, though. 
 
🔽

Download

🔼

Upload

Mandarin Orchard

273 Mbps

294 Mbps

YOTELAir Changi

29 Mbps

49 Mbps

W Sentosa Cove

34 Mbps

34 Mbps

The Fullerton Hotel

23 Mbps

24 Mbps

The Capitol Kempinski Hotel

16 Mbps

13 Mbps

Marina Bay Sands

11 Mbps

11 Mbps

The Barracks Hotel

7.3 Mbps

7.7 Mbps

Hotel 81 Tristar

7.0 Mbps

6.8 Mbps

Raffles Hotel

6.9

Mbps

6.8

Mbps

Hotel Soloha

4.7 Mbps

5.

1 Mbps

Internet speeds based on Speedtest.net scores as recorded during my own visits 
Beneath the desk was a mini-bar, with all items complimentary for guests. The fridge had two cans of soft drinks, two bottles of juice and two water bottles inside. Chips, mixed nuts, instant coffee and tea were in a separate drawer. 
Thankfully, they offer real coffee too. A Nespresso machine and four capsules were on the table top. 
The TVs here are 42 inch (tiny by modern standards), and they don't perform very well when there's direct sunlight coming into the room (note the reflection). Picture quality is grainy, and there's no option to stream the contents of your phone. 
Both bedside tables had identical universal power outlets and 2x USB charging ports built into the tabletop, but unfortunately, only the USB ports on one side worked (see section on wear & tear). 
Inside the cupboard was a safe and ironing board. The bathrobes have been temporarily relocated to the bathroom, secured in individual plastic wrappers. 
The Premier Room has a balcony which boasts great views of the neighboring Gardens by the Bay.
The problem is, it almost seems like the architect started building the balcony, then changed his mind halfway. It's extremely narrow, and there isn't enough space for a chair, much less a table. As nice as it'd be to sit here in the evening with a glass of wine and watch the light show, that's simply not an option.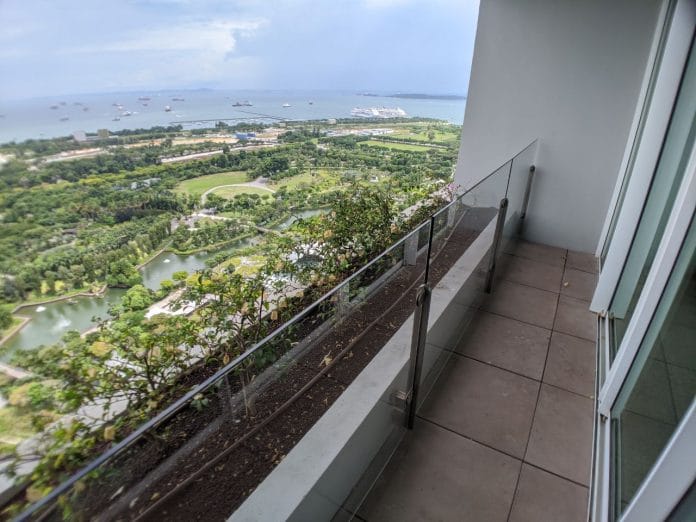 One perk of having 42 sqm to work with is that the bathroom is larger than usual, with a free-standing tub, his and her sinks, and luxurious looking grey marble countertops. The bathroom lacked any sort of entertainment system, however, so you'll have to set up your own phone or laptop if you want to unwind with some music or movies. 
In addition to the tub, there was also a generously-sized shower area, with built-in bench. Unfortunately, there was only a wall-mounted shower head, and no hand shower at all. 
Another unfortunate design choice was the decision to omit a bidet from the toilet. I'm not even asking for a fancy TOTO seat; just a simple hose would have sufficed. For a hotel that's supposed to cater to an international clientele (and has a separate check-in area at the lobby just for Japanese guests), this was almost unthinkable.
Bathroom amenities were by Roberto Cavalli, an Italian fashion house that isn't particularly known for toiletries (that hasn't stopped people from trying to flog them off on Carousell though). 
Marina Bay Sands: Room Wear and Tear + Cleanliness
Wear and Tear
Marina Bay Sands has just marked its 10th anniversary, and while there was some talk in 2016 about refurbishing the rooms, I highly doubt that mine was a beneficiary. The room I was assigned had clearly seen better days, and so numerous were the issues that I wanted to cave out a separate section to catalogue them. 
All around the room you'll see reminders of its age, whether it's chipped paint, peeling wallpaper or damage to the furniture or tarnished mirrors. 
It didn't help that the hotel is in the habit of labeling switches with stickers, which over time peel, get discolored and trap dirt around the edges. 
The problems went beyond merely cosmetic, though, as both USB charging ports on one side of the bed were inoperable. 
Cleanliness
I think MBS does a good job of providing reassurance about the things you can see. There's a prominent "this room has been cleaned" hanger on the door, the towels and remote control come wrapped in plastic, and they even give you a cute little hygiene kit with hand sanitizer, a mask case, and a "no-touch keychain" that you can use to press lift buttons or open doors. 
But it's the things you can't see that get me worried. I whipped out the trusty old blacklight, and here's what I found lurking on the toilet walls. 
There were also strange stains on the lounge chair of an indeterminable origin. 
The bedsheets and carpets were thankfully all clear, but the inside (and outside) of the mini-fridge was dirty. It seemed like the sort of thing that could have easily been cleaned with a simple wipe down. 
I flagged these issues to the hotel, and a spokesperson for MBS contacted me to reiterate the cleaning procedures the property currently has in place. That's all good and well, but seeing that toilet didn't particularly inspire me with confidence.
Note: I'm aware that some cleaning products can create false positives for blacklights, but the pattern and location of the stains makes me doubt that's the case here.
Marina Bay Sands Singapore: Facilities
Pool

Gym

Spa

Yes: 6.30 a.m to 12.00 a.m

Yes: 7 a.m- 11 p.m

Yes: 10 a.m- 11 p.m (Sun-Thu)
10 a.m- 1 a.m (Fri-Sat)

Kids' Club

Business Centre

Others

No

No

N/A
While I'm no fan of the room, it's hard to argue with the facilities at Marina Bay Sands. Both the pool and gym are absolutely top notch, and the spa's even having a 50% off promotion till 15 November 2020 (prices are still frightfully expensive though). 
Swimming Pool
Let's be honest- this is why you're really here. The infinity pool is truly a majestic thing to behold, and at 151 meters long, is the biggest rooftop pool in the world. With a capacity of 1.5 million litres, it packs more water than a man would need in 10 lifetimes. Superlatives, superlatives. 
Assuming you managed to secure a pool booking (see pre-arrival section for more information), then congratulations, you're in for an amazing treat. 
🏊‍♂️ Marina Bay Sands Pool Timings (60 mins per day)

0630-0730 hours

1530-1630 hours

0800-0900 hours

1700-1800 hours

0930-1030 hours

1830-1930 hours

1100-1200 hours

2000-2100 hours

1230-1330 hours

2130-2230 hours

1400-1500 hours

2300-2359 hours
The pool is open from 6.30 a.m to midnight daily, and guests can book a maximum of one hour each day. I strongly recommend you book 6.30 p.m to 7.30 p.m, because you can watch the transition from day to night, and see the cityscape light up in real time. 
At the end of each slot, lifeguards blow whistles and everyone is cleared out for a 30 minute period to clean and sanitize the pool area (no, you can't hold your breath underwater for 30 minutes, I checked).
👍 Protip: Cleaning is often finished ahead of schedule, and by showing up 15 minutes earlier, you might be let in early (and have the whole pool to yourself for some incredible photos)
Access control is tightly restricted, and with people pulling stunts like this to get in, rightfully so. Each guest must bring their own keycard for access, which you'll tap at the gantry to get in. For some weird reason, your booking ID is not tied to your keycard- you'll need to manually read this out to the staff at the gantry. 
First, a brief lay of the land. Due to social distancing restrictions, the infinity pool has been segmented into three sections, with crossing over between pools prohibited.
To enforce this rule, they've blocked off the crossings with a phalanx of pool chairs. 
You'll be assigned to a pool based on the current capacity situation. Pool 1 is slightly smaller than the other two pools, and in my opinion Pool 2 has the best views, so try to get in that one if possible. 
From a strictly selfish point of view, Phase 2 is the best thing to ever happen to the Marina Bay Sands pool. While before it was jam packed all hours of the day, now there's actually some semblance of capacity control. MBS is tight-lipped on the official capacity, but I counted 40 people in my segment, so perhaps 120 across all three pools per hour. 
Naturally, everyone springs for the chairs that are closest to the pool, but the situation is so benign now that they've even roped off the less desirable chairs on the upper deck. 
F&B is served poolside, but all orders must be placed within the first 30 minutes of your slot (presumably because there'd be no time to finish it otherwise). Expect to pay premium prices for food and drinks. 
Roll your eyes all you want at the people posting pool selfies on Instagram, but I guarantee you that once you're here, you'll follow suit. 
And the views, oh the views. You can see so much of Singapore from here, you almost expect the devil to appear with a Faustian pact. 
On a clear day you can see for miles in every direction, and night time views were equally breathtaking with the city lit up like a Christmas tree. 
It is, without a doubt, the most life-changing pool I've been to.
Gym
🏋️ Marina Bay Sands  Gym Timings
Note: There are no fixed time slots for the gym
The gym at Marina Bay Sands is run by Banyan Tree, and it's one of the most impressive hotel gyms I've seen so far. Where else can you enjoy panoramic views of the Singapore skyline while feeling the burn?
You request a queue number via SMS, and when it's your turn, you'll be given a 15 minute window to show up at the counter. After that, you can have at the full range of equipment, including bench press, smith machine, free weights and Kinesis Technogym pulley wall. 
Marina Bay Sands Singapore: Breakfast
Served at

Cost

Style

RISE/ Spago Bar & Lounge

S$45++ (Adult)
S$22++ (Child aged 12 and below)

A la carte buffet

Hours

Sparkling Wine?

Discounts?

0630- 1030

No

None
Guests can choose to take breakfast at either RISE or Spago Bar & Lounge. I opted for the latter because I heard it was better, but all I can say is: if this is better, I'm not looking forward to seeing RISE. 
Now, I very much like Spago. We ate lunch there the previous day (see below) and it was hands down one of the best lunches I've ever had anywhere in Singapore. That makes the breakfast situation even more aggrieving, because it's only serving to damage the Spago brand and all the hard work put in by the team for lunch and dinner. 
It's not so much the lack of options. You have access to an a la carte buffet with unlimited portions of whatever you want. The problem is that the food does not in any way befit the name Spago. 
The dim sum selection (all pork has been replaced by chicken) tasted awful, like what you'd find in those food warmers at airline lounges. We had the siew mai and har kow, and in both cases the wrapper clung to the wax paper with an unrelenting dryness, while the filling tasted like gristle. 
The congee with salted egg, tofu and chicken floss looked weird and tasted weirder, and came with the youtiao already immersed in the bowl (bye bye crispiness). 
While pancakes are supposed to be a beneficiary of the traditional buffet line's demise (ever tasted pancakes which sat under a heat lamp for too long?), the ones here reminded me of old times, and not in a good way. Dry and with the consistency of a hockey puck, all the maple syrup in the world couldn't save them. 
I could write similarly scathing reviews for each of the other items- burnt (turkey) bacon, soggy hash browns, bland bee hoon, but you get the picture by now. This wasn't good. It wasn't even average. 
The only passable dish was a side of smoked salmon which came daintily plated with creme fraiche, red onion, chive and capers. I almost asked the salmon if it got lost somewhere, to end up in a lineup like this. 
Perhaps the most ridiculous thing was that the menu asked for an S$7++ upcharge for fresh orange juice. 
I'm not here to discuss the economics of running a buffet breakfast (suffice to say that Kempinski's breakfast was the same price, so much better, and they made you whatever fresh juice you wanted), but come on- either serve it or don't. When you ask people to pay S$45++ for bad food and a further S$7++ for decent orange juice, it feels like extortion. 
All the food arrived in less than 5 minutes, and while that's good for those in a rush, it also means that everything is pre-prepared. Now don't get me wrong. When you're feeding the 5,000, you can't be doing a la minute cooking for everyone. But coming back to my original point: if you're going for a production line "food is fuel" approach, why on earth would you want people to associate Spago with that? 
As I surveyed the mediocre offerings at the table besmirching the Spago name, all I could hear in my head was Vito Corleone saying "look how they massacred my boy."
So, note to Wolfgang Puck: Please get someone to cover up all the Spago names during breakfast. You'll thank me later. 
Other Dining Options
Marina Bay Sands has too many restaurants to do my usual Open/Closed list, suffice to say they're almost all up and running. 
Spago
For all of the culinary atrocities committed at Spago during breakfast, lunch was simply incredible. For S$49++, you'll enjoy a three course lunch, where each dish sings and every movement is pure poetry. 
What can I say that could possibly do justice to these Big Eye Tuna Tartare Cones, beautifully plated and dressed with an enticing mix of chili aioli, wasabi and slivers of shaved bonito? Each bite was beautiful. 
The buratta cheese with confit kumquats even won over this avowed cheesephobic (who thinks cheese belongs on pizza and nowhere else). The pure, unadulterated taste of the cheese provided a mesmerizing canvas against which the crispy prosicutto, orange blossom honey and silician pistachios made art. 
For the mains, I had a Miso Broiled Ora King Salmon, served with Japanese pickles and Hijiki seaweed rice. I'll tell you my mum makes the best salmon in the whole world, but this ran a close second. Crisp on the outside, moist on the inside, and with little pearls of roe that burst in your mouth. 
The Milelioness had the Grilled Iberico Pork Pressa. Now, I hold that the best rendition of Iberico pork in Singapore is at the W Sentosa's SKIRT, but this was equally impressive. The accompanying caramalized fuji apples and shallot marmalade paired well with the perfectly medium pork. 
Was dessert good? Do you even need to ask? It was a delightful play on strawberry cheesecake, done panna cotta style with fresh strawberries, strawberry sorbet, and ever-so-delightful crunches of cookie base. 
At S$49++ per head, it's not the cheapest set lunch you'll ever have. But it was so good (plus, I used the S$50 F&B credit that came with my staycation package here) that I can't wait to go again. 
Just not at breakfast. 
Marina Bay Sands Service
I've said it before and I'll say it again: if you come to Marina Bay Sands expecting exceptional service, you'll be sorely disappointed. 
It's not that service was rude by any means- far from it. All interactions with the staff were either good or neutral. It's just that you can't expect anything resembling a personal touch at a hotel which is clearly designed with a conveyor belt philosophy.
Whether it's check-in, or breakfast, or the pool, all processes here are single-mindedly focused on delivering the minimum acceptable experience to as many guests as possible, before churning over the next batch. It's what you might call a "resort factory", and if you're staying in anything other than a club room or suite, you'll never feel like more than just another guest. 
Conclusion
While the MBS pool is the stuff of legends, everything else about the stay was simply not worth the price. For S$400, you could easily get a room at the Capitol Kempinski or the Fullerton, both of which I assure you will provide a superior experience. 
Some of the shortcomings aren't their fault. I mean, getting upset about the absence of personalized attention in a megahotel would be like getting mad at a cow for mooing. But others, like the worn-out rooms, cleanliness issues and getting nickle and dimed for orange juice at a subpar breakfast, are things you simply don't expect for the price of entry. 
A stay at Marina Bay Sands is a gamble not worth taking. 
🏨 In Summary
While the infinity pool will give you special memories for years to come, the rest of the MBS staycation experience is mediocre at best. Tired rooms, cleanliness issues, and a truly awful breakfast make this a hard pass for me. 
Do say: It's an integrated last resort
Don't say: Always bet on black(light)