When the Hilton Singapore first opened in 1970, it was one of the swankiest places in town. Located at the tip of Orchard Road, the 26-storey luxury hotel was the first truly international chain to set up shop in Singapore- a sign that the country was starting to be noticed on the world stage. 
Expatriates and well-heeled locals would gather at the Harbour Grill for opulent dinners and Sunday brunches. Housewives would gossip for hours with their friends at the American-style coffee shop (a rarity in those days). The rooftop terrace and pool would be abuzz with partying guests every night, enjoying commanding views of the then up-and-coming Orchard Road district.
Fast forward to 2020, and the Hilton Singapore still stands as the unofficial anchor of the Orchard Road stretch, bearing silent witness to the area's transformation from obscure road to global icon. 
But time has not been kind to this grand old dame. I was invited for a media stay last week, and while the hotel has an undeniable yesteryear charm, nostalgia often plays both ways. Apart from the Executive Suites and Lounge, most of the property is stuck in a time capsule, with minor cosmetic renovations that can't hide the fact the entire property is overdue for a major overhaul. 
I also encountered some significant issues with room cleanliness, and service that could sometimes be incredible, and other times non-existent. 
Booking a Hilton Singapore Staycation
My media stay booked me into the Opus Steak-cation package, one of two Foodie Staycation deals the Hilton Singapore is currently running. 
The Opus Steak-cation starts from S$240++ (S$282 nett) and includes a premium sharing steak dinner plus a free flow of wine, while the il Cielo Gourmet Staycation starts from S$330++ (S$388 nett) and includes a 5-course Italian tasting menu for two. 
🏨 Hilton Foodie Staycation
Opus Steak-cation
(From S$282 nett)
il Cielo Gourmet Staycation
(from S$388 nett)

1 night in Deluxe Room 

Breakfast

12 p.m check-in

3 p.m check-out

Opus premium sharing steak dinner experience for two persons with 2-hour free flow wine (u.p. up to $188++)


Premium Wi-Fi

1 night in Deluxe Room 

Breakfast

12 p.m check-in

3 p.m check-out

5-course Italian tasting menu for two (u.p. $138++ per person)

Premium Wi-Fi

Book By

28 Jan 2021

Stay By

31 Jan 2021

Cancellation Policy

Non-refundable

Read More
If you have an American Express credit card, don't forget that from now till 8 November 2020, you can register for a special AMEX offer at Hilton hotels in Singapore. Registered cardholders who spend at least S$400 at the Hilton/Conrad/Hilton Garden Inn will receive a S$120 statement rebate. 
Do note that this offer is only valid for payments made in-person at the hotel. On first glance this poses a problem, because the Foodie Staycation packages must be prepaid at the time of booking.
Fortunately, there's a workaround. Instead of booking on the website/app, simply email Hilton's reservations team and mention that you'd like to make payment in person. They'll create the reservation and give you a deadline to make payment by, and you can go down to the hotel and swipe your card at the front desk. This way, you can enjoy the AMEX offer even on staycations that take place well after 8 November 2020.
Hilton Singapore: Arrival and Check-in
The Hilton Singapore is located at the start of the Orchard Road stretch, sandwiched between Forum and Far East Shopping Centre. You'll probably recognise "Eulogy to Singapore", its famous facade consisting of a series of murals by artist Gerard D'Alton Henderson. The panels feature ancient symbolic signs, such as wayang topeng masks and Singa faces.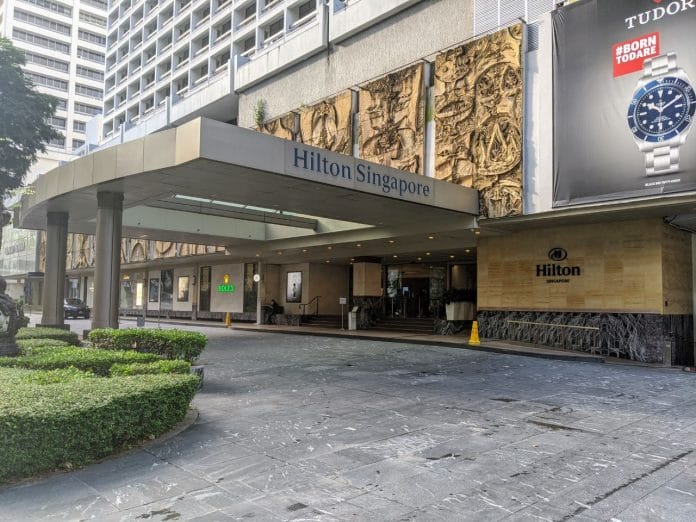 The lobby was empty when I arrived on a Tuesday at noon, although I understand the hotel does fill up on weekends. The Hilton happens to have its own luxury shopping gallery directly connected to the lobby, so if you like window shopping for shiny things, you won't have to wander too far. 
Hilton has installed plexiglass shields at its check-in desks due to COVID-19, a feature which we're seeing at more and more hotels (and I'm sure the airport too, when we eventually go back there). 
Check-in was quick and painless. My 3 p.m late check-out for the following day was confirmed, and I managed to reserve my slot for Happy Hour in the lounge that evening (see Executive Lounge section). I was also given the following welcome letter, which explained the restrictions around pool and gym usage. 
Hilton Singapore: Premium Room
The Hilton has a total of 423 guest rooms, split into the following categories.
| | |
| --- | --- |
| Room Type | Size |
| Deluxe Room | 32 sqm |
| Deluxe Plus Room | 32 sqm |
| Premium Room | 32 sqm |
| Executive Room | 32 sqm |
| Executive Plus Room | 32 sqm |
| Family Suite | 69 sqm |
| Executive Suite | 69 sqm |
You may have noticed that most of the rooms are the same size, so there's some explaining in order:
Deluxe Rooms are the lead-in category at this property (lower floors)
Deluxe Plus Rooms are the same as Deluxe Rooms, but have Nespresso machines (floors 14-16)
Premium Rooms are renovated Deluxe rooms, with rain showers instead of bathtubs and 50 inch IPTVs instead of the smaller LCD sets (floors 17-19)
Executive Rooms and Executive Plus Rooms have all the features of Premium Rooms, with lounge access (floors 20-21)
Executive Suites and Family Suites are basically the same, but the latter has a pull-out sofa bed and accommodates up to four guests (corners of various floors)
I had been assigned to room 1822, a Premium Room on the 18th floor.
As part of the Hilton CleanStay program, each room has a seal on the door to show that no one has entered it since cleaning was completed. While I doubt that hotel staff were in the habit of re-entering already cleaned rooms even before COVID-19, I can see the psychological benefits the seal provides (sadly, it didn't actually mean the room was properly cleaned though, see the section on cleanliness).
The room was…well, if you pulled something out of a box labelled "Hilton", it'd look exactly like this. Put it another way: no one comes to a Hilton expecting rooms that ooze personality; they come because they know what they can expect. The Hilton Singapore is a Hilton through and through, with rooms identical to what you'd find in any other Hilton in any other city around the world. 
The Premium Rooms at the Hilton Singapore have been renovated, but only partially, creating a strange juxtaposition of new and old. For example, the carpets look nice and suitably modern, and the curtains are a contemporary grey instead of the beige you tend to see at older hotels. The bedside tables, TV console and luggage area have had dark marble tops added, and the furniture has been refreshed.
At the same time though, the overall color tone of the room remains unchanged, with wood and beige tones that were much more popular in the 1990s. Throughout the room (especially the bathroom, which I'll get to in a bit), you find reminders of the hotel's overall vintage- like these switches near the room entrance, done in the style of the Grand Budapest Hotel. 
That's not to say that all the rooms at the Hilton Singapore are stuck in a time warp. As the photo below of an Executive Suite shows, the hotel can clean up real nice when it wants to. Executive Suites have undergone extensive renovations (at least, more extensive than the Premium rooms), so if this is more your style, you'll want to book one of these. 
The bed was a standard-issue Hilton mattress, although the pillows did look a bit undersized relative to the width. I wasn't a fan of the yellow skirting beneath the mattress, however, which flapped around and make the bed look untidy. It was also a dirt magnet, as I'd find out later. 
Each bedside table had a universal power outlet, and the one on the right had four bottles of mineral water. 
While there weren't any built-in USB charging ports, the alarm clock on the left side had two of them for your use.
The desk had a very comfortable Herman Miller ergonomic chair, and was a great place for getting work done. Two universal power sockets were conveniently positioned by the side to charge your devices. 
Wi-Fi speeds clocked in at 13 Mbps down/ 14 Mbps up, around the median of all the hotels I've reviewed so far. There were no issues with video streaming or Zoom sessions. 
 
🔽

Download

🔼

Upload

Mandarin Orchard

273 Mbps

294 Mbps

YOTELAir Changi

29 Mbps

49 Mbps

W Sentosa Cove

34 Mbps

34 Mbps

The Fullerton Hotel

23 Mbps

24 Mbps

The Capitol Kempinski Hotel

16 Mbps

13 Mbps

Hilton Singapore

13 Mbps

14 Mbps

Marina Bay Sands

11 Mbps

11 Mbps

The Barracks Hotel

7.3 Mbps

7.7 Mbps

Hotel 81 Tristar

7.0 Mbps

6.8 Mbps

Raffles Hotel

6.9

Mbps

6.8

Mbps

Hotel Soloha

4.7 Mbps

5.

1 Mbps

Internet speeds based on Speedtest.net scores as recorded during my own visits 
All Premium Rooms have Nespresso capsule machines, with three capsules provided (more are available on request). TWG tea bags are also available in a drawer below. 
The mini-fridge has been emptied out, so you can use it to store your own food and drinks. 
Inside the wardrobe were two bathrobes, an iron and ironing board, and the room safe. 
Premium Rooms also come with a 50 inch IPTV (versus the smaller LCD screens in the Deluxe rooms). It's possible to mirror your phone to the TV, and the image quality was sharp and responsive. 
I had a good time watching the French open, much better than Mikael Ymer at least. 
I mentioned earlier that the Premium Rooms are a strange mix of old and new. Nowhere is that Jekyll and Hyde dynamic more evident than the bathroom. 
Notice the distinct difference in marble color between the shower area and the rest of the toilet. Notice how the shower has a concealed floor trap, versus the traditional white grated plastic outside. Notice how the design of the shower is relatively modern and sleek, while the toilet is so old it doesn't even have a concealed cistern (which I thought was de rigueur in hotels). 
The reason for this difference is because only half the bathroom was renovated. The bathtub was removed, and a rain shower with a bench seat was installed. It's certainly pretty to look at, and the dark marble adds a nice touch of modernity to the bathroom. It's just a shame they didn't go the whole hog and change the rest of it too. 
As for the non-renovated half of the bathroom, well, it's what you'd expect. The design is dated, there's no bidet hose for the toilet, and a yellowed phone dangles precariously from the wall. 
Bathroom amenities were from Crabtree & Evelyn (they shut all their physical stores in Singapore, but presumably Hilton still has a lot of these to go through), with toothbrush kits and mouthwash. 
What did I think of the room? Like I said, it's a Hilton. It's not going to redefine the boundaries of interior design, and to use my new favourite turn of phrase, getting angry at a Hilton for lacking uniqueness is like getting angry at a cow for mooing.
You can call it cookie-cutter; you can call it consistency. 
Hilton Singapore: Room Wear and Tear + Cleanliness
Wear and Tear
While the Hilton Singapore has undergone several renovations since its opening in 1970, there's no avoiding the fact that it's an old property (one of the first hotels along Orchard Road, in fact).
Throughout the room you'll find peeling and discolored wallpaper, all signs that a more comprehensive renovation is sorely needed. 
I also found signs of wear and tear on the room furnishings, and exposed wires near the outlets. 
Cleanliness
While you might be willing to overlook wear and tear as an unfortunate byproduct of the hotel's age, it's much harder to forgive cleanliness issues (especially given the hypochondria that COVID-19 has brought about). 
The toilet, the carpet and furniture all passed the black light test, but the bed was another story altogether. 
As I mentioned in the previous section, there's a layer of skirting beneath the mattress. This looked like it hadn't been cleaned properly, with black and brown marks suggesting something had run over it. 
But you could argue that's just cosmetic- you're not sleeping on the skirting, after all.
Fine, but the mattress is non-negotiable. Here's exhibit B: a sizable stain of indeterminate origin, near the head of the bed where I'd happily slept the whole night. I discovered this on the mattress protector, just beneath the bedsheet.
You don't even need black light for this, but just for tradition's sake…
When I removed the bedsheet to inspect more of the mattress protector, I discovered there was a fair bit of hair trapped between the bedsheet and mattress protector too. 
This couldn't be ours, given (1) it was beneath the bedsheet and in places far away from our heads, and (2) the hairs were of different lengths and colors. 
All this suggests that the mattress protectors aren't swapped out between guests, just the bedsheets. Given how easy it is to wash or change a mattress protector, this really shouldn't be happening. 
At the end of the day, you can have all the SG Clean certifications or CleanStay initiatives you want; they count for little if guests find things like this.
Hilton Singapore Executive Lounge
The Hilton Executive Lounge is located on the 22nd floor, and is accessible to all Hilton Diamond members, or those staying in Executive category rooms. 
The lounge was renovated a few years ago, and forms a pleasant contrast to the rest of the hotel with its updated furnishings and finishes. The natural light streaming in from the windows also helps give a sense of spaciousness. 
I have to say, I really like the design ethos of the lounge, what with its white marble island counters and handsome burnt orange leather booth seats. Should the rest of the hotel eventually get a makeover, I hope they use this as the template. 
The Executive Lounge normally offers the following meal presentations:
Breakfast: 6 a.m to 10.30 a.m (Weekdays) or 6.30 a.m to 11 a.m (Weekends)
Afternoon Tea: 3 p.m to 4.30 p.m
Evening Cocktails: 5.30 p.m to 7.30 p.m
All-day coffee, tea and soft drinks: 6 a.m to 10.30 p.m
However, the hotel has temporarily ceased serving breakfast here, except on weekends (when they're presumably running a full house at Opus downstairs). Afternoon tea has also been cancelled (but from what I understand it was nothing to get excited about), and the lounge is currently open only for evening cocktails.
Because of safe distancing measures, lounge capacity is capped at a maximum of 25 guests at any time. You'll be asked at check-in which slot you prefer for evening cocktails: 5.30 to 6.30 p.m, or 6.30 to 7.30 p.m (it's not possible to book this before arrival).
I heartily recommend booking the earlier slot, because if the second timing is not fully booked, the staff do their best to accommodate whoever wants to stay on. 
So what's on offer during cocktail hours? Each guest received a plate with a small salad, a savory tart, a chicken skewer, a portion of lasagna, and two small cakes. You could order as many servings of this as you wanted, but it's definitely a smaller selection than what was served pre-COVID (I visited the lounge in July last year when my friend was a guest).
On the bright side, they did have a cocktail menu, with some basic options like gin & tonics, mimosas, and screwdrivers. Prosecco was served too, which is always a plus in my book.
Hilton Singapore: Facilities
| | | |
| --- | --- | --- |
| Pool | Gym | Spa |
| Yes: 7 a.m to 8 p.m | Yes: 5 a.m- 10 p.m | Currently closed |
| Kids' Club | Business Centre | Others |
| No | No | N/A |
Hilton Singapore has both a pool and a gym, but its spa is currently closed until further notice. 
Swimming Pool
The swimming pool at the Hilton Singapore is open from 7 a.m to 8 p.m daily. Pre-booking a slot is required, and each guest is entitled to one slot per day. They can either choose a 30-minute slot during peak hours (9 a.m to 12 p.m, 2 to 5 p.m), or a 1-hour slot during other times. 30 minutes is really short, come to think of it- barely enough time to get your tan started. 
🏊‍♂️ Hilton Pool Timings

0700-0800 hours

1400-1430 hours

0800-0900 hours

1430-1500 hours

0900-0930 hours

1500-1530 hours

0930-1000 hours

1530-1600 hours

1000-1030 hours

1600-1630 hours

1030-1100 hours

1630-1700 hours

1100-1130 hours

1700-1800 hours

1130-1200 hours

1800-1900 hours

1200-1300 hours

1900-2000 hours

1300-1400 hours

 

Off-peak

Peak
The pool is located on the 24th floor, which happens to be the rooftop. It's great for those who love the sun (during mid-day, the sun is so strong it makes walking barefoot on the tiles painful), but don't expect it to be very Instagrammable. The design and layout is decidedly mid-90s, and reminds you of the pool you'd find at older condos. 
While the pool is on the small side for a 423-room hotel, a maximum of 20 guests can be accommodated for any given time slot. That's because the pool area is actually fairly big, as the photos below show. During regular times, there'd be a lot more pool furniture, but most of it has been removed or shifted to allow for social distancing. 
Here's where you'll also find Sky Bar, the hotel's rooftop bar. It's closed at the moment, but you could imagine them holding some wild pool parties here in the pre-COVID days. 
Parents will be happy to know that there's a partitioned off circular wading pool (0.6m deep) for kids, and if they're naughty you can ask them to go sit in a corner. 
Gym
🏋️ Hilton Singapore  Gym Timings
90-minute slots on weekdays, 60-minute slots on weekends
The Hilton Singapore has a well-equipped gym, with a wider range of equipment than you'd find at most hotels. It's also larger than I expected, and with a maximum of 10 users at any time, you're bound to have sufficient personal space. 
Treadmills and cross-trainers are equipped with entertainment devices, and there's a separate area with free weights and bench press equipment.
Gym slots are limited to 60 minutes on weekends, and 90 minutes on weekdays. You'll need to take your temperature at the front desk and get a special keycard for access. 
Hilton Singapore: Breakfast
| | | |
| --- | --- | --- |
| Served at | Cost | Style |
| Opus Bar & Grill | Sets start from S$25++ | A la carte buffet |
| Hours | Sparkling Wine? | Discounts? |
| 0630- 1030 | No | None |
Breakfast is served at Opus Bar & Grill every morning from 6.30 to 10.30 a.m. There's no need to pre-reserve a slot, at least not on the day we visited. 
If your room rate includes breakfast, you'll get to pick any of the sets from the following menu (you can have as many portions as you wish):
Otherwise, you'll be dining off the a la carte menu instead, where sets start from S$25++:
Frankly, most of the food was forgettable- it wasn't that anything was particularly bad, it just wasn't in the same league as the better hotel breakfasts I've had so far during Phase 2. I do wish there was more variety as well, because apart from the main course, all three sets were identical. 
We sampled all three sets, which began with fruit and a choice of corn flakes, all-bran, rice krispies or museli (we passed on the bread basket). I opted for all-bran, but after tasting it, remembered why I don't normally order all-bran.
After that, the main dish arrived. This first one is the "Breakfast at Hilton", a classic fry-up with eggs done your way, baked beans, hash browns, bacon and chicken sausage. 
The "Healthy Breakfast" main consisted of a three-egg white omelette with baby spinach, roasted tomatoes and mushrooms. I'll have you know that there's absolutely nothing wrong with eating egg yolks, and anyone who likes egg white omelettes is severely lacking joy in life. 
The "Asian Breakfast" gives you a choice of fish congee or mee goreng.
We tried both, and while the congee was average, The Milelioness gave extra points for the generous slices of fish.
However, the mee goreng was a disappointment- basically carbs with fishcake. 
There really isn't a whole lot to say about breakfast. You definitely won't leave hungry, but it's not going to be the highlight of your stay either. 
Other Dining Options
| | |
| --- | --- |
| Restaurant | Status as of 30 September 2020 |
| D9 Cakery | Open |
| Iggy's | Open |
| il Cielo | Open |
| Opus Bar & Grill | Open |
| Sky Bar | Closed |
| Verde Kitchen | Closed |
The highlight of a foodie staycation package is, of course, the food. Hilton has some heavy hitters here, in the form of the Michelin Starred Iggy's and the Michaelin-plated il Cielo. Apart from the Sky Bar and Verde Kitchen, all of its F&B outlets have resumed operations during Phase 2. 
il Cielo
I'd heard a lot about il Cielo, a 2019 Michelin-plated restaurant that blends Italian and Japanese influences. While my staycation package was for Opus, I decided nonetheless to try il Cielo on my own dime during lunch. 
🍽️ What's a Michelin Plate?
"The Michelin Plate is the symbol for those restaurants that have neither a star nor a Bib Gourmand. For restaurants, being in the selection is the sign of very good food, and the Michelin Plate is the symbol for that. Many restaurants start off by entering the guide and then moving up to getting a star in following years." – Michelin Guide website
il Cielo is located on the top floor of the Hilton Singapore, next to the swimming pool area. I managed to get a walk-in table without a reservation, but it was pretty full for a weekday and I wouldn't recommend chancing it. 
Set lunches range from S$32-48++, depending on how many courses you want. The full menu can be found here. 
For my starter, I chose the Tajima Wagyu Beef Tartar, served with a poached egg, fried wild rice and capers powder. The beef was tender and fresh, and that poached egg oozed perfectly when slightly disturbed. The plating was on point too, although puffed rice has an unfortunate tendency to remind me of mealworms. 
My main was the Spaghetti Primo Grano alla Pescatora, a pasta dish with mixed seafood tomato sauce and deep fried baby squid. I'd like to believe I have very high standards for pasta (I never go back to a place that uses cream in their carbonara, or worse, garlic), and this certainly met them. I'd never had fried squid in a pasta dish before, but who am I to argue with the flavors? It was like ordering calamari fritti with marinara sauce and blending the pasta straight in. Beautiful stuff. 
Opus Bar & Grill
So this was supposed to be the piece de resistance of the Steak-cation: a premium dining experience at Opus Bar & Grill, with a free flow of wine. 
While the steak and mains are included, starters, sides and desserts cost extra. Here's a copy of the menu for your reference, and the specific section detailing the steaks available under the Steak-cation package. 
For the starter, we had the crab cake (S$20++), a house specialty. This featured celeriac remoulade, pink grapefruit, and a generous hunk of lump crabmeat. It was an excellent way to open proceedings, crispy on the outside yet moist on the inside. 
For the main course, we went with the Black Angus Bone-in Rib Eye. Two sauces are included, and we chose red wine & bone marrow, and black truffle & wild mushroom. We also added on a side of grilled asparagus (S$6++), and the "Opus Over-the-top Fries" (S$15++), cooked in foie gras fat, black truffle puree, and sprinkled with Parmesan cheese. I loved the roasted garlic they did with the asparagus, but the fries were only so-so (the taste of the foie gras was too faint). 
The ribeye arrived and it looked beautiful indeed, bearing all the signs of greatness. Charred exterior, red interior, delicious white fat running along the outsides. 
However, while the medium-rare cook was spot on (these guys certainly do a better steak than Butcher's Block), the flavor was somewhat lacking. The marbling wasn't as rich as some other ribeyes I've had, and when you held a piece in your mouth, you didn't get the euphoric feeling of fat dissolving and coating your tongue. It was even, dare I say it, slightly bland. 
 I later found out that the kitchen doesn't season its steaks by default, since they're already dry-aged in a Himalayan salt-tiled cabinet. Customers are instead invited to experiment with three different types of salts brought to the table- rosemary, lava mineral, and paprika. Adding these certainly helped bring out the flavor a bit more, but it doesn't rank among my best steaks. 
The Steak-cation package comes with a two-hour free flow of wine, but you could otherwise  order this as an add-on for S$15++ per person. Considering that a glass of wine in a steakhouse should normally cost you more than that, this is fantastic value.
That said, don't expect anything exquisite at this price:
The reds and white retail for around S$24 per bottle outside, and while they were perfectly drinkable, they were also nothing memorable. 
For dessert, we chose the "Stroll in the Forest" (S$14++), which the waitress recommended. 
It's meant to be a wow-factor dish, arriving at your table in a Beauty and the Beast style glass dome with apple woodchip smoke trapped inside. The cake itself is a dark chocolate mousse infused with earl grey tea, orange compote, chocolate soil crumbles and mixed herbs. 
I was impressed by the presentation, but less impressed by the taste. It had a lot of flavors going on, and the end result was confusing. 
I'd say that Opus was good, not great. It certainly wouldn't displace any of the incumbents on my list of top 5 Singapore steakhouses (Fat Cow, Wooloomooloo, Bistecca, Bedrock Grill, SKIRT). 
Hilton Singapore Service
Service at the Hilton Singapore was a mixed bag. It was excellent in the Executive Lounge, where guests were greeted by name, orders were brought promptly, and refills proactively offered. Likewise, we had a fantastic server during dinner at Opus, who loved to give recommendations and make conversation. 
On the other hand, the service during breakfast at Opus was rushed and frazzled.  We had to ask for water three times, and orders were sometimes forgotten entirely. 
The hotel also didn't perform well on simple service requests. Guests at the Hilton Singapore can use a chat platform called Kipsu to request items, and I decided to try this out by asking for some extra shampoo. The request was sent at 9.24 a.m and acknowledged within seconds, with a 15-minute wait time quoted. 
The actual fulfillment time? Just shy of 90 minutes. While I appreciate that the hotel responded quickly to messages via this platform, it doesn't mean much if the execution itself takes ages. 
Conclusion
I can't say I was blown away by my Hilton Singapore staycation. While the service in the Executive Lounge was fantastic, the gym is impressive and I really enjoyed il Cielo, the tired-looking rooms and cleanliness issues overshadowed everything else.
What's more frustrating is that the beautiful Executive Suites and Executive Lounge show that this property has the potential to move into the 21st century. In fact, nestled away somewhere in the hotel is this single demo room, which was supposed to be the prototype for a full-scale renovation. 
Can you imagine a hotel where the standard room looked like this? It'd be sensational. 
But those renovations have been put on hold, and it could be that the days of the Hilton Singapore may be numbered- at least, in its current incarnation. 
In April this year, OUE Commercial REIT announced that they had appointed Hilton to manage the Mandarin Orchard Singapore, with a S$90 million rebranding set to finish by early 2022. When finished, the renamed Hilton Singapore Orchard will be the only Hilton hotel along Orchard Road. 
How does that work out? Well, according to the Business Times, Hilton's management contract with Hotel Properties Limited (who own the current Hilton Singapore) ends in late 2021. This means the current Hilton Singapore may be deflagged by the end of next year, which could be why there's no rush to make major changes until the situation crystalizes. 
What happens after that is anyone's guess. Will the hotel do a renovation and reopen under a different flag? Will it be torn down and rebuilt into something else? Or will it retain the status quo, with a handful of renovated rooms pointing to its unfulfilled potential? Who knows. 
So what's the Hilton Singapore's biggest trump card then? Price. 
Last month, HSBC cardholders could book 2 nights at the Hilton for S$318 nett (plus S$80 of F&B credit). More recently, there was an opportunity to book rooms on Sunday night for S$141 nett. Where else will you find that kind of value for a 5-Star hotel on Orchard Road?
Don't forget that Hilton is currently running a double points and double elite night credit promotion, and all elite nights earned this year will roll over to 2021. These cheap rates make the Hilton Singapore a good candidate for mattress runs (no, not the mattress runs I had in my room), and in that sense more of a means to an end than an end in itself. 
But it could be so much more. 
🏨 In Summary
While the Hilton Singapore's Executive Suites and Lounge provide a vision of what the hotel could be, the rest of the property is stuck in a time capsule. It's useful for mattress runs, but otherwise it's hard to recommend for anyone other than budget-seekers who want a 5-Star hotel in Orchard for less.
Do say: There's monsters under the bed
Don't say: There's monsters under the bedsheets