Introduction: It's the most wonderful time of the year
A Tale of Two Lounges: SATS Premier T2 and the Qantas SIN Lounge
Malaysia Airlines B737 Business Class SIN-KUL
Malaysia Airlines Business Class Golden Lounge KUL
Malaysia Airlines A330  Business Class KUL-NRT
Japan Airlines Business Class Sakura Lounge NRT
Japan Airlines B77W Business Class NRT-LAX
The Westin LAX
The Westin Westminster
Aloft Boston Seaport
The Consolidated AA Domestic First Class Experience
American Airlines Flagship Lounge JFK
American Airlines B772 Business Class JFK-LHR
American Airlines Arrivals Lounge LHR
The Great Northern Hotel, London
Sheraton Grand Park Lane, London
Westin Paris Vendome
Courtyard by Marriott Madrid Princesa
Four Points by Sheraton Barcelona Diagonal
The Consolidated Intra-Europe Business Class Experience
Sheraton Casablanca
Royal Air Maroc Business Class Lounge CMN
Royal Air Maroc B737 Business Class CMN-ACC
Ethiopian Airlines B787 Business Class ACC-ADD
Ethiopian Airlines Cloud 9 Business Class Lounge ADD
Ethiopian Airlines Q400 Business Class ADD-DAR
Protea Hotel by Marriott Dar Es Salaam Courtyard
Qatar Airways A320 Business Class DAR-DOH
Qatar Airways Al Safwa First Class Lounge DOH
Qatar Airways A330 "First" Class DOH-MCT
Oman Air Business Class Lounge, MCT
Oman Air E175 Business Class MCT-DXB
The Grosvenor House Dubai
W Doha
Qatar Airways Business Class Lounge DOH
Qatar Airways B772 Business Class DOH-BLR
The Ritz Carlton Bangalore
Vistara A320 Business Class BLR-DEL
Cathay Pacific A330 Business Class DEL-HKG
Cathay Pacific Arrivals Lounge HKG
W Hong Kong
Touring Cathay Pacific's HKG Lounges
Cathay Pacific A350 Business Class HKG-SIN
---
You know what? I'm tired of this long drawn out tease. It's quite clear that the entire purpose of this six week long trip report is to review the amazing Al Safwa First Class lounge in Doha, and although we inch closer to it with every report it's still not happening fast enough.
Therefore, I'm going to skip writing a full report of the Tanzanite Lounge and just do a five photo observation. Then, I'm going to review Qatar's very excellent narrow-body business class (I am fascinated by narrow-body business class concepts, because I'm the kind of person who is fascinated by designers having to make the most of limited resources, in this case space), which will ferry me from DAR-DOH and onto the Al Safwa. I've not been so excited about a lounge review since the Lufthansa FCT.
But hey, even the Israelites had to wander for 40 years in the desert before they got to the Promised Land. And that wandering for me is the delightful Tanzanite Lounge. It's a doozy of a place. The entrance looks like that of a nightclub where wayward women with lips that drip honey and speech smoother than oil lead men straight to the grave (yes, I'm studying Proverbs now)
The inside of the lounge is no less fascinating, with tchotchkes of every sort mounted on the wall. Like this collection of pendulum clocks.
Or this water feature outside the entrance to the in-lounge loos. I imagine it's meant to be a waterfall but someone forgot to switch it on. I once went to a toilet where the urinal trough was a huge rock feature with cascading waterfalls. It was awesome.
The color scheme of the lounge reminds me of Ethiopian Airlines. The lounge was quite crowded as it's pretty much the only lounge in town, but I was still able to find a place to sit.
Food offerings are lackluster. Heatlamp pizza, samosas and soda are the order of the day. At least they chill their mugs.
Ok, bonus photo. The lounge has the weirdest First Class setup I've ever seen (it's the only lounge in the airport so it has to accommodate both First Class and lowly Business Class denizens). There is a dining table set up at the end of the room. It has four chairs and is the only regular-height table in the lounge. On it is a small standee that says "this area is reserved for First Class passengers only". If you sit there, the lounge staff give you table service and bring you lackluster heatlamp pizza, samosas and soda. Such opulence was not meant for mortal man.
Enough? Good. Let's get on to the good stuff.
I've written about how I discovered a great way of saving money on a business class fare from DAR-DOH ($2.6K) was to fly from DAR-DOH-DXB instead ($0.8K). And then the whole blockade thing happened. But I really wanted to spend my weekend in Dubai still because I'd made plans and everything. I finally managed to rejig my itinerary to DAR-DOH-MCT-DXB, with MCT-DXB operated by Oman Air (and man, that's another story you're gonna wanna stay tuned for), at no additional cost. I first needed to get to DOH, and my seat on Qatar's A320 awaited.
A word about Qatar's A320s. Normally, DAR-DOH is operated by an A320 configured with their recliner seats.
It's almost silly, because this almost 6 hour flight gets recliner seats, whereas short 1-2 hour hops to GCC nations get A320s configured with full flat business class (sold as First Class).
Well, the blockade meant that Qatar suddenly had a lot more such aircraft lying around idle. And thankfully they decided to deploy them in preference of their recliner-configured A320s on the DAR route. Hey, you need as many people on your side as you can, right? What's more, the flight is now closer to 7 hours given the detour the aircraft has to take around now forbidden airspace.
Oh, the joy. Oh, the bliss I felt when I stepped onto that aircraft. To see those B/E Aerospace Diamond seats ever so slightly angled away from the aisle like a coy maiden awaiting my arrival.
The seats are 2-2 configured, which means no direct aisle access (I will concede that direct aisle access is asking too much from a narrow body aircraft). However only three seats were occupied in the cabin.
I could not believe I was flying in a narrow body aircraft. I'd always associated narrow body aircraft, even in business class, with general discomfort. Having a proper long haul J seat in an aircraft built for short haul flights felt so naughty and yet so right. I am a man of complex emotions.
I'll be honest- the design of the seat isn't the best for privacy. You're still going to see the top of people's heads. The seats don't have the high walls you come to expect when flying SQ's business class.
And if you had a seatmate, simply turning your head a bit would expose them in all their dehydrated glory. There isn't an extendable privacy divider between seats.
But, privacy concerns notwithstanding, it was still a heck of a lot better than being stuck at the back. Here's a shot of the economy cabin, which is in the usual 3-3 configuration you find on narrow body aircraft. These seats don't have any IFE though.
Each seat had a large, high definition TV screen.
Footspace was cramped, and this may be an issue if you have large feet.
The tray table is nice and large. Moreover, it's built solid and doesn't flex under pressure, a far cry from the usual whimpy tray tables you'd expect on a narrowbody aircraft.
The IFE controller is clearly a new breed too. This version didn't have the annoying hanging issues I frequently encounter with SQ's touchscreen controllers.
It was also stuck in Italian mode and remained like that for a long time before I managed to sort it out.
Seat controls are, in the words from Ben at OMAAT, "intuitive" (he's gotten some criticism from commenters (commentators?) for always describing the seatrest controls in the same manner, but seriously you try writing 100 trip reports and thinking of new synonyms all the time)
There are secondary seat controls near your head. They are also intuitive.
I also liked that every seat had not one, not two but three air vents above it. And three lights. Methinks the designers had 3-3 economy seating in mind when they designed the overhead.
Yes, each seat has in-seat power and better still, the plug fits all sorts. I still can't believe the plugs on SQ's 2006 J seats don't accept Singapore plug heads. It boggles the mind.
I'm not sure what brand of noise cancelling headphones QR uses, but they worked well and had very good sound quality.
I was surprised to be given an amenities kit on a daytime flight. This isn't the premium amenities kit that QR gives out on long haul J, but it was appreciated nonetheless.
Inside there was lip balm, socks and an eye mask. Very simple.
I was also happy to be reunited with liberal rag The New York Times.
The captain came on the PA to welcome us onboard and inform us that we'd take a little longer than usual to get into Doha, on account of having to avoid certain airspace.
The DAR airport offers the opportunity for interesting aircraft spotting
I saw an Emirates plane pushing back just before us. I was so certain the pilot would get out and challenge our pilot to fisticuffs.
Can I emphasize again how awesome it is to have a virtually empty cabin? It's probably the closest thing to flying private I'll ever get.
We took off about 20 minutes late, but had a great view of Dar's urban sprawl as we climbed.
And soon it was just clouds.
The crew came around to hand out bottles of water straight after takeoff. They were excellent, very professional and friendly. I think this crew was from the Philippines.
They also presented us with the menus. I do like the understated tones of Qatar's menu. In fact, I much prefer Qatar's choice of color scheme to Emirates. Much more classy, much less bling.
Let's start with the drinks first. I'm going to keep on harping the point, but I was extremely impressed with the selection for a narrowbody aircraft. I tend to associate narrowbody aircraft with reduced possibilities in terms of seating, entertainment and catering. So to see a wine list as long as what I'd expect on a long haul flight was sweet.
Dinner would be served on this flight to DOH.
The crew came by to take orders for dinner plus pre-dinner drinks. Bilecart-Salmon champagne never tasted so good. It was served with warm mixed nuts.
Before long, my table was set and the first course brought.
I'm going to be honest: I didn't like the food at all. It's probably because I'm an unadventurous stick in the mud who thinks that the only acceptable food is Chinese, Thai and certain interpretations of Italian, but the inflight meal was the only blemish on an otherwise lovely experience.
The first course was, well, I'm not quite sure I knew what this was.
The starter of prawns left a lot to be desired. The prawns had an awful texture, the kind they get when the're over cooked.
The mushroom soup that came afterwards was slightly better. It had cream in it but the mushrooms were a bit gritty.
I went with the briyani for the main. I'm not quite sure why. Maybe I missed rice too much. Look, I'm sure it was a perfectly passable version of a briyani but after living in India for 2 years I concluded that jasmine rice is the only acceptable rice (that and Japanese rice, of course). So I didn't much enjoy the meal.
Fruit was a good safe choice for desert.
But I decided to go with the less healthy option too. The chocolate tart was rich and creamy.
At least the chocolates served after the meal were good.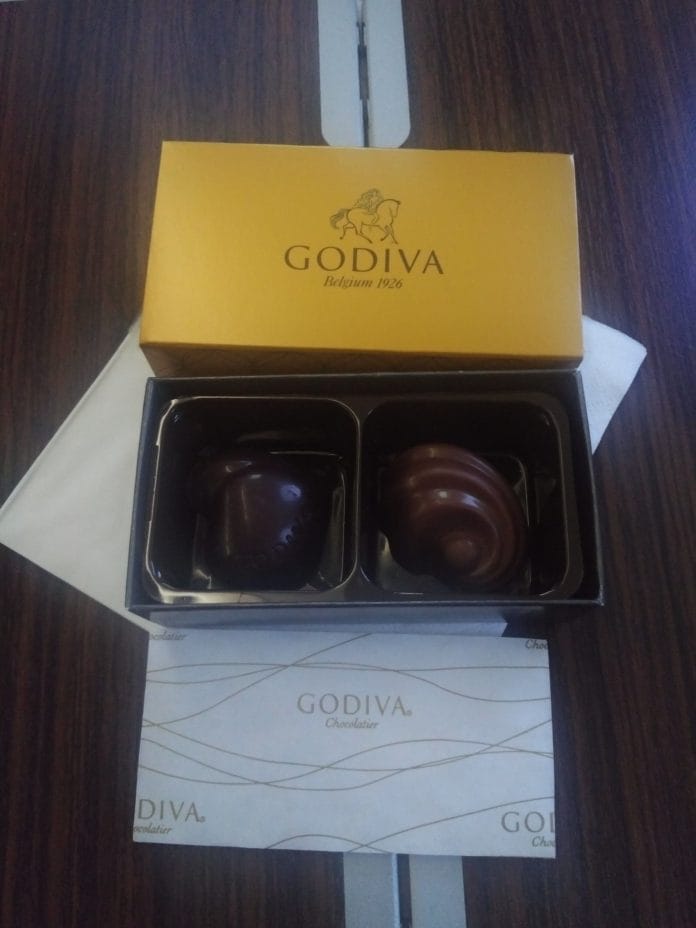 Don't expect any fancy features on an A320 loo (showers, one day?). You'll even have to press your own flush button like a savage (ah, how I miss the 787's no touch flush system)
The taps aren't automatic either.
On the plus side, Qatar had provided an abundant number of toothbrushes on this flight.
Plus their high quality Rituals branded wash products. These are the same ones they use in their lounges, which I'll get to real soon (I promise)
The seat of course deploys into a full flat bed, and although it's a bit narrow it's still a perfectly comfortable napping surface. You can select any angle you want to recline at, and fortunately if you have a seatmate the level at which your head is at makes it difficult to see him/her when fully reclined.
When dressed up with pillow and blanket it's a good way to spend the night.
I did like the blanket that QR used- at least it wasn't some scratchy abomination that some airlines have.
This was easily the most comfortable narrowbody flight I ever took, and the 7 hours to Doha flew by. Just before landing, I decided to test out the IFE and finally watched Logan.
I was surprised an airline based out of the Middle East would allow R rated content, but I guess because it was more of the stabby stabby kind and less of the booby booby kind it passed muster.
We landed at a remote gate in Doha,  and it was now close to midnight local time.
Qatar has special buses for its premium cabin passengers, and in this case there were only three of us to share this cabin. The buses they use for premium cabin passengers are also special buses with big seats (versus the standard ones where it's standing room only)
You do feel pretty special with a seat like this. Again, remember that there were only three of us in the cabin, so the bus remained nice and empty.
And you'll feel even more special when you're in the Al Safwa lounge, which is where I was headed to next…