Edit (15 March): AMEX has doubled the MGM referral bonus to 40,000 MR points. Please refer to this updated article for more information
AMEX relaunched the Platinum Charge card in August last year, adding a host of benefits and perks for those who could afford the $200,000 income requirement and $1,712 annual fee.
Since its relaunch, The Platinum Charge has offered a sign up bonus of 75,000 Membership Rewards points when you spend $20,000 in the first 3 months after approval. This represents a total haul of 100,000 Membership Rewards points (62,500 miles) once you factor in the base points.
However, there haven't been any channel-specific sign up bonuses to speak of, at least until now…
Get 20,000 bonus Membership Rewards points when you sign up via the Member Get Member program
AMEX offers a fully automated Member Get Member program that allows cardholders to earn extra rewards when referring friends and family.
Historically, only the KrisFlyer Ascend, KrisFlyer Credit Card, Platinum Card and CapitaCard were available for referrals. However, The Platinum Charge has quietly popped up on the MGM portal:

Simply share your link with a friend, and when he/she is approved and spends $50 within 3 months of card approval, you'll each get 20,000 bonus Membership Rewards points. Your friend will still be eligible for the 75,000 bonus Membership Rewards points upon spending $20,000 within 3 months of card approval.
If you've been thinking of getting an AMEX Platinum Charge, you can support the site by applying via this link:
Get 20,000 bonus Membership Rewards points with the AMEX Plat Charge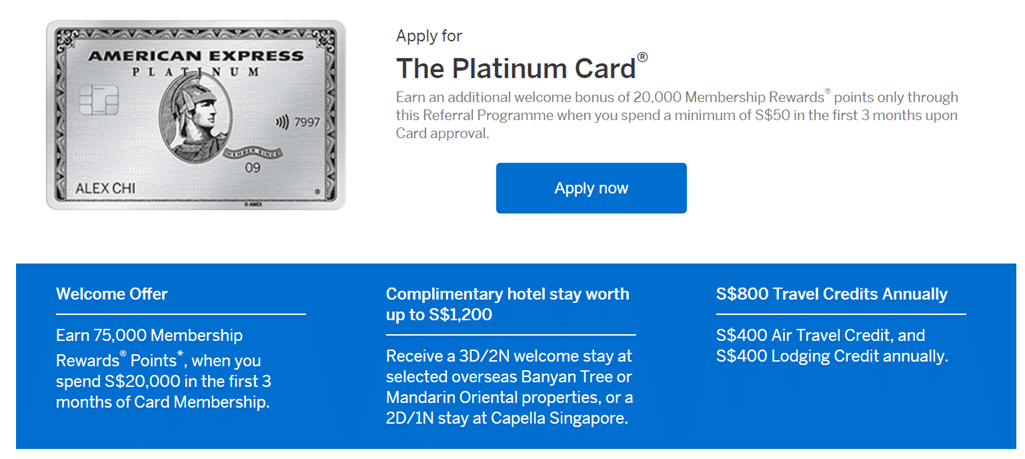 Assuming you signed up via the MGM program and hit the $20,000 spending threshold, your total haul would be:
25,000 base MR points (15,625 miles)
75,000 sign up bonus MR points (46,875 miles)
20,000 MGM bonus MR points (12,500 miles)
120,000 MR points (75,000 miles) for a total spend of $20,000 isn't bad at all, particularly if you keep your points in reserve for transfer bonuses like the recent Hilton Honors one.
Conclusion
It's worth remembering in your calculations that Platinum Charge cardholders can redeem MR points for miles at a ratio of 400 MR: 250 Miles, versus 450 MR: 250 Miles for regular AMEX members.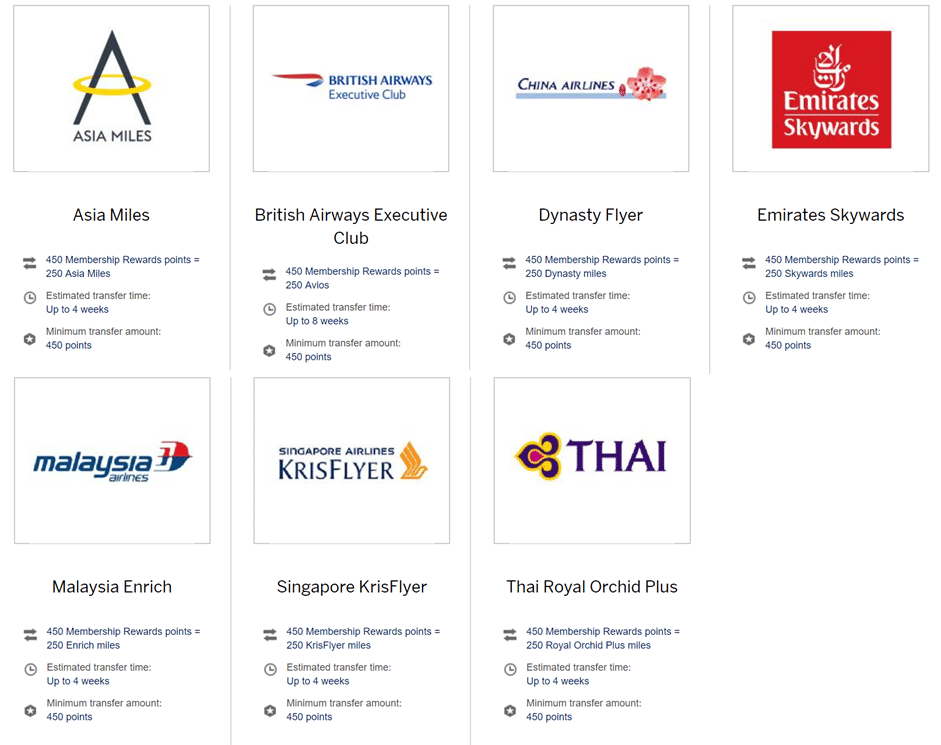 AMEX also has significantly more transfer partners than your typical Singapore bank, which provides greater flexibility if you want to explore Alternative Frequent Flyer programs. AMEX Platinum Charge cardholders are exempted from paying the annual fees on other AMEX cards, which can really work to your advantage as this post shows.
Be sure to join The Milelion's AMEX Platinum Charge Telegram group for further discussion on the perks and benefits of the card.