In August, the Singapore government announced that Singaporeans would receive S$320 million in SingaporRediscovers vouchers to spend domestically, in an effort to encourage exploration of local culture, heritage, nature, art and architecture.
SingapoRediscovers Vouchers will be redeemable from 1 December 2020 to 30 June 2021, and we should be seeing the full details and T&Cs released next week. However, STB has already published a list of eligible merchants and booking channels, which should help you start your planning.
SingapoRediscovers Vouchers Eligible Merchants
As a reminder:
Each adult Singaporean (18 and above) will receive 10 x S$10 of SingapoRediscovers vouchers
Adult Singaporeans can purchase up to six subsidized tickets (i.e S$10 off) for attractions/tours on behalf of those <18
No minimum spend is required to use the vouchers
Vouchers can be used at any approved hotel, leisure attraction or tour operator
Which hotels accept SingapoRediscovers vouchers?
I'm guessing the vast majority of people will be looking to do staycations, and as of the time of writing, a total of 164 hotels have been approved for SingapoRediscovers vouchers. This includes crowd-favourites such as:
Do note that this is a subset of the 230 hotels approved for staycations. That said, I can't think of any noteworthy hotel that is staycation-approved but not voucher-approved.
How do I make a booking?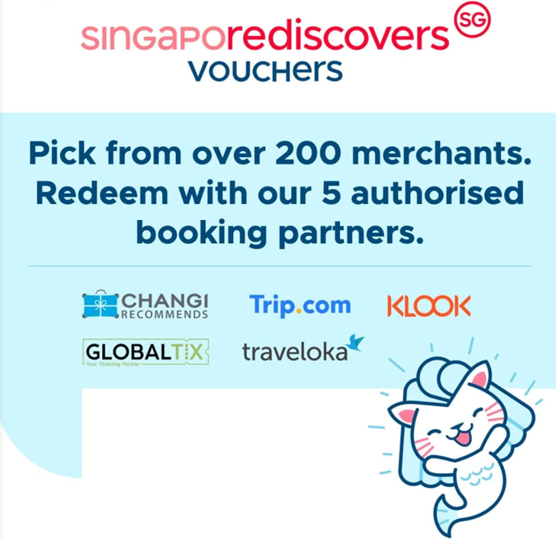 To use your SingapoRediscovers vouchers, you cannot book through the hotel's official website. Instead, you'll be required to book via one of the following channels:
Changi Recommends
GlobalTix
Klook
Traveloka
Trip.com
All hotel/activity bookings must be consumed by 30 June 2021.
The implication of having to book via these channels is you won't be able to earn hotel points or elite status credit on your state-subsidized stay. Trust me, there's a fair bit of unhappiness about the requirement to book via these five platforms only (just read the comments section on the STB's post), but the decision has already been made.
I gather that people are worried the deals will be worse than the hotels' official websites, but put it another way: if I as a hotel want to capture my slice of the pie, and if these platforms are the only way to spend the vouchers, then I'd have to offer a fairly competitive package on that platform.
So I wouldn't be surprised to see hotels extending special staycation packages on these platforms, with similar inclusions to those on their official sites.
Key questions yet to be answered
Can vouchers be combined?
While a free S$100 is always appreciated, it isn't going to make much of a dent on the cost of a stay at the Raffles or Capella. The question then becomes: can you combine vouchers with someone else?
My guess is no. STB has been tight-lipped about the redemptions process so far, but based on the replies it's giving, I'd be very surprised if the stacking of vouchers was permitted.
Remember, the idea behind these vouchers is to get people out on multiple trips, in order to create more opportunities for ancillary spending. If a husband and wife combine their vouchers and do one staycation, that's one lost chance to head out again and spend somewhere else.
What happens with refunds?
Suppose you make a hotel booking with your vouchers, but subsequently have a change of plans. Can you cancel your stay and get a refund of your voucher balance? Or will all packages booked with the SingapoRediscovers vouchers be prepaid and non-refundable?
Conclusion
While I've done more than my fair share of staycations this year, I'll still be on the lookout for any good hotel deals that may pop up on Traveloka/Trip.com. I imagine there'll be no shortage of these once the vouchers launch, so stay tuned.
Expect to receive more details on the SingapoRediscovers vouchers next week, including the all-important T&Cs.
How are you planning to spend your vouchers?