Can architecture and nature co-exist within an urban landscape? 
That's the question WOHA set out to explore when they first drew up plans for the PARKROYAL Pickering back in December 2007. At the time, the approach most developers took towards sustainable development was to stick a few cursory solar panels on the roof, plant a small zen garden, or install water saving devices in the loos- things that may look nice for nice press releases or win you LEED certification, but ultimately generic gestures destined for architectural anonymity. 
WOHA wanted to go beyond mere tinted window dressing and put the "green" back in "green city", conceptualizing a building that didn't just blend into nature, but actively reintroduced it into a built-up environment. 
The results speak for themselves. The PARKROYAL Pickering boasts 15,000 square metres of greenery, double the footprint of the original site. Rainwater collected from the upper floors trickles down to irrigate greenery on the lower ones. Solar cells absorb sunlight during the day and use it to power landscape lighting at night. Vertical greenery shields the west-facing walls, minimizing the strain on air conditioning. 
The hotel's skygardens draped with tropical flora have increased the area's biodiversity by attracting birds and butterflies, and the rice padi like contours of the facade make for a stunning contrast with the surrounding urban jungle. The property has even made it to the silver screen, albeit in the highly-forgettable Hitman: Agent 47 (just play the game, it's a lot more fun). 
Greta would be proud. 
Booking a PARKROYAL Pickering Staycation
Back in July 2020, Trip.com started selling staycation vouchers for various hotels across Singapore. I've covered these regularly on the site (the latest edition can be found here), and lurking inside are some really good deals. 
Like the one for PARKROYAL Pickering. For just S$253 nett, you could get a room with breakfast and club lounge access, plus two bus tour tickets thrown in just because. Club rooms at this property typically cost much more than that, so this was a no-brainer for me. 
🏨 Trip.com Voucher (S$253 nett)

1 night in an Urban Room

Breakfast for 2

Club lounge access

2 city bus tour tickets

Book By

No longer available

Stay By

30 Jun 2021

Cancellation Policy

Non-refundable
But PARKROYAL Pickering took its time reopening. Months went by with no news, and it got to the point where Trip.com was calling up customers asking if they wanted to stay at the Fairmont/Mandarin Oriental instead, or else get a full refund.
I too received such a call, but decided to keep the faith. And sure enough, towards the end of September we got word of the PARKROYAL Pickering's 1 November reopening. 
If you missed out on the previous deal, Trip.com is offering a similar staycation package again, albeit slightly more expensive (and no bus tickets!). Alternatively, if you prefer to book direct in order to earn GHA local experiences, the Yay to Staycay package starts from S$263 nett. It's hard to justify paying this, however, when for S$26 more you could get club lounge privileges. 
🏨 Trip.com Voucher (S$289 nett)
🏨 Yay to Staycay (from S$263 nett)

1 night in an Urban Room

Breakfast for 2

Club lounge access

1 night in Urban Room

Breakfast for 2

11 a.m check-in OR 4 p.m check-out OR room upgrade (weekdays)

Book By

While stocks last

Book By

31 Dec 2020

Stay By

30 Jun 2021

Stay By

28 Feb 2021

Cancel

N/A

Cancel

48 hours before arrival

More Details
More Details
Now, I knew that since I'd booked my stay through Trip.com, I'd be ineligible for any GHA Black elite benefits. But I still emailed the hotel my membership number anyway, because some of them go above and beyond even when they're not obliged to. As expected, the reservations team replied that my booking would be ineligible for any status privileges or elite credits.
That's why I was surprised to receive another email from the front office a week before arrival, informing me that I'd been accorded the following GHA Black benefits:
6 p.m check-out
2-tier upgrade to Signature Room
I certainly wasn't about to argue with that! They also requested my arrival time, and had no issues granting a 10 a.m check-in (technically, GHA Black gets 9 a.m, but I wasn't about to push my luck). 
PARKROYAL Pickering: Arrival and Check-in
The PARKROYAL Pickering is located in the heart of the CBD, roughly in between the Chinatown and Clarke Quay MRT stations. You can also access it from Raffles Place, although it's roughly a 10 minute walk- not ideal when you've got luggage in tow. 
Complimentary parking is available to hotel guests, with a limit of two tickets per day (tickets are single use, so you can't go in and out too often). 
I arrived at the hotel just after 10 a.m on a Tuesday morning. The hotel staff offered to sanitize my bag, a first for me but greatly appreciated (those luggage wheels get really gnarly).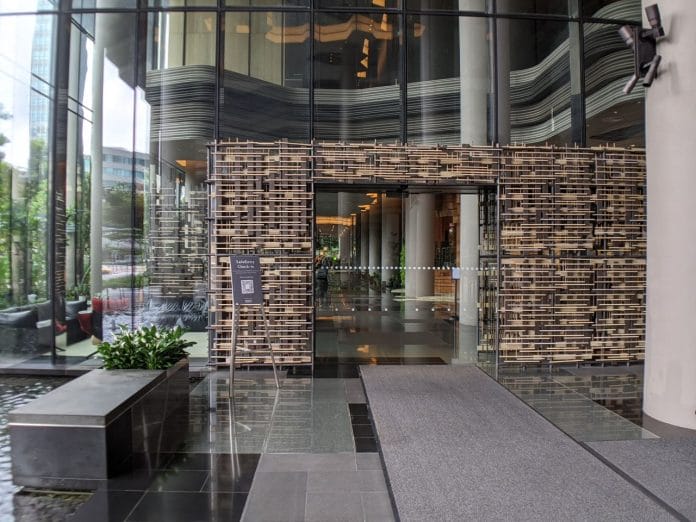 The lobby showcases the hotel's approach to green architecture. Wooden extrusions above the check-in desk evoke comparisons with layers of old growth bark, indoor green walls purify the air, and running water features flow like streams along the walkways. The carpets resemble mossy growth, and a row of Balinese-inspired rattan chairs invite guests to sit and admire the gardens outside.
My stay came just two days after the PARKROYAL Pickering reopened for staycation guests, and although it was all quiet when I first arrived, the place filled up shortly after. 
Trip.com had already forwarded all my details to the hotel, and all that was left to do was provide a credit card for the deposit. A welcome drink was served, and although it was an alarming Grimace-hued purple, it actually tasted rather pleasant. 
The front desk confirmed my check-out time for the following day (6 p.m), as well as my club lounge benefits. Despite this, my keycard couldn't access the lounge floor at first; I had to go back to get it reprogrammed. 
It only dawned on me after check out that I never asked about my two city bus tour tickets. I didn't seriously expect to get them, but if you're staying on a Trip.com booking, do ask about it- I'd be curious to know what they say. 
PARKROYAL Pickering: Signature Room
The PARKROYAL Pickering has 367 rooms and suites, spread across the 6th to 15th floors of the building. Rooms are divided into the following categories:
| | |
| --- | --- |
| Room | Size |
| Urban Room | 28-32 sqm |
| Lifestyle Room | 28-32 sqm |
| Signature Room | 37 sqm |
| Urban Junior Suite | 48 sqm |
| Signature Suite | 73 sqm |
| COLLECTION Suite | 166 sqm |
I'd been assigned to 1020, a Signature Room on the 10th floor of the hotel. Signature Rooms are the largest category short of a suite, and occupy the corners of each floor, affording slightly more space and better views. 
The room had a soothing earthly aesthetic, proving that you can have an all-wood décor and still look modern (pay attention, MBS). Outside the bathroom windows you can spot foliage, and the minimalist wood panels create the vibe of a Japanese onsen. 
The overhanging sky gardens shade the rooms from the brunt of the mid-day sun, a feature intended to reduce the energy used for cooling. At the same time, windows are not tinted in order to minimize the need for artificial lighting during the day. It does mean you should lower the blinds if you intend to waltz around au naturel.
Due to a miscommunication during booking, the hotel had set up the room for three people, with the sofa bed already deployed. 
Housekeeping came to rectify this shortly afterwards. The blanket for the sofa bed looks paper thin, by the way, so you may want to request extra covers if this is called into service.
On the coffee table was a fruit platter and a small box of chocolates for the GHA welcome amenity. 
The king-sized bed was extremely comfortable, although the pillows had a slightly odd smell that you may notice if you're a side sleeper. 
Neither bedside table has USB charging, but you'll find a universal power port on each side, as well as a master light switch. This doesn't control the light at the work desk, so some getting up may still be in order. 
Also on the bedside table were three glass bottles of water. You won't find plastic ones here, at least not in the room. 
The work desk had a comfortable Sayl chair by Herman Miller (retailing at US$545, fancy), which held up well for prolonged periods of sitting. 
At the work desk were a pair of universal power outlets, a single (non-functional) USB charging port, HDMI/VGA input, and surprisingly, an RCA connector. I thought these had been all but phased out by now. 
Wi-Fi speeds clocked in at 24.1 Mbps down/ 22.6 Mbps up, which makes the PARKROYAL Pickering one of the faster hotels for internet access. 
 
🔽 Download
🔼 Upload

Mandarin Orchard

273 Mbps

294 Mbps

M Social Singapore


46 Mbps

49.Mbps

YOTELAir Changi

29 Mbps

49 Mbps

W Sentosa Cove

34 Mbps

34 Mbps

The Fullerton Hotel

23 Mbps

24 Mbps

PARKROYAL Pickering

24 Mbps

23 Mbps

InterContinental Bugis

15 Mbps

15 Mbps

The Capitol Kempinski Hotel

16 Mbps

13 Mbps

Hilton Singapore

13 Mbps

14 Mbps

Marina Bay Sands

11 Mbps

11 Mbps

Andaz Singapore

8.0 Mbps

9.5 Mbps

The Barracks Hotel

7.3 Mbps

7.7 Mbps

Hotel 81 Tristar

7.0 Mbps

6.8 Mbps

Raffles Hotel

6.9 Mbps

6.8 Mbps

Hotel Soloha

4.7 Mbps

5.1 Mbps

Internet speeds based on Speedtest.net scores
Each guest is provided with a Pan Pacific Cares hygiene kit, consisting of a disposable mask, some antiseptic wipes and a bottle of hand sanitizer. 
The mini-bar was emptied out, ostensibly due to COVID-19 restrictions. That said, I've been to other hotels where it remains fully stocked, so it's really a matter of their interpretation of the rules. In any case, you're arguably better off now, because the PARKROYAL Pickering's mini-bar has that annoying technology which automatically bills you for an item if you so much as breathe on it. An empty fridge gives you space to store your own stuff. 
A Nespresso machine with four capsules and some TWG teabags were also available.
The TV in the room supported screen mirroring for your Android device, but I wasn't able to get it working. Come to think of it, I haven't been able to do this at any hotel I've visited so far. Oh, for the day when every TV simply has a built-in Netflix app…
The bathroom is relatively compact. Don't expect to find his and hers sinks in this room; there's barely enough space for one person to brush his teeth at a time. 
The toilet area is a bit of a tight squeeze when the door is closed, and unfortunately lacks a bidet hose. It's a curious thing, given the hotel's eco-focused credentials. Wouldn't it be more ecologically friendly to wash with water instead of using toilet paper? 
While the toilet is cramped, the shower area thankfully is not. The space is large enough for two bench seats, with both a hansgrohe hand shower and rain shower. If you were hoping for a bathtub, only selected Lifestyle rooms offer this- be sure to check with the hotel when booking. 
Large though the shower may be, the shower head is rather paltry. It measures a mere 10 cm across, recessed in a huge cutout teasing what might have been. 
Bathroom amenities are from the Metis Ultra Hydration line, an Australian skincare brand. 
You'll also find individually wrapped toothbrushes, shaving kits, shower caps and vanity kits in the amenities basket. It's interesting that they've separated the toothpaste from the toothbrush; I can't think of a scenario where you'd need one but not the other, and it does create that much more packaging waste. 
The beds and toilet passed the black light test, with nary a stain to be found. 
However, there were a few stains on the carpentry near the entrance and at the mini-bar. 
Most of the room was in generally good condition, although the blackout shades in the toilet had small holes in them. 
On the whole, I thought the Signature Room was pleasant enough. The aesthetics are pleasing, the bed is comfortable, and it's conducive for work. It would be nice if they could retroactively add USB charging capability on the bedside via a hub of some sort, and a bidet hose wouldn't go amiss either. 
PARKROYAL Pickering Club Lounge
The COLLECTION Club Lounge is located on the 16th floor and open daily from 7 a.m to 10.30 p.m. 
Access is available to guests in COLLECTION rooms; GHA Black does not grant access in and of itself. Based on past reports, this hotel does not upgrade guests into COLLECTION category rooms, so that's something to think about if you were hoping to use the GHA Black's two-tier upgrade to wrangle your way in. 
Officially, the club lounge only admits guests below 12 years of age between 11 a.m and 5 p.m. However, I did spy a couple with a baby during the evening cocktails, so it's unclear how strictly this rule is enforced. 
The following meal presentations are served in the lounge:
Champagne Breakfast: 7 a.m to 10.30 a.m (till 11 a.m on Sat/Sun)
Afternoon tea: 2 p.m to 4 p.m
Evening cocktails: 6 p.m to 8 p.m
All-day light refreshments are also available. 
The lounge is spacious, with high ceilings that allow natural light to pour in during the day. Bookcases carve up the space into four distinct sections, and if you're lucky, you might get one all to yourself. 
During the evening, you'll enjoy some commanding views of the neighbourhood through the full length windows. 
Afternoon tea is served daily from 2-4 p.m, with the following tea and coffee choices. 
The food is based on a rotating menu that changes daily. On the day I was there, the following items were offered:
Guests can request seconds or thirds of whatever item they wish. I was pleasantly surprised with the quality of the food- the truffle croque monsieur and kataifi prawns were the highlights. 
Evening cocktails are served from 6-8 p.m daily, with the following drink choices:
Although champagne is served during breakfast, you'll have to settle for prosecco during the evenings. On the plus side, the club lounge has a full service bar, and the bartender can whip up a variety of drinks. In fact, the PARKROYAL Pickering offers the widest selection of cocktails I've seen in a club lounge so far.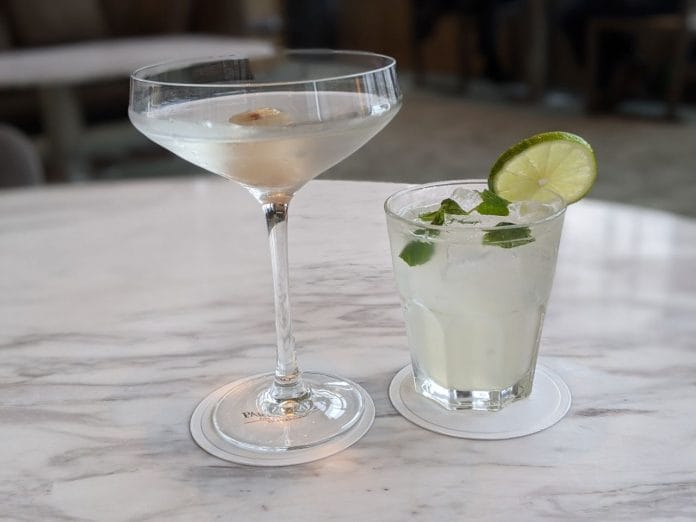 All the drinks were great, with the exception of the mojito. The first one that came was too sweet; the second had virtually no sugar. I mixed the two together, and ended up in a good place.
The evening canapes section consists of a fixed menu, as well as a rotating one. Standard options served daily include salad, cheese and crackers, fruits and a bread basket. 
The daily selection is where things get more interesting. Tuesday's selection offered the following:
Just like tea, guests can request extra portions of whatever they like. I tried a little bit of everything, and found the Peking duck to be particularly good. If you've got a sweet tooth, the milo praline cake is a must-try.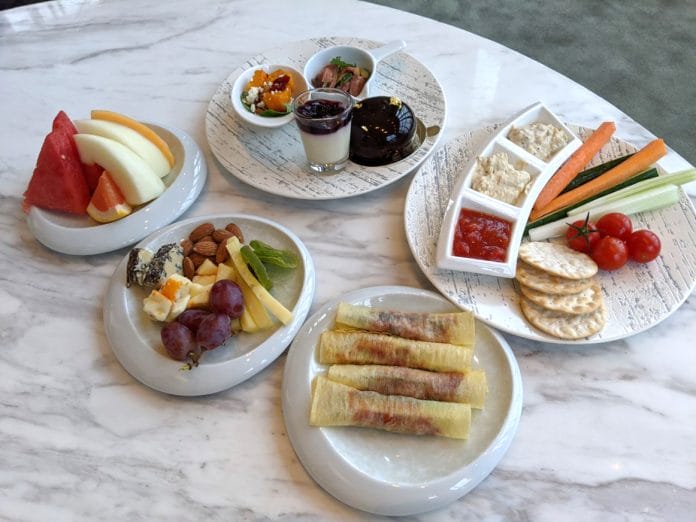 But special mention should also be made for the Thai beef salad and tempura prawns with salted egg sauce. If you're brave enough, eat the prawns with the accompanying chili padi for an extra kick (what do you mean it's just for decoration?).
As good as the food was, I just wish I had a chance to sample Thursday's (signature Pickering lobster laksa), Friday's (Tai Wah Pork Noodles) or Saturday's (Heng Kee Curry Chicken Bee Hoon Mee) options. PARKROYAL Pickering partners with stalls at the Hong Lim Hawker Centre to bring local dishes to the lounge, and I'm keen to see the results. Is it literally someone running over to dabao the food, or do they actually bring the hawkers in to cook? The enquiring mind wants to know. 
I've only reviewed a handful of club lounge experiences during Phase 2 (Hilton, Mandarin Orchard, Fullerton, InterContinental), but I'd say that this is the best of the lot so far in terms of ambiance, drinks and food (breakfast aside). 
One final comment about the lounge: they seem to have a problem with small flies. I noticed a couple during tea, but thought nothing of it until they came back again during cocktails and breakfast. I checked around with a few friends who had stayed before circuit breaker, and they told me it was a problem even in the past. These buggers have a way of landing in your food, so be warned. 
PARKROYAL Pickering: Facilities
| | | |
| --- | --- | --- |
| Pool | Gym | Spa |
| Yes: 6 a.m to 8 p.m | Yes: 6 a.m to 8 p.m | Yes: 10 a.m to 8 p.m |
| Kids' Club | Business Centre | Others |
| No | Yes | N/A |
The PARKROYAL Pickering's pool, gym, spa and gardens are located on level 5, dubbed the "wellness floor". 
Swimming Pool
🏊‍♂️ PARKROYAL Pickering Singapore Pool Timings

0600-0800

1400-1600

0800-1000

1600-1800

1000-1200

1800-2000

1200-1400

 
The picturesque infinity pool at the PARKROYAL Pickering will certainly be one of the more Instagrammable moments of your stay. It's open daily from 6 a.m to 8 p.m, and guests are entitled to a 2-hour slot per day. A maximum of 20 guests can be in the pool area at any one time, with 8 in the main pool and 4 in the jacuzzi. 
Pool slots can be booked in advance of arrival; simply email the reservations team for assistance.
⏰ 4-6 p.m is the most popular timing according to the staff, so plan accordingly.
The pool is dotted with lounge chairs and colorful yurt-like cabanas that resemble birdcages. 
These afford some additional privacy for those who want to have a meal out of the public eye, or if you have kids who need a quick nap. 
On the far end of the pool is a separate jacuzzi area, separated from the main pool by a walkway. 
The pool is shaded by the overhang above it, which is both a blessing and a curse. On the one hand, there's little fear of sunburn. On the other, the water is freezing cold most of the day. It'd have been a lovely touch if they heated the water, actually. 
Then again, most people don't actually come here to swim. During peak periods, expect to jostle with the selfie crowd. Try to avoid sighing audibly and asking everyone to just be in the moment.
Gym
🏋️ PARKROYAL Pickering  Gym Timings

0600-0800

1400-1600

0800-1000

1600-1800

1000-1200

1800-2000

1200-1400

 
The PARKROYAL Pickering's gym is next to the swimming pool on the 5th floor, and is open from 6 a.m to 8 p.m daily. Like the pool, every guest is entitled to a 2-hour slot per day. A maximum of six people can use the gym at any time. 
It's a fairly small gym, but you'll find all the essentials here- weights, cardio and strength training equipment, some of which have built-in entertainment systems. 
The gym also has bottled water in (gasp) plastic bottles. To be fair, you can't exactly use glass bottles here, and I think COVID-19 has put an end to communal water dispensers for a while. 
Spa
I didn't visit the PARKROYAL Pickering's St Gregory Spa, but in-house guests will enjoy a 20% discount on spa treatments with a minimum spend of S$160. 30 minute massages start at S$90++, while 60 minute massages start at S$160++. 
PARKROYAL Pickering: Breakfast
Served at

Cost

Style

Club Lounge or Lime

S$38++ (Adult)


A la carte buffet

Hours

Sparkling Wine?

Discounts?

0700-1030 (Mon-Sat)
0700-1100 (Sun)

Yes (lounge)

None
Breakfast at the PARKROYAL Pickering is a game of two halves. The drinks are good. You get freshly-squeezed apple, carrot or orange juice. The tea is by TWG, the coffee is, in the words of The Milelioness (renowned coffee snob) "acceptable". Oh, and there's champagne. 
Yes, champagne. Not prosecco, not cava, not some random Australian brut, but honest-to-God  Piper-Heidsieck champagne, the same pour that Cathay Pacific serves in Business Class. It may not be the fanciest champagne out there (retailing as low as S$55), but it's still perfectly drinkable.
Staff are generous with the pours, and proactively come around offering top ups. I can only wonder why they don't serve this in the evenings during happy hour. 
But it's the food where PARKROYAL Pickering stumbles, serving up a limited selection of low quality offerings. It's a jarring contrast to the opulence suggested by the term "champagne breakfast", and it's really nothing to get excited about. 
Here's the menu available to club lounge guests:
Interestingly enough, the selection of food available to club lounge guests is smaller than that served in Lime Restaurant downstairs. That might be understandable back in the days of buffets, simply because of the space restrictions inherent in a club lounge setting. However, when everything is served a la carte style, it makes little sense for lounge guests to get the short end of the stick. 
Additional breakfast items available at Lime but not the club lounge include:
Pancakes, French Toast or Waffles
Wanton Noodles and Shrimp Wanton Soup
Poached Chicken Breast with Scrambled Eggs
Smoked Salmon with Avocado and Poached Egg
There's also a chef's special which rotates daily- on the day I was there, it was Eggs Benedict. 
It's because of this discrepancy that the ideal strategy may be to have part A of breakfast at Lime (order the items you can't get in the lounge), then head up to the lounge for part B (the 'b' stands for boozy). 
But I suspect that whether you dine at Lime or in the club lounge (which gets its food from Lime anyway), you're going to be underwhelmed by the quality. 
Lime is more than capable of doing good local food- I was really impressed by the prawn noodles I had at lunch (see dining). And yet, the rice congee served at breakfast was plain and tasteless, without a hint of seasoning. Dim sum came to the table dried out, with a sticky wrapper that clung stubbornly to the plate. Fried rice and carrot cake were completely bland, and the former lacked any protein. 
Western items were no better. The classic American breakfast was mediocre, with soggy bacon, cheap sausage (believe me, you'll know when you taste it), and undercooked tomato.
I asked our server if items from Lime could be brought up to the club lounge. She checked with her manager and got approval, but sadly it didn't make much of a difference. The pancakes were dense, with an overwhelming taste of shortening/margarine (I deeply suspected premade pancake mix). The maple syrup, wild berries compote and cinnamon powder that were supposed to come with it were missing. 
As sad as it sounds, my favorite item at breakfast was the wholegrain toast, served with Lescure butter (one of the better brands out there). I ended up ordering two servings, and sat there eating toast and drinking champagne, like Lucille Bluth. 
It was sometime after my third glass of champagne that it dawned on me: this breakfast was living and dying on the booze. Without it, it'd be competing with Marina Bay Sands and Hilton for the title of "most disappointing hotel breakfast". 
Other Dining Options
| | |
| --- | --- |
| Restaurant | Status as of 3 Nov 2020 |
| Lime | Open |
Surprisingly, the only restaurant at the PARKROYAL Pickering is Lime. In-house guests receive 30% off the bill, as do GHA Discovery members (regardless of whether they're staying at the hotel). 
As a reminder, there's an ongoing AMEX Offer for dining at the Pan Pacific Hotels Group. Registered cardholders who spend at least S$100 will receive a S$50 statement credit. This can be stacked with the 30% discount for even bigger savings.
Lime
Lime is located in the lobby, and open daily for breakfast, lunch and dinner. There's plenty of seating, and I had no issues getting a table without a reservation during weekday lunch. 
I visited twice during my stay. The first time, I had the Lobster Risotto with Blue Swimmer Crab Meat (S$30++). It comes with half a lobster, grilled and covered in cheese. The risotto was nicely cooked, with al dente rice, and additional prawns and scallops lurking within. 
On the second day I had the prawn noodles (S$25++). I personally hold that Wah Kee Big Prawn Noodles at Pek Kio market does the best prawn noodles in Singapore, but this was more than respectable. There were two large king prawns (fresh, not frozen), fatty Kurobuta pork, and a delicious broth with depth. Delicious, and I'd come back again to have this. 
Lime also offers at two-course set lunch from Monday to Saturday at S$25++, and an a la carte buffet ranging from S$68-78++ depending on day. 
PARKROYAL Pickering Service
Service in the club lounge was generally good, although it sometimes took a couple of reminders to get items served. The staff made an effort to chat with guests when they could, which is always a nice touch. 
Since I was only staying for one night, I was pleasantly surprised to return to my room after breakfast and find my room had been made up. 
The bed was made, my messy wires on the bedside had been neatly coiled up, and the wet swimming trunks in the bathroom were neatly hung up. 
Even the welcome drink I brought up from reception the previous day and hadn't gotten around to throwing had been thoughtfully covered with a coaster. 
The main gripe I'd have is that the front desk isn't particularly meticulous about billing. At check-out, I specifically asked whether the 30% off on F&B had been reflected properly. They told me it had, but when I checked the bill at home I realised they'd only done it for one day. 
I called up the hotel and was told that someone would call me back the following day, but no one ever did. I ended up having to call a second time and explain the whole thing over again to a different associate, who processed the S$8.80 refund to my card.
This was more painful than it had to be.
Conclusion
Visually speaking, the PARKROYAL Pickering is a stunner. Those exploring the grounds will be rewarded with little finds, from the spice garden and 300 metre garden walk on the 5th floor, to a viewing platform outside the 16th floor club lounge. It's definitely a staycation spot for those who love greenery. 
Evening cocktails in the lounge are great, which is why it's all the more shocking that breakfast falls so far short of the standard expected. Champagne is always welcome, but it counts for little if the food is this bad- you'd be much happier grabbing a bite at Hong Lim food centre opposite. 
That aside, it's certainly worth a staycation at the current prices. 
Overall ranking of Phase 2 staycations
PARKROYAL Pickering
*Andaz Singapore ranking is as per my 1 October 2020 visit; the experience has notably declined since then. 
🏨 In Summary
Stunning architecture, a beautiful pool and champagne in the morning make for happy memories at the PARKROYAL Pickering. Breakfast itself, less so.
Do say: I learned about nature here
Don't say: I learned about the birds and the bees here