The Long Way to New York: Trip Planning
Singapore Airlines SilverKris Lounge, Singapore
Singapore Airlines A330 Business Class SIN-BKK
Thai Airways First Class Lounge & Spa, BKK
Thai Airways B747 First Class BKK-HND
Getting from HND to NRT
ANA First Class Lounge, NRT
ANA B77W First Class NRT-ORD
United Club ORD
United B767 Economy ORD-EWR
Visiting the US Open
Sheraton New York Times Square
Hilton New York Midtown
Wingtips Lounge JFK & Delta to DC
Exploring Washington DC
Element New York Times Square West
Virgin Atlantic Clubhouse, JFK
Singapore Airlines A380 Suites JFK-FRA
Lufthansa Senator Lounge FRA
Singapore Airlines A380 Suites FRA-SIN
---
We were scheduled to be in New York all the way till Saturday morning, but I only had enough Starwood points to get us till Thursday. So on Thursday my dad and I checked out and walked the 2 minute walk to the Hilton New York Midtown, where he had some HHonors points yet to burn.
Although the Midtown Hilton is almost as old as the Sheraton Times Square, it has aged a lot better. The lobby is a lot more spacious with more natural light, and felt newer than the Sheraton's.
Some of my photos mysteriously vanished so here's the publicity photo for the lobby.
My dad and I are Hilton Diamond members, but benefits at US-based properties are rather scant. No room upgrade, no full breakfast, no guaranteed late checkout. Instead we got access to the executive club and premium internet. Oh, and a "thank you for your loyalty", which made everything worthwhile. To be fair, this isn't a Hilton-specific problem, it's an America specific one. Sheraton offered only club lounge access for being a Platinum member, with nothing beyond that.
Our room was standard sized- but as you can see from the floor plan below the rooms are as cookie cutter as can be- I don't think there was even a single suite on our floor.
That said, the standard room we booked was a lot bigger than the Sheraton. I remember in the Sheraton there was very little space between the front of the bed and the desk under the TV.
As you can see here, there's a solid amount of space in front of the bed for walking around.
There was a full sized work desk with a safe under the TV.
You could tell this room had not been fully refurbished yet because it had Hilton's last gen alarm clock on the bedside. Yes, people notice such things.
This is the last gen standard issue Hilton alarm clock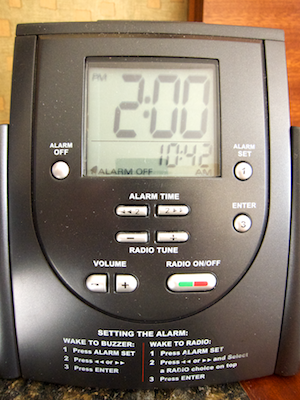 And this is the current gen model. I don't use the alarm clock in any hotel, but you can take this as a quick proxy for when the room was last refurbished.
The room had an iron but not an ironing board. I suppose you had to call down for it.
The bathroom was definitely on the small side, and everything inside was standard Hilton
Peter Thomas Roth skin care amenities are still miles better than Sheraton Shine.
And is it just me, or can US hotels save a lot of space in the loo by just providing shower cubicles? I can't think of a single person who would soak in the tub at such a place.
The room didn't have much of a view
But fortunately to compensate for the lack of a view they provide you with this heavy coffee table skyline photobook!
One last interesting quirk about the room before we leave. The Hilton Midtown made headlines in 2013 when it became the first major hotel chain property to do away with room service.
In August, the New York Hilton Midtown, in the heart of Manhattan, will discontinue food and drink service to all 2,000 of its rooms. In its place will be a new self-service Herb n' Kitchen stocked with grab-and-go items. A spokesman for the hotel, which is part of the chain that also operates the Waldorf, cited declining demand for room service as the reason; some hotel industry experts see the elimination of the labor-intensive amenity as a way for the chain to save money.

John Fox, a consultant for the hotel industry, said nearly all hotels lost money on room service, which requires maintaining a staff of waiters and kitchen workers throughout the day, even though orders typically dwindle after breakfast and come in sporadically afterward. "Everybody's doing what they can to engineer their properties to make more profit while still supplying the services their guests demand," he said.
Well, that sort of did and didn't work. Only a few months after the announcement, Hilton had to walk back their experiment by offering room delivery, albeit in the form of a paper bag without the usual tray and trolley service.
The end result is still in effect today. You can order room service from this menu, but  it's basically some member of staff going downstairs to pack the food for you and bring it to your room, for a fee of 15% + $5.50. The service is not available throughout the day, and you can only order between 6-1030am and 530pm-1030pm. I'm unclear what happens if you go downstairs and pick up the food yourself.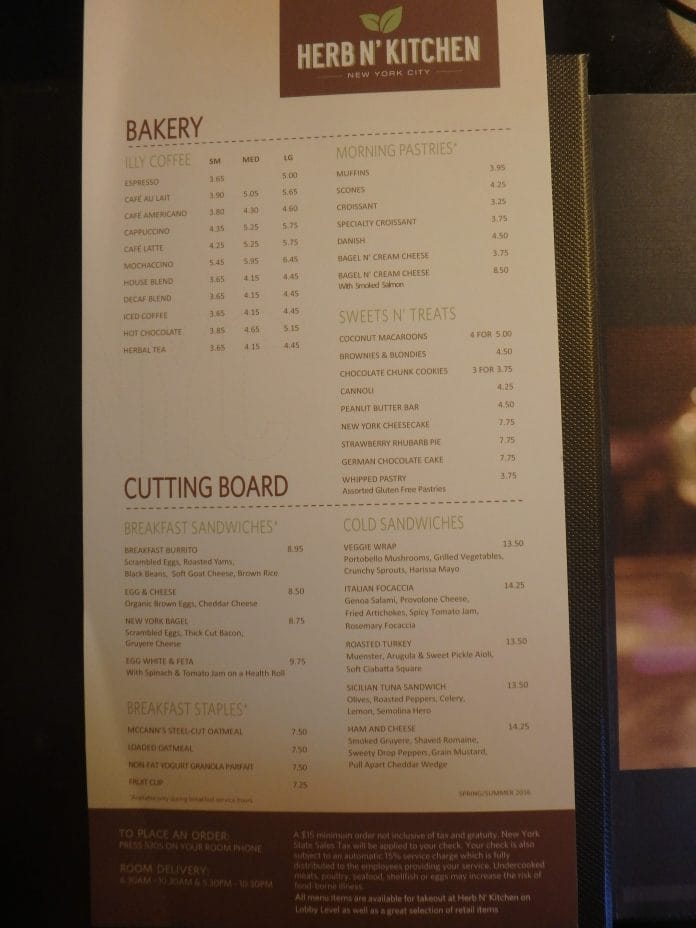 On to the lounge- I much preferred the executive lounge selection at the Hilton over the Sheraton, because they actually had hot items in the spread.
During happy hour you can get pita bread
Crackers and cheese
Salad. Or at least an assortment of individual cut vegetables.
Chicken wings (what is the American obsession with chicken wings, I do not understand. They're like the least meaty part of the chicken)
And potato skins with melted cheese.
As decent as the food selection is, it's still an American property so you don't get free booze. They've created an interesting system where you can swipe your room key to get wine, with the corresponding $5 charge billed to your room.
These WineStations are the wave of the future people. Get used to it.
Beer dispensing is significantly less high tech though. You pour your own and fill out a card with your room number.
The lounge had a good amount of seating although it really filled up during happy hour.
It also had complimentary printing facilities, just like the Sheraton
The Midtown Hilton is not going to win any awards for design, style or hospitality, but it's a comfortable enough place to pass a night or two. It's definitely a cut above the Sheraton Times Square, although that's a rather low bar to clear.
It was now time to move on to DC for some new sights and sounds.